Resources
How are market leaders using modern technology to gain competitive advantage?
ADAPT analysts were onsite as part of the 2019 AWS Executive Forum. They conducted a series of face-to-face research and advisory briefings around ADAPT's 2019 Cloud Migration Study, based on surveys with 500 local business and technology leaders over the last nine months.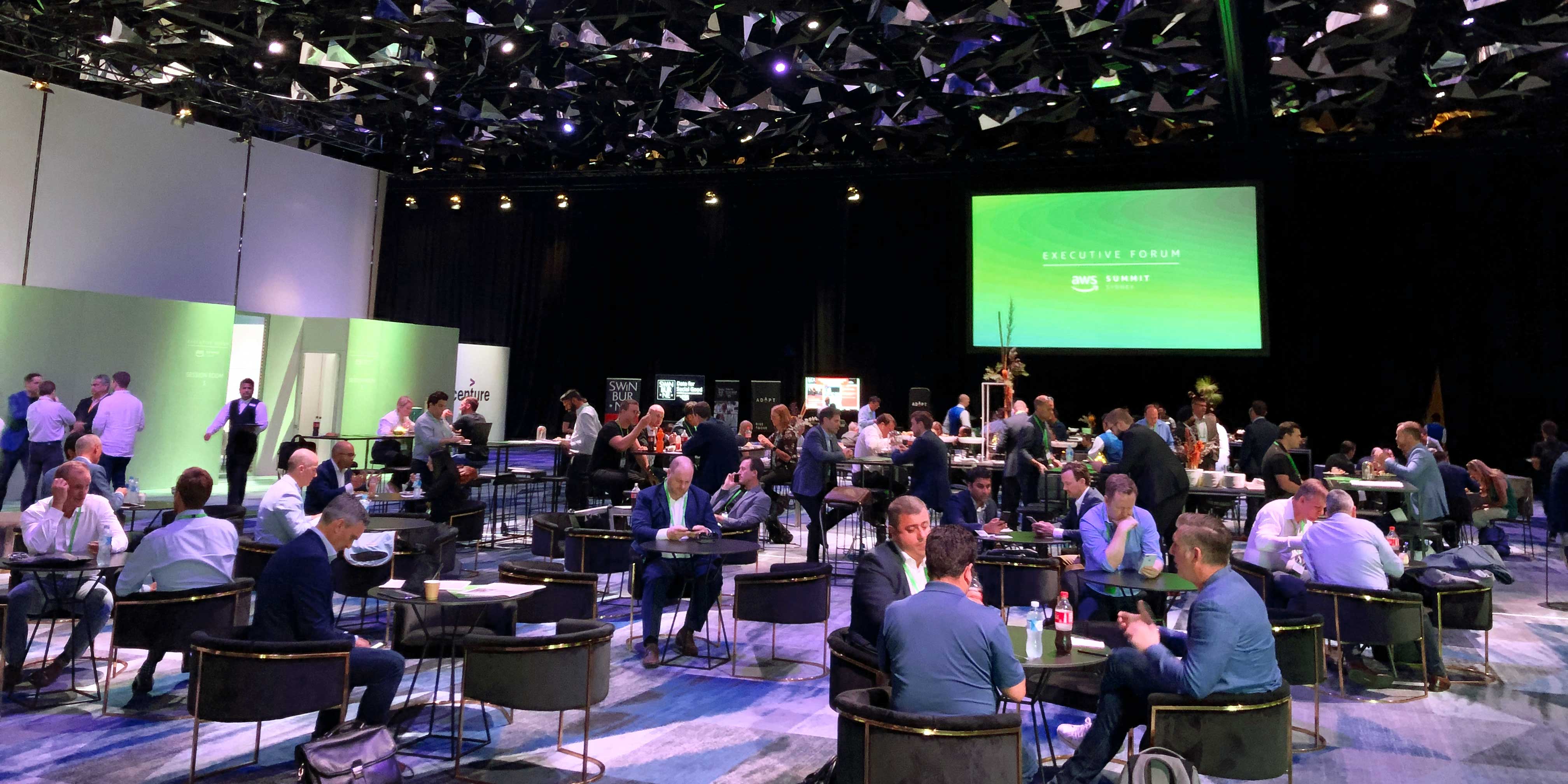 ADAPT analysts were onsite as part of the 2019 AWS Executive Forum. They conducted a series of face-to-face research and advisory briefings around ADAPT's 2019 Cloud Migration Study, based on surveys with 500 local business and technology leaders over the last nine months.
The AWS Executive Forum content focused on how to build and lead a future-ready business. The event comprised many presentations, roundtables, workshops and industry-specific tracks. I was able to capture the essence of the many practical and actionable ideas these sessions offered. Much of this aligned with ADAPT's local research and experience across C-suite challenges and barriers to agility. Most importantly, it showed how to lead and harness technology to affect sustainable change and advantage.
Technology should help – not hinder – an organisation's ability to be competitive and agile. Increasingly I'm seeing conversations with executives move from technology cost optimisation to how to drive better business value and service outcomes for their customers. Customer and Employee Experience (CX and EX) are now leading business drivers, as all organisations compete on a level digital playing field.
The tech landscape is also changing radically. We are seeing a shift from scale to speed, and from large monolithic projects to new operating and business models based upon speed to market. IT, when positioned well, should drive staff productivity, while increasing resilience and security.
How do we break free from legacy and technology debt and gain advantage?
As shown through ADAPT research, most established companies are struggling with technology debt and facing disruption from new market entrants. Legacy processes and systems are their main barrier to success. Presentations at the AWS Executive Forum suggested ways to break free and to keep up with more nimble competitors. They identified several patterns for success:
A bold vision to transform and build entirely new service lines and revenue sources with improved leadership systems and feedback.
An executive champion who understands the role tech plays in reaching this bold vision, and who will put their career on the line to reach it.
Workforce re-engineering to attract and retain the talent needed and to reverse old outsourcing decisions, then give them the systems and processes that enable and inspire rather than hinder them. Training and compensation need to evolve. Smarter partnering can plug gaps in the workforce.
Move from old world IT to new world IT. Build a modern data architecture that scales at speed, with rapid access to information. This new world needs to be real-time, with personalisation, customer analytics, direct channels, and continuous development to enable rapid change and iteration.
Focus on speeding up your Innovation Engine and identifying what is blocking the path as we move to unlock change, scale and transformation. Break down silos and roadblocks. Build a culture of experimentation so teams feel empowered to innovate without fear of failure.
The best IT architecture today enables 'time to value'. This is based on continuous delivery, minimalism, reduced complexity and latency, guard rails for security, scalability and availability, and the design to evolve rapidly and explore new technology.
Leverage proven emerging technology including machine learning, AI and advanced analytics. These will enable improved services, better CX and EX, more effective risk management and enable the creation of new models and revenues. Standardisation and automation then follow with inherent benefits to speed and resilience.
Democratise access to the right data and intelligence to enable rapid insights, decisions and actions.
This can all be done on cloud-native principles and architecture. Most organisations are accelerating the migration of business and critical workloads. The ADAPT Cloud Migration study concludes that growth and intended moves to the cloud are exceeding projections.
Why are some organisations moving faster than others?
Nimble start-ups and digital leaders are upping the game of CX and delivery expectations. Unicorns have the scale and huge tech spend across a global client base with minimal digital distribution costs.
At the same time, many large incumbents are also fighting back and winning through a digital mindset. Examples include Qantas, DBS Bank, Korean Air, Grab, Rio Tinto, NAB, Atlassian, Lion and Seek. What do they do which might enable you to move from disruption to disruptor?
AWS Head of Enterprise Alex Nemeth de Bikal said a review of the company's key customers showed a range of consistent patterns, including more capital allocation defined to transformation strategy as a core lag indicator.
He and other speakers outlined a five-part capabilities blueprint:
1. Good leadership: Executives should move from management to real leadership, with clarity and communication to establish direction, motivate, inspire and manage the change to take the business on the journey.
2. Focus on skills and capabilities: Concentrate on the knowledge and awareness staff need to retain and attract talent, then communicate that across the organisation's culture. Leverage external subject matter experts with the skills and experience to enable quicker action. When change occurs within people, barriers are broken down and teams reimagine the art of the possible. This gives them the appetite to do more and create a cultural shift from the centre to operate and work in new ways.
3. Cloud as an enabler to security: Organisations must shift to become digital first to serve growing online customer channels. A good example was given by Steve Day, EGM infrastructure, cloud and workplace at National Australia Bank, which is shifting 35% of its workload to the cloud by 2020. With compliance baked in, NAB has successfully automated governance and invisible compliance across application and infrastructure operations with the outcomes of speed, agility, relevance and resilience. The bank has created reusable patterns to accelerate secure migration velocity while reducing stack cost by 22%. Steve remarked that "frictionless compliance to enable your developers is inspirational, safe, secure and productive."
4. Modes of operation for the application landscape: Establishing defined ways to run apps, capabilities and controls for workload placement across enterprise operations and DevOps helps to identify performance resilience and cost improvements. It demonstrates and identifies the competitive advantages of migrating to cloud. Legacy and packaged third-party apps or managed cloud in enterprise operations tend to have a longer change frequency, whereas high-value DevOps DIY apps are measured in days and hours. If you define their mode of operation you can better migrate and automate. We're now in the next degree of automation, with AI and machine learning services being embedded for deeper automation across processes and further optimisation. This frees up time spent on mundane back-office operations tasks for front office CX.
5. Data as a strategic priority: It's not new to suggest data drives value in efficiency, CX and new revenues, but many traditional businesses are struggling with both finding and prioritising data operations. There is desire and intent, but common challenges exist across the economics of big data compute, storage and licensing costs. Other challenges include access to siloed data, rigid legacy platforms and massive sunk investments in older data models. To become a truly data-driven business, we need to run with data at scale, but we face business demands and data volume intensity. There are now proven mechanisms and principles for modern data architectures that build solutions across the data pipeline to source, ingest, store, process and analyse data with security and compliance at the heart. This means data becomes a strategic advantage, enabled by cloud to respond in real-time and deliver on good intentions to drive real business outcomes.
Five executive antibodies to progress were also outlined by Alex:
Not enough bold objectives as leaders get mired in analysis paralysis. Think big and beyond the near term.
Too many clouds cause complication and duplication. Have a clear and deliberate plan for cloud migration.
Not leveraging partners. Build on their expertise to help you move faster.
Poor funding and misaligned capital allocation. Demand higher budgets.
Poor business alignment. Everyone should be geared to costs, CX and sustained survival.
Can we shift the needle on Australian complacency?
ADAPT's vision since we started eight years ago has been to help Australia compete better on the global stage. We do this by equipping local executive leaders with the knowledge, examples and competencies they need to deliver in their role. We have however found a consistent complacency in Australia which was echoed by stark insights from Square Peg founder Paul Bassat.
Australia's entire annual aggregated national R&D spend is less than that of AWS. Paul suggested that Australia is drifting and under-investing in our future wealth, with only 14 of the 2,500 largest R&D spenders globally being Australian. We are vulnerable in an era of tech risk when we should be driving to lead. While we have some excellent national examples, we need more local champions.
Sadly, there is too much focus on short term profitability rather than top line or long-term growth. We have the raw ingredients, the talent, the capital and the regulatory environment – but the future of Australia depends on the better aligned and better targeted investment in our future.
Adrian Cockcroft, VP Cloud at AWS, agreed. He said that many Australian boards are blocking innovation due to a tradition of risk-aversion and digital illiteracy, with a limited investment and short-term focus. They need to evolve their technical competencies. They should invest in differentiators, in talent and in smaller projects with incremental returns to improve time to value for CX and get out of the way of innovation. Continuous small wins help to win support and maintain momentum for real change and the ability to get things done.
As seen at the AWS Summit, and in our ADAPT briefing sessions, there are many inspiring examples of success from companies who are forging ahead on the path of innovation and vision. Platforms like the AWS Executive Forum and national ADAPT Edge events are playing a vital role in spreading the word by codifying many of these successes, highlighting patterns for success and capability blueprints.
Now we need to see more Australian executives harness and leverage these competencies to embrace digital and IT innovations to reposition their organisation as a disruptor – rather than one of the disrupted.
ADAPT delivers advisory services built on knowledge, relationships and trust to equip the leaders of corporate Australia with the examples, inspiration and competencies they need to gain advantage. adapt.com.au/adapt-insights