Resources
Realigning Technology to Build Data-Driven Organisation
This third and final part of ADAPT's exploratory series concludes our Nine Paradigms for an Extra-Ordinary World. Here, we will examine one of these three final paradigms: Realign Technology.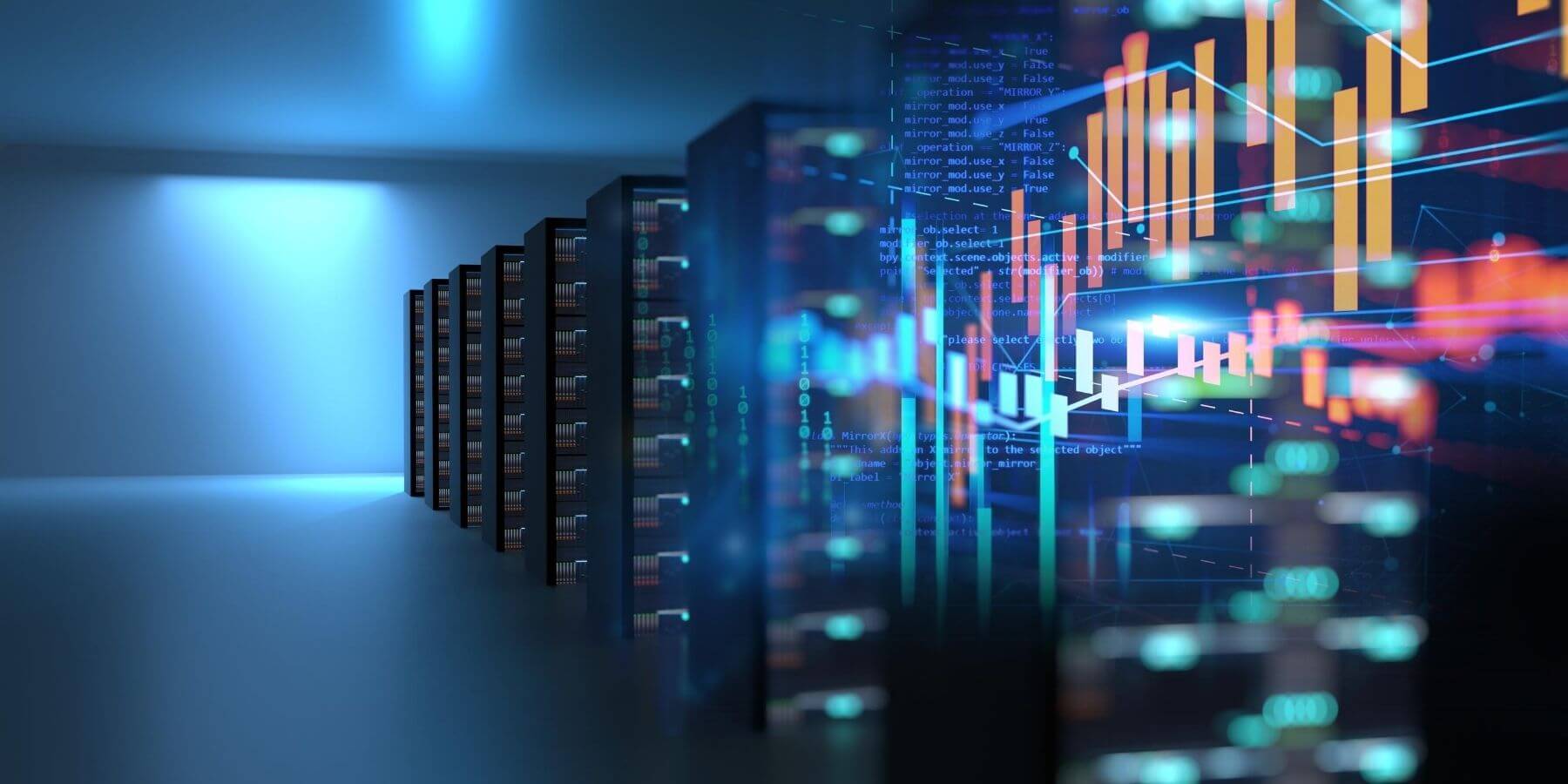 Introduction
Since March 2020, technology leaders have been required to spearhead an innovative, technology-led response to a thoroughly unprecedented operating environment.
Almost overnight, organisations accelerated digital transformation at a blistering pace and sought to secure assets, information, and people across complex multi-cloud and work from home environments.
As organisations refocus on a pathway to growth, ADAPT advises that IT and business leaders must:
Realign technology to build the data-driven organisation
Embrace new ways of innovation to enhance the human experience
Rethink security to fit a hybrid operating environment
This third and final part of ADAPT's exploratory series concludes our Nine Paradigms for an Extra-Ordinary World. Here, we will examine one of these three final paradigms: Realign Technology.
We base our examination of these paradigms on our ongoing engagement with IT and business leaders in Australia and New Zealand. We provide pragmatic advice to enable local organisations to thrive in the next normal that has emerged from the fundamental public health, economic, and social disruptions that have prevailed for the past nine months.
Realign Technology
Ongoing business disruption experienced since 2020 has sent digital transformations into high gear.
ADAPT research shows that organisations imperilled by pandemic-induced disruptions rushed to facilitate six or more years' worth of technology adoption within as little as six months.
Yet operational workflows and prevailing support models remained thoroughly legacy in nature.
CIOs shifting into growth mode must now realign technology focus and funding in four key areas:
Digital workplace to enhance employee experience and deliver customer success
Process optimisation for cost correction and fundamental operating model redesign
Data-driven business initiatives to create a single view of the customer
Legacy modernisation as a conduit to a hyper-responsive business model
Optimise digital workplace initiatives to enhance the human experience
Organisations are thoroughly cultivating the digital workplace.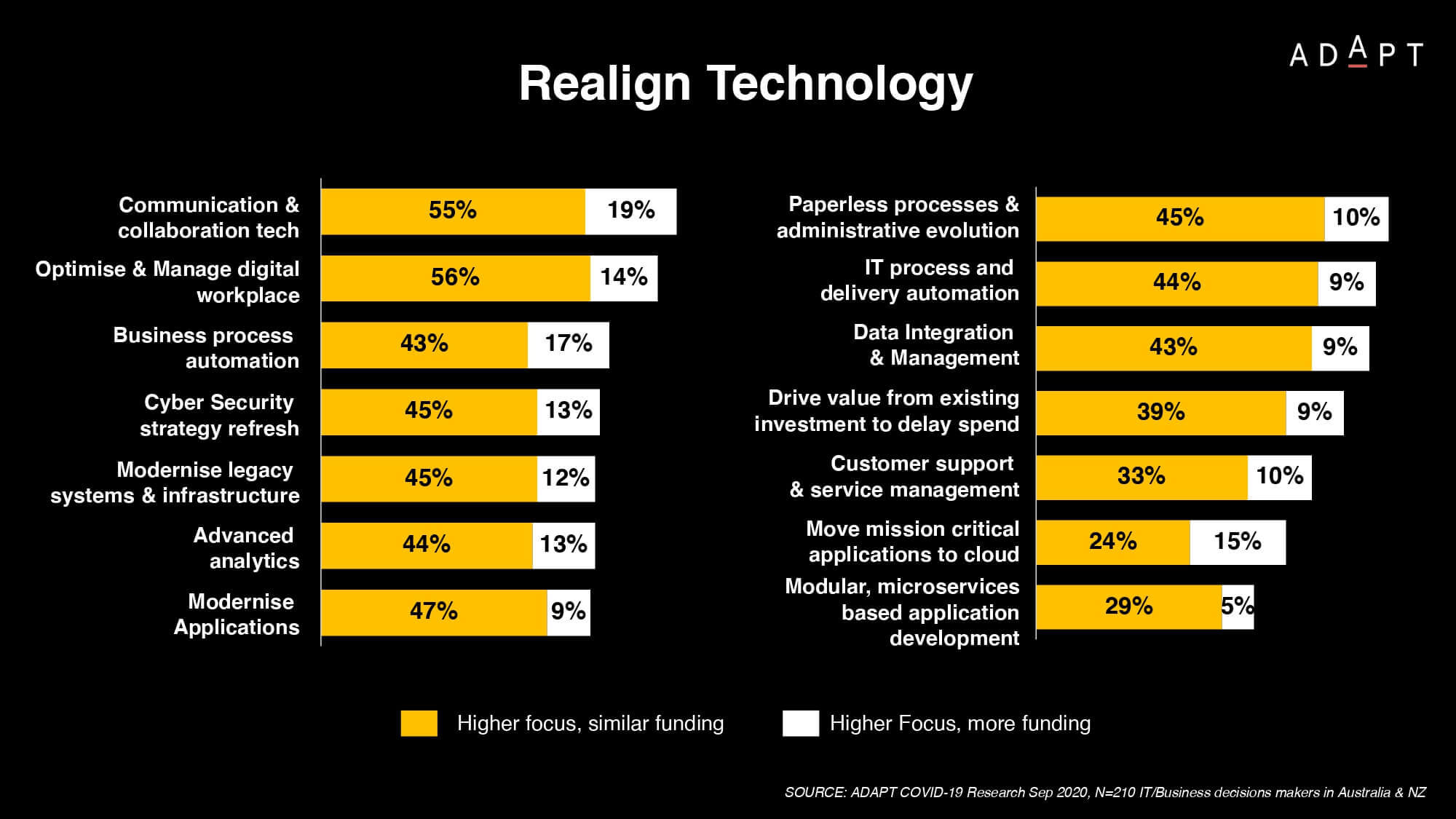 Though required to enable remote operations rapidly, IT leaders expect to carry forward the gains intrinsic to a hybrid operating model through 2021. For example, 74% will increase attention to collaboration technologies, 70% strive to optimise the digital workplace, 58% are refining cybersecurity strategies to defend an enlarged perimeter, and 43% have renewed priority for customer care.
Technology investment into digital transformation is sharply accelerating. IT leaders expect to increase expenditure by 19%, 14%, 13%, and 10%, respectively, across these areas.
Although technology adoption eased as part of the effort to spin-up remote operations, organisations need to augment toolchain investment with operational excellence. Embracing modern ways of working relies on IT leaders to overcome residual cultural resistance and simplify internal workflows consistent with a digital-first operating model.
"65% of employees are not that happy with the tools they have," asserted ADAPT Director of Strategic Research Matt Boon.
We are constantly pushing tools and processes down on people without articulating how they can enable employees to have a bigger impact on the organisation."
In other words, a digital workplace needs to be more than the sum of its technology parts.
Embracing hybrid operating models to drive administrative evolution creates an opportunity to decouple processes from traditional temporal and physical anchors.
Facilitating innovation regardless of place and space involves remaking the operational journey to embrace remote-first experiences, knit together digital technologies into seamless and automated pipelines, and dump decision gates that no longer make sense in the virtual realm.
Consequently, automation, digitalisation, and delivery orchestration are crucial to redefining critical journeys to support this next normal.
Whilst 70%, 55%, and 53% of local organisations, respectively, are increasing attention to these areas, only automation is attracting a significant uplift in funding: with 17%, 10%, and 9% of local businesses allocating net-new expenditure across these dimensions.
Renovate the core to build a data-driven business
Stripping away process complexity forms a foundation for data-driven operations.
Appropriately automated, paperless workflows improve access to and quality of data for decisions. Connecting siloed data pools into integrated enterprise-level data lakes enables technology executives to create a single, near real-time view of customer intent, underpinning efforts to implement advanced analytics to predict and meet market demand.
Though the impetus for creating a data-driven organisation waned due to a need to prioritise near-term tactical plays, CIOs across Australia and New Zealand are again embracing the imperative to consume proprietary customer insights as essential fuel for growth.
Technology executives are expanding focus and funding for the fundamental components required to identify and act on emergent trends. Respectively, advanced analytics and data integration receive higher priority at 57% and 53% of businesses than before the pandemic.
Yet budget allocation is a tale of two investments. Whereas 19% are allocating more to probe datasets for insight, only 9% expect to increase spending on pre-processing the raw data for analysis.
"Most (80%) businesses have no unified vision for their data management," advised ADAPT Senior Research Strategist Aparna Sundararajan. "For example, a lot of financial reporting is done manually. It is an opportunity for the CIO to showcase the benefit of digitising and automating a tiny portion of those processes. CFOs will listen to you because the proof of concept is contextual to their needs."
As part of creating a data-driven organisation, technology executives also need to renovate the core.
The race to digital creates an urgent need to modernise technology foundations. Although organisations across Australia and New Zealand embraced cloud to transform the operating engine, residual in-house complexities remain.
Overcoming sunk capital, for example, inhibits the business case for cloud-shift. Addressing architectural burden – by decoupling business logic from the monolith – is another constraint on legacy modernisation. Remaking customer-facing applications with agility at the core requires businesses to embrace modern ways of working and implement robust delivery pipelines.
Consequently, technology executives in Australia and New Zealand are reallocating muscle power to drive legacy modernisation. Systems built using modern DevOps pipelines and modular frameworks tend to be more reliable in production than alternatives using traditional methods.
So, although IT leaders may well face legacy mindsets and a temptation to delay investment to extract more value from existing assets, building a future-ready technology core should be prioritised.
Businesses are devoting 57% and 56% more focus, respectively to overall infrastructure and application modernisation, apportioning an additional 12% and 9% funding to these efforts.
IT leaders are also dedicating 39% and 34% more time, in turn, to shift mission-critical workloads to the cloud and embrace microservices architectures, allocating uplifts of 15% and 5% in expenditure.
Together, the pursuit of infrastructure excellence whilst also remaking critical systems illustrates technology executives' opportunity to lead efforts to change and grow the business.
Evolving these deep legacy assets is fundamental to the effort to innovate.
Conclusion
Australia and New Zealand's C-Suite drove a technology-first response to survive the disruptions endured since March 2020. The region's changemakers thereby demonstrated the potential of hybrid operating models to facilitate new pathways to innovate.
Business leaders seeking new avenues to growth can:
Simplify internal workflows to remove legacy frictions from digital-first operating models
Facilitate innovation by decoupling ideation from traditional temporal and physical anchors
Inculcate the organisation's trademark behaviours into new hires rapidly
Knit together digital technologies to facilitate a seamless experience regardless of location
Reimagine workforce engagement to foster innovative approaches to customer success
Develop crisis-management success into strategic change-the-business credentials
Redesign continuity planning to factor in impairments to backup operations
Enable customers to quench their thirst for comfort via digital paths to expertise
Actuate workforce creativity by refactoring talent management practices
Build the foundation of the data-driven organisation by pursuing administrative evolution
Remake cybersecurity architecture and infrastructure to address multi-cloud complexities
Embrace modular architectures to modernise mission-critical workloads
Refactor security awareness appropriate to user domain and technical proficiency
Evaluate the requirement to claw back offshore contracts to reduce supply chain risk
An effective digital-first organisation is more than the sum of its technology parts. IT leaders can optimise digital workplace initiatives to enhance the human experience and showcase technology-fuelled innovations to the top management team to pursue growth.
Ultimately, by integrating focus and funding for technology-led change whilst also securing the invisible perimeter, the region's changemakers can grasp the reigns of growth for success through 2021 and beyond.
Become an ADAPT Research and Advisory client to access the full final report of the Nine Paradigms of an Extra-Ordinary World.