Resources
Redefining Business Amidst Economic Upheavals
Against the backdrop of the twin economic and wellbeing upheavals in 2020, Australia and New Zealand's C-Suite are thoroughly rationalising internal and external lines of production.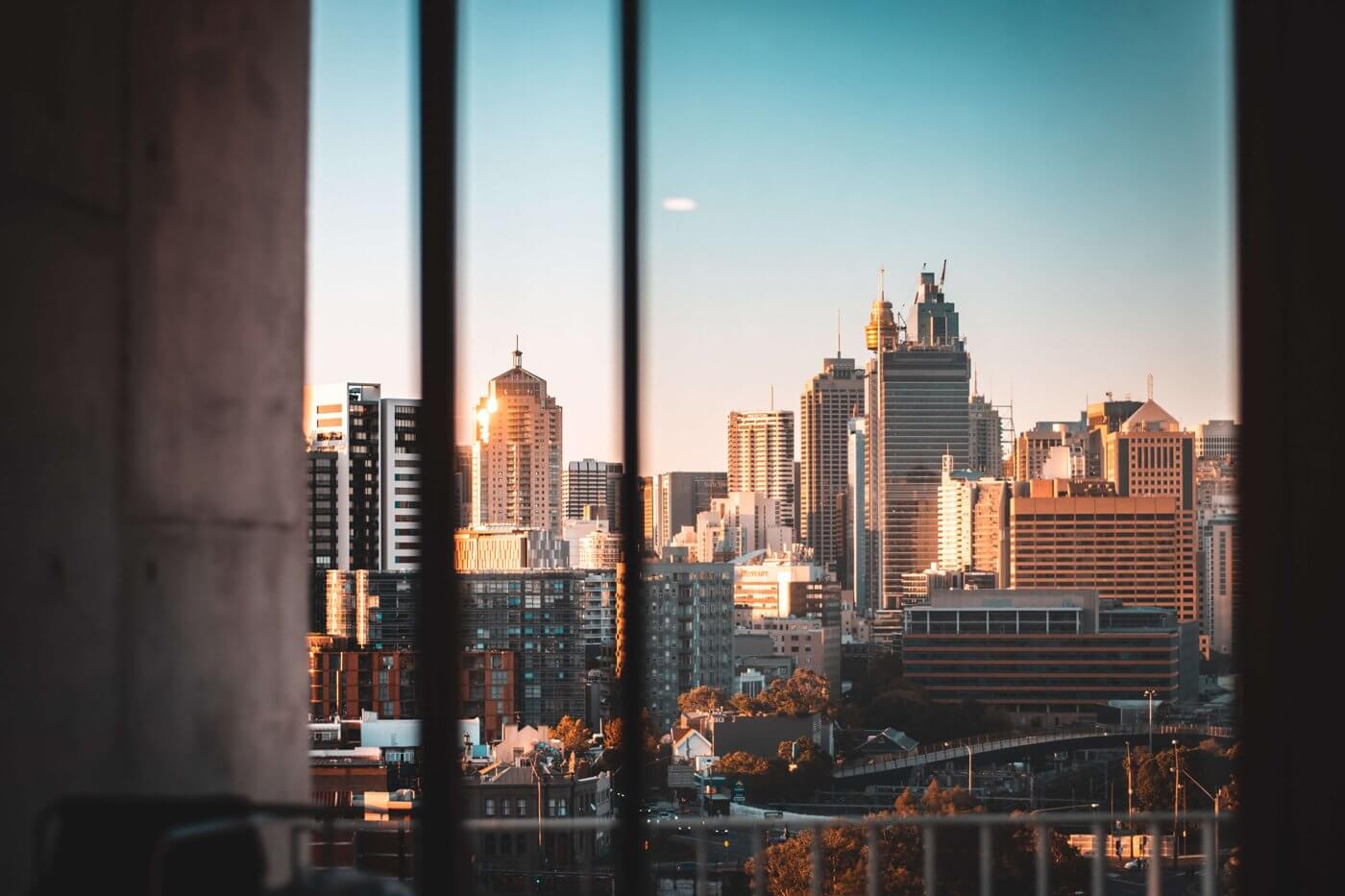 Introduction
Confronted by the survival imperative, organisations across Australia and New Zealand switched to virtual delivery and enablement models almost overnight, quickly realising experience and efficiency benefits as a result.
In order to turn survival into growth, leaders need to do more than optimise and tune the engine.
Based on our ongoing discussions with IT and business leaders across the local community, ADAPT advises that to rebuild operations and execute effectively in 2021 and beyond organisations must:
reset culture
enable employee resilience
redefine business.
This will outline the Redefine Business section of the second report in the ADAPT Nine Paradigms for an Extra-Ordinary World exploratory series.
Here, we will examine one of these three paradigms, providing advice as to how leaders can advance Australia by building on the new operating models that emerged in response to the prevailing economic constraints of 2020.
Redefine Business
Against the backdrop of the twin economic and wellbeing upheavals in 2020, Australia and New Zealand's C-Suite are thoroughly rationalising internal and external lines of production.
Businesses confronted by the survival imperative found a new impetus to pivot.
Reinvention began with the workforce: some 95 per cent of employees reacted instinctively to the new reality; however, fully one-quarter of firms slashed personnel by between 11 and 25 per cent; and one in twenty-five firms cut headcount by more than 25 per cent.
Australia's workforce was already amongst the most flexible in the developed world: yet the impact of employee churn through the height of the pandemic illustrates it was not nearly flexible enough.
Firms are thereby seeking to implement a cloud-like scalability model for the employee base: to ramp up and scale back capacity in line with market demand to achieve business resiliency.
Casual workers have hard hit by the economic impacts of government-mandated lockdowns."
Yet the shift to a distributed workplace may in turn fuel entrepreneurialism, with employees grasping the freedoms brought by being able to access a portfolio of gigs aligned to their career aspirations, not necessarily constrained by location.
Supply Chain Resiliency Drives Business Resiliency
Organisations also sense the opportunity brought by geographically agnostic access to talent.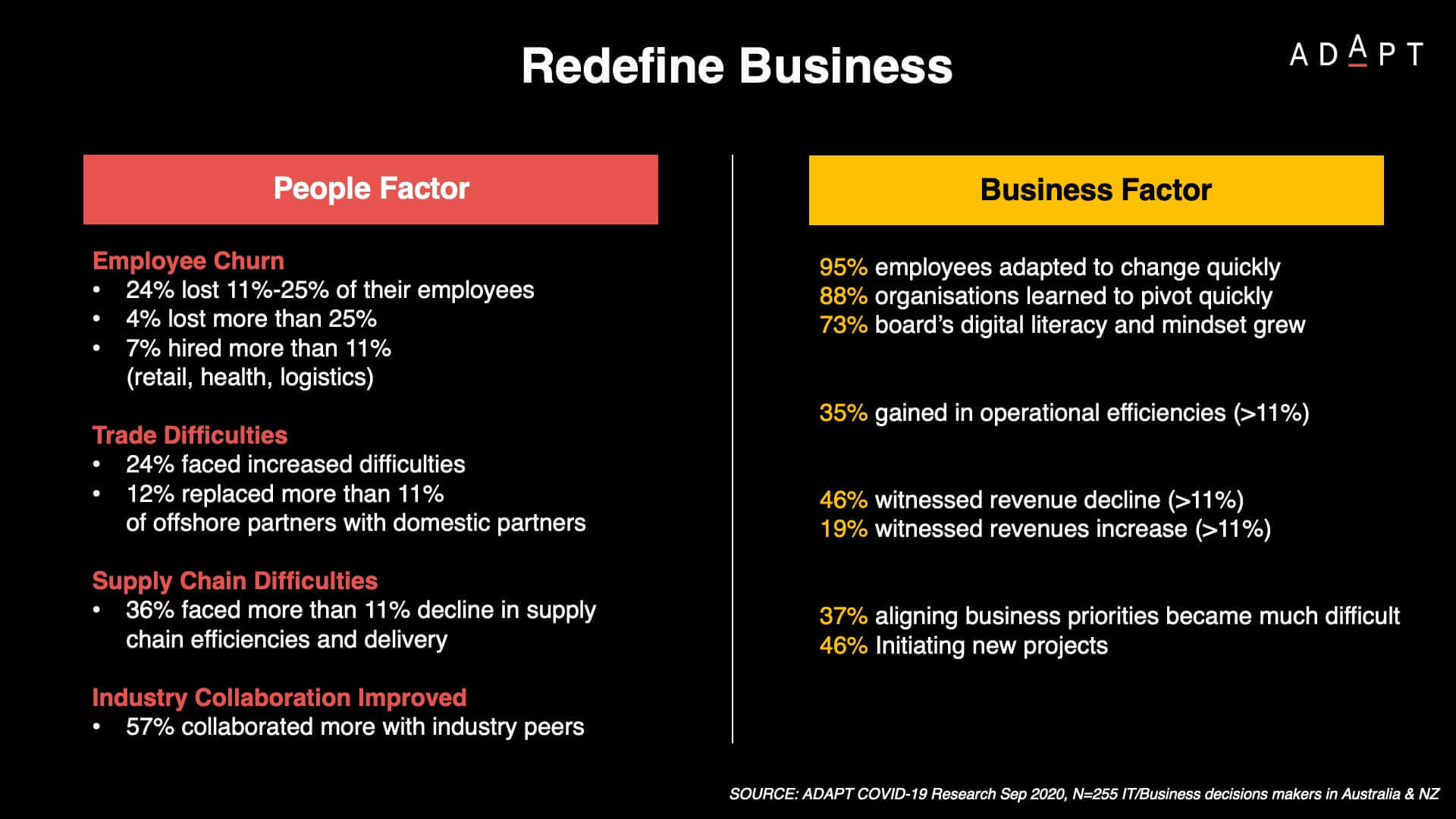 Aside from internal recruitment and retention, some 12 per cent of business leaders are accelerating initiatives to repatriate operations back onshore from offshore partners.
Fully 36 per cent of businesses have suffered supply chain losses in 2020.
Organisations need to re-examine the supply chain, invest, and implement practices to ensure the pipeline into and out from the organisation is secure, dependable, and withstand new expressions of this or other, future crises.
Partnership ecosystems also have a role in crisis response: some 57 per cent of leaders say that they have collaborated with industry peers to harden the supply chain and increase barriers to entry.
Cashflow was indeed king throughout this unprecedented year: one-quarter of leaders told us that they suffered short-term cash flow problems, with almost half seeing revenues decline against the financial year 2019.
Digital native-born in the cloud companies continued to advance at the expense of heavily legacy centric ones as close to one-in-five digital disruptors captured new revenues of 11 per cent or more.
Efficiency Forms the Foundation for Success
Australia's C-Suite asserts that digital-first efficiency gains will remain a top priority for 2021.
Board-level digital literacy grew as they shifted operations into the cloud and brought forward long-term technology investments, but 37 per cent indicated that opportunities remain to improve value articulation against business priorities.
Turning survival into growth requires leaders to accelerate efficiency gains to fund transformational initiatives – fully 35 per cent of firms expect to expand the efficiency program in 2021.
By grasping the opportunity to redefine internal operational processes and systems, firms can embed a distributed operating model into the organisational fabric: the 46 per cent of organisations that have kicked off new initiatives are already well on the path to embedding resiliency at the core.
Conclusion
Employees and business leaders together are finding that rapid adaptation in the face of crisis is not only desirable but also a survival imperative.
This almost overnight shift from deep legacy driven inhibitors to innovation and into permissive, open collaboration enabled by a work-from-anywhere culture illustrates the art of the possible when leaders rethink the employee experience across the organisational journey.
COVID-19 has caused a 'Ctrl+Alt+Del' reset of how organisations approach employee engagement, collaboration, and productivity."
In the words of Matt Boon, Director of Strategic Research at ADAPT – and leaders have it within their grasp to grapple the organisation into digital shape to fuel future growth.
Australia and New Zealand's C-Suite now have the opportunity in its grasp: provided it acts now.
To succeed, leaders should:
Begin by capturing efficiency savings to fund operating model transformation.
Shift to permanently distributed operations by providing employees with consistent experiences across physical and virtual workspaces.
Accelerate employee adaptation with enriched, on-demand digital learning platforms.
Connect employees into the mission of the organisation through the judicious, timely use of broadcast and narrowcast communication methods.
Enhance the employee experience by taking care to reduce digital disruption whilst still maintaining a suitable cadence to check-in and drive engagement.
Support entrepreneurialism with a cloud-like workforce scalability model, performance metrics that promote collaborative behaviours, and mindful connectedness initiatives.
Create time-and-decision capacity for leaders by encouraging experimentation with new ways of working along with innovative, collaborative uses of physical workspaces.
Empower employees to overcome the virtual barriers to consensus building, team bonding, and engagement.
Bring teams together in physical workspaces as demanded by the needs of complex projects, culture transformations, and process improvements – rather than at arbitrary waypoints.
Build for the future by expanding further into the cloud, using common toolsets, and eschewing the legacy assets that may otherwise hold back further progress
"Executives learned that given a critical reason from the top about why change needs to happen, employees would adopt the change," asserted Aparna Sundararajan, Senior Research Strategist at ADAPT.
So, just as culture is the DNA of the business, forward-thinking firms can measure employee experience by how frictionless collaboration, connectedness, and process innovation can become.
Become an ADAPT Research and Advisory client to access the full second report of the Nine Paradigms of an Extra-Ordinary World.
Contributors
Matt Boon – Director of Strategic Research at ADAPT
As Director of Strategic Research at ADAPT Matt Boon is responsible for directing and developing ADAPT's research content and positions.
In his role at ADAPT Boon advises C-Suite executives across the end-user and technology provider landscape. Boon is also responsible for bringing together groups of C-Suite leaders to discuss and prepare for the myriad of challenges and opportunities they face.
Aparna Sundararajan – Senior Research Strategist at ADAPT
Aparna Sundararajan leads the emerging and disruptive technology research agenda within ADAPT's strategic advisory team. As Senior Research Strategist, her role is to create independent advice for the Australian C-Suite around emerging technologies, trends and investment priorities and developing industry-leading content for the ADAPT portfolio of Edge events.
Shane Hill – Senior Research Analyst at ADAPT
As Senior Research Analyst, he produces pragmatic insights tailored to the specific needs of technology leaders in Australia and New Zealand.
Hill has worked in technology delivery and market intelligence roles for the past 15 years. He focuses on how emerging technologies will impact the business models, frameworks, and operations of end-user and vendor organisations.