Resources
How to Resonate with ANZ CIOs
The remit of the CIO is growing exponentially, with ADAPT's research indicating they have close to 30 different 'jobs to do'. With that in mind, how can GTM teams resonate with these busy executives?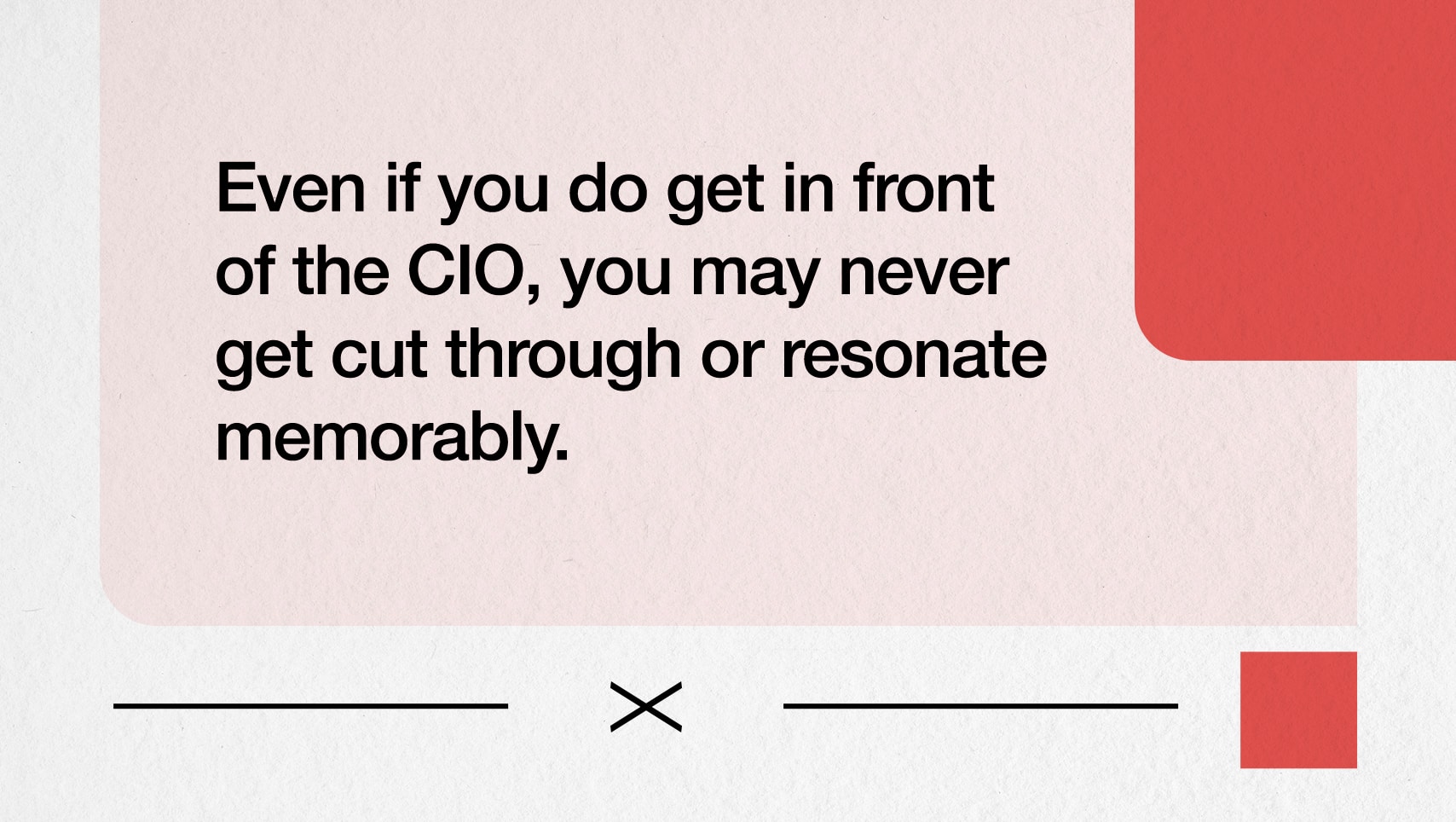 My number one piece of advice in approaching a CIO is empathy.
Far too few sellers really appreciate the challenges of the job. By doing so, you could win a relationship from the outset.
The CIO is a lonely role. Leading tech strategy and modernisation, often battling naysayers in the business, responsible for the perception of IT and technology internally, constant change management, pitching the business case, while needing to have the answers on an impossible array of modern solutions.
Often, the CIO is under-resourced and under-appreciated. While their role ascended through the shift to WFH in lockdowns, and old mindsets were forced to reassess how important technology is, they are still struggling to win a strategic seat at the table, often brought in far too late to product and company planning, resulting in CIO's being seen as an inhibitor.
The CIO's role has evolved
In the last decade we've seen the CIO role go far beyond simple stewardship of reliable IT service and supply. Technology now underpins success or failure in the digital age – from employee attraction and retention, through customer experience, and to the future growth margins of any company. It has never been so powerful, which should mean the CIO is in a driving seat.
They now must lead modernisation strategies since legacy systems and mindsets are the nemesis of Australia's transformation. They are aiming to improve data quality to drive the next wave of data enabled processes, decisions and automation. All while ensuring security and compliance.
How technology vendors can align with CIOs
To do this what they need most is help in creating modern ways to measure, capture and display the value they have generated across the organisation through advanced systems and technologies.
Their CFO, CEO and Board want to understand the returns, risk and ways to reduce costs, without impeding growth and advantage in these challenging times.
There is a vast amount more we could go in to – and our Advantage clients can access – to help work out ways to position to CIOs. ADAPT analysts are often presenting at QBRs and SLTs with vendors to help them do that on a company and product basis, knowing that our market differs to the rest of the world, and our local experience and data is unparalleled.
Bottom line for now, make sure your sales and marketing team think beyond your product and services or other use cases.
Think about what outcomes your solutions can lead to? Align those with the aims of our CIOs and articulate the ways that you can help them to get jobs done.
Meanwhile, approach the CIO with sympathy and open empathy for how much they have to achieve. Make it clear how you can perhaps help them do that, based on clear examples for what you've done for other CIOs facing similar challenges and goals.
What should sales and marketing leaders be focusing on?
ADAPT have been hosting local CIOs since 2011 across large events and private executive roundtables. What our account managers often hear from vendors is how they've lost a deal late in the process because they didn't have the CIO relationship, or brand permission to be in front of them.
Your challenge is that the ANZ market is a relatively small one, with thousands of vendors vying for time with the CIO. Even if you do get in front of the CIO, you may never get cut through or resonate memorably.
Sophisticated sales and marketing leaders are now focused on persona mapping and outcome-based conversations, linking what their solutions actually do to the challenges a key decision maker faces, and the organisational priorities they are trying to deliver on.
ADAPT have been codifying the aims of the local CIO community, along with the barriers that impede them from delivering on their goals. We do all we can to help them create the strategy, roadmaps, and tactical plans to execute successfully on their quarterly and annual goals.