Resources
Spearheading Innovation in Unpredictable Environment
These last nine months since March 2020 have required technology leaders to spearhead an innovative, technology-led response to a thoroughly unprecedented operating environment.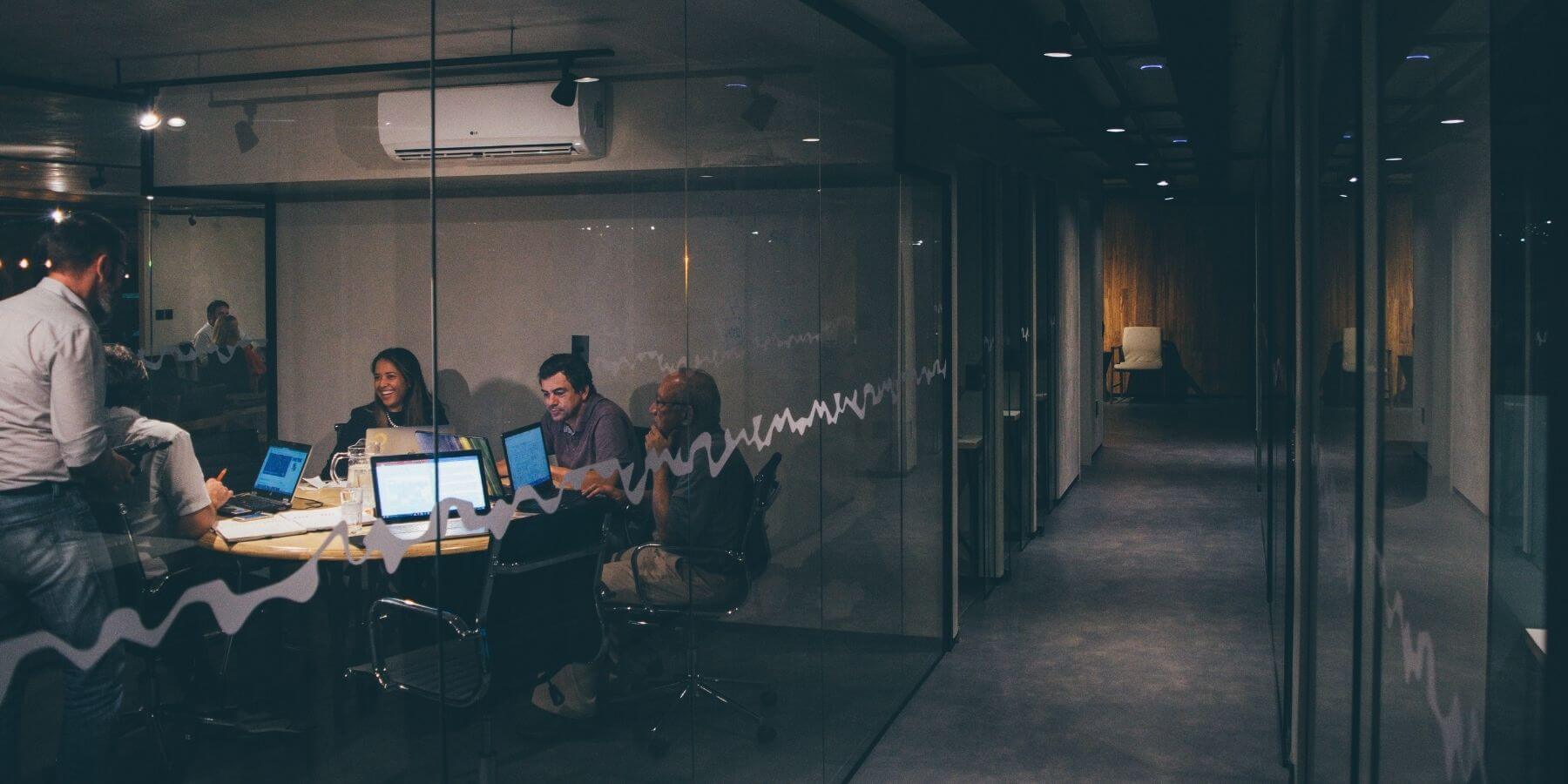 Introduction
Almost overnight, organisations accelerated digital transformation at a blistering pace and sought to secure assets, information, and people across complex multi-cloud and work from home environments.
As organisations refocus on a pathway to growth, ADAPT advises that IT and business leaders must:
Realign technology to build the data-driven organisation
Embrace new ways of innovation to enhance the human experience
Rethink security to fit a hybrid operating environment
This third and final part of ADAPT's exploratory series concludes our Nine Paradigms for an Extra-Ordinary World. Here, we will examine one of these three final paradigms: Innovation.
We base our examination of these paradigms on our ongoing engagement with IT and business leaders in Australia and New Zealand. We provide pragmatic advice to enable local organisations to thrive in the next normal that has emerged from the fundamental public health, economic, and social disruptions that have prevailed for the past nine months.
Innovation
Organisations invested heavily in digital-first innovations to facilitate business resilience in 2020.
ADAPT data collected over the past twelve months shows that technology executives' sure-handed stewardship of business innovation in the past twelve months established their credentials as a visionary changemaker.
CIOs embarking on the growth pathway can enhance their strategic credentials in:
Run-the-business activities where technology enables business-as-usual (BAU) operations
Change-the-business initiatives which offer rapid opportunities for experimentation
Grow-the-business programs as pathways to expand proven pilots into production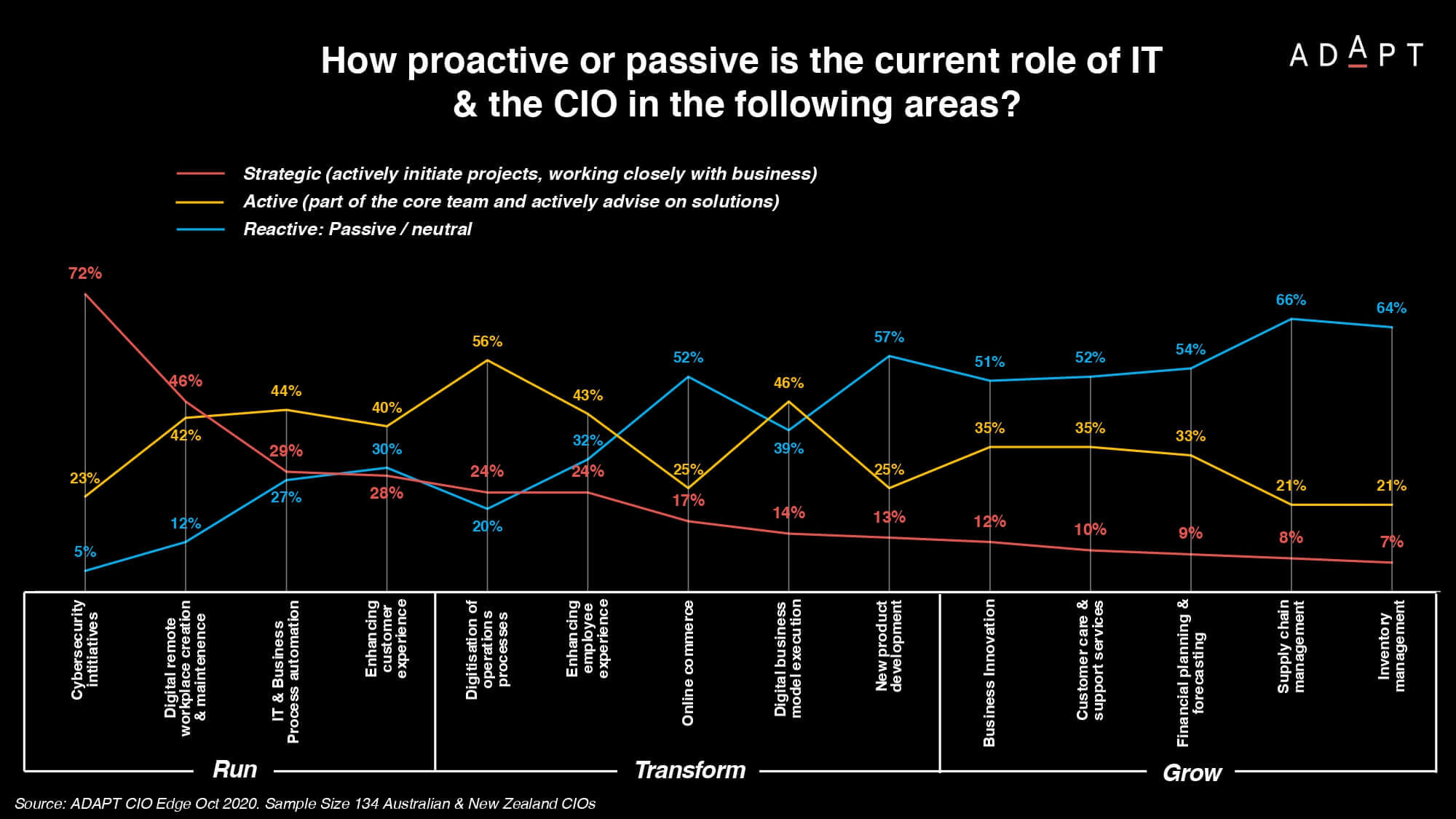 CIOs can facilitate experimentation by enhancing the human experience
IT leaders can seize the reigns of change as businesses recover from the disruptions of 2020.
The top management team increasingly acknowledges the renaissance of the CIO. And though ANZ technology executives perceive themselves as approaching strategic in driving BAU outcomes, they typically self-assess as active for innovation and merely passive when it comes to growth. But by facilitating an almost overnight shift to remote-first operations, IT leaders enabled business survival.
In simple terms, strategic leaders actively initiate projects and work closely with the business to achieve target outcomes. By contrast, active executives participate in the core management team and advise on solutions to problems proposed by stakeholders. Passive CIOs tend to be reactive to business demands.
In other words: whilst the region's changemakers burnished their transformation credentials in the past twelve months, many still articulate a need to build on technology-fuelled resilience efforts.
Enhancing the human experience is a chance for CIOs to optimise BAU whilst driving innovation.
Technology changemakers throughout Australia and New Zealand typically perceive themselves as more proactive in attending to employee experience (EX) than external customer experience (CX). In some ways, this is unsurprising.
As the weeks of crisis-response turned into months and the early frisson faded after the rush to enable remote operations, care for the workforce emerged as fundamental to survival. People innovation relies on leaders to reimagine workforce support models and customer engagement practices.
Local CIOs now have a rare opportunity for experimentation. By embracing current operating exigencies created as businesses shift from traditional continuity strategies to operational resilience, organisations can evaluate novel ways to ideate, communicate, and collaborate for customer success.
And as observed in Part II of the Nine Paradigms for an Extra-Ordinary World: Resilience, an attempt to lift-and-shift the physical workspace into the digital realm does not work.
"The new generation of the workforce requires new experiences: their motivation to work is significantly different from existing colleagues," advised ADAPT Senior Research Strategist Aparna Sundararajan.
Organisations need to give employees the freedom to experiment, solve problems differently, and take measured risks."
Online commerce offers CIOs another opportunity to drive transformation through experience.
Consumers in Australia and New Zealand are embracing digital marketplaces to quench their thirst for comfort. Yet only one-quarter of technology executives feel that they play an active role in defining the digital shopfront's roadmap.
Roughly one-half of IT leaders tell us that they are passive decision-takers for eCommerce, assessing options when the business asks. As buyers have a growing appetite to request support and expertise via digital channels, CIOs' opportunity to play a strategic role is clear.
Augmenting the in-store experience requires CIOs to grasp the virtual engagement imperative: fully 41% expect to devote more focus for innovation in this area alone.
Rapid innovation relies on incentivising team-oriented behaviours
Events in 2020 stimulated the charge for change.
Businesses across the region accelerated the pace of innovation in the last year. Whereas 47% increased focus and funding for transformation, 59% enjoyed the benefits of experimentation.
Technology executives are embracing a new remit to actuate workforce creativity. Decision-makers can tap a global talent pool to fulfil the organisation's tactical and strategic needs, unshackled from the constraints of traditional, physical environments.
Rather than commuting to a designated workspace to collaborate with colleagues through virtual and physical means, managers and makers alike physically and virtually can choose to enjoy the benefits of genuine telecommuting.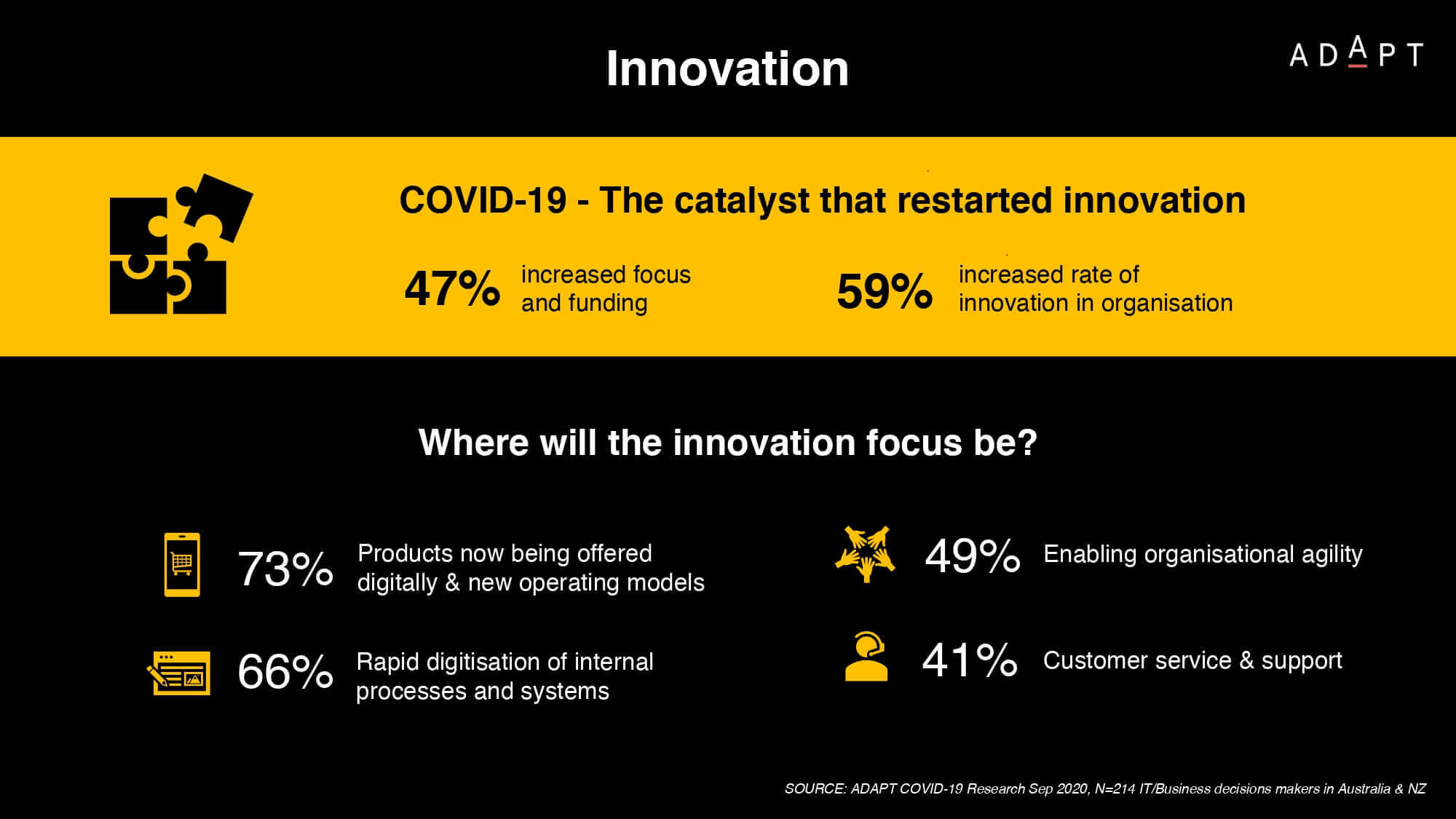 Organisations seeking to embrace the next normal must forever change their hiring practices.
Celebrate competency and potential over performance. Favour recent contributions instead of longer-term career trajectory. Rewrite job descriptions to avoid so-called 'cultural fit.' Invite action-oriented, pragmatic, genuine, and personable candidates who articulate the unmet needs of the customer.
Fundamentally map the candidate's recent contributions, career expectations, aptitude, and growth potential to near and mid-term business demand. Evaluate deep thinkers on the same plane as extroverts. In essence: rethink the persona required to achieve next-level performance.
We can't keep hiring the way that we used to," intoned Boon. "Leaders need to leave the best possible legacy: to Identify, attract, and create resources to meet the future needs of the business."
A modern recruitment strategy may well facilitate organisational agility. By expanding talent identification beyond traditional hiring pools, decision-makers can access practitioners, creators, and thought leaders that may otherwise be inaccessible to the organisation.
Further, by investing in a global search for human resources, businesses can accelerate the effort to retrain existing talent. This focus on retraining and recruitment underpins the need to enable organisational agility: a priority for 49% of organisations in Australia and New Zealand.
Technology executives who prioritise innovation also need to:
Remake onboarding processes to inculcate trademark behaviours into new hires rapidly
Reimagine traditional whiteboarding sessions with equitable access to digital tooling
Refocus improvement efforts on the concept of blameless retrospectives
Redesign incentives to promote team-oriented and inclusive behaviours
Simply digitising physical processes does a disservice to the promise of hybrid operations. Refocusing effort and funding to innovate at the product, process, and people level should result in new digital revenues supported by digital excellence.
73% of businesses expect to invest in new product innovation, and 66% intend to facilitate the rapid digitalisation of internal processes. CIOs across the region can promote rapid ideation, cross-team collaboration, and connection with colleagues regardless of whether they are physically distant but temporally present.
Creating a sense of team, culture, and connection with a workforce distributed across physical and virtual environments, in essence, relies on technology executives taking the next steps beyond technology adoption to drive engaging EX and CX regardless of context or location.
CIOs must grasp the imperative to rethink traditional security approaches as hybrid operations scale.
Conclusion
Australia and New Zealand's C-Suite drove a technology-first response to survive the disruptions endured in the nine months since March 2020. The region's changemakers thereby demonstrated the potential of hybrid operating models to facilitate new pathways to innovate.
Business leaders seeking new avenues to growth can:
Simplify internal workflows to remove legacy frictions from digital-first operating models
Facilitate innovation by decoupling ideation from traditional temporal and physical anchors
Inculcate the organisation's trademark behaviours into new hires rapidly
Knit together digital technologies to facilitate a seamless experience regardless of location
Reimagine workforce engagement to foster innovative approaches to customer success
Develop crisis-management success into strategic change-the-business credentials
Redesign continuity planning to factor in impairments to backup operations
Enable customers to quench their thirst for comfort via digital paths to expertise
Actuate workforce creativity by refactoring talent management practices
Build the foundation of the data-driven organisation by pursuing administrative evolution
Remake cybersecurity architecture and infrastructure to address multi-cloud complexities
Embrace modular architectures to modernise mission-critical workloads
Refactor security awareness appropriate to user domain and technical proficiency
Evaluate the requirement to claw back offshore contracts to reduce supply chain risk
An effective digital-first organisation is more than the sum of its technology parts. IT leaders can optimise digital workplace initiatives to enhance the human experience and showcase technology-fuelled innovations to the top management team to pursue growth.
Ultimately, by integrating focus and funding for technology-led change whilst also securing the invisible perimeter, the region's changemakers can grasp the reigns of growth for success through 2021 and beyond.
Become an ADAPT Research and Advisory client to access the full final report of the Nine Paradigms of an Extra-Ordinary World.
Contributors
Matt Boon – Director of Strategic Research at ADAPT
As Director of Strategic Research at ADAPT, Matt Boon is responsible for directing and developing ADAPT's research content and positions.
In his role at ADAPT, Boon advises C-Suite executives across the end-user and technology provider landscape. Boon is also responsible for bringing together groups of C-Suite leaders to discuss and prepare for the myriad of challenges and opportunities they face.
Aparna Sundararajan – Senior Research Strategist at ADAPT
Aparna Sundararajan leads the emerging and disruptive technology research agenda within ADAPT's strategic advisory team. As Senior Research Strategist, her role is to create independent advice for the Australian C-Suite around emerging technologies, trends and investment priorities and developing industry-leading content for the ADAPT portfolio of Edge events.
Shane Hill – Senior Research Analyst at ADAPT
As Senior Research Analyst, Shane produces pragmatic insights tailored to the specific needs of technology leaders in Australia and New Zealand. He has worked in technology delivery and market intelligence roles for the past 15 years.
As part of ADAPT's Strategic Research and Advisory team, Shane focuses on how emerging technologies will impact the business models, frameworks, and operations of end-user and vendor organisations.