As the University of Technology Sydney's Head of Data and Analytics, Susan Gibson drives employee experience, student experience, and remote working and learning opportunities through data visualisation, analytics and literacy.
Speaking at ADAPT's Digital Edge, Peter Hind, Susan shares how she has grasped opportunities offered by ongoing hybrid operations to drive a digital and insights-based staff and student online experience.
The University of Technology Sydney has introduced activity-based working to foster autonomous delivery of outcomes and increased online collaboration. Susan has since deployed AI tools for students to determine the most suitable courses for their desired career path.
Susan also shares how UTS' has also seen the rise of transdisciplinary teams, real estate cost savings, and the introduction of 'domain boards' to determine top business priorities.
Peter Hind:
Susan, can you tell us a little bit about your role at UTS?
Susan Gibson:
Sure, my role is I head up Data and Analytics, but also since COVID, I've had a real place in developing new ways of working and responsible for moving people initially offsite to work from home.
Peter Hind:
The news we get is probably the most disrupted industry, apart from tourism, is the education sector – the loss of overseas students, the whole new delivery models.
Can you give us a feel for how that's impacted you?
Susan Gibson:
Sure, we've had to look for other opportunities for revenue which has been a good opportunity too, because there's also a real need for education in areas such as digital and data.
The enterprises are starting to look at that. The corporates are looking at more than they have in some time. That's a great opportunity for us as new business models.
Peter Hind:
It affects a lot of ways that people work.
I can imagine the university people who would see their value proposition through being a lecturer in a theatre, talking to people have got to re-imagine what they're doing and how they're doing.
What has been your findings in that customer experience or that employee experience area?
Susan Gibson:
Certainly, first of all, customer experience, we've seen students wanting more choice.
Now, we saw students who did want to access some content online, but there's a real mix, and there's a real balance to be had."
There's still a real need for people to be on the campus and interact on campus.
Peter Hind:
There's that human experience that you need to cater for.
Susan Gibson:
We're seeing people now coming back to campus and for employees.
Your culture can go for so long, and we ran off the culture we had, but after a while, you do need to get people back, and they need to work together.
That gives you renewed energy. That was seen in the last few months.
Peter Hind:
Because I can see, on the one hand, the advantages of a customer experience in the sense of a student can have their lecture at a time that's convenient to them.
They can build, they're working life around access to these lectures, but I can also see you've got to marry that with the fact and there are operational efficiency drivers that ADAPT is seeing.
On top of many people's agendas, I'm sure people look at the cost of real estate in Sydney and say if we can shrink that a little bit, there's a lot of savings that could be done. Still, you're also seeing people who want that human experience, and you're trying to have to marry both of those.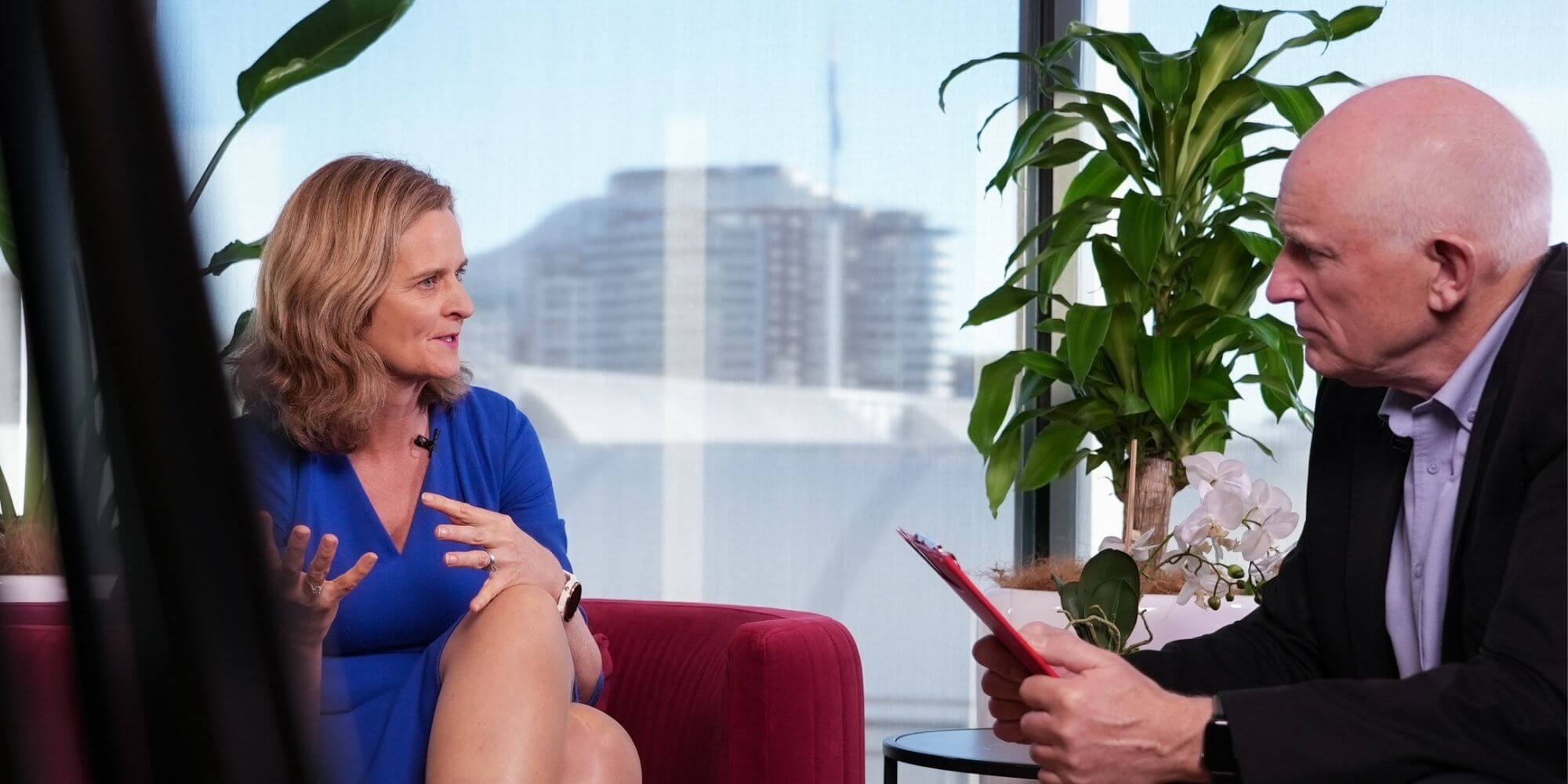 Susan Gibson:
We want to look at our space very carefully, and obviously, space is a huge cost.
On the other side, we're also looking at new ways of working.
We've got a great opportunity to save money on our space and adapt new ways of working by moving more towards activity-based working and making sure that we're making the most of the spaces we have."
Peter Hind:
Can you tell us a little bit more about these new ways of working that you've seen a rise over the last 12 months?
Susan Gibson:
Sure, we see a lot more transdisciplinary teams. People were coming together for a certain purpose.
When COVID first hit, we saw that more than ever, different groups in HR facilities and IT, for instance, really had to come together quickly to enable people to work from home, to enable our students to log on remotely."
Working in those different teams and having different types and requires a different type of leadership too.
We had people who are popping up all over the university who had been leaders in different teams without official jobs, which has been great.
Peter Hind:
That implies a bit of anarchy- that's probably too dangerous of a word. You're breaking down some of the formal structures in an organisation; you're getting greater collaboration because of it.
Susan Gibson:
Absolutely, and a crisis can do that. Everyone came together for the same purposes, and everyone forgot where their traditional units were.
Technology in the way in that initial time helped that too. Suddenly you could get on a Zoom call with people from all the faculties, and it rather than we probably were a bit reluctant to walk 10 minutes away, but suddenly we're all talking regularly. That's where technology really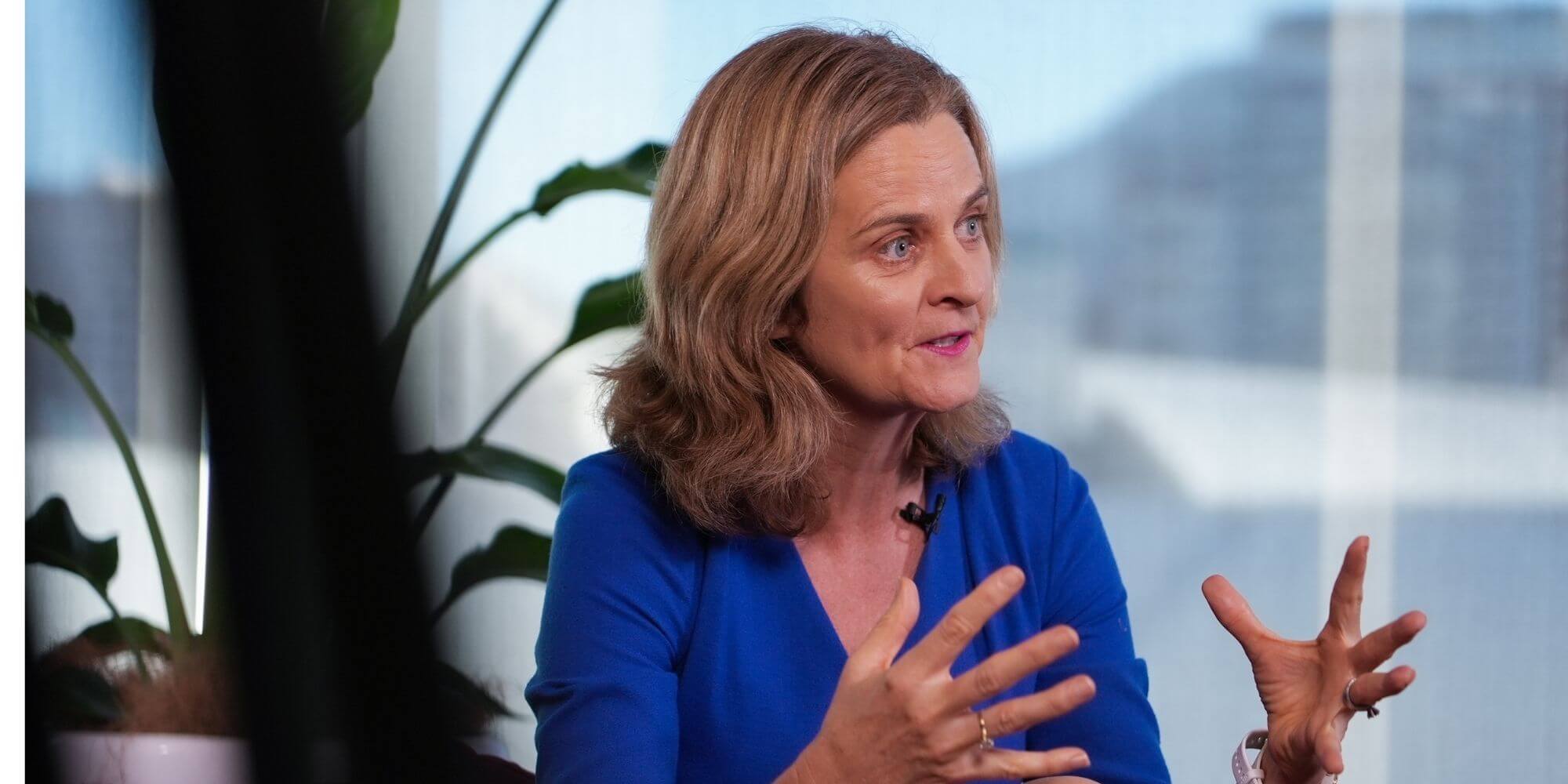 Peter Hind:
It almost broke down barriers.
Susan Gibson:
It did break down barriers.
Peter Hind:
You told us in the opening that part of your role is in data. The harnessing of data.
How have you been leveraging data in response to COVID and evolving the future ways of working?
Susan Gibson:
Some of the real areas we've been looking at new business models and how we can target those but also, from the student perspective, how we can use AI to help them decide what courses they should do."
They know what career they want to be doing in five years. These are the courses they should do on their way. That's a great example of using AI to help.
Peter Hind:
Well, I can imagine because many people could be blinded by the potential of jobs they could do.
What you're helping gives greater clarity that they're thinking about what they might be good at and join.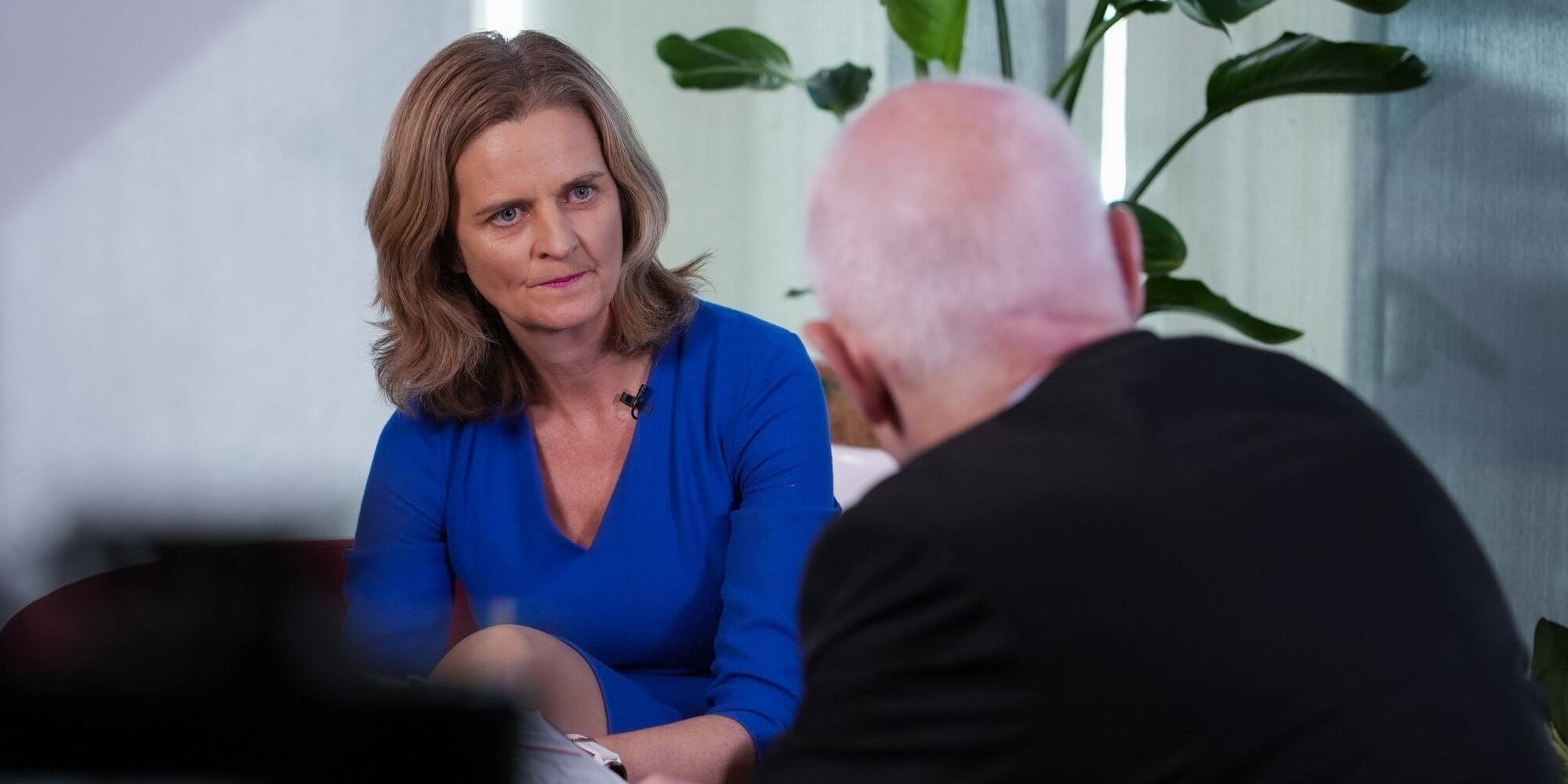 Susan Gibson:
Absolutely.
Peter Hind:
Now one of the challenges is the leadership of organisations on this journey.
We're moving into an increasingly digital world.
How do you educate your leadership about the potential and possibilities of education and universities' future?
Susan Gibson:
What we've done is created a domain model.
We've brought in senior leaders and senior groups in domain boards. Within that, they are they determine the priorities within our IT area."
Part of that will be about enabling and training and teaching them what's available. They can make informed decisions around IT expenditure.
Peter Hind:
How do you find to train those people? The leaders can have big egos there.
How do you give somebody thought and an idea without telling them how to do their job?
Susan Gibson:
It's showing them what's possible. Bringing them on the journey without being straightforward as to say that this is what you should do if they make that decision, and they're part of that decision making. That doesn't harm their ego.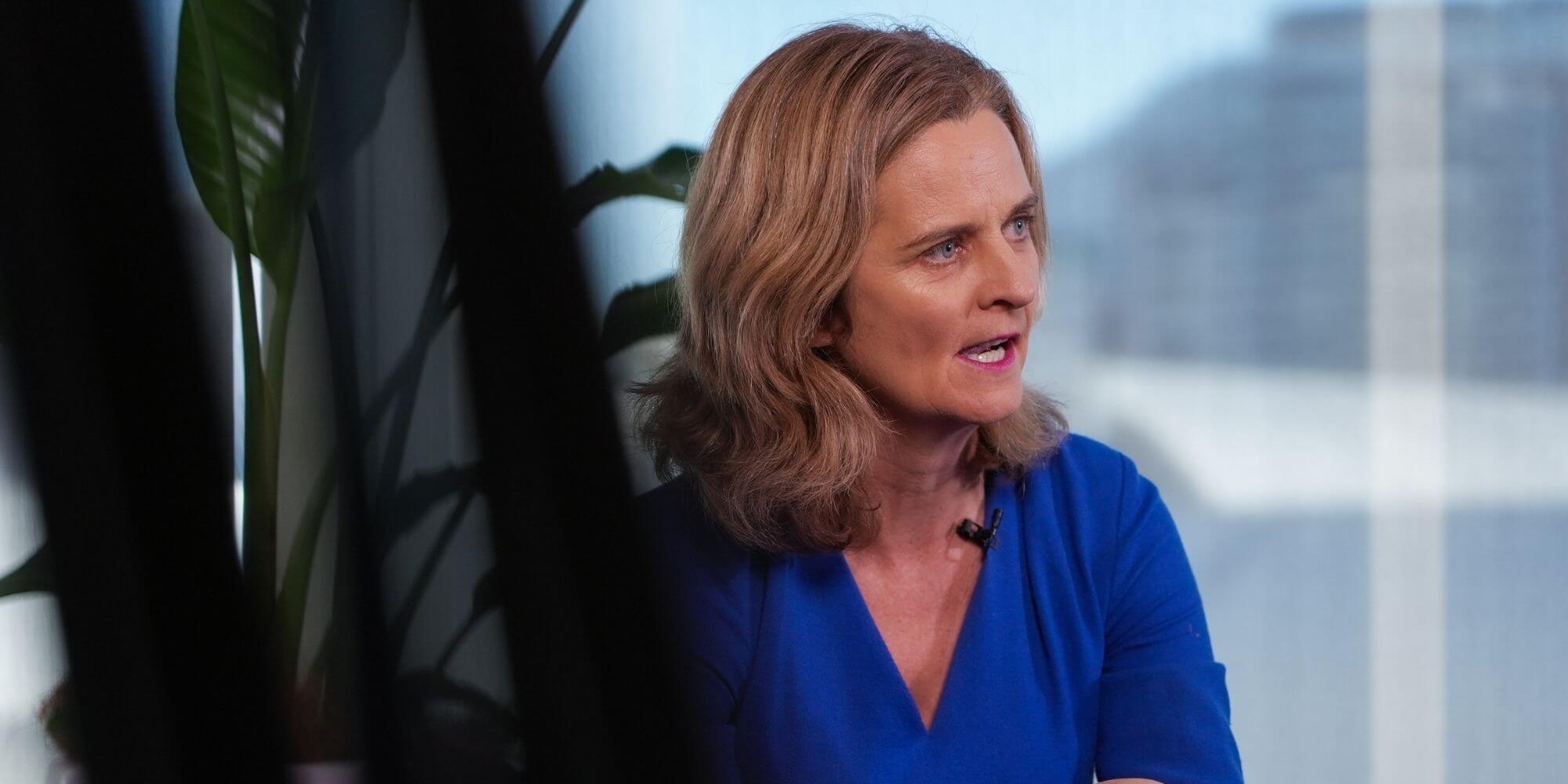 Peter Hind:
What you're saying, you're building relations, its conversations; it's an iterative process. It's not a black and white answer.
Susan Gibson:
It's an iterative process.