Resources
Delving Into Reset Culture
If one thing has emerged from the COVID era, it is that organisations have never undergone such a seismic cultural shift. Almost overnight, businesses across Australia and New Zealand shifted to virtual delivery models.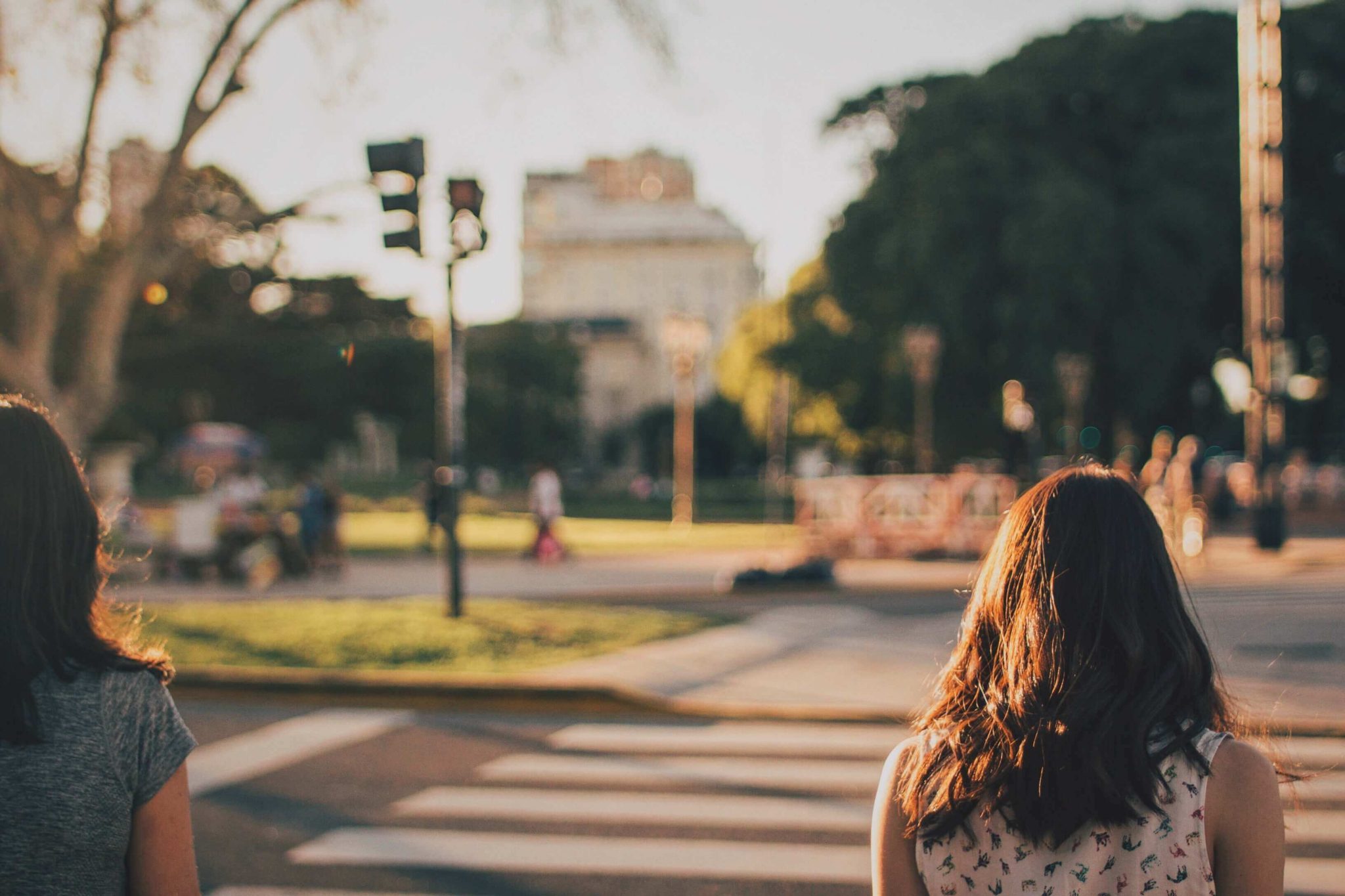 Introduction
Confronted by the survival imperative, organisations across Australia and New Zealand switched to virtual delivery and enablement models almost overnight, quickly realising experience and efficiency benefits as a result.
In order to turn survival into growth, leaders need to do more than optimise and tune the engine.
Based on our ongoing discussions with IT and business leaders across the local community, ADAPT advises that to rebuild operations and execute effectively in 2021 and beyond organisations must:
reset culture
enable employee resilience
redefine business
This will outline the reset culture section of the second report in the ADAPT Nine Paradigms for an Extra-Ordinary World exploratory series.
Here, we will examine one of these three paradigms, providing advice as to how leaders can advance Australia by building on the new operating models that emerged in response to the prevailing economic constraints of 2020.
Reset Culture
If one thing has emerged from the COVID era, it is that organisations have never undergone such a seismic cultural shift.
Almost overnight, businesses across Australia and New Zealand shifted to virtual delivery models.
Eschewing traditional inhibitions towards new technologies and ways of working, two-thirds of firms indicate that crisis response resulted in greater technology adoption by employees than at any time in the recent past.
So, the rapid transition to full telecommuting accelerated the uptake of new technology.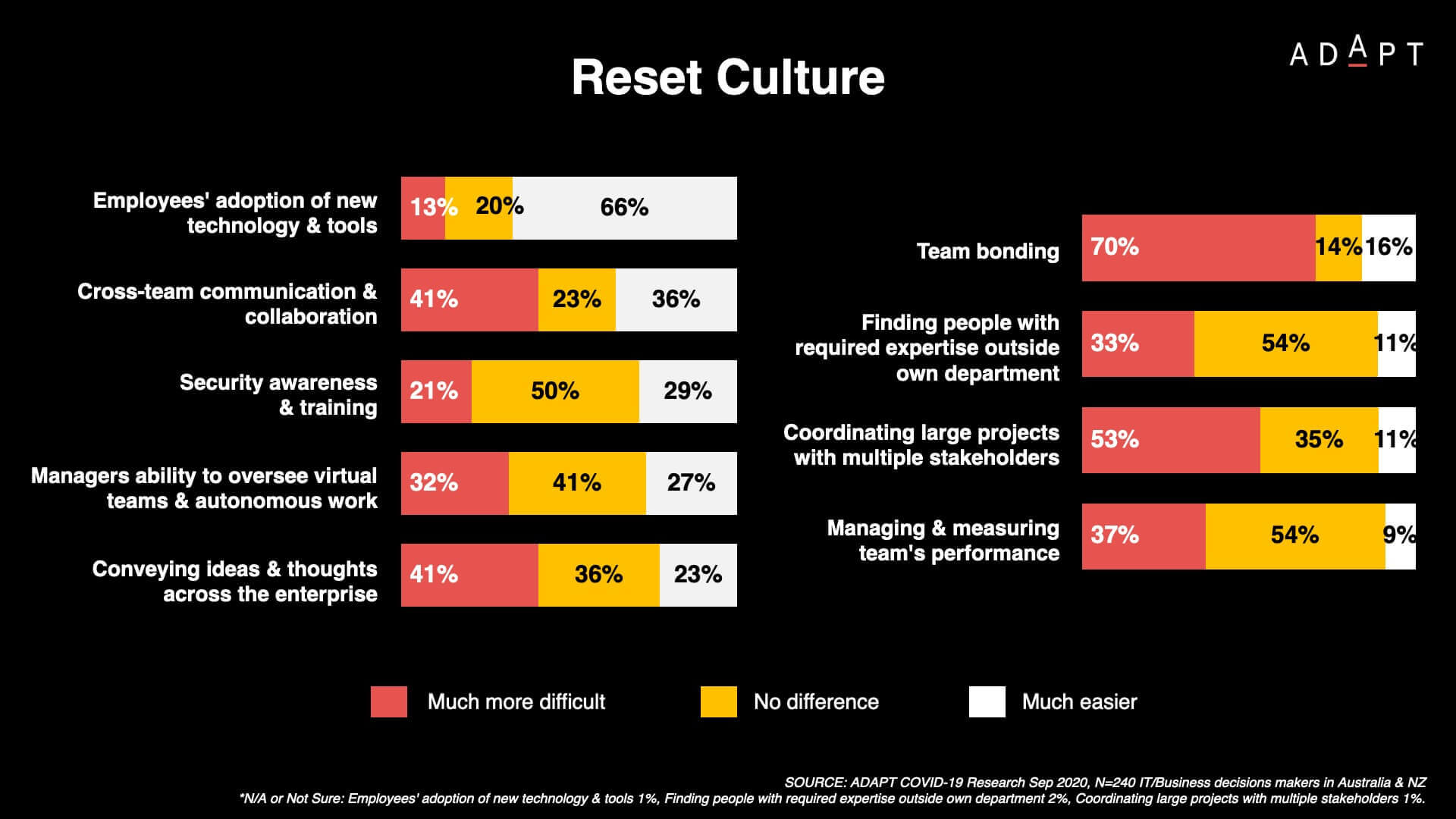 Although restrictions have since eased, many organisations suggest that the increased prevalence of virtual collaboration will persist as part of a modern engagement model that encompasses on-premise and remote experiences for employees.
Employees can thus grasp the advantages brought by telecommuting from remote locations rather than from traditional workspaces, such as improved access to decision-makers and experience.
And if culture is the DNA of a business, then the ease of collaboration is the yardstick by which firms can measure the experience of its employees."
Organisations in Australia and New Zealand – based on the ADAPT September 2020 COVID-19 survey – perceive there to be little measurable difference in remote collaboration compared to traditional on-premise models.
In breaking free of traditional anchors to the workspace, employees have felt more able to engage in deep thinking and deliver creative solutions.
Over 40 per cent of respondents asserted that employees face increased difficulties sharing ideas across the enterprise compared to the pre-COVID status quo; whereas only 23 per cent find it easier to disseminate ideas.
Remote Working Builds Trust
Leaders need to monitor the employee experience, seek feedback, and iteratively drive for improvements to ensure that employees remain connected with the organisational mission and feel as though they are an integral part of critical initiatives.
Employee and leadership trust has increased as companies switched to remote operations."
Legacy process heavy businesses were generally surprised with the relative ease of transitioning to remote operations, often citing trust-based concerns as crucial inhibitors pre-pandemic.
Yet many express there to be no measurable difference in how remote teams and the associated performance management compared to traditional models: respectively, 41 and 54 per cent stated that there is no difference in how easy these are to manage when compared to pre-pandemic norms.
Leaders shifting focus away from the minutiae of delivery towards a fundamental emphasis for technology-fuelled growth are expected to deliver improved employee experiences.
Leaders Face New Culture Challenges
Remote ways of working have drastically impaired team bonding.
70 per cent of organisations have found the shift to a virtual environment has erected new barriers to organic collaboration, illustrating that trying to duplicate physical workspaces in digital platforms is, typically, an ineffective way of delivering the future of work.
Complex project management – typically initiatives that interface with multiple stakeholders – is perceived to be inhibited by virtual operations, with 53 per cent of organisations facing roadblocks post-COVID.
Although new digital bonding initiatives are emerging, disengagement is also creeping into these, and businesses are constantly considering new approaches.
ADAPT recommends that leaders should hand over greater responsibility to employees to design these trusting in the initiative, creativity, and organic collaboration of their teams.
Conclusion
Employees and business leaders together are finding that rapid adaptation in the face of crisis is not only desirable but also a survival imperative.
This almost overnight shift from deep legacy driven inhibitors to innovation and into permissive, open collaboration enabled by a work-from-anywhere culture illustrates the art of the possible when leaders rethink the employee experience across the organisational journey.
COVID-19 has caused a 'Ctrl+Alt+Del' reset of how organisations approach employee engagement, collaboration, and productivity."
In the words of Matt Boon, Director of Strategic Research at ADAPT – and leaders have it within their grasp to grapple the organisation into digital shape to fuel future growth.
Australia and New Zealand's C-Suite now have the opportunity in its grasp; provided it acts now.
To succeed, leaders should:
Begin by capturing efficiency savings to fund operating model transformation.
Shift to permanently distributed operations by providing employees with consistent experiences across physical and virtual workspaces.
Accelerate employee adaptation with enriched, on-demand digital learning platforms.
Connect employees into the mission of the organisation through the judicious, timely use of broadcast and narrowcast communication methods.
Enhance the employee experience by taking care to reduce digital disruption whilst still maintaining a suitable cadence to check-in and drive engagement.
Support entrepreneurialism with a cloud-like workforce scalability model, performance metrics that promote collaborative behaviours, and mindful connectedness initiatives.
Create time-and-decision capacity for leaders by encouraging experimentation with new ways of working along with innovative, collaborative uses of physical workspaces.
Empower employees to overcome the virtual barriers to consensus building, team bonding, and engagement.
Bring teams together in physical workspaces as demanded by the needs of complex projects, culture transformations, and process improvements – rather than at arbitrary waypoints.
Build for the future by expanding further into the cloud, using common toolsets, and eschewing the legacy assets that may otherwise hold back further progress
"Executives learned that given a critical reason from the top about why change needs to happen, employees would adopt the change," asserted Aparna Sundararajan, Senior Research Strategist at ADAPT.
So, just as culture is the DNA of the business, forward-thinking firms can measure employee experience by how frictionless collaboration, connectedness, and process innovation can become.
Become an ADAPT Research and Advisory client to access the full second report of the Nine Paradigms of an Extra-Ordinary World.
Contributors
Matt Boon – Director of Strategic Research at ADAPT
As Director of Strategic Research at ADAPT Matt Boon is responsible for directing and developing ADAPT's research content and positions.
In his role at ADAPT Boon advises C-Suite executives across the end-user and technology provider landscape. Boon is also responsible for bringing together groups of C-Suite leaders to discuss and prepare for the myriad of challenges and opportunities they face.
Aparna Sundararajan – Senior Research Strategist at ADAPT
Aparna Sundararajan leads the emerging and disruptive technology research agenda within ADAPT's strategic advisory team. As Senior Research Strategist, her role is to create independent advice for the Australian C-Suite around emerging technologies, trends and investment priorities and developing industry-leading content for the ADAPT portfolio of Edge events.
Shane Hill – Senior Research Analyst at ADAPT
As Senior Research Analyst, he produces pragmatic insights tailored to the specific needs of technology leaders in Australia and New Zealand.
Hill has worked in technology delivery and market intelligence roles for the past 15 years. He focuses on how emerging technologies will impact the business models, frameworks, and operations of end-user and vendor organisations.