Resources
Will the Australian Federal Budget 2021 Drive Innovation?
In this in-depth analysis of the 2021/2022 Federal Budget ADAPT's Analysts review how specific areas of the Budget related to innovation.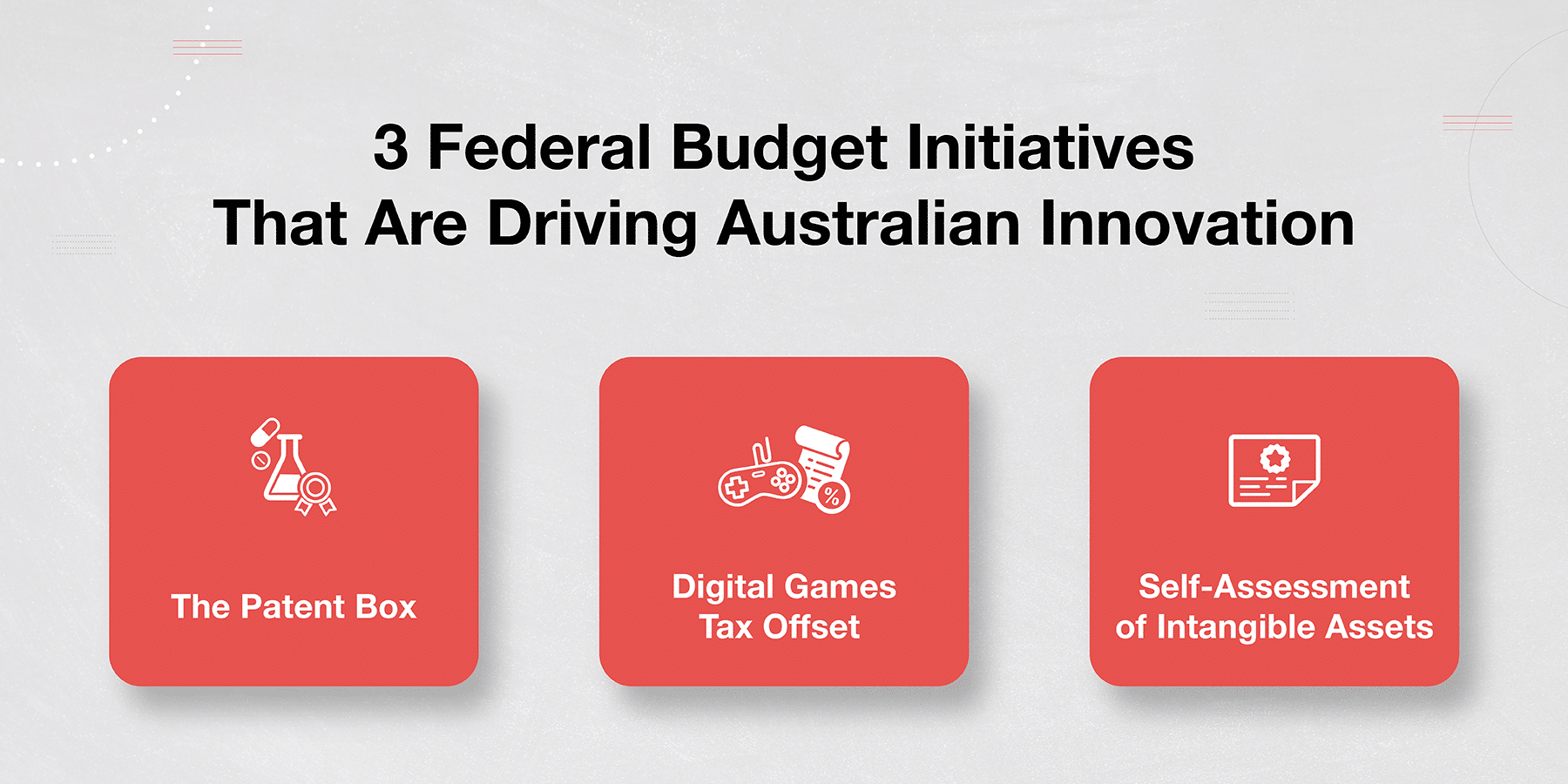 Summary
On May 11th 2021, the Australian treasurer Josh Frydenburg handed down his 2021/2022 Budget, under the banner of "Securing Australia's Recovery" with an accompanying preamble:
"This Budget sets out the next stage in the Government's economic plan to get Australia through COVID-19. It secures Australia's recovery by creating jobs, guaranteeing the essential services and building a more secure and resilient Australia. It builds on Australia's successful management of the pandemic which was supported by an unprecedented $311 billion in health and economic support."
ADAPT conducted an in-depth review and analysis of the Federal Budget presented in a Research and Advisory Webinar the following week. This is the first in a series of Media Pulse documents discussing how specific areas of the Budget related to innovation.
Event Facts
Innovation when it comes to technology, business, mindsets and the way we work and live will be more critical than ever as we re-enter the next normal, in a world transformed by the pandemic.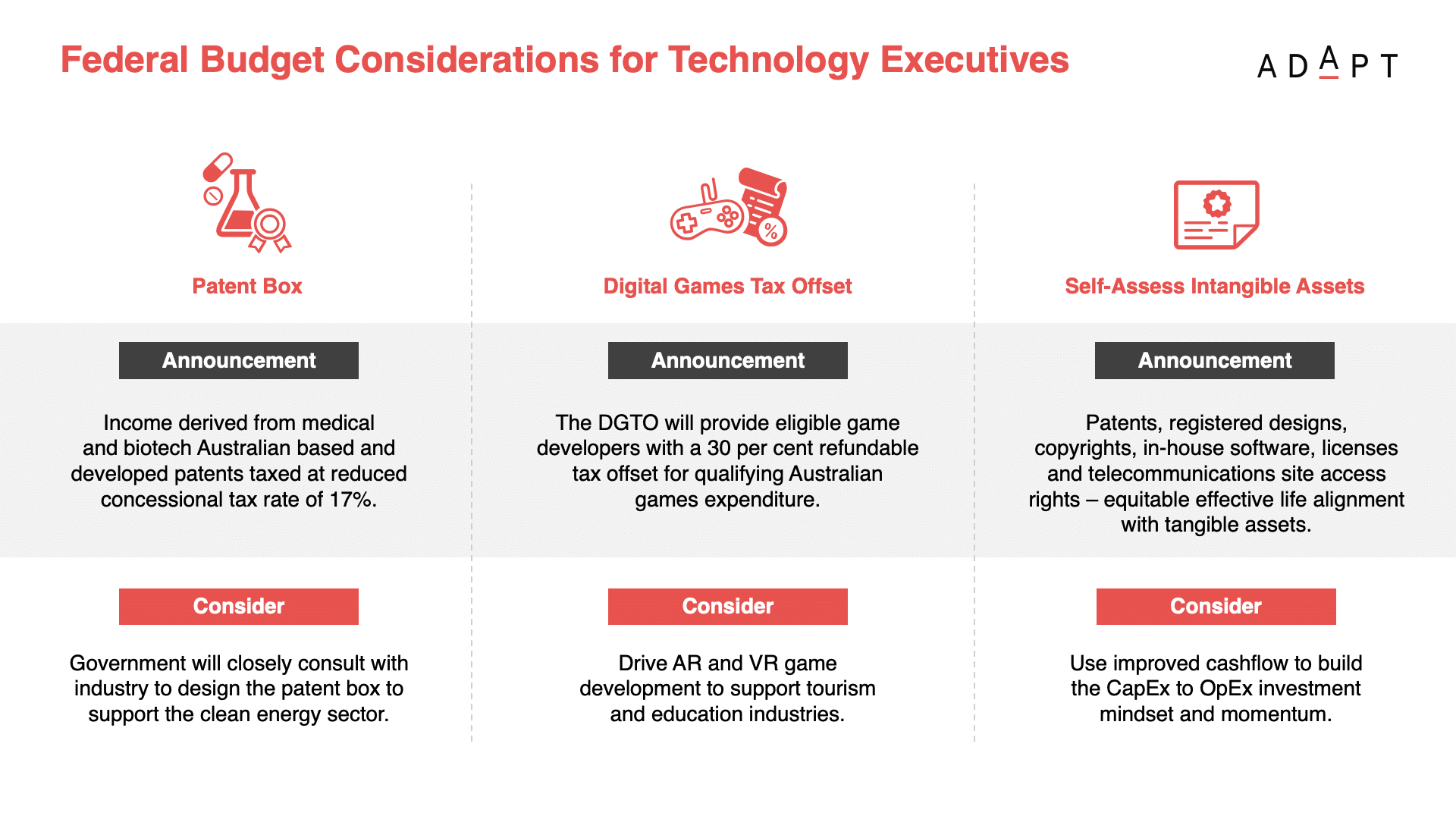 Essential foundations of Australia's past successes have been built on innovation. Innovation is at the heart of change, progress and success.
Technology-led innovation and vision have given us all the power to remain connected to our colleagues, our families and our friends wherever they are situated deep into the second year of pandemic-induced turmoil, tragedy and uncertainty.
Three initiatives stood out for us here at ADAPT, as we looked for specific examples of innovation for a digital world in the Budget:
The Patent Box: delivers a reduced concessional tax rate specifically for the medical and biotech industries.
Digital games tax offset: available for qualifying games expenditure
The Self-Assessment of intangible assets: brings the tax treatment of intangible assets in-line with life rules for tangible assets.
Analysis
The Patent Box
The Patent Box delivers a reduced concessional tax rate specifically for the medical and biotech industries. Both are exceptional choices for future development, investment and business opportunity. The government can do more.
Consulting with the clean energy sector on the applicability of such a patent box is an opportunity to lead the world in clean energy that harnesses our climate, space and diversity of climate.
Clean energy and associated innovation should be included in the patent box program now, rather than wait on industry consultation.
We saw a number of investment announcements related to energy:
$215.4 million to support investment in new dispatchable generation
Funding of $58.6 million to support key gas infrastructure projects
Unlocking new gas supply and empower gas customers.
These are important but fail to focus on the future sustainable energy investments that will fuel Australia's growth. Greater investment in retraining and retooling our existing energy workforce towards more sustainable areas augmented by patent box support would have been a bigger step forward.
Digital Games Tax Offset
The digital games tax offset for qualifying games expenditure, a $3.4Bn market in Australia, is to be applauded. ADAPT considers this an area where we should consider the adjacent opportunities for gaming investment, development and opportunity.
Tourism and education are two of the hardest-hit industries due to the pandemic. We should be leveraging Gaming x Reality capabilities to develop a uniquely innovative and sustainable virtual tourism and education market.
We would like to see deeper incentives and offsets to help the gaming industry and local developers seek out these adjacent synergies and opportunities. The gaming industry has spawned so many significant businesses and approaches.
For example, consider Slack, a company with over $20 Billion market capitalisation. Currently a business with in excess of 2,000 employees globally, it was recently acquired by Salesforce. Slack started life as a gaming company called Glitch.
Self-Assessment of Intangible Assets
The self-assessment of intangible assets is not a new policy. Introduced by the Turnbull regime, it was never passed into law due to opposition. The self-assessment of intangible assets aligns designs, patents and software with tangible, effective life rules.
This is clearly an overdue policy. Tangible and intangible assets are increasingly one and the same when it comes to business value and opportunity, especially so when companies continue to explore the benefit of funding technology outcomes with subscription-based pricing models.
As we see a continued shift from CapEx (Capital Expenses) to OpEx (Operating Expenses) expenditure, this policy offers the potential to improve cash flow to help fund and accelerate OpEx funding models. Accelerating OpEx funding can relieve the reliance on legacy systems and the legacy-centric resources required to manage and maintain them.
Conclusion
The government and this Budget has helped accelerate the conversation around the need to innovate to differentiate and grow.
ADAPT contends that the country is on a tipping point of exponential innovation across all sections of the market. 59% of businesses told us as the pandemic took hold in 2020 that they expect increased rates of innovation, with a significantly associated funding focus in 2021 and beyond.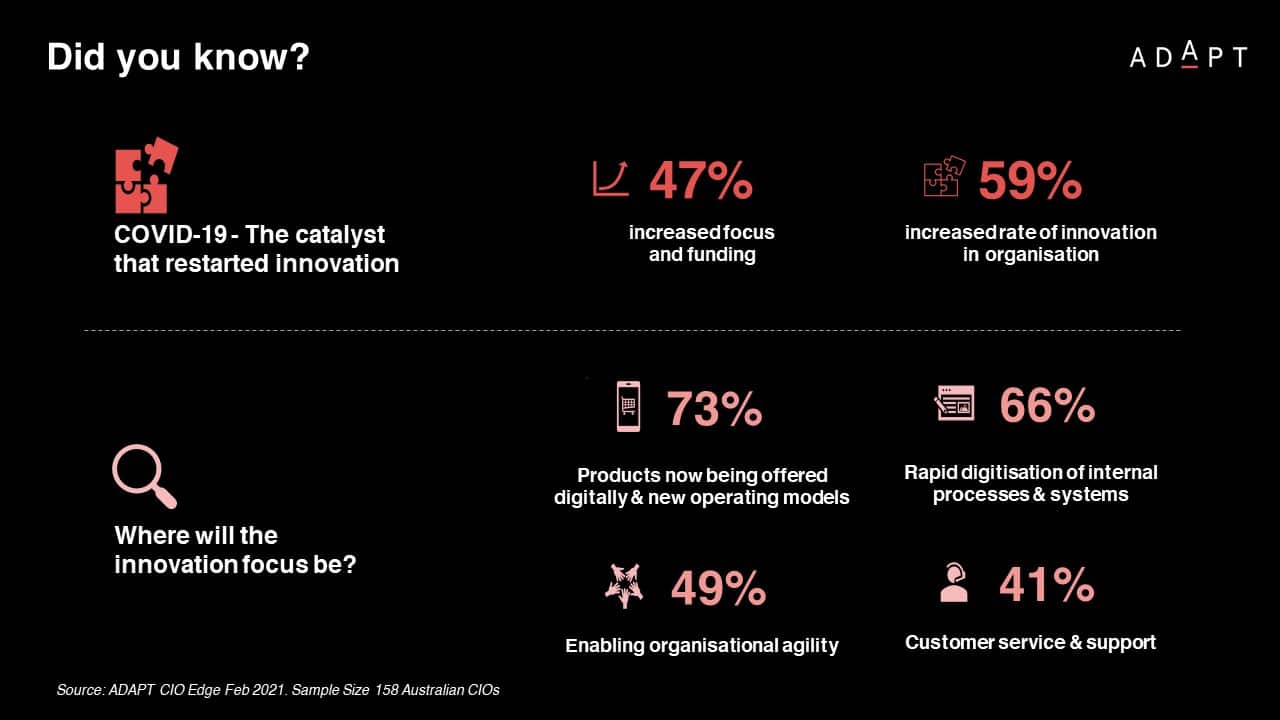 Organisations are doubling down on innovation around four key areas:
Digitally enable products and services: to meet the engagement and fulfilment expectations of customers, fueled by an increasingly hybrid operating environment.
Improve operational inefficiencies: through the rapid digitisation of slow and segregated internal systems and processes.
Innovate the use of workplaces and workspaces: to foster organisational agility and improved employee experiences.
Shift mindsets in customer service and support: to move away from brand loyalty to enable experience loyalty.
Increasingly, customers do not care so much about the brand as much about the experiences that the brand delivers. Every conversation around innovation and investment should start with the ideal experience customers desire.
Also, look at adjacent opportunistic outcomes from investment and approaches to innovation in one area versus another.
Every investment decision related to Innovation should consider how we can innovate to enable the experiences our customers and our employees expect in today's digital-first world.
Related Research
For more information about ADAPT's Research & Advisory services, contact us at research@adapt.com.au to gain further context of this event as it relates to your strategic business priorities.