Resources
The 4-Part Framework to Developing a Best Practice Digital Transformation Strategy
These are the key areas that technology leaders should focus on to lead change in this next industrial revolution – a world that will depend on their acumen and knowledge to solve critical problems.
By 2030, the world around us will look significantly different from what it is today. Today's emerging technologies will be the core engine running the uber-connected life and ecosystems. Data, Autonomous machines, 3D printers, AI and Robots will be some of the basic technologies that will prevail in everyday life.
This is the slowest pace of change you are seeing today." – Dr. Ian Oppermann
Technology sits at the core of this massive paradigm shift. Technology leaders are a pivotal piece in this circle of influence and change. They are in a unique position to bring about the required change that begins at your organisation's level and penetrates across the society at large, in years to come.
At our recent gathering of Australia's top technology leaders, we addressed the key areas that technology leaders should focus on today, to lead change in this next industrial revolution – a world that will depend on their acumen and knowledge to solve critical problems.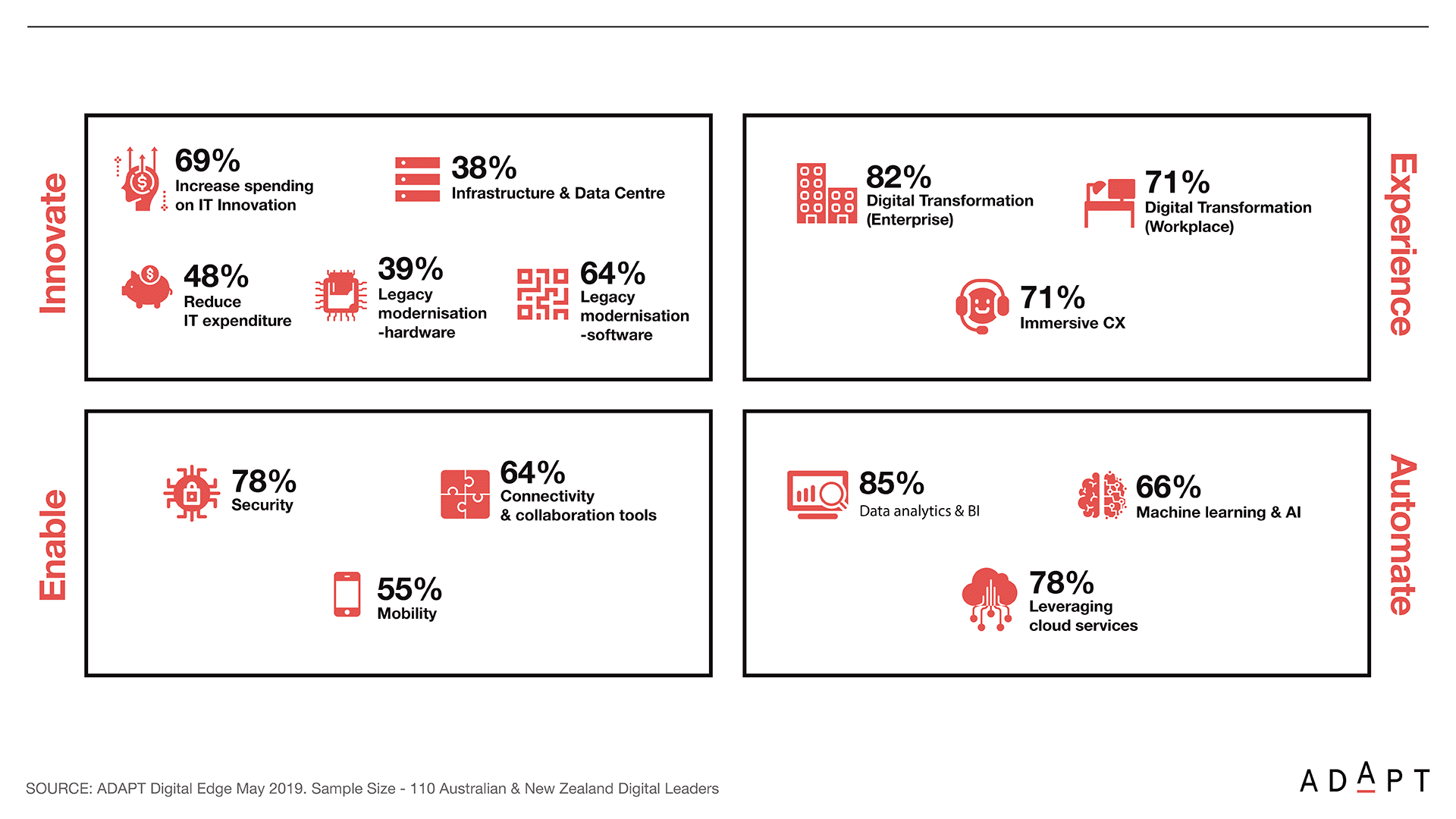 CIOs do not want to hear "Digital Transformation" again
At ADAPT's CIO Edge, Matt Boon – Director, Strategic Research, at ADAPT asked the audience a question "How many of us do not want to hear the words "digital transformation" again? About 90% of the audience raised their hands. CIOs are well aware of the importance of digital transformation and understand its implications for the organisation. They are not struggling with the "What", they are struggling with the "How".
At ADAPT, we advise following a comprehensive yet simple approach to digital transformation. This is broken down into four parts – Innovate, Automate, Enable, and Experience.
Innovate
Innovation has not been a big focus for Australian organisations. Apart from a few progressive companies, the majority of organisations are restrained with budgets for innovation in business models, operating models and delivery models. New technology deployment happens as a sudden reaction to competition and disruption, causing failures. If organisations find an effective way to innovate, technology deployment will become a smooth ongoing process that keeps the business relevant in future.
Some of the major causes for lack of innovation are conflicting business priorities, legacy mindsets, lack of budget, communication issues, and difficulty demonstrating the ROI. Ironically, innovation can offer an effective solution to these problems.
The organisations that have been on the path of innovation have often admitted failure or ineffectiveness of projects. The core issue for innovation to fail is that the organisations jump into the innovation projects/programs without the following:
Situational Analysis – It is a critical first step that takes the longest time and hence is avoided or partially done. Most organisations fail to ascertain the current state of affairs and build an innovation plan that does not include all factors.
Misalignment – There is a high level of misalignment between leadership and mid-tier management, different functions and within teams. This causes conflicting priorities or goals that everyone wants to achieve with innovation. It is important to get the stakeholders on the same page about objectives, end-goals and the process of innovation.
Analytical approach to change – the prevailing methods of finding a perfect solution is highly analytical. It does not consider an organisation's culture and people who are key to driving that change. The solution looks good on paper yet fails when executed. All innovation projects need to have design thinking that embeds culture into the core plan.
Innovation is a complex process which is why a clear framework helps when it comes to innovating the business model or operating model.
Automate
RPA, predictive analytics and AI will contribute to automating business processes and enabling innovation. However, the foundation for automation begins with data – clean, usable and connected layers of data across core organisation systems. However, Australian organisations are struggling to manage, connect and utilise data for business benefit.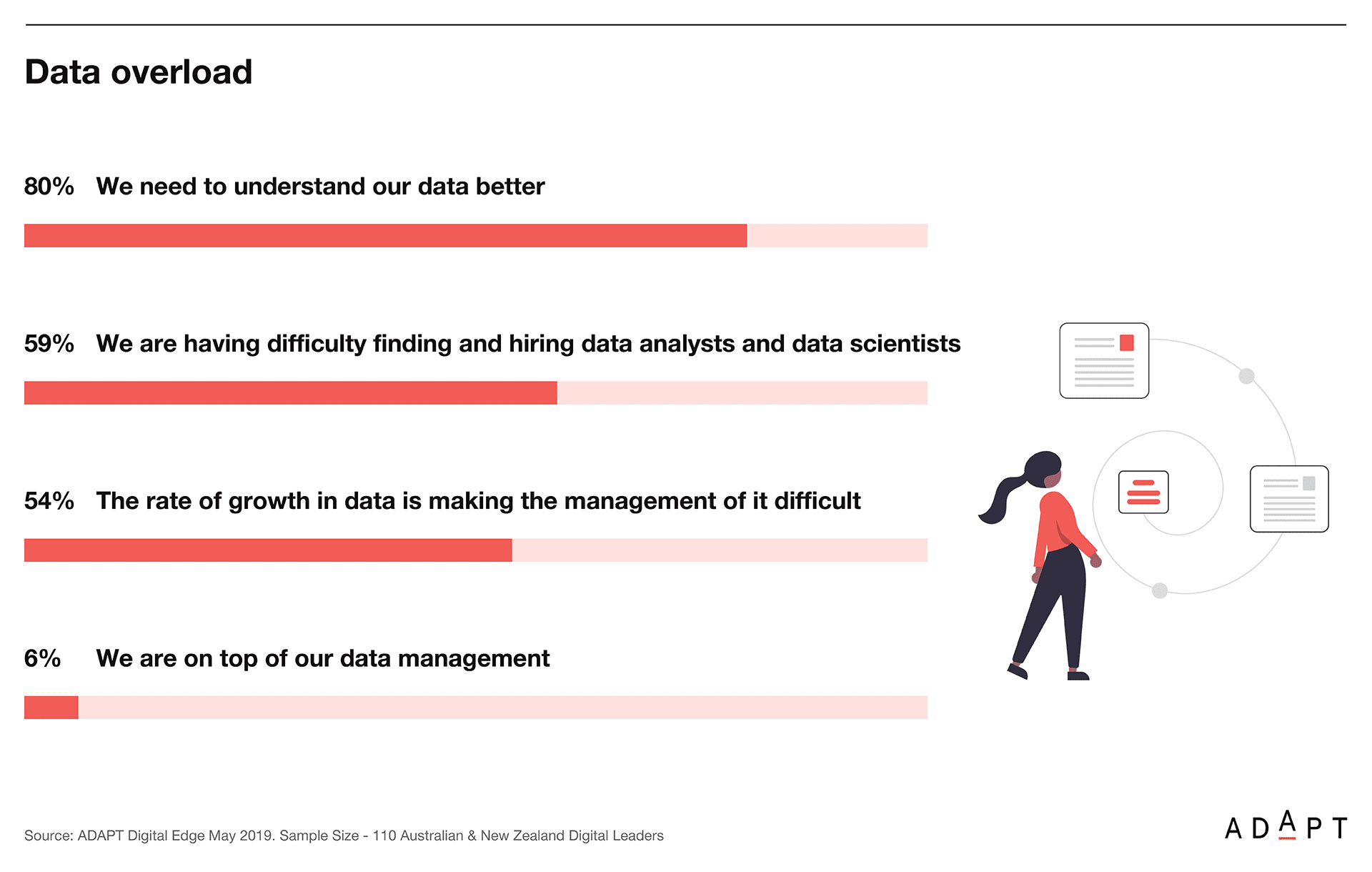 The traditional approach to data so far has been capturing, centralising, classifying, cleaning and categorising it to make it available for data analytics. However, with an IoT driven future that will be pervasive and connected all the time, this approach will be inefficient and exert huge pressure on the IT infrastructure, making it difficult to derive actionable insights.
IoT, 5G and Edge computing will make all types of data available for business consumption and use. To maximise the potential for automation built on data analysis, a combined approach is required. This includes the standard approach to data analysis with data lakes acting as central pieces of the architecture.
The new approach will involve Edge computing which brings analysis closer to where the data is being generated. The architecture will move from centralised to distributed where a part of data analysis happens at the Edge and only relevant information will be sent back to the data lake based in the cloud.
The architecture is critical to optimise costs; however, the automation needs to begin with pertinent questions around business outcomes. Australian organisations rank operational effectiveness and customer acquisition and retention as two of the most important business priorities. Data-driven automation will be key to achieving these priorities.
Enable
Organisations need to enable better decision making, effective operations and inter-personal dynamics. Enablement begins with providing the right information to stakeholders for them to make effective business decisions, to provide the right tools for teams to work together, to provide secure access to organisational systems and provide an open and transparent work culture that promotes innovation and critical thinking.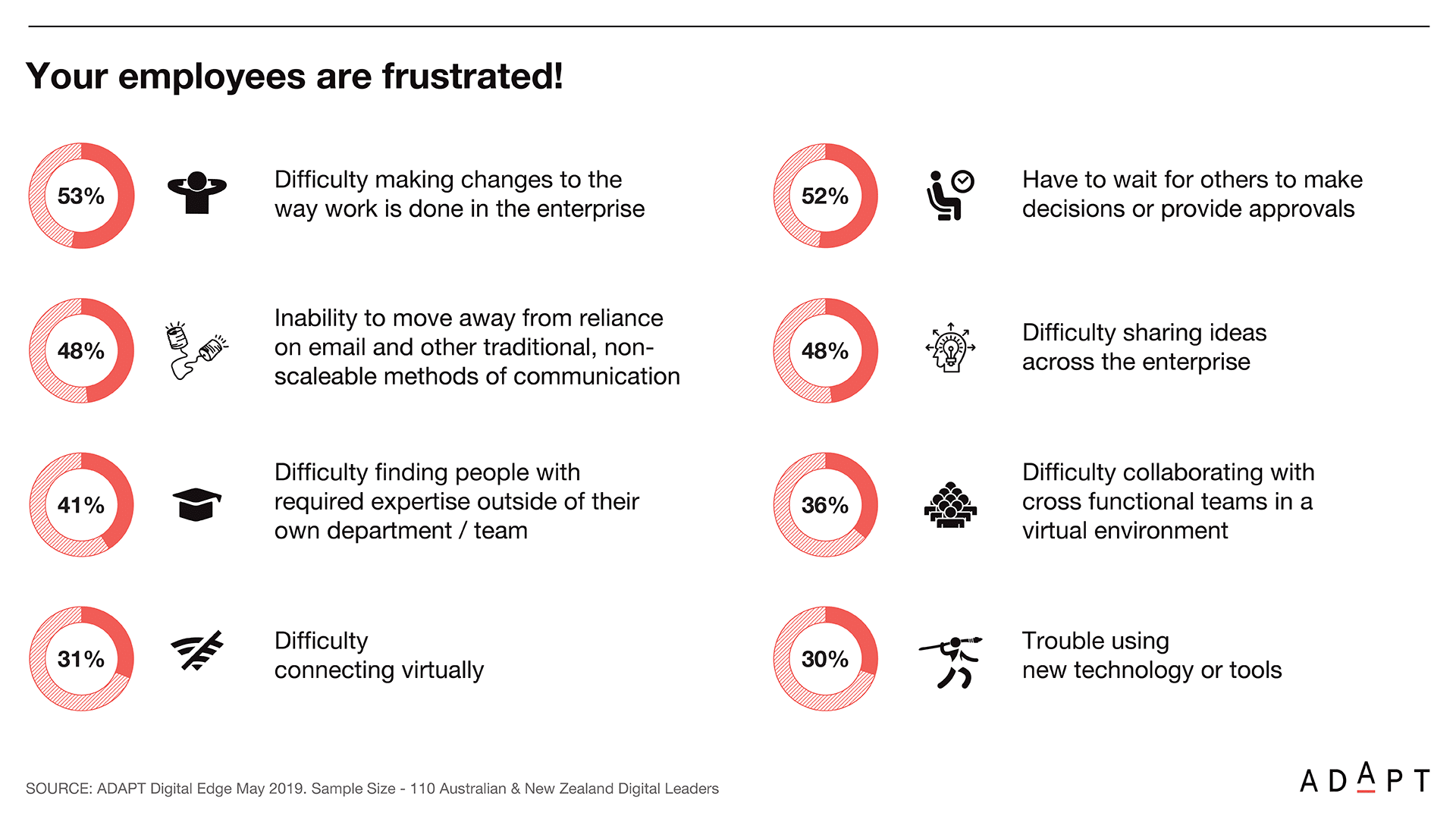 What will help organisations to enable people?
Know the future state – The world will be significantly different in 2030, a number of organisations will be wiped off or broken up and new ones will emerge. AI and cognitive intelligence will become mainstream, paralleled by advancements in image recognition, quantum computing, IoT, Edge and 5G. Keep your stakeholders and leadership educated about the future and its impact on your business.
Understand the changing composition of the workforce – The new generation of the workforce requires new experiences. Their motivation to work, methods of work and rewards will be significantly different from the existing workforce. Hence, the measures of performance, employee productivity and morale need to change accordingly.
Create fluid organisational structures – The current siloed structures do not enable alignment, open thinking or acceptance of different ideas. As a result, the organisation is pulled in different directions through no fault of anyone. To enable a concentrated effort in a single direction, organisations need to change the current structure from "box to a flow" approach.
Experience
The first interaction with an organisation, the way work gets done, the processes that enable business decisions and operations, are all part of "experience". Organisations need to create connected and continuous experiences for customers, employees and stakeholders. The most neglected and misunderstood part of an organisation is the people. They are struggling to get work done, communicate and collaborate, and contribute new ideas to the business.
ADAPT has been working very closely with MIT to understand how employee experience impacts digital transformation. According to the research, and HR revolution is on the horizon. The current methods, policies and processes are expensive, ineffective and removed from a future reality. Organisations need to do the following to create relevant experiences for employees:
Change the way you perceive failure
Give employees the freedom to experiment
Adopt a bottom-up approach to innovation
Take measured risks as a business
Critical thinking, lateral thinking, and risk-taking will be some of the core capabilities required to solve problems differently. This can be facilitated only if the organisations start focussing on creating the right experiences for their employees, starting from recruitment, onboarding, learning and development, performance management to rewards and recognition.  Communication, collaborative technology and data analytics will enable creating these experiences while a shift in leadership mindset and overall culture will bring these experiences into reality.
Digital transformation is no more a destination; it is an ongoing journey. People-led execution is the only difference between the organisations that will succeed in achieving real transformation vis-à-vis those that fail.