Resources
Building Australia's Digital Talent is Non-Negotiable – Australian Federal Budget 2021 Review
In this analysis of the 2021/2022 Federal Budget ADAPT's Analysts focus on the criticality of rapidly scaling our national digital fitness through a dramatic re-focus on skills and the associated enablement of our people.
Summary
On May 11th 2021, the Australian treasurer Josh Frydenburg handed down his 2021/2022 Budget, under the banner of "Securing Australia's Recovery" with an accompanying preamble:
This Budget sets out the next stage in the Government's economic plan to get Australia through COVID-19. It secures Australia's recovery by creating jobs, guaranteeing the essential services, and building a more secure and resilient Australia. It builds on Australia's successful management of the pandemic which was supported by an unprecedented $311 billion in health and economic support."
Event Facts
Back in April 2019, we noted "Australia is suffering an IT skills shortage. There are many reasons, including the failure of Australia's policymakers to understand the nature of technology and the skills it requires. This is not improving."
Fast forwards two-plus years and ADAPT conducted an in-depth review and analysis of the Federal Budget presented in a Research and Advisory Webinar the following week.
This is the second in a series of Media Pulse documents, discussing specific areas of the Budget with this release focusing on the criticality of rapidly scaling our national digital fitness through a dramatic re-focus on skills and the associated enablement of our people.
The first review on how the Federal Budget will impact the organisational development of products/services, operational efficiency, and repurposing of the physical workspace can be read here.
ADAPT hosted Digital and Technology leaders across its Digital Edge event in May 2021 and CIO Edge in February 2021. We compared key priorities across these personas, despite many citing conflicting business priorities as a major cause of friction, these cohorts were more aligned than they would contend to be as illustrated below;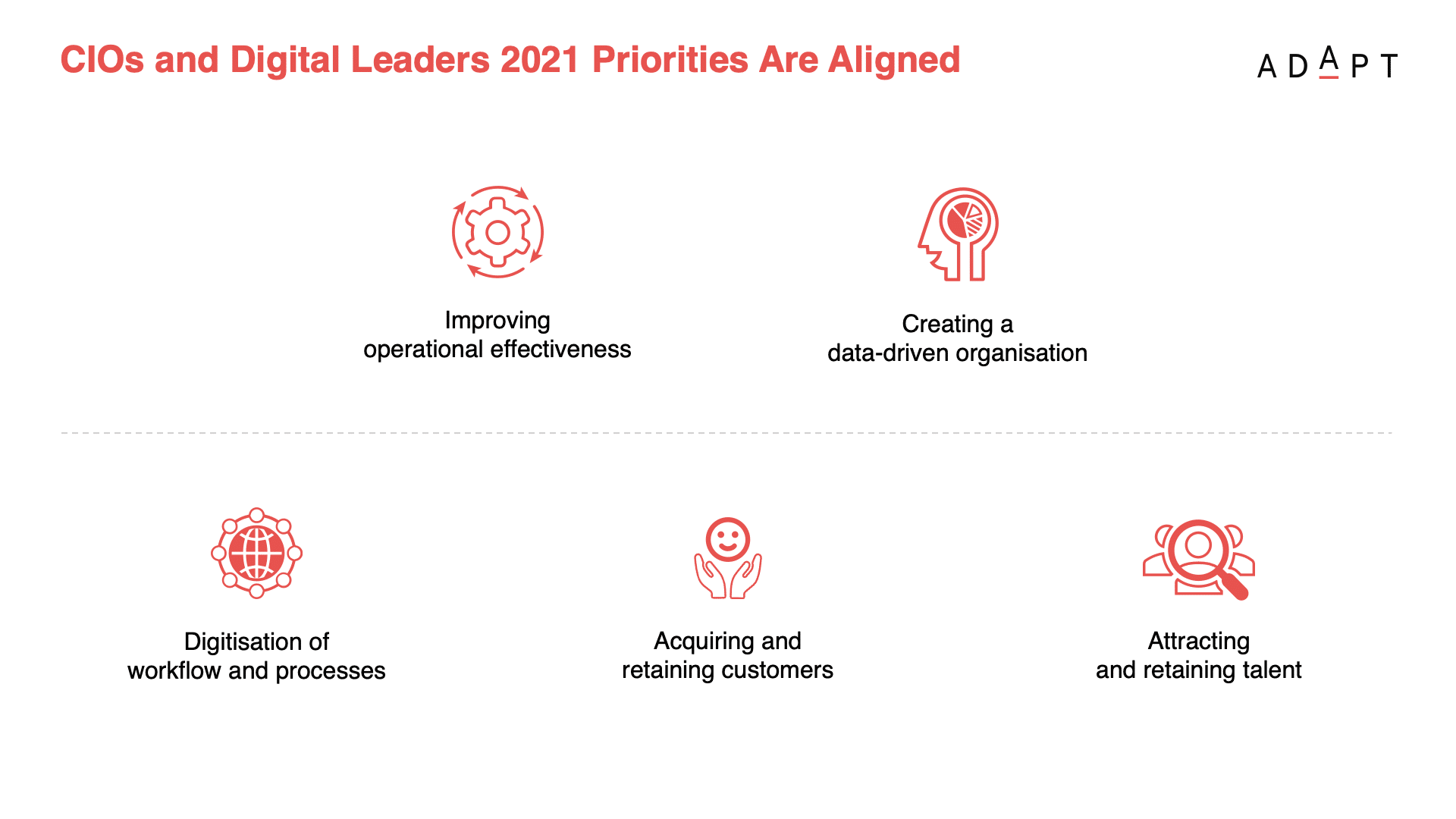 Attracting, retaining and developing of talent is a challenge and a focus regardless of executive responsibility and needs to be underpinned with the skills and capabilities which line up to our ability or not to execute on our digital and organisational transformation strategies.
Analysis
Australian organisations have told ADAPT upskilling and training particularly when it comes to developing digital-ready skills will form the cornerstone of many of their investment priorities in 2021 and beyond in their quest to attract, develop and retain talent.
The government has highlighted the need for even greater investment in digital skills as part of work-based training, businesses should augment this by leveraging underutilised skills and capabilities in the workforce to complement, improve capabilities and mentor.
A fitting example of this by the Commonwealth Bank of Australia was recently reported in the Sydney Morning Herald
The Commonwealth Bank of Australia has introduced a "career comeback" program which is relaunching the careers of women who have taken long breaks from the workplace. In doing so, it is angling for a competitive edge by expanding the diversity and maturity of its workforce."
As illustrated below, the budget saw a number of initiatives and investments to help improve our capabilities in key areas, narrow the digital divide and provide opportunities for women in tech.
We see many of these focused in the right areas, but lacking in significant investment given their potential for the economy, people, and business.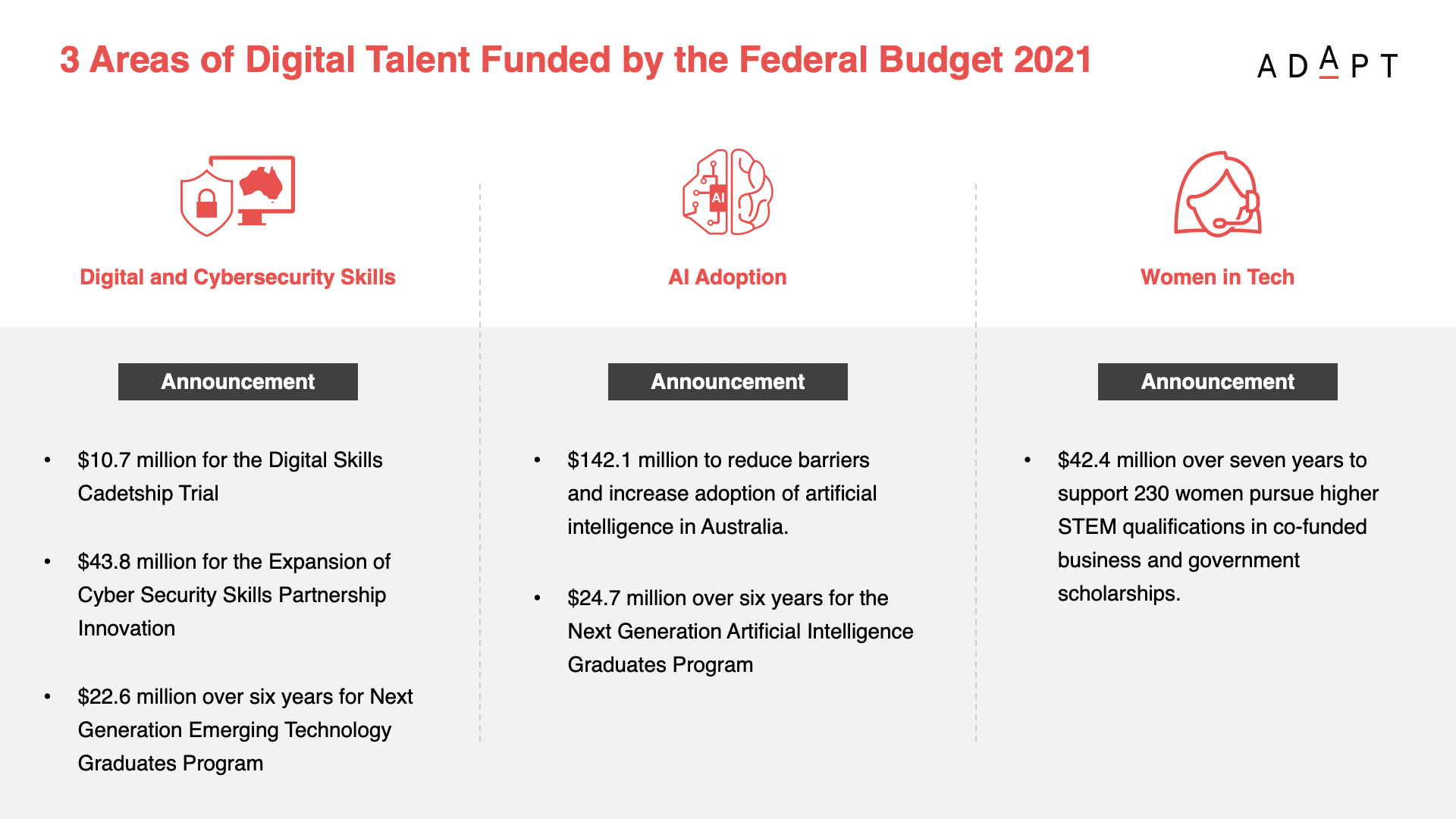 Australian businesses and leaders should consider how they can leverage these investments, while at the same time implementing their own initiatives to build on the ideal.
We were pleased to see a focus on skills and education when it comes to Artificial intelligence, particularly as CSIORs data 61 forecasts that AIs contribution to the Australian economy could reach 315 Billion dollars by 2028.
This is also reinforced by the fact that as reported from ADAPT CIO and CCDC Edge events, at least 50% of Australian tech and infrastructure leaders expect AI to take on a higher focus in 2021. We do, however, believe the government could have gone further given the significant economic impact AI will have locally while running into many trillions of dollars globally in the same period.
Investing 42.4 million over seven years to support 230 women pursue higher STEM qualifications appears more like an appeasement afterthought than a strategy, therefore making it incumbent on organisations to do much more here.
If we consider improving the customer experience and attracting and retain customers as key areas of focus and investment for organisations, female talent is key in many areas, for example
According to a survey by  Catalyst, women control around 73 percent of all household spending in the U.S equating to $4.3 trillion of U.S. consumer spending out of the total $5.9 trillion spent.
For B2C businesses, a lack of women in Tech or corporate roles reduces their ability to market effectively to that audience.
There are other areas such as cybersecurity where today only 11% of all cyber professionals WW are female, this increases to around 25% in Australia according to a number of sources, but it is still extremely low.
Conclusion
We would like to have seen even greater investment and more imaginative initiatives as it relates to people and skills, given Deloitte Access economics estimates we will need 1 million technology workers in Australia by 2027, many of which will require vastly different skills from today's technology workers.
Women are still woefully underrepresented in technology, holding less than a third of all technology jobs in Australia and even those are abandoning technology careers at a 45% higher rate than men with half leaving these careers by the age of 35.
Just as legacy mindsets hold organisations back in their attempts to modernise at the technology layer, old ways of thinking as it relates to the development of existing resources and attracting new talent remain key inhibitors for many organisations.
More work needs to be done in shifting the belief that we can just throw more resources at a problem, the ongoing skills shortage has put paid to that.
Related Reading
For more information about ADAPT's Research & Advisory services, contact us at research@adapt.com.au to gain further context of this event as it relates to your strategic business priorities.