Having since led as the Chief Innovation Officer, Engineering at NASA, Omar Hatamleh is the Executive Director of the Space Studies Program at International Space University.
Speaking with ADAPT's CEO Jim Berry at ADAPT's CCDC Edge the Core Competency of Enabling Innovation and Transformation, Omar shares the best ways to align stakeholders on the value of innovation and combatting organisational risk aversion.
Jim Berry:
Well, Omar, you've worked with us a few times. ADAPT has done a huge amount of end-user survey research on the core competencies that every business leader in Australia and New Zealand really needs to rise to if they're going to be able to execute in their role. Now one of these 12 is enabling innovation and transformation in their role. So who better to ask, so I wanted to ask you a couple of questions: One is, how do you position the role of innovation? How do you drive value as that in an organisation? It's a very overused word, right?
Omar Hatamleh:
No definitely, completely. No, I mean, and the skills and the challenges are evolving with time as well. People throw-away innovation in different contexts and innovation can mean so many different things, right?
Innovation could be something as simple as doing things differently with the same tools that you have but putting them in a different capacity to produce new value or innovation could be spending billions of dollars, creating products, technology components."
So in a sense, throwing away in a different context. But I think it's a state of mind, you know? You have to think about ways in a different capacity, look at things from a different perspective, and I think that will enable you to come up with solutions completely outside of the realm that you were thinking about. When it comes to innovation, it involves taking an element of risk. So people, by general, they're not comfortable taking risks. They're averse to risk. So another thing is that you need to make sure that you find an environment where people feel safe to be able to embark on something riskier, taking in more challenges, knowing that if they fail, it's okay. It's an experience, got to learn from the experience, we have to learn how to adapt from it and not do it again. But sometimes, failures result in incredible successes, at the end. So it's all of the above, and I would say, some industries, obviously, are more prone to taking more risks, and some of them are less. If you look at big bureaucratic organisations, typically it's much more difficult to embrace changes and to do things differently.
Jim Berry:
I was going to say, so we know in Australia one of the major problems is risk aversion. From the board level and the C-suite, down. No room to experiment, no room to fail, but on the other side, innovation demands experimentation. It demands to fail, fast, test, learn, iterate.
Omar Hatamleh:
Completely, and actually, and nowadays, before it used to be maybe something like to have risk, some people– today it's actually a must, it's imperative.
Either you take a risk, or you might actually be completely alienating yourself from the rest of the competition."
I mean, things are moving so fast. Merging technologies are disrupting so many different industries if you don't do some things differently, and you take a risk, an element of risk, at least, that's calculated, you have to be responsible also… You cannot just take a completely unmeasured risk. You have to take measured risks, but it's definitely imperative that you take that. Otherwise, you risk actually being completely alienated and being marginalised. It's not something that–
Jim Berry:
If we don't take a risk, you face risk.
Omar Hatamleh:
Completely, actually the biggest risk is not taking risk nowadays. We're moving at such an incredible fast of transformation, that you need to do things differently. It's a must.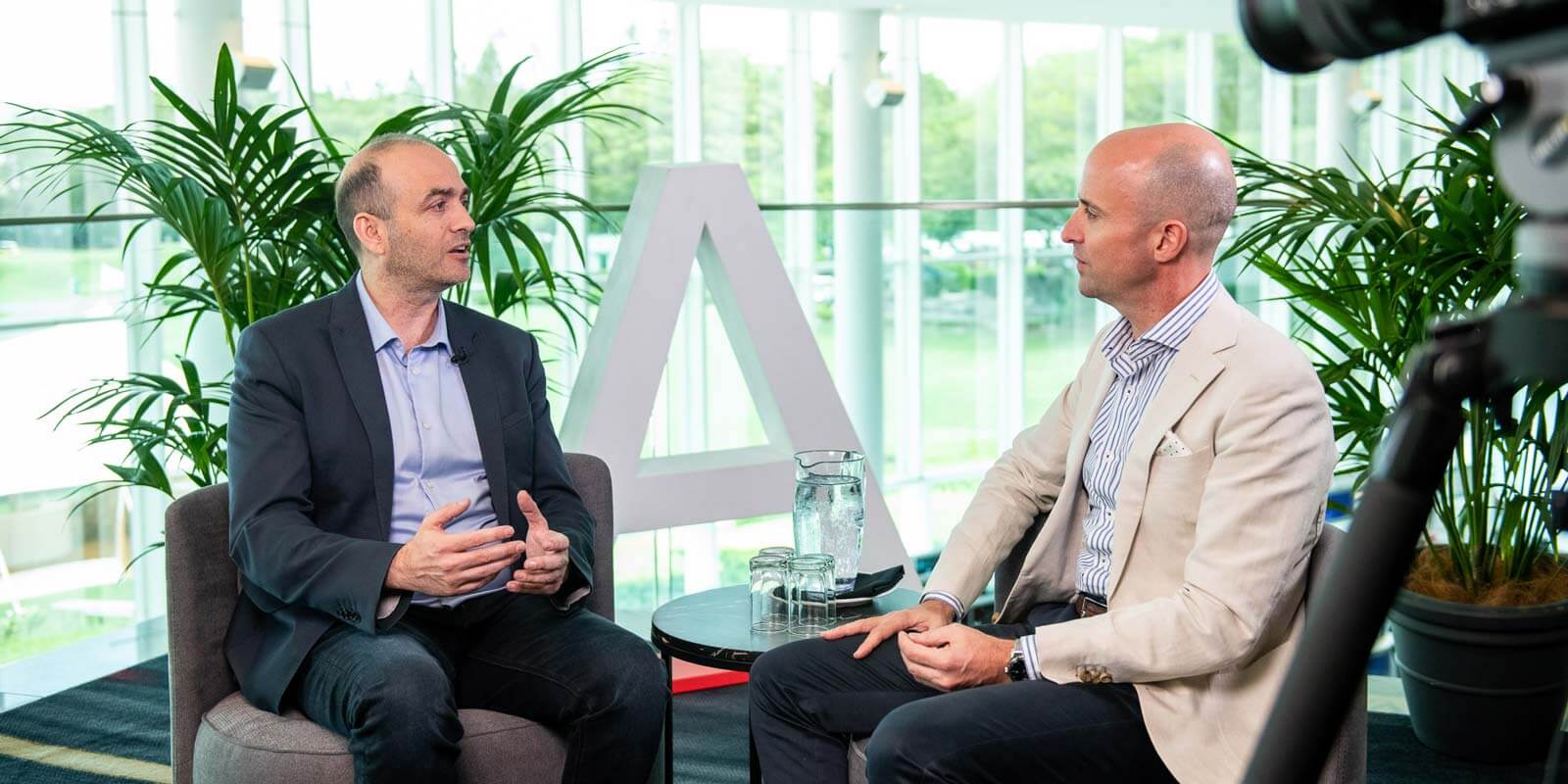 Jim Berry:
So then there's a challenge around how leaders of technology especially communicate that to the CFO, to the people who need– business cases need to be proven, and there's an old-fashioned way of procurement, which doesn't enable that level of risk. So how do they best communicate why it's an outcome-driven conversation?
Omar Hatamleh:
You see that in a lot of organisations where executives and top leaders say, "We're going to start becoming more innovative, we're going to start taking more risk." But it never materialises, you know? The message actually penetrates all the way to the employees, and the employees embark on this mission and this journey, and they would like to go and do something with this new endeavour but things stop in the middle management because they will then start taking the risk and start becoming innovative. There always involves an element of getting out of the comfort level, involved with taking more risk that they're not used to. So to be able to have a full cycle and get all the value from the organisation, I believe two things need to be done first.
The executive needs to mandate an element of creativity and innovation to the middle managers, and put in the performance evaluation as well, but also have a back cover in case they fail."
It's okay, it's not the end of the world, right? You're going to learn something, and next time you're going to learn how to do it better, and that's actually could be a nice way of learning things.
Jim Berry:
They don't necessarily have KPIs for measuring innovation.
Omar Hatamleh:
Well, the thing, Jim, is sometimes innovation could be something instantaneous or sometimes take years. That's one of the prevailing things about innovation. Sometimes you invest and you do things and projects, and the results won't materialise and show up for years from now. So that's why sometimes people say, "Well, I'm investing this, where are the results?", and it's two results, sometimes you see something short-term but most of the things, it takes a long time, like changing the culture. Changing the culture is a very complicated thing. It takes a long, long time, and you start little by little, make an example showing people the value, and eventually, you'll definitely make a difference, but it's not something that's done in a short term. It's definitely time-consuming.
Jim Berry:
Well, that's some useful insights and advice. Thanks a lot for speaking with us today.
Omar Hatamleh:
Absolutely, thank you.