Resources
Dean Nelson on the Software-defined 2020 and Microsoft's Carbon Plan
Dean Nelson discusses how 2020 is the year for software-defined and the way to a greener future.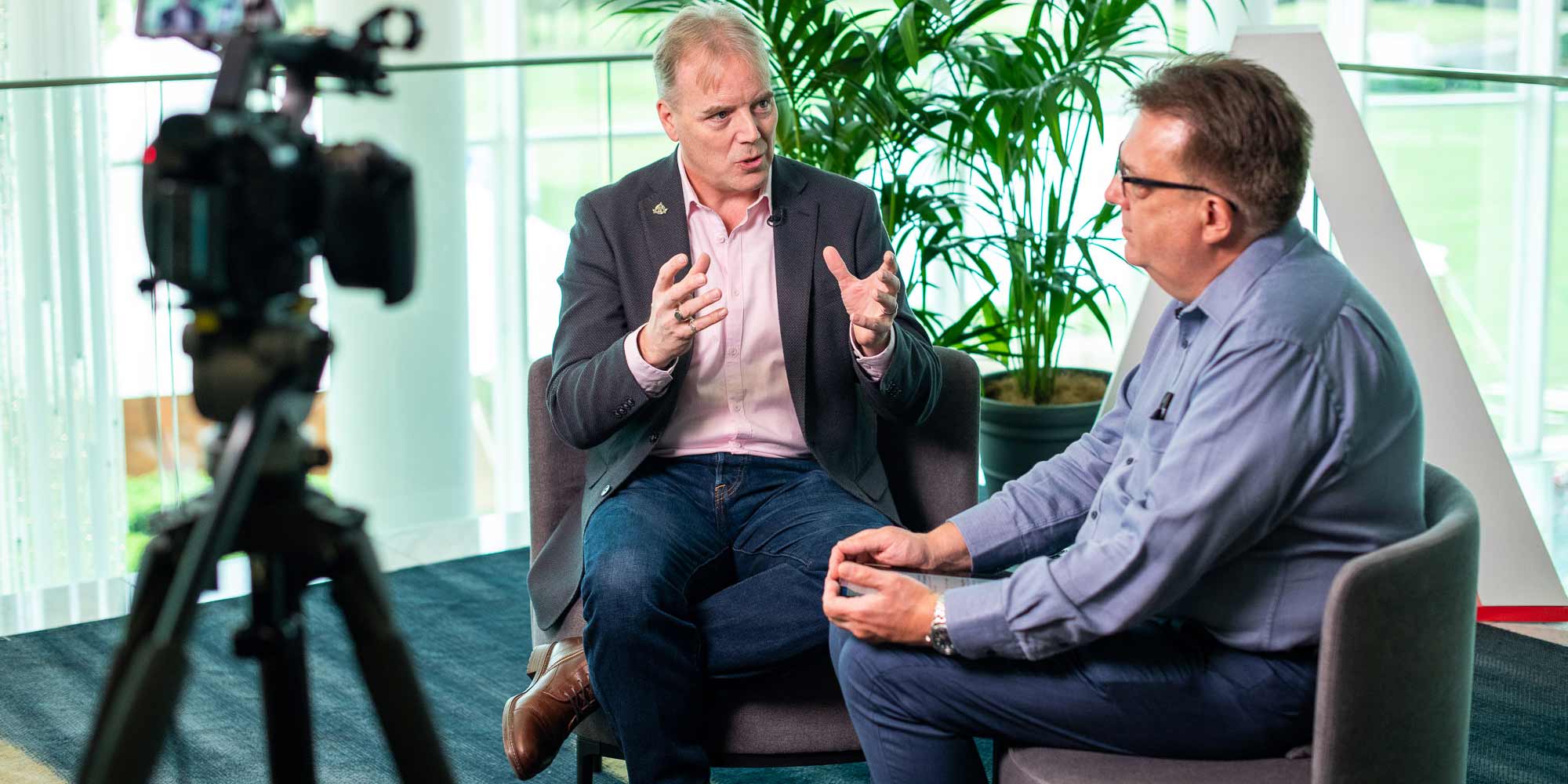 Prior to his current role, Dean Nelson was Head of Uber Compute and VP of Global Foundation Services at eBay Inc. Having since founded the Infrastructure Masons association to gather and support the world's leading digital engineers, Dean will be flying in to attend and keynote ADAPT's 8th annual Connected Cloud & DC Edge on March 10-12.
This weekend he shared with ADAPT's CEO Jim Berry how 2020 is the year for software-defined and the way to a greener future.
Jim Berry:
You stated that "software-defined is the future." Now, in IT this term has been around for a decade but we're certainly seeing some traditional data centre design and operations transform. How do you see this unlocking new efficiency, revenue, or even agility?
Dean Nelson:
I think this might be a little controversial with people. But you look at compute storage and network, they've been self-defined or maturing over the last 10 years, and this is the de-facto standard.
So virtualisation and all these shared platforms leverage those three key elements to make it work, but the challenge is that it's missing one.
So, if you were to define 'software-defined data centre': it's computing, storage and network that is managed by an orchestration system to optimise all those assets.
But we need to add the fourth element, which is facilities."
So, then you would say compute, storage, network and facilities. And then if you're double-clicking the facilities, that is software-defined power and the ability to virtualise power coupled with software-defined cooling, which means cooling should adapt to any of that power that's causing that heat generation to be extracted. It needs to be at the right location, so it needs to dynamically match.
And then you also need local energy storage to be able to now do peak shaving or just think of it as you make the power functional I can move it around where I need to and I've got local energy storage that allows me to charge when it's not used and discharge when it's actually spiking above. But it allows you to increase all of those.
All power in a data centre today, right now is not used. So, for example, if I've got a 10-megawatt block and then I've got redundancy of 10 megawatts and that easily has some swing capacity. Usually, that first 10 megawatts is not fully utilised. At a minimum 80% but most of the time, it's 50%, which means that 40% to 75% of the power that you actually deploy, I'm talking about all redundancy in the capital is not used.
So, if you're able to put in upper defined power and cooling, then this software-defined data centre facilities element, you could now start to use all of that capacity as an asset. And then you're using software-defined principles to increase your resilience in your data centre. What that means is it should be able to respond in milliseconds to be able to match loads, use the local energy storage. Transfer and move things around as that demand changes. And we just haven't done this at a data centre so far. So, everybody talks SLAs for specific loads with peak requirements that is only hit a certain period of the year.
Jim Berry:
And there's obviously a push for consistency but the ability to save stranded capacity is on point. And so, do you think the co-Los will embrace this or is it a competitive advantage? Because they could be marginalised if hyperscale…
Dean Nelson:
Oh absolutely. And then, by the way, my belief is that the hyperscalers already are doing this in their own systems, it's what they built and because they have the whole stack. The challenge is they can't get this capability at the co-Los, and the co-Los are bound to an SLA because those folks keep them held to that. 'You're going to deliver me this much capacity'. We might ensure that cooling at a certain element of it. And you have financial implications if it goes down.
And so, everybody is very gun shy and very nervous about anything that potentially or theoretically could risk that. So that's why we've been held back in leveraging software. And I think that what's counterintuitive to people is software-defined enables you to dynamically adapt. And what you need to do is add some supplemental local energy storage and that gives you so much ride through when it comes down to applications of power movements.
So, the data centre ecosystem and the co-Los, they are in a race to zero right now when it comes to cost per kilowatt, b of the price busters.
And they're either going to give up on redundancy to lower their costs, or they're going to increase their risk overall."
And what they have to do to make this increase their margins and they can de-risk – and what they're doing is using software-defined. Without it, it's just more of the same and you're going to have failures.
Jim Berry:
I think it's going to be the year for software-defined to really get traction. While we're on the topic, CCDC 2020 has speakers looking at how we make a carbon-neutral data centre and suggesting we're going to need to actually start thinking about the PR implication of the energy capacity and use as an industry as we go forward. And a lot of companies are trying to be greener – Microsoft has set the bar for a greener future for sure. But sadly Australia, we're a big carbon polluter per capita and a coal-powered nation. There's quite a drive, but have you got thoughts as to how or even why organisations should commercially talk about transactions being carbon negative?
Dean Nelson:
What I'm seeing in the U.S. and Europe is that these companies are now starting to make this a part of their core architecture. So, it's no longer a luxury, it's a requirement. And Microsoft not only set the bar, I mean they blew it away. No one else has done this before. So, think of it as they're going to go to carbon negative in 2030. But then they're going to be repaying all of their historic carbon by 2050. So, every contract, now think about this, they said every partner that actually serves them is going to have to help them reach that goal.
Jim Berry:
Amazing, isn't it?
Dean Nelson:
So, it is a requirement and do for Australia, this will be a forcing function for companies that are searching to be like Microsoft and others. Google is one of those people, right? Apple. All of them have this at the highest level of the company saying we expect a socially responsible deployment, and that includes that we have renewable energy serving and making every transaction green.
So never waste a crisis. That's the way we look at things.
So how do you go back and use this as a forcing function or leverage to go work with people to figure out how to solve this problem?"
Because I have seen this where people say you either can get clean energy or you can get cheap energy. There's not an 'and.'
I will tell you when the utilities, the providers and the customers start looking at the holistic problem, they solve it in regions. So, there's nothing different in Australia. It's just looking at the business problem together, working together with the utility, the governments, the incentives as well as the customers and the providers – and seeing how you could solve this to be able to say, I can have clean green energy and it's cost-effective. I've seen this across deployments in my previous jobs. Once you put this out in an RP, people get creative. They figure it out. I think that's coming to Australia.
Jim Berry:
Obviously you're with us for the two days. We've got most of the leaders from the co-lo and data centre, but also some of the design and the architecture side of the industry. There's going to be a lot of conversation around that. I'll look forward to connecting you with 400 heads of cloud IT and infrastructure and the digital service provider ecosystem at Connected Cloud & DC Edge 2020 in March.
At Connected Cloud & DC Edge in March, Infrastructure Masons' Dean Nelson will fly out to Australia to deliver his keynote "Are you ready for ruggedized and secure Edge?" He will share how Edge will dwarf core data centre capacity in the next 5 years and security threat vectors will grow 1000x.