Findings from ADAPT's April 2020 "COVID-19 Survey: AU & NZ Organisational Response, Resilience & Recovery"
---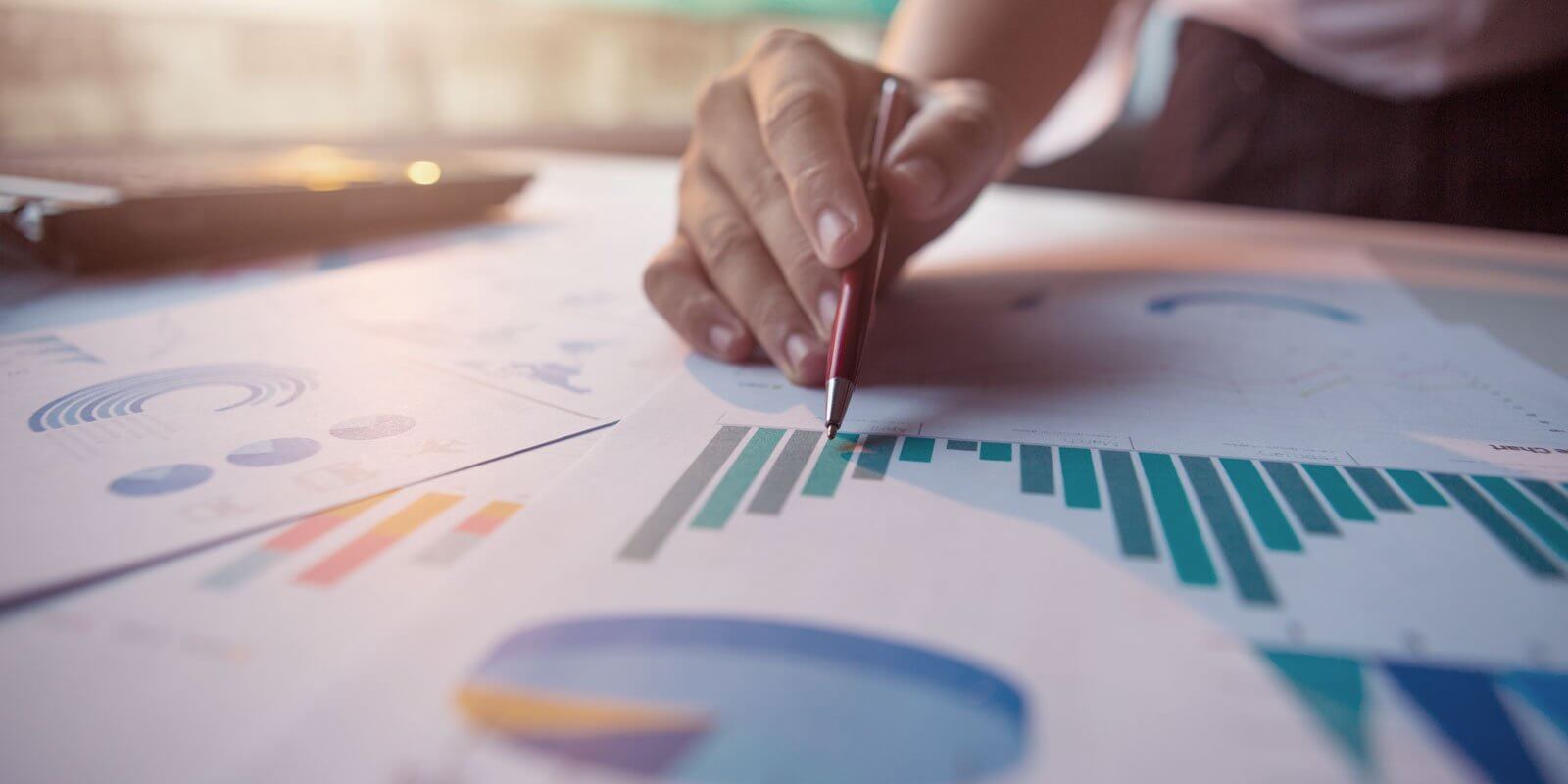 In March 2020, as COVID-19 unfolded, local technology and business leaders faced the huge responsibility of shifting the workforce to a secure work from home set-up, overnight. Relentless changes and uncertainty in the external environment demand collective knowledge sharing within the C-suite. On the 22nd April 2020, ADAPT conducted an invitation-only media online workshop to discuss the key survey findings of ADAPT's April 2020 "COVID-19 Survey: AU & NZ Organisational Response, Resilience & Recovery".
In April ADAPT conducted an in-depth survey of 217 C-level executives representing 197 organisations to gauge COVID-19 response and recovery of Australian and New Zealand businesses, including 47 of ASX-200 listed organisations."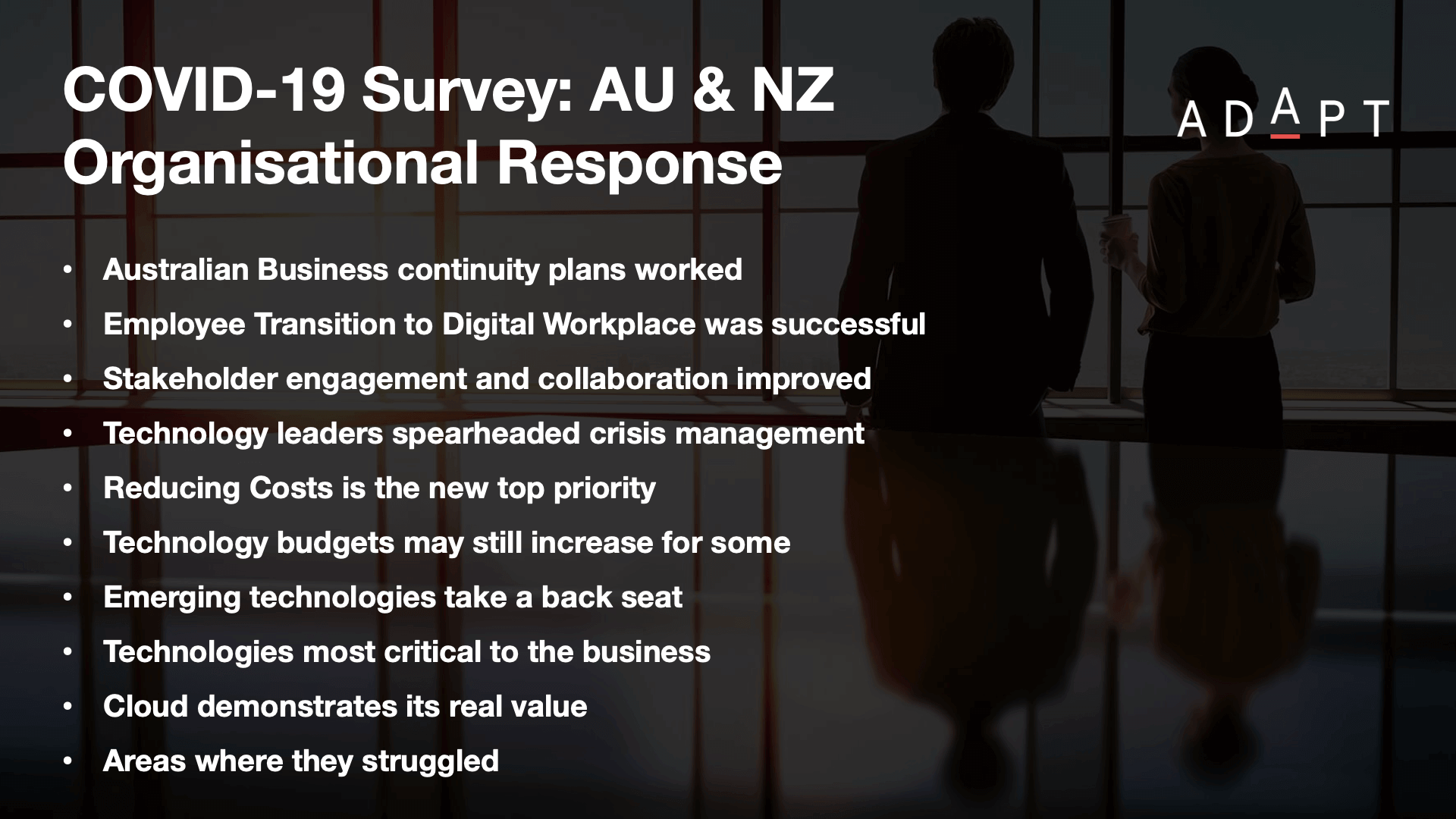 Were organisations prepared? Did Australian/NZ organisational leaders deliver under pressure?
The majority of organisations rose, with little issue, to the challenges presented by the COVID-19 crisis, with 61% stating their existing Business Continuity Plans worked.
Exact percentages show how organisations successfully controlled transitioning their workforce to work from home (WFH), maintain BAU and transitioning to secure digital workplace policies and practices.
Companies which had less control or hadn't invested in the right ways, found external focussed priorities such as supply chain, customer service, new digital product development and delivery stumbled.
However, during the crisis, CEOs and other corporate leaders provided more availability and access than ever before, improved engagement, and limited barriers with decision rights.
Did IT lead from the front? CIOs and IT leaders justified their seat at the table:
80% of respondents to the question agree that their CIOs and tech leadership played a strategic partner role in the COVID-19 war room to get their organisations through the necessary changes. CIOs proved their worth.
The most significant change within the tech stack has been the move to cloud – including private, public and hybrid workloads. 50% of respondents to the question told us their organisations have increased their Cloud workloads by more than 50% to enable their remote workforce.
However, with cost increases this could be temporary, and a percentage of respondents also revealed they plan to repatriate from public Cloud to on-premise in the coming months.
What are organisations' predictions and plans for these next three months?
Exact statistics were revealed on IT budgets showing a significant proportion of cuts, especially on emerging technologies.
The focus remained on reducing costs, digitising workflows, and resilient security.
Vendor revenues will take a hit, over 20% of Australian organisations have disengaged from their existing relationships.
More about the ADAPT COVID-19 Survey:
The survey was conducted by ADAPT from 2/4/20 to 14/4/20
217 respondent sample size
98% from Australia and 2% NZ
197 different organisations from 11 sectors
47 replies were from ASX-200 and 11 replies were from ASX-25 organisations
All organisations were > AUD $500 million in revenues
Respondents were: CIO (33%), CTO (31%), CDO (10%), CFO/COO (10%), Other (10%), CISO (6%)
The survey was comprised of 11 quantitative questions, plus 2 open questions
ADAPT Research and Advisory is writing a whole series of research reports on building reliance, business continuity planning, and coming out strong in the new environment. Become an ADAPT Research and Advisory client to access the full report COVID-19 – The Renaissance of Tech Leaders.