Coates Hire's Group Manager of Digital Transformation Kirsty McKay discusses the evolution of the role of digital transformation leaders, who particularly earned a higher profile ensuring business continuity during the pandemic.
ADAPT cites one of the 12 Core Competencies for a CIO to "Transform as a Business Leader." Digital transformation leaders are proving to fulfil the purpose like that of a Chief Operating Officer or Chief Executive Officer.
Our Senior Research Strategist Aparna Sundararajan asks Kirsty McKay at ADAPT's CIO Edge what her next steps as a digital leader are, roadblocks she faces at the intersection of business and technology, and how she is breaking down siloes at Coates Hire. She also speaks about the importance of stakeholder management and leading with empathy.
Aparna Sundararajan:
Digital transformation has played an incredible role in what we saw in the last six months.
Organisations who were already on that journey and had achieved it to a level quickly moved their employees to a work from home setup.
For Coates Hire, what was it like when the lockdown started?
Kirsty McKay:
Coates Hire was fortunate that we had already commenced our transformation journey. When the pandemic hit in March, we had many our processes in place. We had a lot of our tools and capabilities, both in terms of software and hardware, ready to roll for our organisation.
But we have a very interesting model whereby we still have open branches. We are fortunate that we support several industry sectors that were not as heavily impacted at that macro-economic level – construction, infrastructure, and so on.
It was very much about, "How do we also enable those working practices in a way that keeps our employees safe with the in-person transactions as well as our customers?"
That safety component was paramount. But we do consider ourselves lucky that we were already on that journey as an organisation.
Aparna Sundararajan:
What happens going forward? How do you see the last six months shaping the future of how you work?
Kirsty McKay:
We are all grappling with the same set of conditions. I do not now that we have yet fully crystallised what this future state is going to be.
This working from a hybrid is a model that will be with us for some time, and we need to look at it with the full spectrum of considerations around risks and the opportunities that that presents.
Fundamentally, how do we embed a working style that works for our customers for our organisation, but very much so for our employees with? Well, being mental health is one of our key focus areas,
Aparna Sundararajan:
Are there any new projects that you have started, only because of the lockdown?
Kirsty McKay:
We have just launched our next five-year growth and transformation strategy. It did allow us to reaffirm that, that five-year plan was directionally correct in the new context of how things are working.
We have a clear vision with going strong leadership across the C-suite pulling together to deliver on those value points for the organisation.
No new projects, per se, just lots of opportunities for the transformative side of where we are heading. It's interesting.
Aparna Sundararajan:
You mentioned a five-year transformation strategy. What would be the top priority?
Kirsty McKay:
We've got some amazing capabilities in terms of our solutions. So, we're more than just a hire company. We've got engineering capabilities and industrial services, by way of solutions.
It's much more of an end-to-end product, a service offering that we can provide for our customers.
It's areas of our business that are established, but we're looking to grow and stretch out.
We are finding that way to adapt to our customers' new ways of working in that context."
We're already on our digital transformation. Where we've landed is that digital is no longer a separate pillar or a foundational one. It's very much integrated into our strategy across the board.
We're at a point where we recognise that technology and all of these capabilities are part of the DNA, it's how we do business, it's no longer just a supporting function.
Aparna Sundararajan:
Interesting. I like that you mentioned that digital is no longer a separate part of the business; it has to be embedded. And in that sense, then does your role change as a digital transformation leader?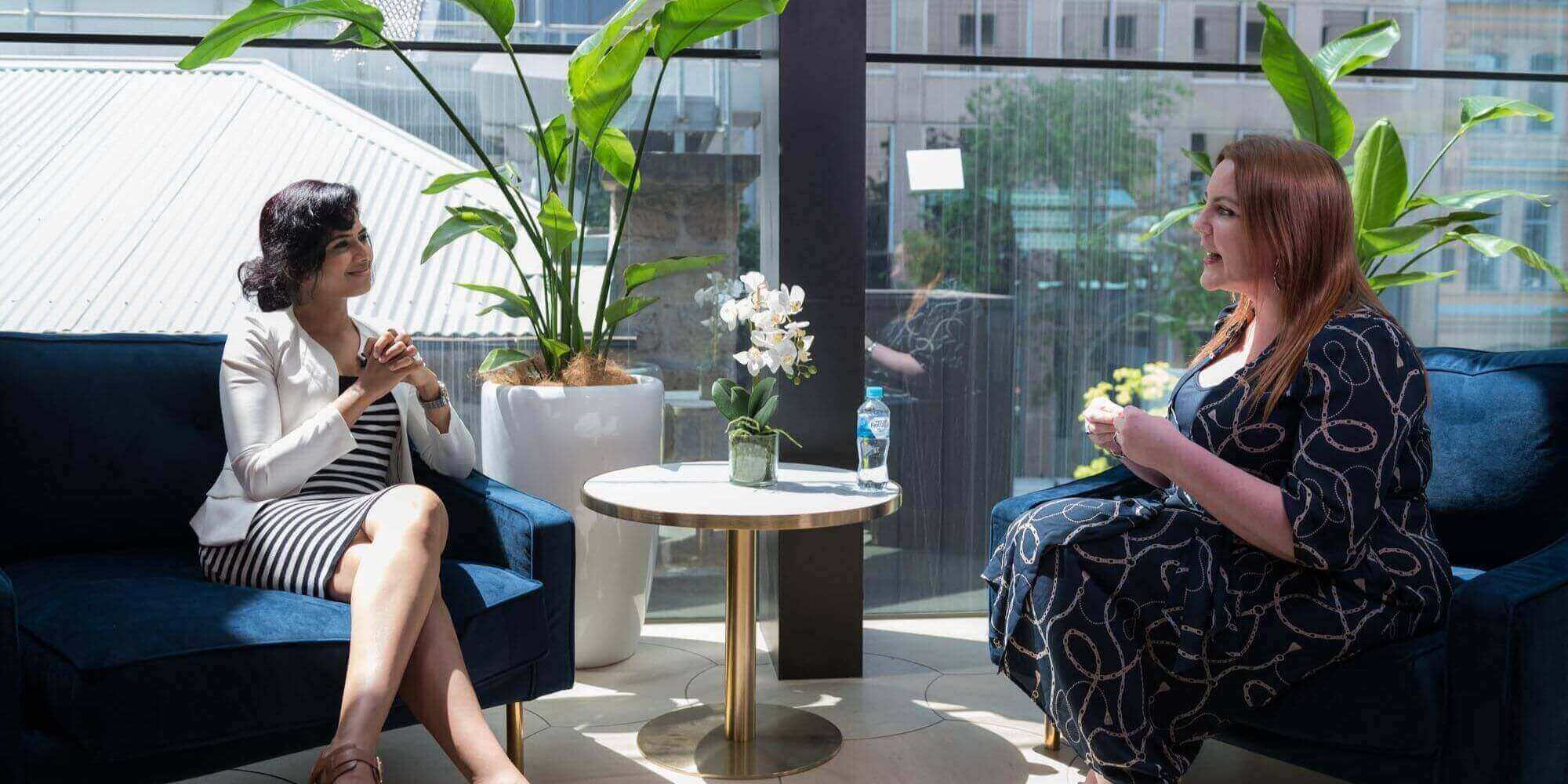 Kirsty McKay:
Yes, and I'm excited about that. We all recognise that transformation does not stop; it's more of an evolution.
As we move forward as an organisation, with our customers, that we have that chance to create a very embedded capability that truly supports the core functions of what we do:
Improve employee experience
Improve the customer experience
Remove friction points
Make it as seamless as possible
Aparna Sundararajan:
What would be the next evolution? What does it look like, the next step up for your role?
Kirsty McKay:
I truly believe that the digital transformers' opportunity into the Chief Operating Officer role, is much more about how the organisation operates. End to end is a key area for us to look at.
Technology is no longer a side note. We are the business; it's not an IT business capability anymore; it has to be the same."
Technology needs to be fulfilled daily. But I think the future CEO will be coming from a technology space.
We're very passionate about the fact that we think of ourselves, as we're businesspeople first, technologists second from an IT leadership perspective.
Aparna Sundararajan:
This year in February, we had talked about ADAPT's 12 Core Competencies for the CIO, and one of the core competencies was transforming as a business leader.
It resonates with me when you talk about how and why digital transformation leaders would be very capable of providing that role.
I'm assuming that when you start your digital transformation projects, you have to speak to the business, and you have to think like them before really implementing it.
Kirsty McKay:
It's even before that. We're absolutely part of this strategy development process. It is a listening piece.
But it's not about the organisation coming to us with a set of requirements. We're there to talk about the outcomes that we're all seeking to achieve.
What are the strategic imperatives in that and then collectively work out: how is this a cross-functional skillset?"
How does that then come together to create the program of work that that needs to take place?
Aparna Sundararajan:
Do you face any roadblocks from the collaboration and into the intersection of business and technology?
Kirsty McKay:
I talk regularly about the fact that we're agile with a capital A.
The practices and the processes have worked well for us as an organisation. We have managed to break down any of that siloed thinking. We pride ourselves on being business-led, where that feedback loop and continuous improvement elements that we can achieve by having that close alignment.
The practices have eradicated as many of those blockers that we used to see back in waterfall, traditional project methodologies.
Aparna Sundararajan:
You mentioned that the Chief Operating Officer. I feel like now it's going to be a digital workplace.
The digital architect should be abreast of all the technologies that can deliver experiences.
Now, what we have seen within ADAPT is you probably report to your CIO.
But what we've seen is there is a percentage of CIOs within our executive community who report into their CEOs.
They do struggle a little bit on demonstrating the clear value of IT.
If technology leaders were to become a COO versus the existing leaders struggling there, what would your advice be?
Kirsty McKay:
With any of these big change agendas, you need to bring those stakeholders along on that journey.
Whether you're reporting through to CEO or it's one of your peers, it's about translating the technology into the business outcome.
Their objective is about making it visible what the correlation is between what you're doing from that technology position to the actual business outcomes."
I'm a big advocate on finding those proof points, or small wins that you can make early on in terms of the value understanding the drivers for the particular business areas.
For instance, legal compliance, executive responsibilities, will see a lot of value in terms of the security and the risk mitigation that we can bring to the table.
So, a bit more of an onus on how do we tangibly prove those capabilities?
We have people and culture executives who know: how can we help support the employee experience agenda? How can we get some of those quick wins to establish a close working relationship that works for them?
Aparna Sundararajan:
Consequently, it will help with change management conversations. The sessions that we saw in NOBL Collective if the CEO actually understands the role of technology within the organisation, change might be a little easier.
Kirsty McKay:
Change is really hard. I really appreciated what the NOBL team talked about when you've got the cynics in there the do's and don'ts on how to approach those naysayers.
Because it's not personal, take it back to the grief curve, where either individuals or teams, what does change mean to them? Is it the loss of control, is that the loss of familiarity, what's causing the discomfort? And then tapping back into how you can help support people through that process.
But change is the hardest thing. You must be persistent and resilient to love yourself and always having that empathetic approach because it's humans."
It's people, and it's natural for those feelings. So how can you help individuals through that process?
Aparna Sundararajan:
Thank you so much. I do have one last question before we just finish. What was the biggest surprise that the last six months brought?
Kirsty McKay:
A solid realisation that working from home is not the panacea for all my work issues.
I love being in an environment where I can collaborate. Being in the same space as other people gives me a lot of energy.
There is a good side to work from home. But I'm looking forward to work from a hybrid model that can you know that we can create a model that works to people's strengths and preferences and keep us in that sweet zone of doing what you are great at and do what you love and make it a positive process for Individuals.