Resources
What We Learnt About Driving Transformational Change at Digital Edge
Unlock digital transformation insights and strategies for maximised value. Navigate complexities and deliver enhanced customer value with ADAPT's Digital Edge.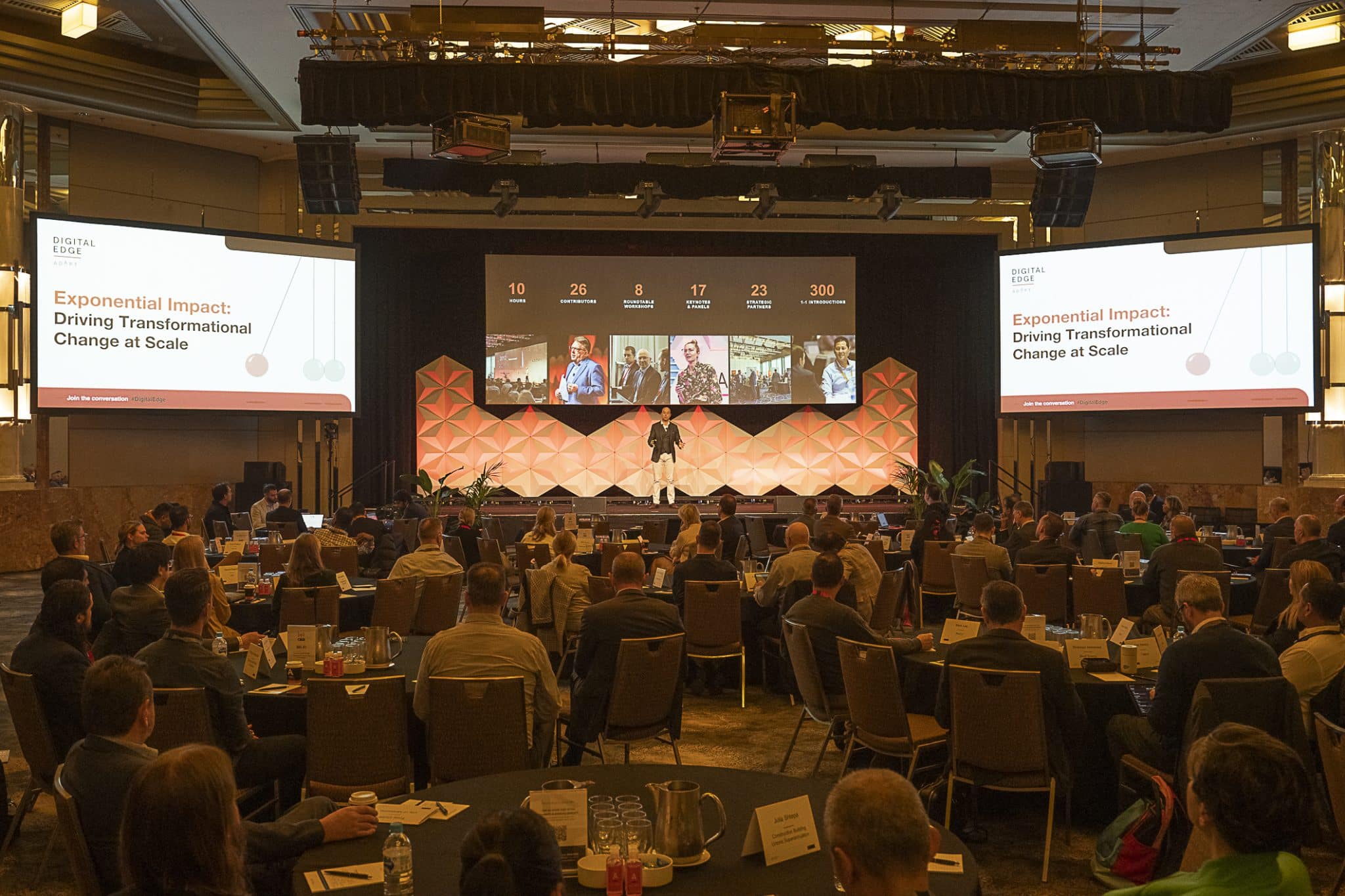 ADAPT's Digital Edge gathered 130 Heads of Digital Transformation and CX to debate digital innovation and customer-centric strategies, covering several significant themes.
These themes revolved around the challenges and processes in driving digital transformation, improving customer experiences, and effectively leveraging technology in organisations.
The event emphasised the importance of an aligned change strategy that creates synergies across digital, people, and data agendas to maximise value.
Additionally, becoming a trusted ecosystem partner and restructuring operating models for the digital era were prominent aspects.
Furthermore, comprehending customer patterns to streamline operations was also crucial.
Collectively, these features address the complexities of driving digital innovation and enhancing customer value in today's evolving landscape.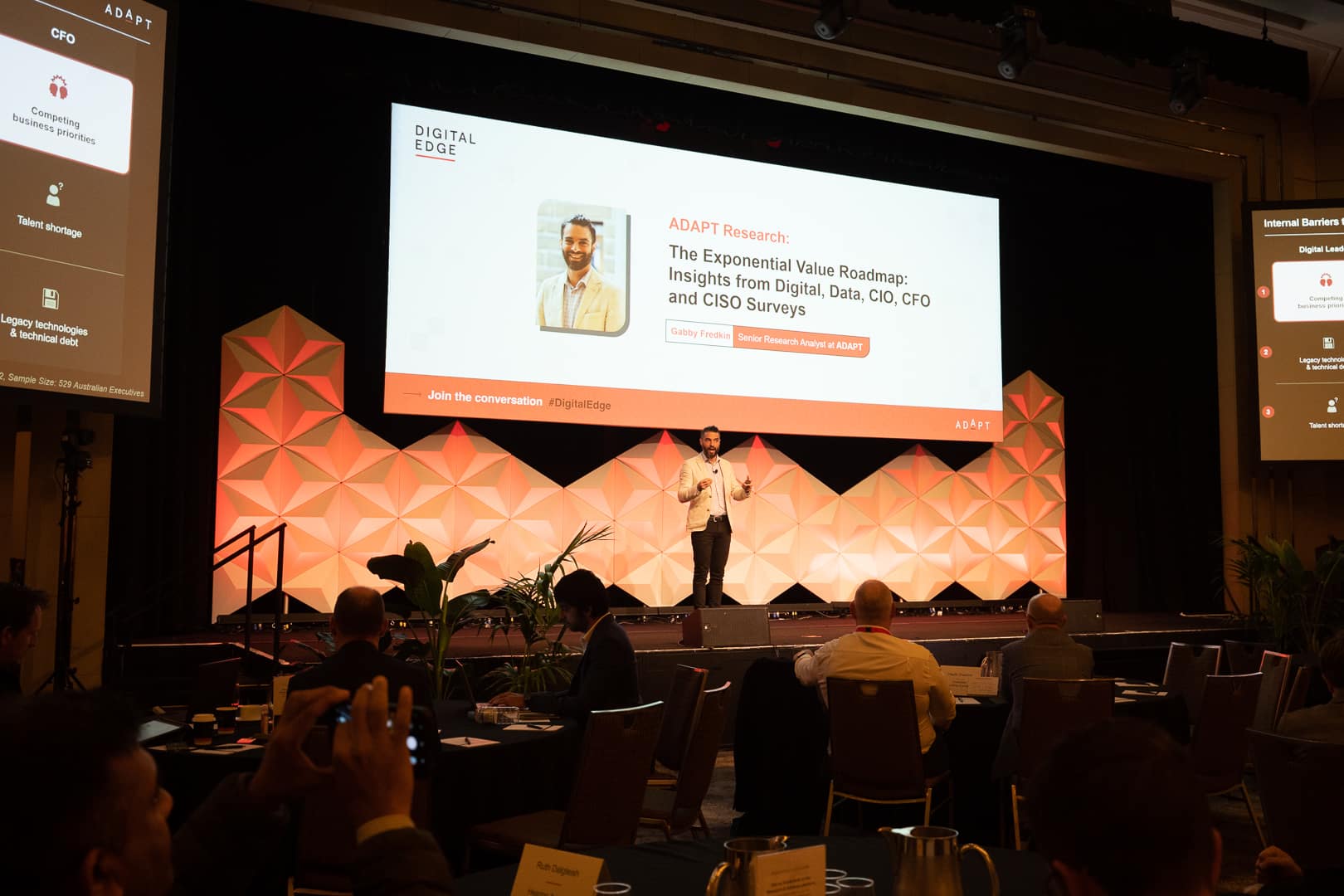 Pursue Digital Excellence Through Collaboration, Customer-Centricity, and Behavioural Alignment
In a dynamic session led by keynote speakers Jim Berry and Gabby Fredkin, executives gained valuable insights into driving digital excellence.
These insights will empower executives to lead digital transformations successfully.
Synergistic Approach: Harness the power of synergies across digital, data, and people agendas to drive effective change and maximise value.
Customer-Centric Focus: Prioritise the customer perspective to drive value from operations and ecosystem strategies and enhance the overall customer experience.
Behaviour-Driven Metrics: Set clear metrics and incentives aligned with value-driving behaviours to empower employees and promote continuous improvement.
Digital Fitness and Savviness: Foster digital fitness and savviness throughout the organisation to achieve exponential value and embrace the digital effectiveness journey.
Overcoming Alignment Challenges: Secure executive support, allocate resources effectively, and demonstrate the value of investments to overcome competing business priorities and drive successful modernisation efforts.
Mapping Capabilities to Value: Utilise the Enterprise Value Realisation (EVR) tool to map capabilities to profit and growth, assess maturity and value, and benchmark progress against industry standards.
The synergy between Digital and Data: Embrace a data-driven approach and prioritise digitisation of financial reporting to maximise value creation and informed decision-making.
Elevating Employee and Customer Experience: Address barriers, provide clear metrics and context, and align efforts to deliver exceptional experiences for employees and customers.
Fostering a Digital Culture: Drive cultural shifts, prioritise digital initiatives, and foster collaboration and communication across departments to create a digital-first organisational culture.
The Path to Digital Excellence: Collaborate, educate at all levels, integrate data for a holistic customer view, and automate processes to accelerate the journey towards digital excellence.
Gold Coast Health Succeeds Through a Combination of Teamwork, Trust, Alignment, and Good Relations
Sandip Kumar, Executive Director, and CIO (Chief Information Officer) of Gold Coast Health emphasised the significance of team effort, trust-building with leadership, and aligning key stakeholders with the digital strategy.
For digital transformation to be successful, he recognised the importance of involving the entire team and making sure everyone understood the purpose and value of the initiatives.
A collaborative environment where partners feel like part of the team, building strong external relationships, and leveraging each other's strengths is crucial.
As a result, customer benefits are increased, and digital strategy implementation is more effective.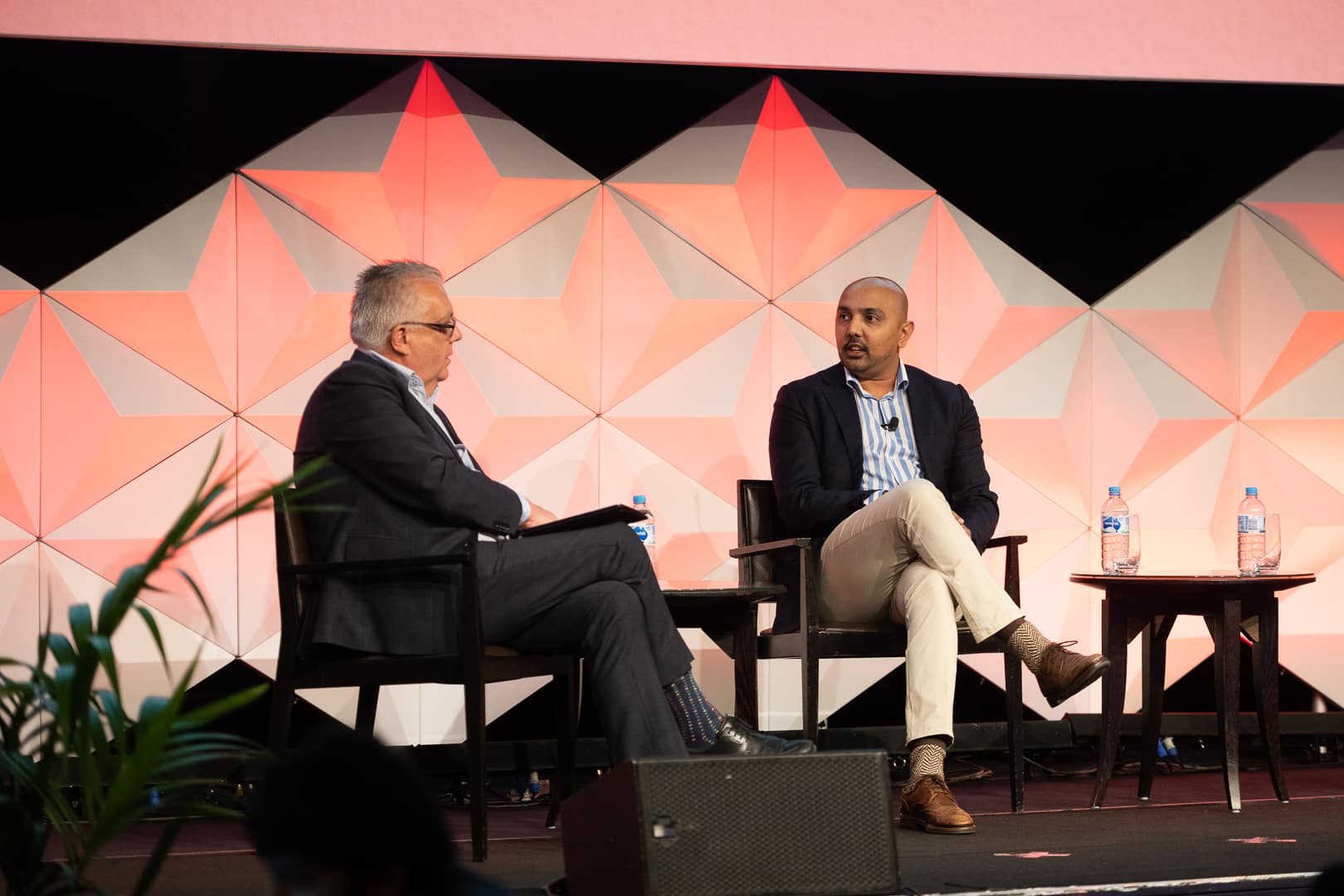 Sandip also discussed the importance of cost optimisation. Relationships should be leveraged to gather budgets and optimise costs.
As a digital executive, he suggested using digital techniques to enable a view of and drive digital workflows that deliver value.
It becomes easier to allocate resources when discussing creation and demonstrating how technology can add value.
Sandip also stressed the importance of digital awareness and compelling storytelling.
Many key opinion leaders might need time to align with the digital strategy or fully understand its implications.
During board meetings, he explained the vision, focusing on topics such as automation and the value it could bring.
Leveraging Digital Capabilities Propelled Service NSW's Success
Katie McDermott, Chief Digital Officer at Service New South Wales, discussed their journey of service design improvements and consolidating government transactions.
She highlighted the impact of digital capabilities, such as high license adoption rates and efficient payment systems.
Features such as collaboration, trust-building, external partnerships, cost optimisation, storytelling, and customer-centric service design provide organisations with actionable guidelines for digital excellence.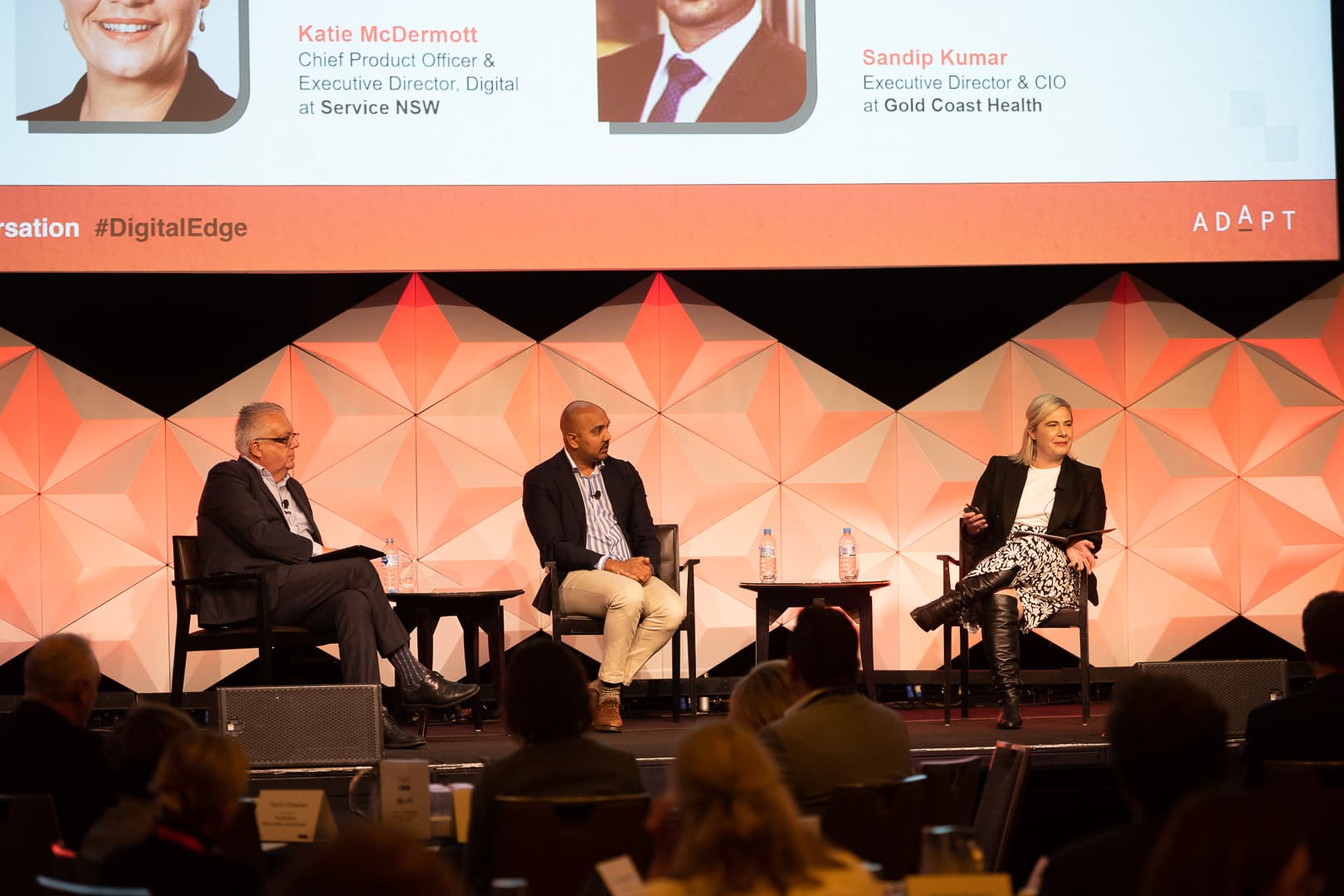 Communicating Purpose and Value: Help board members and executives understand the vision and value of digital transformation by effectively explaining its purpose, automation potential, and value creation.
Building External Relationships: Forge partnerships with research institutions and agency partners to leverage collective strengths, enhance customer benefits, and drive innovation.
Digital Savviness and Cost Optimisation: Foster digital savviness within the organisation and leverage relationships to secure budgets and optimise costs, ensuring efficient resource allocation.
Bottom-Up and Top-Down Approach: Combine bottom-up initiatives and top-down guidance, to empower digital leaders with the storytelling skills to drive transformation.
Balancing Technology and People: Cultivate a culture of curiosity. Provide the team with the right tools and establish a supportive learning environment to balance the integration of technology and human capabilities.
Stakeholder Understanding and Value Delivery: Help peers and stakeholders comprehend Equip staff with storytelling skills and ensure a deep understanding of the business and the value delivered to citizens.
Customer-Centric Approach: Prioritise real-time customer insights and customer-centric service delivery. Leverage small autonomous teams, API-driven business models, pair programming, security, and reliability.
Agile Team Structure: Optimise team size and structure based on service demand and required skills to enhance service delivery and build digital capabilities effectively.
Security and Speed: The Interconnected Pillars of Agile Delivery
In this panel interview facilitated by Peter Hind – Principal Research Analyst at ADAPT, the panellists discussed the importance of delivering at a high cadence and constantly learning from the process.
They emphasised the need for a collective vision, consensus among team members, and strong governance to achieve transformative change.
Linda Zeelie, Enterprise Digital Transformation Consultant, highlighted the importance of radical transformation and creating a single digital platform while also maintaining operational frameworks and iterating to drive success.
Steve Hodgkinson, Chief Digital Officer at Victoria Police, argued that in public sector organisations, incremental change through high cadence delivery was transformative and necessary due to limited resources and constant challenges.
Jamie Rossato, Chief Information Security Officer at Lion Co, emphasised the need for good engagement and clear communication between the digital team and the security team to ensure safe and successful transformation.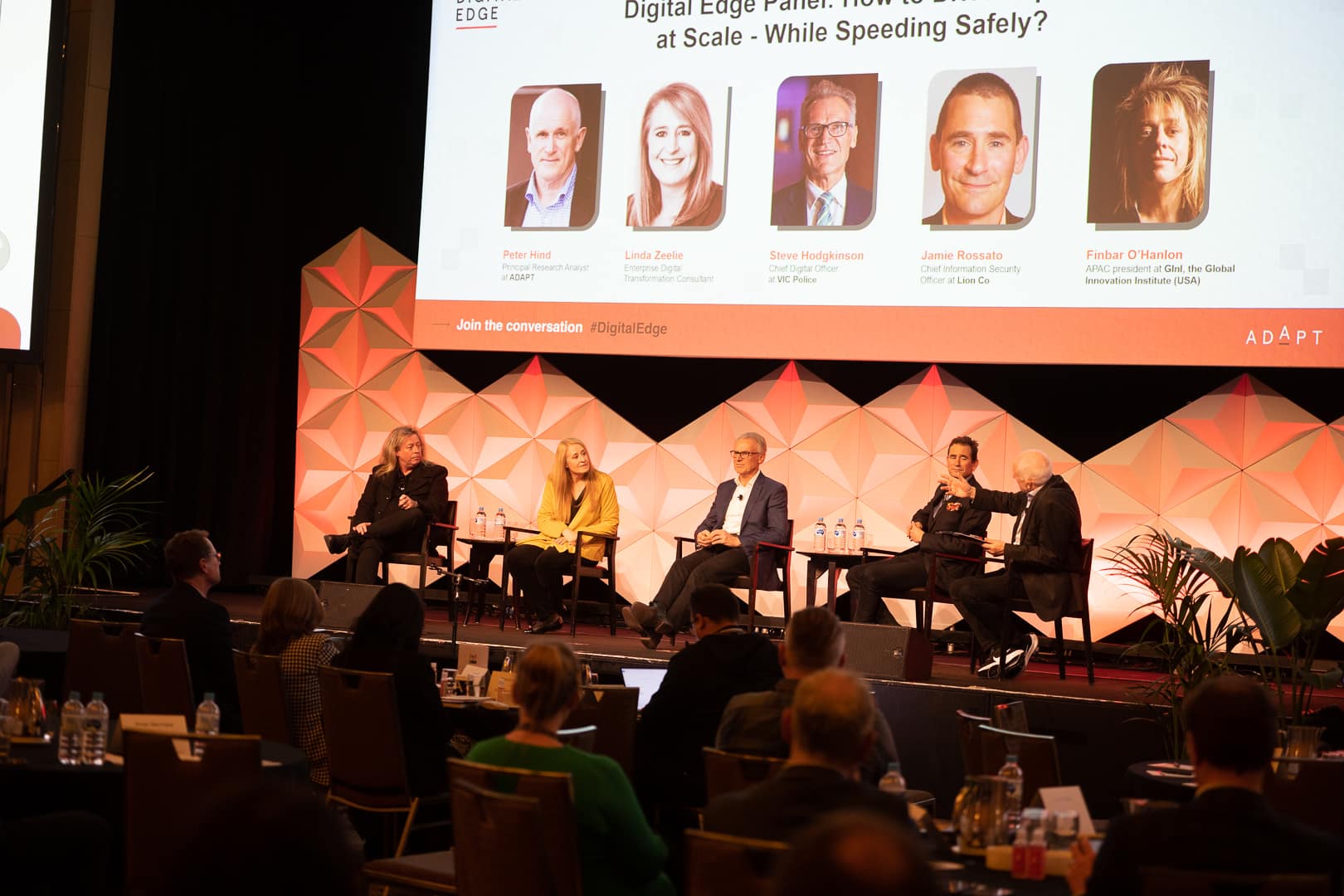 High cadence delivery is a core aspect of Agile, and Agile security by design is essential. It is impossible to maintain a fast pace if security measures were hastily patched together or added after production. Security and speed are interconnected.
When working with organisations, there was a keen interest in understanding the horizon one, horizon two, and horizon three strategies for the business according to Finbar O'Hanlon – APAC president of GInI, the Global Innovation Institute (USA).
While focusing on incremental innovations to stay relevant amidst market changes and preserve value, it was crucial to simultaneously explore transformative and breakthrough innovations.
However, these two types of innovation required distinct processes and teams.
The panellists agreed that security and speed must go hand in hand, with security by design being a key component of high-speed delivery.
They also touched on the importance of strategic innovation and the role of leadership in driving transformation.
When incorporating agile methodologies into a platform, it is essential to begin with a strategic foundation that facilitates gradual advancements.
Using the metaphor of a staircase, it emphasises the importance of not merely failing fast and restarting from scratch but rather constructing each step and elevation on a sturdy platform.
This approach allows for the identification of successful elements and enables progress to the next level.
Conclusion
ADAPT's Digital Edge provided valuable insights and strategies for organisations navigating the complexities of digital transformation and customer-centricity.
The event discussion highlighted the significance of aligning change strategies across digital, people, and data agendas to maximise value.
It also emphasised the importance of becoming a trusted ecosystem partner, reorganising operating models, and understanding customer patterns to simplify operations.
In the ever-evolving digital landscape, these themes collectively guide organisations looking to drive innovation and enhance customer value.
ADAPT gathers Australia's top Chief Digital Officers every year at Digital Edge.