Resources
48% of CIOs Fail to Reap the Benefits of Technology Ecosystems
Understand how CIOs can align technology with business objectives, leverage new technology, and prioritise value creation to become indispensable assets.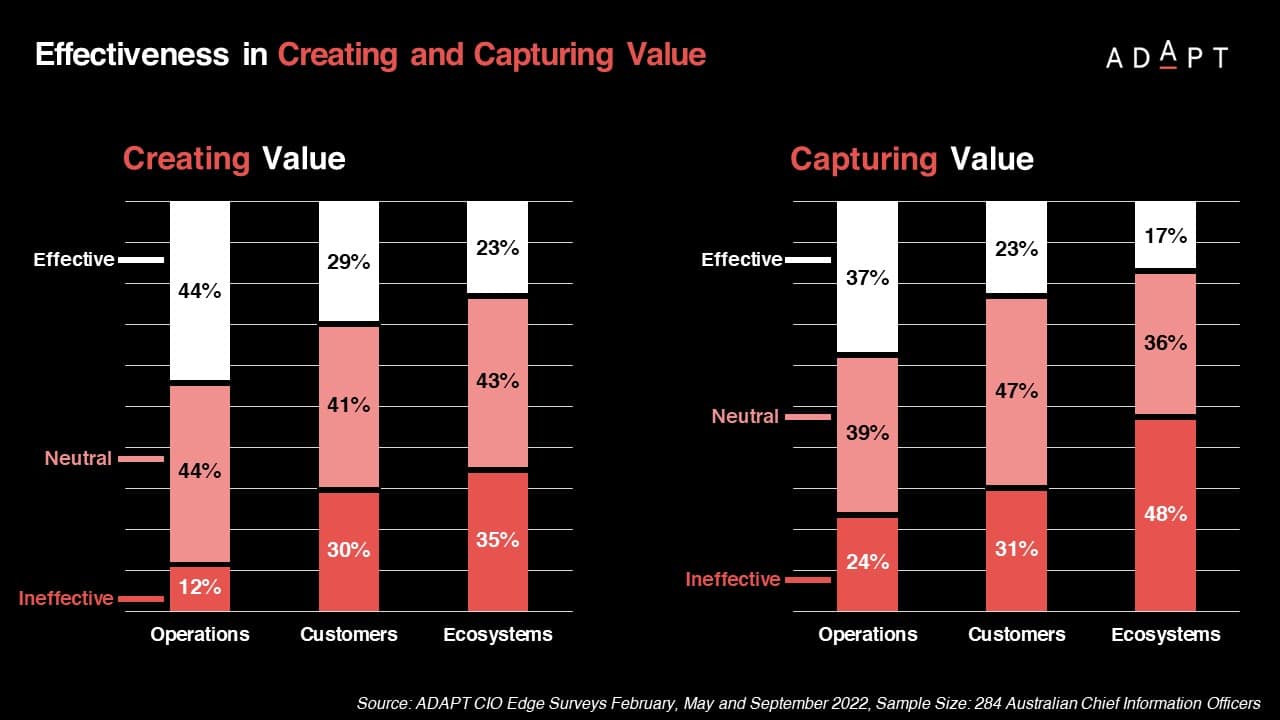 The CIO's role has changed from just assisting with technology projects to playing a key role in enhancing corporate performance through advanced technology, driving business transformation, improving results through process automation, and ensuring sustainability.  
As a result, CIOs have become vital drivers for a company's commercial success. commercial success. 
Some CIOs prioritise cost-cutting and operational efficiency, while others emphasise creating and capturing value.  
The latter group recognises the significance of leveraging technology to identify new opportunities for revenue growth, which can lead to increased commercial success. 
CIOs with sharp commercial acumen can identify new opportunities for revenue growth by leveraging cutting-edge technology. 
With new products and services increasingly reliant on technology, CIOs' analytical problem-solving skills and high IQ make them ideal leaders of value-creation projects. To create value for an organisation, CIOs must be aware of trends, behaviours, and modern strategies. 
Learn more about the three strategies for capturing value in the full report, Three Strategies to Help CIOs Create and Capture Value.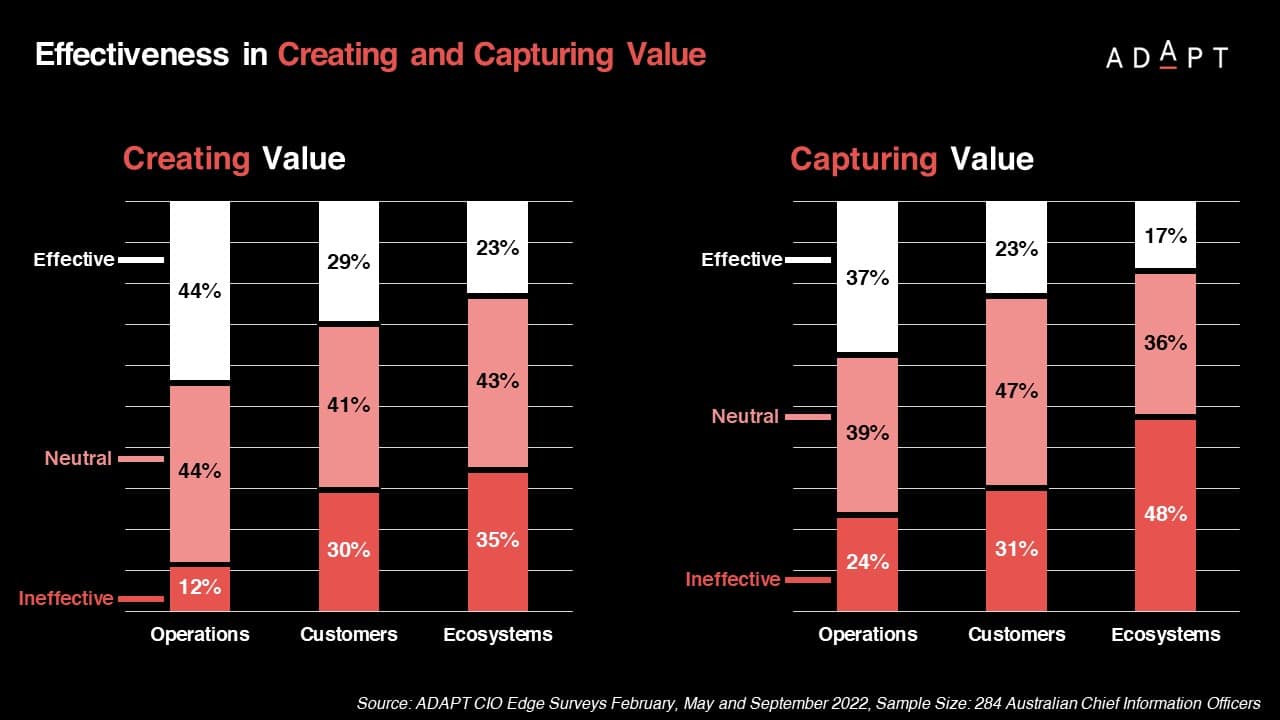 ADAPT's insights on value-creating behaviours  
In 2022, ADAPT conducted research with 284 CIOs from large Australian companies to see how they are creating and earning value. According to this ADAPT report: 
CIOs understand how they earn value from their operations, customers, and ecosystems but need to figure out how the behaviours they use create that value.

Of these three areas, 43% of CIOs need to learn what behaviours create value in their operations.

 

40% need to learn how much value they earn from these behaviours.

 

37% of CIOs earn value from their operations, but only 23% make value from customers and 17% from ecosystems.

 

48% of CIOs are experiencing a disconnect between their original expectations and the actual benefits they receive from their technological ecosystems. Furthermore, these CIOs need help discerning how to effectively implement changes that could enhance or optimise their situation.

 
Learn more about the three strategies for capturing value in the full report, Three Strategies to Help CIOs Create and Capture Value.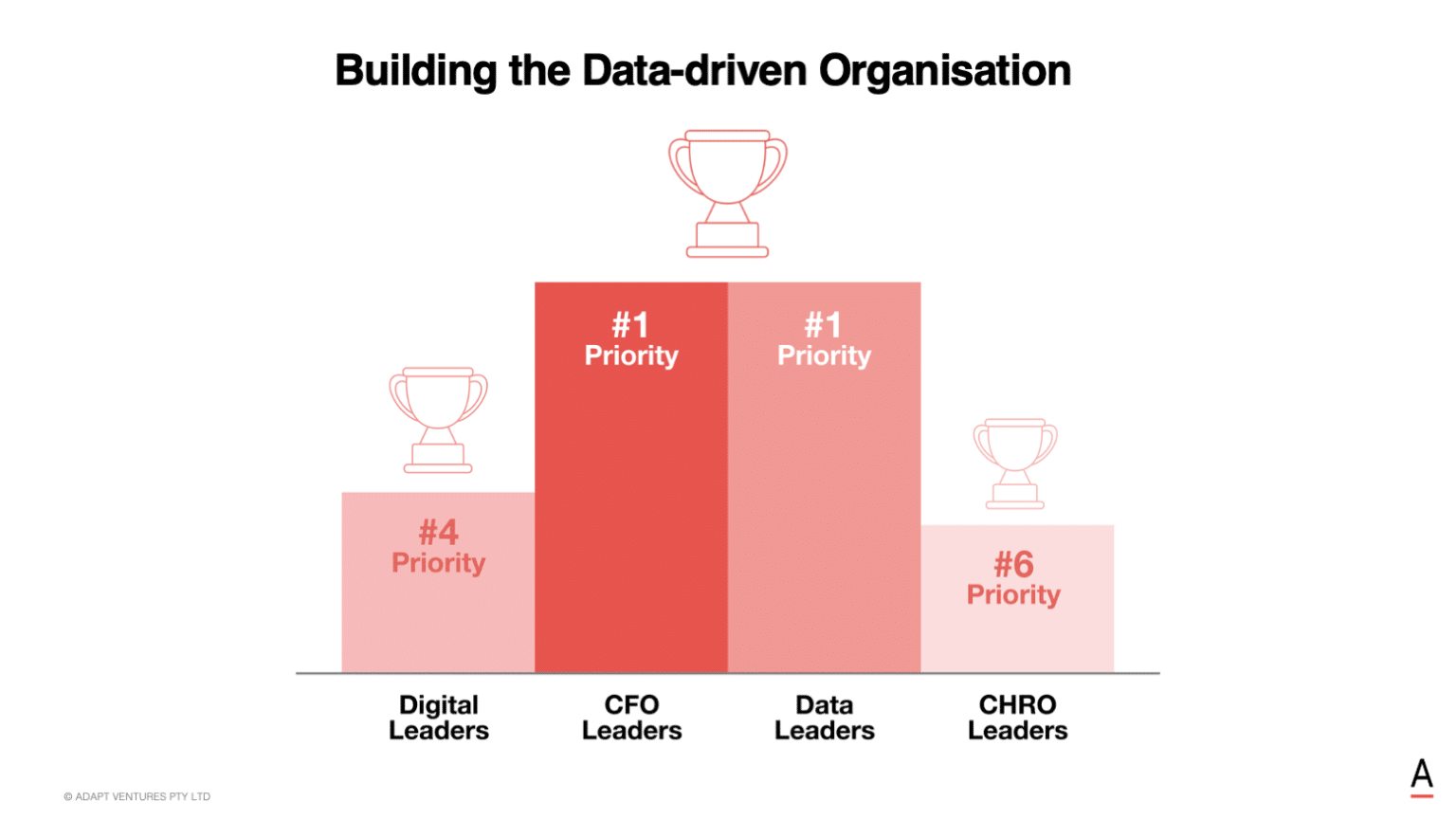 Data-driven decisions augments value-creation 
Performance dashboarding helps prioritise value-creating behaviours by tracking and measuring business processes and improving key performance indicators.  
CIOs can work with the CFO, CDO, Data Leader, and CHRO to showcase the returns from performance dashboards, optimising operations and revenue.  
Making data-driven decisions is critical for increasing value for stakeholders.  
This involves using data to understand customer preferences and business performance, which can help inform decisions and drive better results. 
Given that CIOs consider becoming data-driven their third top business priority, they can achieve strong alignment with C-level executives given that: 
CFOs list building a data-driven organisation as their top priority. 

 

It is also a top priority for Data Leaders.

 

Digital Leaders prioritise becoming data-driven as their fourth priority. 

 

It is the sixth priority for CHROs.

 
When CIOs act on these trends, they can demonstrate how their work aligns with the vision and needs of other C-level executives.  
The following section will explore these opportunities further. This ADAPT report will conclude by outlining three strategies that CIOs can prioritise to create and capture business value more effectively.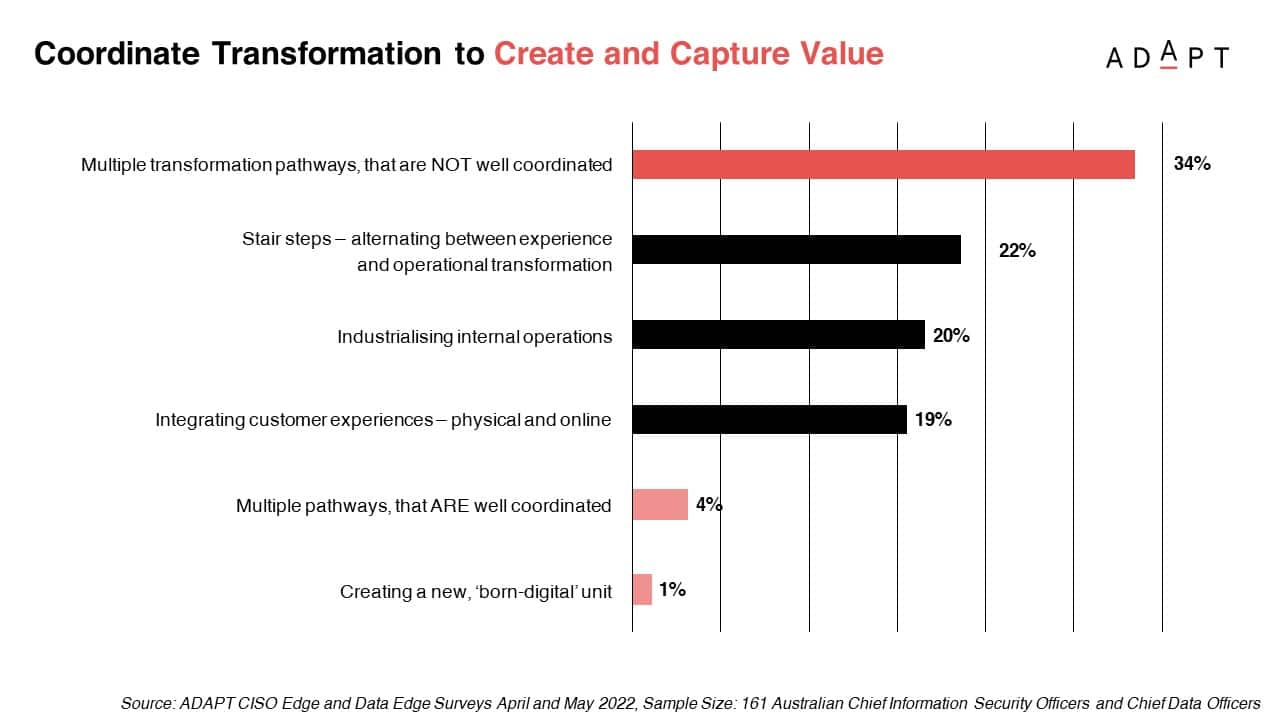 Coordinate transformation to simplify value creation 
Dr. Peter Weill, Chairman Emeritus of the MIT Centre for Information Systems Research (CISR), delivered global insights and best practices on simplifying value creation at ADAPT's CISO Edge and Data Edge events in April and May 2022.  
In his presentations, he elaborated on the behaviours of a future-ready organisation. 
According to Dr Weill, organisations can become future-ready by coordinating transformation across operations and experiences.  
Future-ready organisations get into a rhythm where they pull cost out with one hand and innovate with the other. That rhythm is important. You can't just focus on cost in a downturn, you still need to innovate."  
This action will simplify and improve their ability to create and capture value, allowing them to fund future growth. 
The case for future-proofing organisations 
Dr Weill explained four pathways to becoming future-ready and polled 161 Australian CISOs and Data Leaders about their organisations' pursuit of these pathways. The poll results reveal the following: 
34% of delegates have multiple transformations but no coordination.

 

26% manage multiple pathways or use 'stair steps'.

 

20% focus solely on operational transformation.

 

19% focus exclusively on experience integration.

 

Only 1% create a new 'born digital' unit.

 
According to Dr Weill, organisations that establish a new digital business alongside their existing operations are open to legacy systems as part of their digital transformation. 
He used UBank, a subsidiary of NAB, as an example, which started as a digital-and cloud-first financial institution with no existing restrictions on systems and processes. 
An ADAPT Technology Trends Report published in November 2021, highlights that organisations must coordinate the appropriate transformations for the right reasons to become future-ready.  
Future readiness requires industrialised operations with simplified, automated processes and integrated experiences across various channels, supporting physical and online touchpoints. 
Learn more about the three strategies for capturing value in the full report, Three Strategies to Help CIOs Create and Capture Value.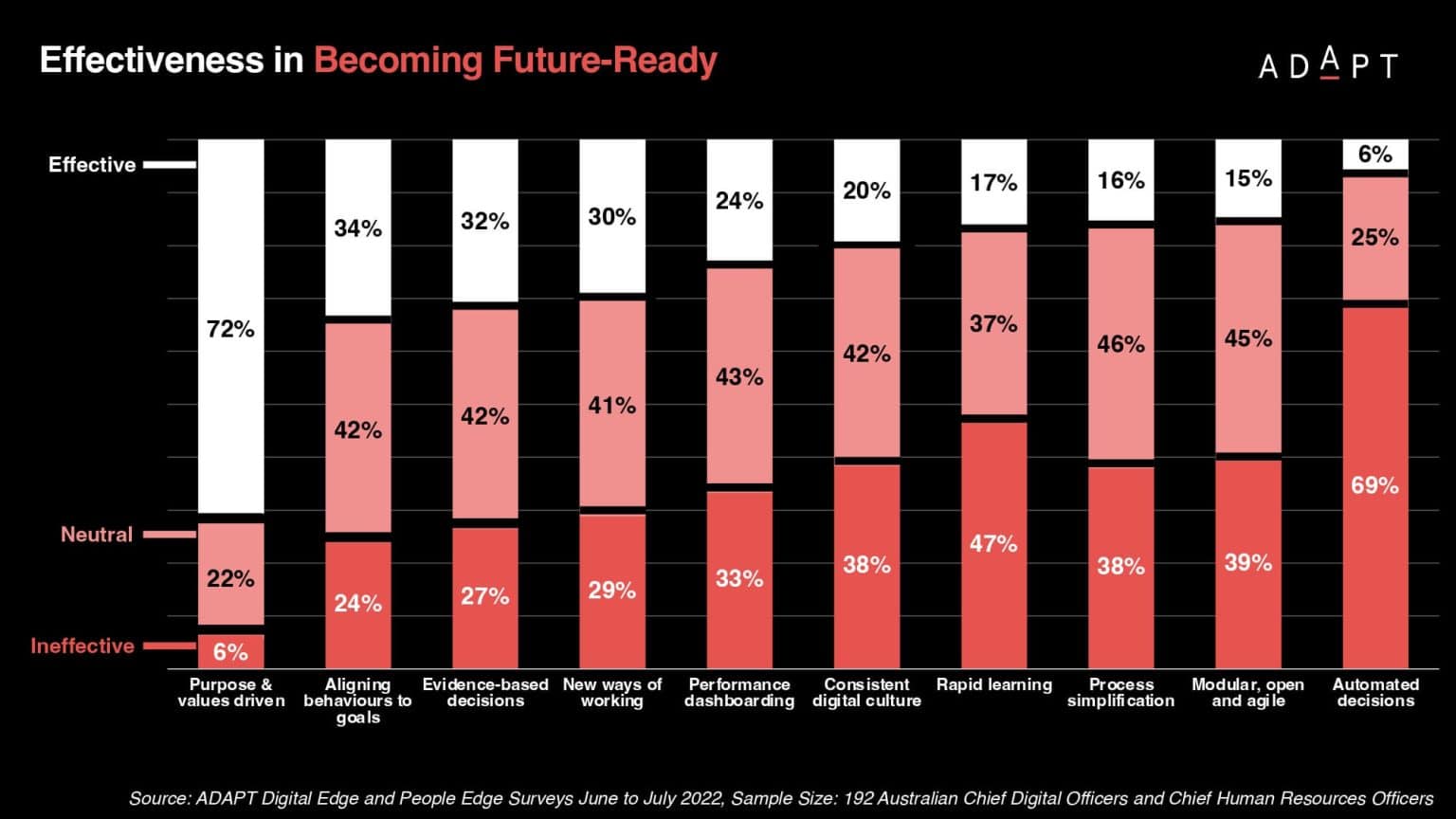 Australian organisations' potential for future readiness 
While 72% of organisations describe themselves as purpose and value-driven, ADAPT discovered that only: 
 6% of organisations effectively use automated decision-making, while only 32% have reliable insights for decision-making.

 
17% are good at promoting a culture of rapid learning, and 20% have a consistent culture of digital engagement.

 

15% operate in a modular, open and agile way.

 

30% empower employees to develop better working methods in the modern workplace.

 

16% have simplified processes using automation and business process redesign for operational agility and performance dashboarding.

 

34% are making progress in aligning individual behaviours with organisational goals.

 
24% have effective dashboards to measure progress.

 
The three strategies for value capture 
It is the effectiveness of an organisation in different areas that determines its readiness for the future.  
It is worth noting, however, that 38% of organisations consider themselves both effective and practical. Future-readiness opportunities include automation, evidence, learning, culture, simplification, and agility.  
To create and capture value, CIOs must focus on integrated experiences and industrialised operations. These opportunities can be used by leaders to engage stakeholders, focus on change and secure funding for future readiness. These strategies are influenced by CDOs, Data Leaders, CHROs, and CFOs. The report details three strategies CIOs can prioritise to capture value and embrace future readiness. 
Learn three strategies for capturing value in the full report, Three Strategies to Help CIOs Create and Capture Value. 
ADAPT Recommendations: Inspect, innovate and industrialise  
CIOs can partner with C-level executives to prioritise smart modernisation and deliver business value in the next 12 months.  
Three interconnected strategies are inspecting value-creating behaviours, innovating integrated experiences, and industrialising operations. 
In a worldwide survey involving 1,311 organisations, these strategies can help organisations achieve revenue growth exceeding 26.6% and net margins exceeding 19.3% above industry averages. The full report outlines three strategies for capturing this value. 
Organisations must identify and incentivise the behaviours that create value through performance dashboards.  
Accenture's 2019 study found a correlation between high performance and becoming a data-driven organisation. ADAPT recommends CIOs implement performance dashboards in 2023 to identify value-creating behaviours by cultivating a data-driven culture where data is treated as a product.  
To move forward with this, CIOs should involve the CFO and Data Leader, who can prioritise building a data-driven organisation. CIOs can use curiosity to facilitate these conversations. Additionally, CIOs can work with the CHRO and Digital Leader to design data literacy improvements. 
CIOs can implement performance dashboards to identify value-creating behaviours. Fostering a culture that values the use of data and involving the appropriate stakeholders is crucial to success. 
By treating data as a product, organisations can capture data once and reuse it multiple times by cultivating culture, skills, and support structures. 
CIOs should think holistically about outcomes and consumers to minimise future architectural issues. Data can be used to provide insights into operational risk, supply chain visibility, customer propensity, and employee experiences. 
To deliver value, CIOs need to innovate and integrate experiences for both employees and customers.  
It is important to begin by focusing on employee needs, simplifying and integrating search experiences, and investing in automation. Enhance the in-store experience and integrate conversational commerce tools with in-store experts to replicate these gains in customer-facing channels. These initiatives aim to provide greater fulfilment for employees and customers connecting their behaviours with organisational impact. 
Jennifer Westacott AO, Chief Executive of the Business Council of Australia, wrote in the Australian Financial Review on 15 August 2022 that Australia's "economic base is too narrow."  
In Westacott's opinion, Australian organisations have an opportunity to "be at the forefront of driving the future."  
Using intelligent technologies and better working methods, she emphasises the role people will play in driving productivity and unlocking future value. "Productivity is about creating more value by doing things differently. … It is about better training, greater collaboration …, and bringing out the best in people." – Westacott  
CIOs should simplify processes by breaking them down into reusable, smaller parts.  
Doing so will make it easier to industrialise processes, save time, increase productivity, and fund future innovations.  
This reusability can include workflows, ecosystems, and new business opportunities.  
Modular development should be considered when assessing technologies to streamline and enhance processes. 
An ADAPT Expert Presentation June 2022, described several of these technologies, including automation, artificial intelligence (AI), Internet of Things (IoT), and Digital Twins mediated by APIs. 
To develop them effectively, businesses must identify their collective value, provide business insights, and integrate them across the organisation. 
Coordination is crucial to prevent unintended complexity and expense.  
CIOs can use the rhythm of the 'stair-steps' transformation pathway as a model. It involves removing costs, integrating experiences, and driving industrialisation.  
When describing these rhythms, CIOs can also consider longer-term coordinated transformations that follow this model. 
Tie cost savings to the next phase of innovation and keep transformations modular.

 

Establish a steady state of business evolution in operations and experiences.

 

Apply course corrections quickly and effectively.

 
Learn three strategies for capturing value in the full report, Three Strategies to Help CIOs Create and Capture Value. 
Executive actions  
Australia's top CIOs want to gain a better understanding of the critical behaviours in creating and capturing value. By prioritising business alignment, executives can build a data-driven organisation that will: 
Foster a value-creating culture by identifying relevant activities.

 
Simultaneously reduce operational costs and innovate experiences.

 

Create modular roadmaps to enhance productivity and experience gains.

 
These strategies can help CIOs modernise smartly and bring quick business value. They will need to collaborate with an adaptive CFO, CHRO, CDO, and Data Leader who will share the vision and funding for execution. 
Learn more about the three strategies for capturing value in the full report, Three Strategies to Help CIOs Create and Capture Value.