Summary of the Discussion at the Ricoh Roundtable – June 2019
---
Theme for the roundtable
"To discuss practical frameworks to reduce fragmentation and unleash operational efficiency in the workplace."
Key Takeaways
Most organisations recognise a need to transform their workplace environment. Most of the challenges they face in doing this are around people and culture. Yet ADAPT research shows that CIOs are not engaging effectively with their HR department for help with this work.
Before a workplace transformation can begin IT should work with the business to create a transformation roadmap and then create a technology roadmap that would underpin these changes.
A workplace transformation is reliant on available skill sets to do the work. Building a staff capability model highlights the availability of these resources and the extra skill sets needed to do any new work that is proposed.
Ricoh began its workplace transformation in the HR department. From the course of her work interviewing and hiring new recruits, the HR Director had a vision for how her department needed to operate. This engagement helped enlighten HR as to the resources needed to achieve the transformation of other workplace business units.
IT department resources tend to be consumed by enterprise initiatives. Therefore, foster self-sufficiency within business units so they have the wherewithal to proceed with their own transformation initiatives without being reliant on the help of IT.
Self-sufficiency is not the same as an endorsement of shadow IT. Investment decisions should be made within the parameters of a defined product roadmap for technology. In addition, the organisation's GRC framework will provide further context for the decisions that can be made.
OPEX is a better approach to financing the evolution of the workplace environment. However, CIOs need to be conscious that this is not always appropriate. In particular, Australian Accounting Standard AASB 138 defines what may or may not be classified as OPEX.
OPEX enables organisations to examine and test new functionality without having to make any sunk expenditure. New technologies like AI, robotics and machine learning require users to make a big conceptual leap in their thinking from the legacy environments they currently know. Deploying them in test environments provides a low-risk way for business users to assess the functionality.
Avoid process reengineering in the early days. Processes will evolve so trying to define the final state for them is no more than a stab in the dark and the analysis required to try and construct them will delay the momentum of the overall transformation work.
Summary of the dialogue
The thirteen delegates who attended this roundtable explained what drew them along to the discussion. Collectively, the responses fitted into five broad categories.
The need to create cohesion amidst the increasing fragmentation of businesses. Several were working in organisations that were in a state of constant flux reflected in a continuous corporate cycle of activities like mergers and acquisitions, restructuring and divesting parts of the operations.
A recognition that the competitive landscape is increasingly fierce so CIOs have an obligation to help uplift their organisation's capabilities. They see that they can assist in this by leveraging technology to improve staff productivity, to boost business responsiveness and to streamline the business process through things like AI and robotics.
A need to create greater uniformity in how the organisation interacted with its clients. One attendee described this as creating a 'continuum of customer care across different business units' so if a client passed from one department to another, (e.g. from sales to support), there was a consistency in how each of these different divisions interacted with the same customer.
A desire to enhance the employee technology experience to foster greater staff engagement. The view was that a heightened engagement with employees would help unlock innovative thinking in ways the organisation could be more effective and assist with staff recruitment and retention. Yet, Ricoh's Workplace Innovation study highlights middle managers in Australian business are a lot less enamoured by their workplaces than senior executives.
Ways to foster greater staff self-sufficiency so people are empowered to act decisively rather than having to wait while the IT department determined what tools were needed. As an aside, mention was also made of the increasing 'democratisation' of IT and the need to give people some say in the technology they were being asked to use.
ADAPT CIO research
As a precursor to the discussion Peter Hind, ADAPT's Senior Analyst, presented some of the findings from ADAPT's latest 2019 CIO research. At each of ADAPT's C level conferences, delegates are surveyed to capture insights of what is top of mind for Australia's executives. At the CIO Edge event in February, delegates advised that their top two business priorities were technology investments for better business outcomes (84% of respondents) and improving operational effectiveness (82%).
These priorities reflect the feedback that ADAPT receives from many senior IT executives it interviews who advise that the pace of business is accelerating and that IT is now at the epicentre of how the organisation operates and goes to market.  Clearly, most high performing organisations have marketing driving a lot of the digital workplace transformation as they are at the forefront of driving the requirements based on their insights and understanding of required customer engagement improvements.
However, just below these top priorities, as shown in the below chart, were several that reflected the importance of staff experience and engagement: attracting and retaining talent (77%) and providing a heightened employee experience (73%). These high responses reflect the realisation by CIOs that if the progressive digitalised businesses of today that they are working with business units like marketing to create are to succeed then their fellow workers have to be equipped with the appropriate tools and streamlined processes to enable them to accelerate their responsiveness.
Yet the same survey also explored the frustrations that employees experience in their work. As can be seen in the graph, 74% of respondents reported that employees have difficulty making changes to the way work is done while 69% advised that it was difficult sharing ideas across the enterprise. These challenges are exacerbated by what ADAPT's CFO Edge attendees saw as the top two barriers to corporate collaboration. These were conflicting goals and priorities among staff (62%) and corporate fragmentation in business unit silos (53%).
Over the last five years ADAPT has received consistent feedback from attendees at its events that the biggest problems they face in driving change in Australian organisations are almost always to do with people and culture issues. However, despite this, when ADAPT asked delegates at the recent CIO Edge event which executive team was helping the organisation develop an innovative and digital ready culture the lack of prominence in the engagement between IT and HR was striking. Whilst the engagement with business unit leaders was advanced (80%), if the corporate culture is the challenge, then surely it should be essential for IT to be working much more closely with HR to address this.
These findings drew a comment from one of the delegates on changes that he had made recently made to make sure the focus of IT was aligned with the overall business strategic directions. This person had Asia-Pacific responsibilities and one of his biggest challenges was dealing with a myriad of business unit stakeholders all with different levels of IT maturity. To ensure a coherent approach to IT in each location he got enterprise agreement that the Chief Operating Officer, (COO), in each country would have primary responsibility for IT decisions. He has found that this has now simplified the points of contact who he needs to engage. Moreover, accountability for IT and business strategy now sits with the same executive. While this has required him to invest time in educating the less digitally literate of his COO stakeholders an important benefit of this work has been that these executives have now come to see him as a trusted advisor for them.
Case study: Ricoh's workplace transformation
Jim Berne has been the General Manager of Information Technology at Ricoh since 2010. In his time leading the technology and innovation team, Jim has overseen the technology strategy that has enabled Ricoh to transform from a document and print management business to becoming services led Workplace Technology provider. This has entailed optimising the current business model while exploring new areas of value creation. Jim presented on the learnings he has gathered from this journey.
In its evolution, Ricoh has grown by acquisition. This has resulted in fragmentation across different business units. As such, Jim saw his objective was to work with the business to define a transformation roadmap for the company and to then create a technology roadmap that would underpin this evolution. His challenge though was determining how and where to start. The IT department was faced with a large backlog of work and he could not just stop the day-to-day business to focus on the required transition.
Jim's primary challenge was one of resources. Therefore, he determined that his starting point should be the development of a business capability model that illustrated how the IT department supported the existing business. This entailed mapping the current corporate applications to the resources that supported them. The aim was to highlight resource availability and to impress on the business that a key component in their business cases for the transformation needed to be the availability of skilled resources to undertake the work.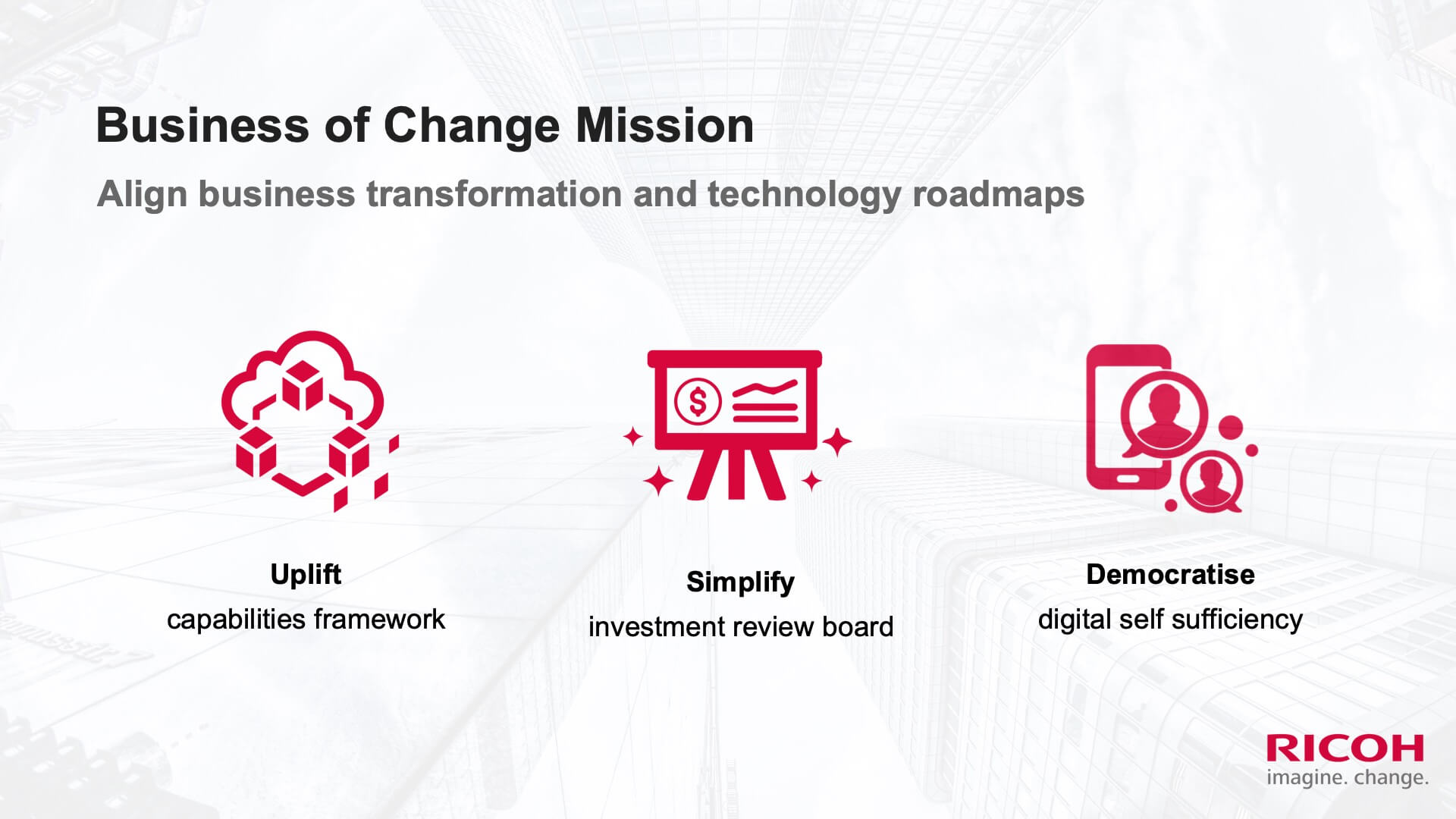 Fortuitously, the first business unit with which IT engaged in this workplace transformation was the Ricoh HR department. The HR Director understood how the world was changing and had a vision for how she wanted her department to operate. Her thinking was clearly influenced by an appreciation of the competencies and aspirations of the new recruits she was interviewing. These millennials have been called digital natives because they have grown up immersed in technology. This familiarity has engendered a comfort with digitalisation and an expectation they will find it in their workplace.
This comment drew an observation from another attendee. This person worked for a long-established property and investment company. As the CIO she found she was getting conflicting messages on the technology requirements from those in her workplace. The executive team believed their workforce was somewhat conservative in their work practices. Yet this did not equate with the requests she was receiving. As such, she asked the HR department to provide her with a breakdown of the workforce by employee age groups. This analysis proved quite revealing for the leadership team because, to their surprise, it highlighted that over 50% of the company's workforce were millennials. Understanding this has helped change executive perceptions about the employee technology requirements.
Instilling self-sufficiency
Jim's goal from highlighting the capability needs for transformation was to try and instil these capabilities within the business unit teams to establish some self-sufficiency in their use of IT. He saw that in their competition for the resources of the central IT department the business units would always be required to wait behind larger enterprise initiatives. However, if they had some internal competencies, they could then help drive their own changes at the business unit level of the organisation. Moreover, one of the serendipitous side-benefits of starting the workplace transformation with HR was an appreciation by the HR team of what skill sets would be needed for these changes to succeed in each business unit of the company.
This led to a discussion on whether self-sufficiency was desirable. In particular, concerns were raised that it could result in even greater corporate fragmentation as different departments ended up doing their own thing. From his personal experience, one attendee was particularly apprehensive about growth in shadow IT. He had found that shadow IT implementations were often the pet project of a particular executive and when that person left the organisation the IT department found itself saddled with the responsibility of supporting an IT implementation that it knew little about.
Another delegate expressing concerns about shadow IT was an executive who worked in the health sector. His organisation was handling the sensitive personal records of Australians and had strong legal responsibilities to protect the privacy of the individuals whose data they held. Naturally, he was apprehensive about housing such data in a shadow IT installation where a lack of adequate security controls could result in these systems suffering a data breach. Another component of this issue was a concern that millennials have such a familiarity using collaborative technologies like Slack and Teams that they are probably unaware that in so doing they are most likely offshoring client health data which is illegal.
Another aspect of end-user self-sufficiency that was raised by one of the delegates was the tool-set choice. This person advised that while users may want the freedom to choose which applications to use, they have to be aware of the cost consequences of the choices they make. For example, if they want to introduce an alternative product to one that is being successfully used elsewhere in the organisation there will be additional support costs that they must expect to cover. There could also be a downside in productivity as it may be more difficult to easily exchange information with other business units.
The general consensus was that it is important to distinguish between self-sufficiency and shadow IT. Self-sufficiency should operate within the framework of a defined product road map for technology. If the IT department is viewed as unresponsive then users are likely to take matters into their own hands and if these decisions are made in isolation it will only exacerbate the problems with systems fragmentation. With its limited resources and the demands of modern business, the reality is that the IT department must accept that users will need some level of self-sufficiency to meet their requirements. Some of their choices will entail IT needing to compromise on what it considers ideal. To make this work IT must be open-minded about what users are proposing and there must be transparency in its decision making so people understood the rationale for the IT department's position. CIOs are likely to encounter robust discussions with their end users about what they want to do. However, the advice was not to shy away from these conversations as they are indicative of a strong engagement between the IT department and the business.
Nevertheless, users clearly need some context for their self-sufficiency choices. The advice was to document these parameters within the overall GRC, (governance, risk and compliance),  framework for the business. This recognises that there are some decisions that IT makes that will be non-negotiable, (e.g. cybersecurity issues). However, outside these areas, some lines of demarcation need to be defined which help provide users with where and how they can act independently of IT if necessary.
The challenge though is how to ensure the GRC principles are enforced. Those who controlled a centralised IT budget acknowledged that this gave them greater control over how things were done. When the IT purse strings were more decentralised CIO's need to take more of a 'carrots and sticks' approach. One delegate gave an interesting example of one potential stick that could be used. It again entailed IT forging a strong relationship with HR and getting some insight into the conditions outlined in people's contract of employment with the organisation. This delegate found that in these conditions were often requirements for employees to adhere to certain behaviours such as their use of technology.
Funding the workplace transformation
Nevertheless, everything in the corporate world is nearly always subject to some budget constraint. This understanding led to a discussion on the best ways to finance a workplace transformation. In particular, the dialogue focused on the merits of CAPEX v OPEX in financing IT investments. It was acknowledged that the workplace is constantly evolving. Moreover, the workplace technology environment makes a statement about whether the organisation is progressive or conservative in its thinking. This perception can act as either an inducement to a potential recruit or a deterrent. Therefore, to keep the environment up to date requires a regular stream of investment to refresh the equipment and keep its functionality current. Such circumstances lend towards the use of OPEX. It also avoids the time demands of preparing extensive business cases to justify why the monies need to be spent. As Ricoh's recent Workplace Innovation Index study revealed there is clearly some dissatisfaction, especially among middle management, with the state of systems and processes in Australian organisations.
Nevertheless, it was clear that a number of those present were uncomfortable with an over-dependence on OPEX to finance the entire IT budget. The point was made that the IT budget is typically a large amount of expenditure, often the third largest component in most corporate budgets. Clearly, it is inappropriate to classify all this expense as operational expenditure. Moreover, one attendee highlighted that Australian Accounting Standard AASB 138 defines what may be classified as OPEX. Therefore, cavalierly classifying everything in the IT budget as OPEX is likely to run afoul of the corporate auditors in a future audit.
The other concern with OPEX expenditure was that it can lack the scrutiny that is applied to most capital investments. A byproduct of this analysis is that it ultimately helps generate a business buy-in to the investment being made. People's desire to use OPEX might be to avoid this scrutiny as they see OPEX provides them with the path of least resistance in getting their business case up. However, in so doing this could result in negative, unintended outcomes eventuating because what is being proposed has not been properly reviewed by the change advisory board (CAB).
Two pieces of advice were given in regard to which method of IT expenditure to deploy. The first of these was to classify the expense against the investment intention. If the expenditure focused on improving the day-to-day running of the existing business then this should be regarded as OPEX, (e.g. upgrading workplace technology). However, if the intention was to change the way the business operated then this should be reviewed by the CAB and a CAPEX approach would be more appropriate. The other guide was to look at expenditure in workplace technology through the prism of the payback period. If this return can be realised in under 18 months then the monies spent should be treated as OPEX. If not then it should be classified as CAPEX. However, this observation also led to a conversation about benefits realisation with the point being made that not every benefit is just revenue positive, (e.g. enhancing master data). Therefore, in linking benefits to business outcomes there can be a fair amount of subjectivity in the analysis.
Most of those present at the roundtable had a preference for using OPEX where possible. It was more efficient as it avoided the time-demands of having to prepare detailed business cases for what often was a straightforward investment in running the existing business. Moreover, the increasing emergence of Cloud-based offerings such as software-as-a-service (SaaS) and infrastructure-as-a-service (IaaS) enables the IT department to link expenditure on IT to its actual consumption by the business. This ability frees IT from the never-ending challenge of being asked to justify the value that IT expenditure is generating.
Assessing new functionality
Another benefit that OPEX provides is that the expense is regarded as less permanent than CAPEX. As such, it provides a cost-effective avenue for IT executives to test and pilot new functionality to assess its effectiveness. If the results from this analysis are not satisfactorily conclusive then these experiments can be easily shut down without saddling the organisation with sunk costs in extra capital equipment that will sit on the company books and need to be depreciated.
There was a general recognition that the pace of technological advancement is increasing, especially in areas like machine learning, chatbots, robotics and artificial intelligence.  Leveraging this functionality in the workplace transformation requires many business stakeholders to make a big conceptual leap in their thinking from the legacy systems environment they know. However, if this functionality can be demonstrated in a pilot initiative it enables end users to cost-effectively familiarise themselves with how these capabilities could be leveraged to automate and streamline business operations.
Streamlining and automating business processes
The discussion then examined how IT could assist the business to accelerate its operational processes. Jim Berne argued that the key to this was for IT to appreciate that a digital transformation was an on-going journey rather than an end destination. When this was understood he believed the IT department saw that their primary task is to lay the roadway for the workplace transformation journey rather than build the desired end state. As such, their objective becomes enabling the business to be able to easily continue beyond the initial digital engagements. This requires IT to help inculcate the necessary capabilities within each business unit so they have the wherewithal to be able to drive the on-going changes they need to make.
One learning that Jim shared was to focus on standardisation at the platform level and avoid a too-heavy concentration on business process reengineering (BPR). His view was that it is better to port the existing business processes to the new platform. He had found that this had helped build momentum for the overall workplace transformation. BPR activity requires people to design their desired future state which, typically, is an unknown. Taking time out to cogitate on what this should be will probably result in analysis paralysis and delay progress. Moreover, in a fast-changing technological world, it is highly likely that what is designed today will be obsolete tomorrow. Instead porting the processes to a new environment allows for their iterative evolution. Jim described this as a virtuous learning cycle where teaching is grounded in the learnings from real-world experiences.
This approach requires the CIO to start the transformation journey with a smaller scope around implementing new platforms and moving existing processes across. These processes have been proven in the business so migrating them should be relatively straightforward and much faster and cheaper than trying to design new ways of working. Jim acknowledged that many could find the approach he had adopted was counterintuitive as the conventional wisdom with transformation is to first redesign the business processes. However, in his experience, this only works best where the organisation knows what the endgame has to be, (e.g. an invoicing system). However, this state is usually an unknown. Therefore, he considers a better approach is to iteratively evolve processes in an Agile way based on user feedback rather than to take a stab in the dark at the outset about future requirements. It also enables the automation capabilities of new and emerging technical functionality to be assessed in pilot initiatives along the way and included in the workplace ecosystem when its functionality has been proven.
Final observations
Once the transformation of the HR workplace was settled the Ricoh IT departments next area of focus was Finance. However, this proved to be a more challenging assignment. Whereas HR was a relatively discrete business unit the work of Finance extended across most departments. This meant that their processes were not self-contained and understanding how and where they could be streamlined involved a considerable amount of negotiation with different parties.
These insights have subsequently strongly influenced the way forward that Jim is taking. In particular, he has now embraced a microservices architecture as the framework for the overall transformation. This structure establishes the individual systems and processes in each business unit as separate modules which are integrated with other business unit modules via Application Programming Interfaces, (APIs). In effect, these APIs act as the automation glue that binds the organisation together. He has come to appreciate that this approach will provide him with the flexibility to more easily evolve the overall workplace when circumstances change, new requirements emerge and enhanced technology becomes available. These modules can be easily changed without the need to break up the overall application stack. Moreover, it better enables the business to respond to customer requirements, especially in how they want to interact with the company, as new ways of working can be introduced as new modules rather than requiring entire applications to be redesigned.