Lou Markstrom: The 3 Critical Tipping Points to a Successful IT Transformation
---
In high-performance IT teams, we would see a level of sincerity, we'd see them righting wrongs instead of finger blaming or advocating responsibility. We'd see them addressing issues promptly and courteously, working to understand things from the client's needs, people going out of their way to resolve issues and  making it easy to work with and approaching issues constructively."
Keynote Focus
Your digital pathway, skill gaps and transformation must ascend the IT Maturity Curve from that of a typical "IT Service" provider and "Strategic Partner" to become a high performing "Innovative Anticipator". Plan a clear roadmap with Author Lou Markstrom to navigate the IT Transformation Journey of your organisation.
This also relates to one of ADAPT's 12 Core Competencies, Enable Innovation and Transformation, which discusses this topic at length.
Key Findings
Address the skills gap
Avoid the pitfall of aligning IT with the business, as this means still separating technology teams from business outcomes. Technology leadership is the business, and should primarily be concerned with the growing skills gap. To acquire the skills you need to succeed in today's changing digital and business landscape, refer to ADAPT's 12 Core Competencies to develop far beyond technical expertise.
Culture and mindset change
Foster an overall culture of supporting service excellence, a common approach to communication, a common approach to setting and managing expectations, a common approach of creating client experience. Encourage your teams to switch from a reactive to a consultative mindset, then communicate the value delivered to the organisation and to your strategic partners.
Context vs. Content
Develop your technology teams grasp of business strategy. Pursue digital ways of driving organisational outcomes, instead of creating technology initiatives. Your budgeting, admin, projects, and context are the environment in which your teams must succeed in their tasks.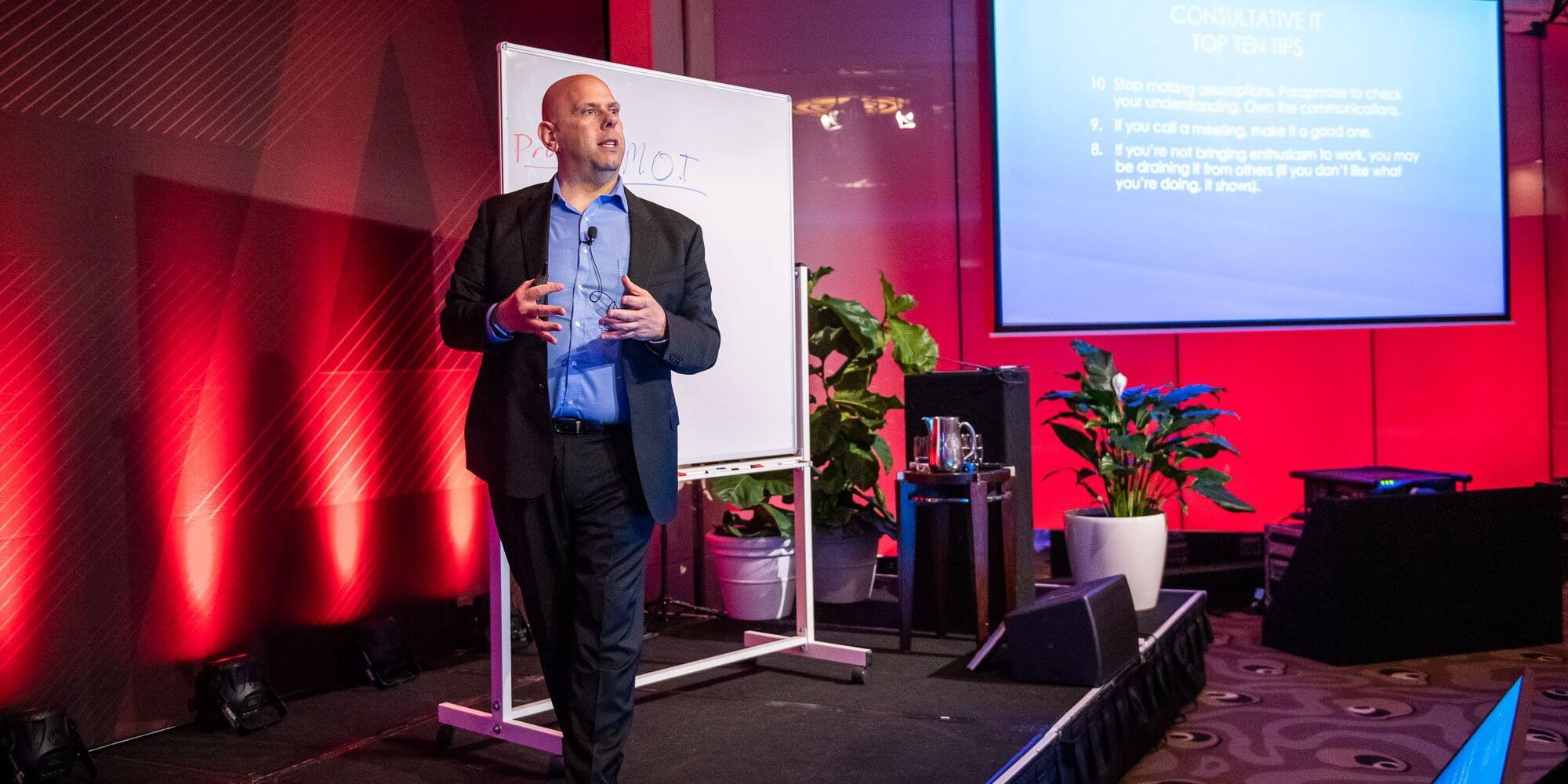 Key advice
Ascend the IT maturity curve on three levels: IT service provider, strategic partner, innovative anticipator.
Switch from a reactive to a consultative mindset by marketing your teams' capabilities.
Focus on digital ways of driving business outcomes, not creating technology initiatives.
ADAPT Research and Advisory clients can access the full keynote video of Lou Markstrom's presentation. Visit our page to learn more and gain access to hundreds of keynote videos from our Edge events.
A well run event that has good pace, interesting content and space for thinking."
- SWEAT, CIO EDGE