Leader
Innovate
23.10.2019
3 MIN
Inventium's Amantha Imber on how to become more innovative
---
Inventium's CEO Amantha Imber joined the thought leadership at CIO Edge. She sat down with ADAPT's Marketing Director Kylie Bonassi to give her thoughts on how to become more innovative and her sources of inspiration. She also shared how to challenge without being challenging.
Kylie Bonassi:
So thank you for joining us, Amantha. You've spoken at a few of our events this year and you've always given us these incredible hacks on how to be more productive in your day-to-day life. Today I really wanted to talk to you about being an innovation psychologist. I wanted to talk to you about some of the innovators you take inspiration from, and some of their hacks in how they become more innovative or how they generate ideas.
Amantha Imber:
Yeah, I guess, for me, I'm driven by science. And while there are great stories out there, it's all about, well, what does the science actually tell us in terms of what works? So there are all sorts of fascinating hacks from science, like, for example, you know, we were just talking about sleeping on it. So our unconscious mind is a great problem solver.
So a really good strategy when you're struggling with a tricky problem, is literally to sleep on it."
To have a nap or give it the overnight test, and inevitably new ideas will emerge. And some of the latest research suggests that you only need to, need like five to ten minutes to activate the unconscious part of your mind. So, if you are sitting at work, and you need to come up with solutions, just distract yourself with something else. Like, go for a walk in the park for five to ten minutes, stop thinking about the problem, and then ideas will begin to emerge.
Kylie Bonassi:
Who are some of the innovators that you think that the modern individual should be looking to for inspiration?
Amantha Imber:
Yeah, sure. So, one of the things I do is I host a podcast called How I Work. And so, I'm always looking for great people who are thinking about their workday in interesting and innovative ways and doing things a bit differently. So someone that I absolutely adore is Adam Grant, who is a fellow organisational psychologist and a professor at Wharton. So he was one of my first guests on the podcast, and something that he does, which, again, driven by research, so research from a higher state university, suggests that if we've got a meeting coming up in the next hour or two, our productivity will actually decline by about 22%. And you've probably experienced this yourself. Like, you know you've got a meeting, you can't really get stuck into anything. So what Adam does is he will batch all his meetings, back to back in afternoons, and then he'll have meeting-free days. So I found that really interesting. And then I had Brian Scudamore, who I met at TED 2019, who is the CEO of 1800-GOT-JUNK? and a number of other brands. He sort of, you know, runs a bunch of companies that generate about half a billion dollars in revenue. Something he does to make sure that when he takes a holiday, it's a real holiday and he's disconnected from e-mail and social media, he'll get his assistant to change the password, so he physically can't get back into his e-mail and social media over holiday, which is an interesting thing that I learned when I interviewed him.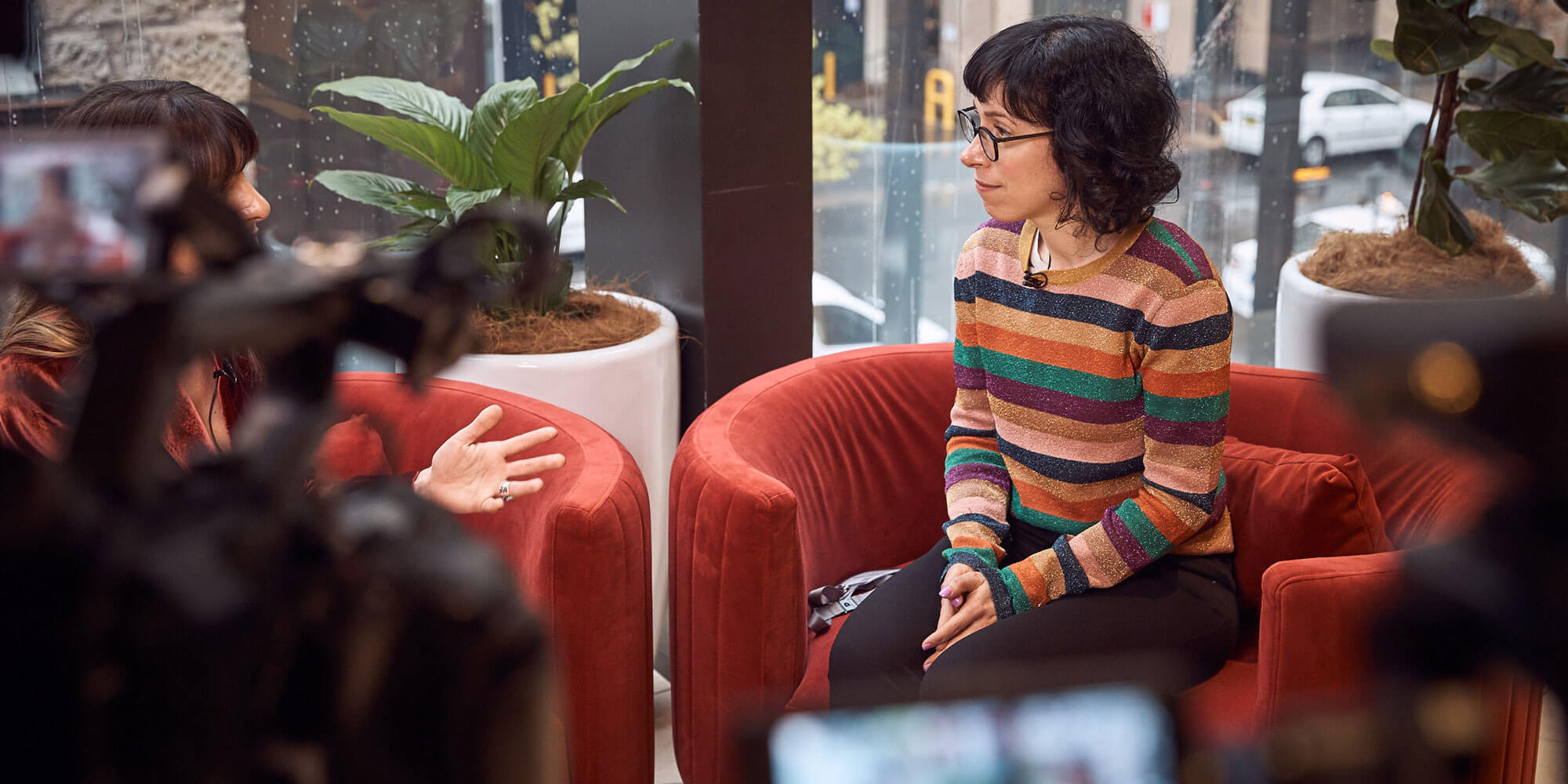 Kylie Bonassi:
How do you be a good innovator? Is there such a thing?
Amantha Imber:
Yeah, there actually is. I mean, it's learned skills. So a large part of what Inventium does is that we turn people into better innovators. So, we've got capability programmes, training programmes that are designed to help people become a better customer detective, for example, and understand what are the problems that we should be solving as an organisation that really matter to our customers? And then there are specific ways that you can think more creatively, no matter how creative you see yourself as a person right now, like according to science.
And then we teach people how to test out their ideas in a really lean and efficient and cost-effective kind of way."
So this is kind of what we do every week with our clients.
Kylie Bonassi:
Yeah, so even if you wouldn't consider yourself an innovator, you can actually step into the mindset of an innovator, if you–
Amantha Imber:
A hundred per cent. Like, you can learn those skills. It's like becoming a better presenter, for example. It's not like we come out of the womb and we're, like, great presenters. Same thing with innovation. It's like, you learn, like, you train yourself or you get someone in to train you on how to be a better innovator.
Anyone can become a better innovator."
Kylie Bonassi:
When you're innovating, and, of course, collaborating with loads of people, how do you challenge without being challenging? You know, how do you have difficult conversations without making anyone feel confronted?
Amantha Imber:
Yeah. Look, one strategy that we use, it's a tool that we teach, called Assumption Crusher, where whenever you're solving a problem, you actually list out what are all the assumptions that you have? Like, what are all the sacred cows, if you like, that are generally the things that are uncomfortable to talk about? And assumptions can be really like a budget to solve this problem is x number of dollars, or they can be perceived. And if you get those listed out and then, one by one, crush those assumptions. Like, what if the opposite was true? What if a mobile phone didn't have 12 buttons on it? What if it had one button or no buttons? Kind of gives way to different thinking, in a way that doesn't cause conflict.
---
Inventium's Amantha Imber on how to become more innovative
Watch
05:00