Customer
07.06.2019
20 MIN
Digital Edge Post Event Report – Accelerating Digital Capability & Collaboration, May 2019
---
For our 5th annual Digital Edge journey, we gathered 140 national heads of digital and IT who are responsible for identifying, realising and scaling the benefits of digital, and for bringing their organisation along on the journey.
At Digital Edge 35 experts delivered learned experience on the theme of 'Accelerating Digital Capability & Collaboration' over two days at the inspirational Sheraton Mirage on the Gold Coast.
In our complex and changing world, as everyone tries to reinvent as a digital business and compete via technology, competitive advantage now comes through the capability and flexibility, the enhanced experiences, products and services that digital can help deliver. Collaboration, customer and employee experience are the drivers.
However, to successfully adopt new technologies or digital-driven processes, our people must first radically change how they work and interact with each other.
So, with limited resources, how do leaders prioritise the tactics and mobilise the entire business to execute on a digital strategy? How can they underpin CX and new ways of working? How do you help the business put aside traditional functional lines of 'ownership' to truly collaborate and automate?
In a complex world you need the right information to make the right decisions.
To read executive summaries of the sessions full of insights and actionable ideas, or watch and share our entire agenda on demand – simply join ADAPT Membership today.
See you at the Edge.
Jim Berry
I found the Digital Edge event to be a high calibre event, well organised and tailored to individual needs. The speaker sessions were engaging and inspirational, fostering the open conversations and more intimate round table sessions. The flow and format of the event, including one on one sessions with specially paired vendors works extremely well to open opportunities that one wouldn't otherwise come across. I highly recommend Digital Edge."
- EY Australia, DIGITAL EDGE
---
Digital Edge - Accelerating Digital Capability & Collaboration, May 2019
WATCH
03:33
895,931
Combined Workforce
334
1-1 Meetings conducted over 2 days
13
Presentations Delivered
96
Solutions capabilities covered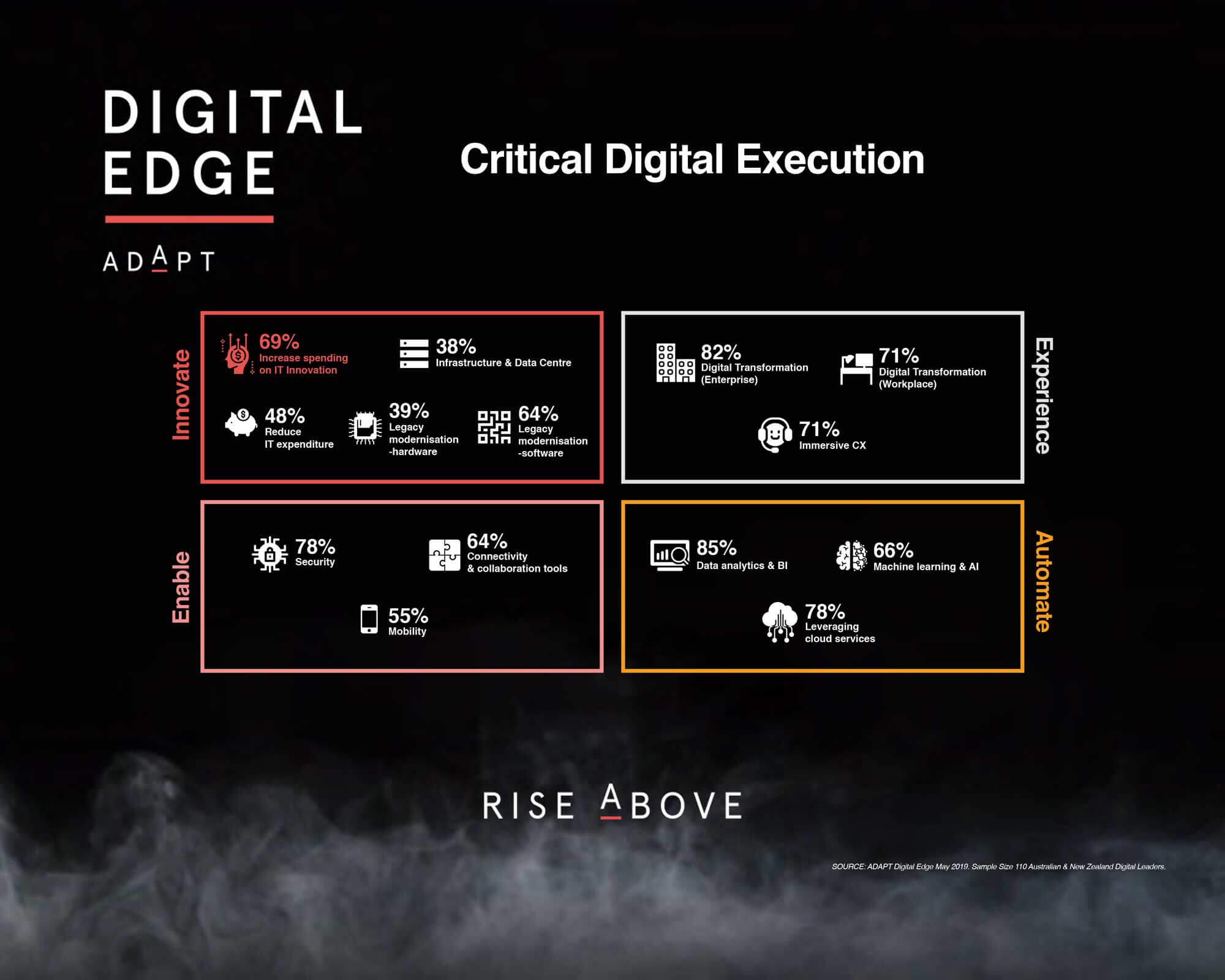 Many different technologies are critical to digital execution. These are not competing technologies – they complement one another.
Innovate: Increase spending on new IT initiatives by modernising legacy and improving infrastructure.
Enable: Technologies that help employees to do their jobs.
Automate: Make existing functions more efficient and automate mundane ones.
Experience: Enhance what our customers – internally and externally – expect.
Digital transformation in the enterprise and the workplace ultimately drive Customer Experience (CX), where customers are an integral part of the development of products and services. Co-creation is essential in bringing all groups together.
Learn from customers. Adapt and develop new products and services based on customer experiences. Leverage data and analytics to capture, index, analyse and make informed decisions, all in a 24 hour mobile, HX focused and collaborative world.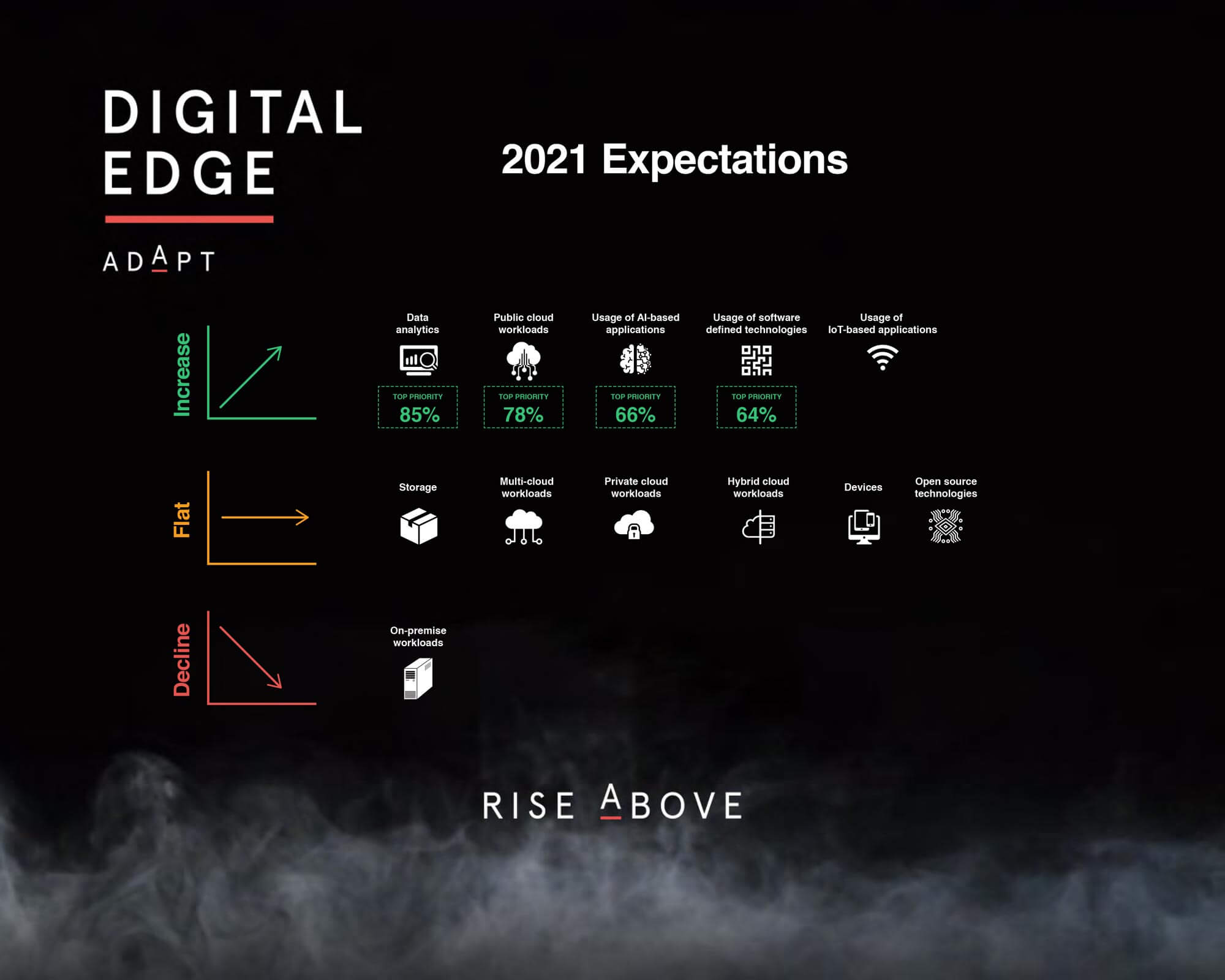 In the pre-event survey, Digital Edge delegates were asked to estimate the extent to which the number of functions within their organisation will increase or decrease over the next two years.
The big growth areas are predicted to be data and analytics (85% said a major increase), public cloud workloads (78%), usage of AI-based applications (66%), software-defined technologies (64%) and in IoT-based applications.
Storage, multi-cloud and private cloud workloads, the number of devices and the use of open source technologies were all predicted to remain about the same, with most predicting a significant decline in on-premise workloads.
Clearly, public cloud is the fastest growing area of cloud computing. Many organisations have moved to cloud on a tactical basis, implementing the technology on a case by case basis in the absence of an overall cloud strategy. This has led to 'cloud sprawl', with many organisations reporting to ADAPT that they are managing five or six cloud environments. Increased use of public cloud, with its constantly improving functionality, is a way of combatting this trend.
For three years ADAPT has been tracking the different pathways to digital transformation. Delegates were asked about the extent of their organisation's IT enabled strategies – IT/business alignment, digital transformation at both the enterprise and workplace level, and agile business.
Digital Edge introduced me to people doing my role across different industries at a similarly large scale and the conversation was fascinating. Thank you! "
- ANZ, DIGITAL EDGE
DELEGATION AT DIGITAL EDGE
AccelerateHQ – Co-founder & Partner
Adapt Alumni – Director, Customer Engagement & Digital Transformation
AGL Energy – Head of Digital Planning & Performance
Airwallex – Head of Engineering
AMP – Head of Digital Product
Anglicare Sydney – GM IT
Ansell – Director, Marketing APAC
Atlassian – Principal Product Manager
Aurizon Holdings Limited – CIO
Australia and New Zealand Banking Group – COO, Digital Banking & Transformation
Australia and New Zealand Banking Group – CTO, Internet Banking, ATMs/TCRs & Cash Management
Australia and New Zealand Banking Group – Digital Transformation Advisor
Australian Digital Health Agency – CDO
BHP – Head of Digital Strategy
Bloxian Technology – Advisory Board Member
Cardno – CTO
Catholic Education Office, Diocese of Parramatta – Enterprise Program Office (EPO) Head
CAUDIT – CEO
CBRE – Director, Digital & Technology
Charter Hall – Acting CTO & Head of Information & Analytics
Charter Hall – Chief Information and Technology Officer
Cleanaway Waste Management – CIO
Coates Hire – Group Manager – Program Delivery & Digital Transformation
Commonwealth Bank of Australia – CIO, CommSec & Private Bank
Conoco Phillips Australia Pty Ltd – ABU East Business Lead: Information Technology Business Unit Manager
Consultancy – Founder
CSIRO – Senior Principal Scientist, Strategy & Foresight Data61
Cushman & Wakefield – CTO & GM of IT APAC & Greater China
Customer Crunch – Director Digital Transformation & Innovation
Department of Agriculture, Fisheries and Forestry Queensland – Director ITP Operations
Department of Defence – Assistant Director, Innovation
Department of Defence – Director Defence ICT Innovation
Department of Human Services – Chief Citizen Experience Officer
Department of Justice & Attorney-General QLD – Director, Digital Transformation
Dexus Property Group – Head of Digital Technology
Discovery Holiday Parks – CIO
Dominos – Group Head of Digital Systems
Downer EDI – Head of Digital Technology & Innovation
Duluxgroup – Head of Digital Analytics
EB Games – Head of Technology
Endeavour Energy – Chief Architect
Estia Health – CIO
EY Australia – Oceania Digital Transformation Leader
Finite Group – Head of IT
Flinders University – CIO
Foxtel – Director Digital and Enterprise Delivery
GHD – CTO
Gold Coast City Council – CIO
Gold Coast Hospital and Health Service – Director, ITS, Digital Transformation
Goodman Fielder – Enterprise Architect
GPT Group – Head of Technology
Greencross Limited – Head of Digital Delivery
Gumtree – CTO
Harvey Nash – MD
Hays Specialist Recruitment – Senior Manager – Digital Technology ANZ
Healthscope Limited – Project Director & IT Manager
i – Director Customer Strategy & Digital Marketing
IAG – Chief Analytics Officer
IAG – Chief Digital Officer
Inghams Enterprises – Chief Data Officer
Innosight – Partner
Ipswich City Council – City Digital Officer
ISS Facility Services Australia – National General Manager, Technology Solutions
JBS Australia – CIO
Jetstar – CIO
Jetstar – Head of Digital
Junior Adventures Group – Program Director Acquisitions and Integration
La Trobe University – Deputy Director, ICT Engagement & Communications
LendLease – Global Head of Technology Research And Development
Macquarie University – CIO
Mater Health Services – Director, ICT Customer Experience
Medibank Private – General Manager – Digital Experience & Transformation
Melbourne Airport – CIO
Mercedes-Benz Australia/Pacific Ltd – CDO
Metro South Hospital and Health Service – Senior Director, Digital Hospital
Monash University – Director Digital Technology and Information Management
National Australia Bank – GM, Digital Partnerships, Digital & Innovation
National Rugby League – Head of Technology
Navitas – Global Head of IT Strategy and Architecture
NBN – GM IT Strategy
Nestle – Digital Integration Manager APAC
New Zealand Racing Board – CIO
Nine Entertainment Co Holdings – Manager, Enterprise Systems
Novartis Australia – Head of IT
NSW Treasury – NSW Chief Data Scientist and CEO of NSW Data Analytics Centre
Olam Investments Australia – Manager, Information Services
Opal Aged Care – CIO
Origin Energy – Head of Digital IT
PepsiCo Asia Pacific Region – IT Business Relationship Manager
Primo Food Pty Ltd – Head of Digital
PWC – Director, Operations
Qantas – Head of Digital Direct
QBE Insurance – Head of Digital Labs
Queensland Investment Corporation – Director, Business Performance & Technology, Global Real Estate
Queensland Investment Corporation – Head Of Digital
Queensland University of Technology – Associate Director, Enterprise Information Services
Real Pet Food Company – Group Architect
Real Pet Food Company – Group CIO
Sanitarium Health and Wellbeing – Group Manager, IT
Serco Group Ltd – CTO
Singtel Optus – Digital Innovation and Experience Manager
Singtel Optus – Director Innovation + Digital Portfolio
Singtel Optus – Head of Strategy & Architecture
Sonic Healthcare – EGM Health solutions
Sportsbet – GM Enterprise Technology
Suncorp – EM of Digital Experience and Human Centred Design
Suncorp – Head of Digital Experience & Activation
TAL – Head of Process Automation and Improvement
Telstra – Director, Digitisation & Digital Delivery
Telstra – Principal – Digital Optimisation and Capability
Toll Holdings Limited – Head of Business Partnering Customer & Digital
Treasury Wine Estates – Global IT Director, Consumer and Commerce
TrustPower – GM Business Solutions and Technology (CIO)
UBank – Head of Digital Delivery & Data
University of Melbourne – Director, Digital and Data
University of Technology Sydney – Manager, Platforms and Strategy
University of Western Australia – Associate Director Strategy, Planning and Projects
Virgin Australia – Head of Technology Performance and Service
Virgin Australia – Head of Technology Transformation
Virtus Health – Head of ICT
Virtus Health – Software Development Manager
Viva Energy – General Manager of Digital & Technology
Viva Energy – Head Of Digital
Vodafone Hutchison Australia – Head of Digital Technology
Weir Group – Group Head of Digital Technology, Development, and Platforms
Westpac Banking Corporation – GM Group Transformation
Westpac Banking Corporation – Group Head of Consumer Experience
Willow – Senior Systems Engineer
WPP AUNZ – Group Technology Director & Transformation Lead
Yarra Valley Water – CIO
Youi – Chief Digital & Information Officer
Zurich Financial Services Australia – Head of Digital
BE PART OF IT
---
Drop us a line if you're a like-minded alliance. We are proud to work with thought leaders, sponsors, and a senior delegation.

No Fields Found.