Security
13.02.2019
20 MIN
CISO Edge Post Event Report, July 2018
---
Security and Risk now underpin every business mission, and any chance for Australia's commercial growth.
Whether its Digital Transformation, Customer Experience, Workplace, Workforce, IoT, Applications, Cloud, or Innovation itself – everything must be trusted and secure.
Of all the executives we host, the ones that need most to gather and collaborate as a community for our commercial and national wellbeing – are all of you!
With this in mind, ADAPT created a safe place for our national Heads of security and risk to gather, share and collaborate – and we succeeded. 150 leaders, responsible for securing 1.3 million staff and 1/3 of our national GDP came to discuss our theme of Embedding Trust & Enabling Growth.
28 wonderful minds contributed with practical advice on what we need to do right now to create a culture of Cyber consciousness across our organisations: to move from the old world, to the new world.
We also focused on insights from business execs on culture, stakeholder and project management – and the common challenge of inter-departmental communication – or the lack of it.
We decided it was worth the challenge to launch into a crowded market – and we are so proud to have delivered! Cyber Edge was the result of a year of hard work, and a little faith from all of you – and we look forward to hosting you again soon.
Best wishes,
Jim Berry
CEO & Founder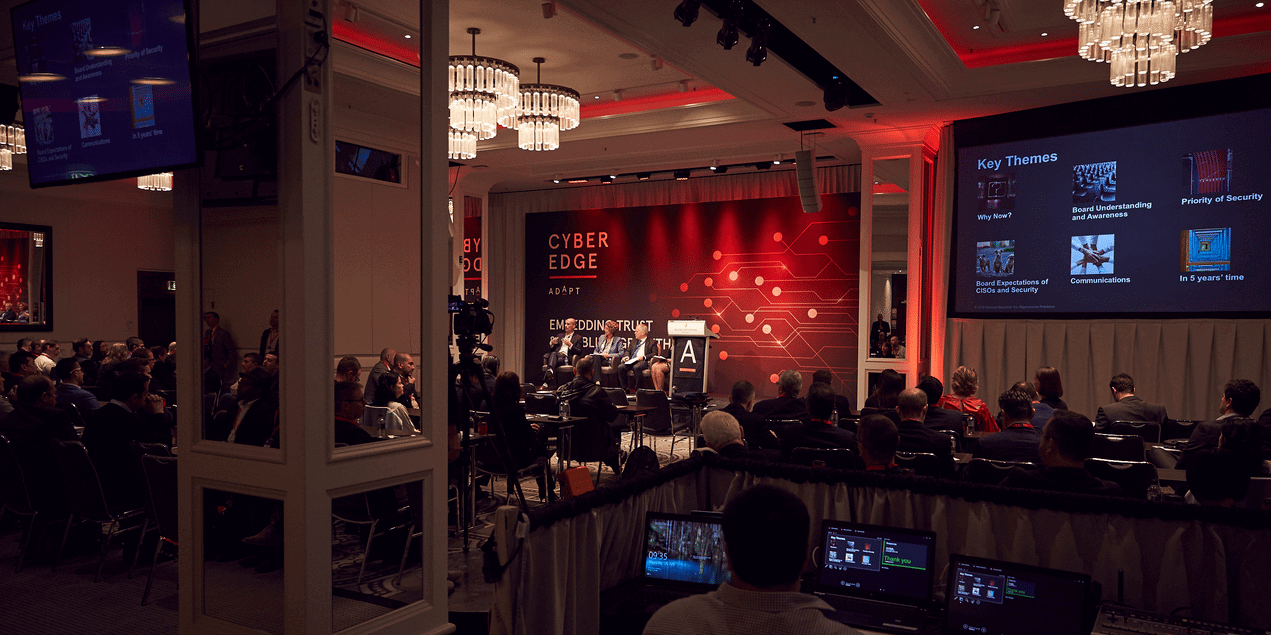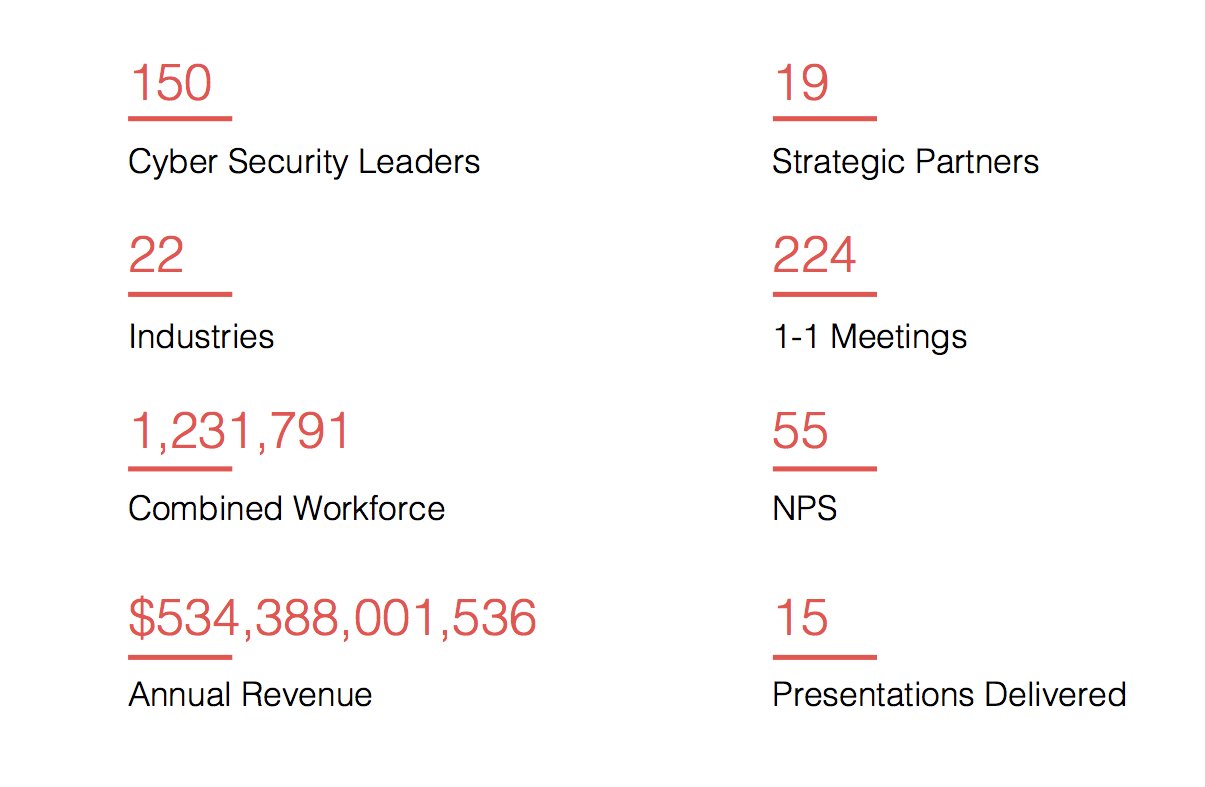 DELEGATION PROFILE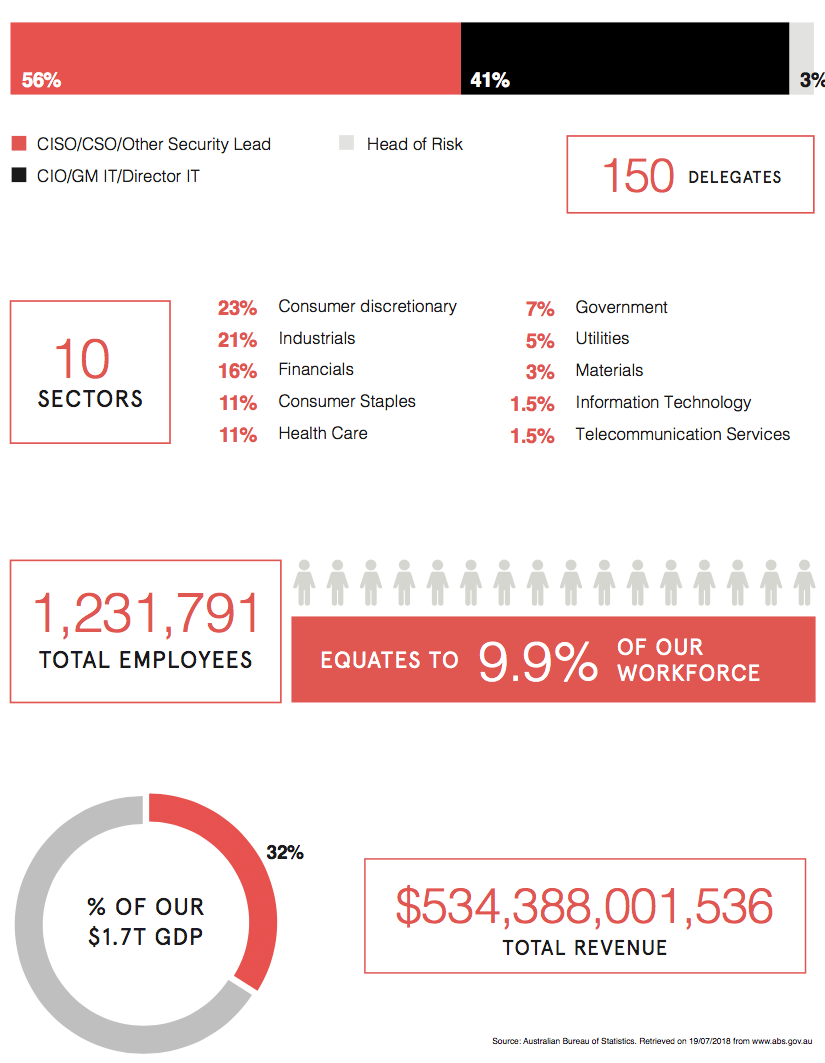 TOP 20 INVESTMENT PRIORITIES FOR 2019
In line with their recognition that their biggest cultural challenge is raising cybersecurity awareness, it is not surprising to see that the delegates reported their top investment priority in this area would be in education and training.
Given the many years of involvement that the delegates to Cyber Edge had in the topic and the evolving challenges that cyber security presents, it is also apparent that cyber security education and training must be an ongoing commitment even for the most senior people working in this area.
PERCEIVED CULTURAL BARRIERS TO DELIVERING EFFECTIVE CYBERSECURITY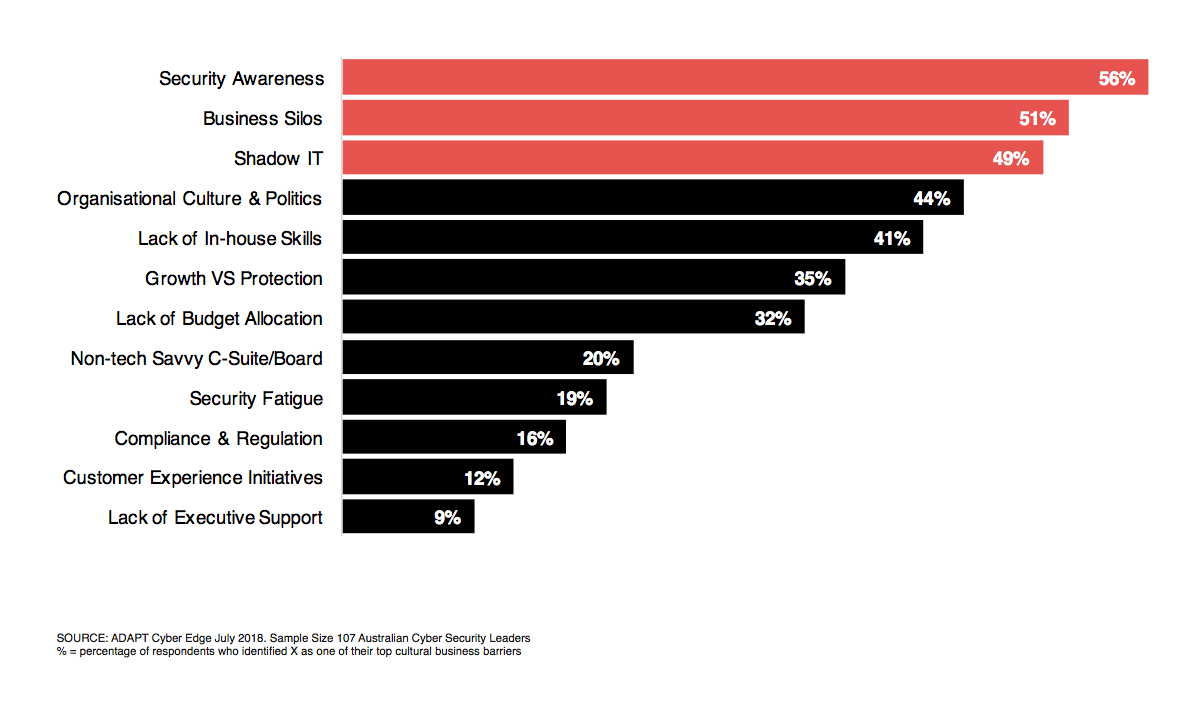 ADAPT is increasingly conscious that the biggest challenges confronting most IT executives revolve around overcoming cultural impediments that get in the way of harnessing technology. Therefore, questions around cultural challenges are now a staple in the surveys we undertake.
With Cyber Edge the delegates highlighted that their biggest cultural issue was increasing cyber security awareness in their organisation. This challenge is exacerbated by the next item they identi ed. Many organisations are fragmented between different business units and operational entities which hinder a holistic approach to address the challenges of cyber security. This fragmentation has the potential to create gaps in the defence mechanisms being used which the delegates felt could leave their businesses vulnerable.
WHAT TALENTS DO YOU THINK CYBERSECURITY PEOPLE NEED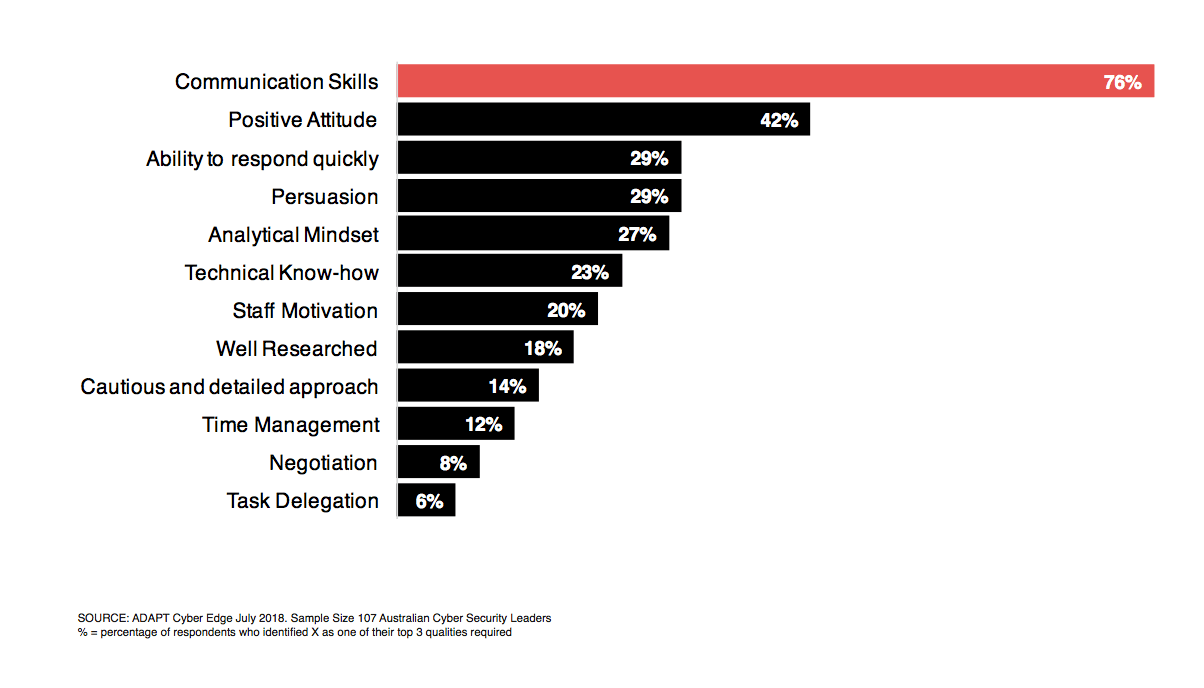 With cultural issues being the biggest challenge facing most IT departments there is increasing awareness that the skill sets needed by many in the IT department are less about their technical wherewithal and much more around their soft skills. This was very much highlighted in the answers given to this Cyber Edge survey question. Less than a quarter of respondents believed technical know-how was the primary talent cyber security people needed. However, more than three quarters of the same group identi ed communication skills as the talent most needed. This in turn re ected the prominence ADAPT gave in the Cyber Edge agenda to insights on how to effect change management.
Cyber Edge gave me new insights into how to tackle alignment with our business strategy and practical steps to drive our cyber security program forwards.
Simon Cowley - Chief Enterprise Architect at Fonterra Australia
The experience is like no other conference you could attend. It is more than marketing and selling products that just doesn't fit your specific requirements. It gave me the practical information and tools I need to learn and take back to my organisation to help guide them along our integration, digital transformation and security strategy.
James Court - Head of IT Infrastructure & Security at Cleanwaway Waste Management
The ADAPT Cyber Edge Experience was an excellent snapshot of the Cyber Security landscape, it covered a vast array of Security aspects and experiences.
Matt Kruschel - CIO at Thomas Foods International Consolidated
DELEGATION AT CYBER EDGE
ADCO Constructions – CIO
AIA Australia – Head of Technology Risk
AIG Australia – Australasian Financial Institutions Manager
Air New Zealand Limited – CISO
Allianz – CSO | Cyber Security & Business Resilience
Asaleo Care – Manager, IT Operations and Infrastructure
Auckland International Airport Limited – Director – Security Networks Ausgrid – Snr Manager, Cyber Threats & Engineering Operations
Australian Associated Press – Operations Manager
Australian Bureau of Statistics – Senior Advisor, Information Security Branch Australian Catholic University – Associate Director, IT Strategy & Planning Australian Prudential Regulation Authority – CSO
Australian Securities Exchange – CISO
Australia Post – CISO
Banjo's Corporation PTY – Head of Information Technology
BaptistCare NSW & ACT – Senior IT Infrastructure Manager
Bauer Media – APAC Manager, Technical and Information Security
Bendigo and Adelaide Bank – Head Of Information Security
BHP – Manager, Cybersecurity Risks & Controls
Bolton Clarke – GM, Information Services
Boral Limited – Cyber Security Lead
British American Tobacco – Head of IT Security Asia Paci c & Middle East Built – CIO
Bulletproof – CFO
Cardno – Global IT Strategy and Solutions Manager
Catholic Education Of ce, Diocese of Parramatta – CIO
Chandler Macleod Group – GM, Technology Services
Clayton Utz – IT Director
Cleanaway Waste Management – Head of IT Infrastructure & Security Consultancy – Disruption Strategist
Deloitte Touche Tohmatsu – CISO & Chief Risk Of cer
Department of Defence – CTO & CISO
Department of Justice, NSW – CIO
Dexus Property Group – Senior Manager, Digital & Customer Technology Dialog Marketing Services – Industry Analyst
Education (NZ), Ministry of – Head of IT
Employers Mutual – Head of Security and Infrastructure
Endeavour Energy – Information Security Management
EnergyAustralia – Information Security Manager
Enero Group – Group IT Director
Epworth Healthcare – CTO
Equifax – CISO
Equifax – CIO
Evolution Mining – IT Services and Security Manager
Fairfax Media – Director, Architecture and Security
Fire and Rescue NSW – CISO
Fonterra Australia – Chief Enterprise Architect
Forrester – VP, Principal Analyst, CIO Advisor
Forrester – Principal Analyst serving Security & Risk professionals Fox Sports – Head of Cyber Security and Compliance
Foxtel – Head of Organisational Resilience and IS Security Freightways – CIO
Genesis Care – IT Network & Communications Manager Gilbert + Tobin Lawyers – CTO
Gold Coast City Council – Information Technology Security Advisor
Gold Coast Hospital and Health Service – Director, ITS, Digital Transformation & Security Services
Goodman Fielder – Enterprise Architect
GPT Group – Head of IT Operations
Harvey Nash – MD
Harvey Norman – Head Of Information Security
Hays Specialist Recruitment – Manager, Information Security and Risk Heritage Bank – Manager, Security Operations
Horizon Power – Information Security Manager
HSBC – Head of Security Risk
IAG – Senior Manager Cyber Strategy & Governance
IAG – Director, Data Governance
ISS Facility Services Australia – CIO
Johnson & Johnson Australia – Director, Business Technology
Kelly Speech Communication Pty Ltd – Director and Owner
KPMG – Acting CISO
KPMG – CISO
Latitude Financial Services – Information Security Leader
Link Group – CTO & CISO
Macquarie Group – CISO
Maddocks – IT – Information Security
ME Bank – CISO
Melbourne Health – CTO
Mercury – Enterprise Information Security Manager
Metro South Hospital and Health Service – a/Executive Director, Logan Bayside Health Network
MLC – Risk Systems Manager, Management Assurance
MLC – Head of Management Assurance
MLC – Senior Security Advisor
Monash University – Manager, IT Security & Risk
Mondelez – Global IS Security Solutions Architect Lead
National Australia Bank – Non-Exec Director, NAB; Chairman, Treasury Corporation of NSW
National Disability Insurance Agency – CIO
National Stock Exchange of Australia – Head of Technology Navitas – Global Head of Information Security
Newgate – Associate Partner
News Corp Australia – Head of Cyber Defence
News Corp Australia – CISO
NEXTDC – Head of Customer Operations & Security
Norton Rose Group – CIO
NSW Health – Director Information Security Services (CISO) NSW Police Force – Commander, Cyber Advanced Capability Unit NSW Ports – Head of IT
Nutrien – Cybersecurity Service Delivery Manager
Of ceworks – Head of Information and Cyber Security
oOh!media Limited – CTO
oOh!media Limited – Cyber Security Lead
Parmalat – Systems Architect
Pluralsight – Information Security Author & Instructor
Primary Health Care Corporation – CISO
Primo Group Holdings – Group Manager, IT
PWC – APAC CISO
Qantas – Group CISO
Queensland Airports Limited – Head of Cyber Security and Infrastructure Operations
Queensland Health – CISO
SAI Global – CISO & Data Protection Of cer
Salmat – CTO
Sanitarium Health and Wellbeing – Manager, Information Security Serco Group Ltd – CISO
Seven West Media – Head of Operations and Delivery
Silver Chain – CSO
Singtel Optus – CISO
Sonic Healthcare – Manager, Cyber Security
St Vincent de Paul Society – CIO
Suncorp – Head of Security
Sunsuper – Director
Sunsuper – Head of Technology & Operations
26th July 2018 | Intercontinental, Sydney
Swinburne University of Technology – CISO
Sydney Airport – Head of Technology Infrastructure & Cyber Security
Sydney Motorway Corporation – Principal Manager of IT Services & Portfolios (Acting CIO)
Sydney Water – Head of Digital Operations
TAL – Head of Digital Services – Group
Tech Research Asia – Director
Telstra – GM Cyber Security Operations & Threat Defence
The Smith Family – CIO
Thomas Foods International Consolidated – CIO
Tourism Australia – CIO
TransGrid – CISO
UniSuper – Head of Information & Cyber Security
University of Newcastle – Associate Director, Service Enhancement University of New England – Associate Director/Head of Enterprise Architecture, Governance and Information Security
University of Tasmania – Manager, ICT Security
University of Technology Sydney – Deputy CIO, Infrastructure and Operations UTS:INSEARCH – Head of ICT
ValueFlow Australia – Principal Consultant
Ventia – Group Manager, ICT Security & Risk
Veolia Environmental Services – Head of IT Infrastructure Security and Cloud Volvo Group Australia – Director, Security APAC
Western Sydney Local Health District – CISO
West eld (Scentre Group) – Director, Security
West eld (Scentre Group) – Senior Manager Information Management & Security
Westpac Banking Corporation – Head of Security Protection Services
Wilmar Sugar Australia Limited – IT Infrastructure Architect
WithYouWithMe – Head Cyber Learning
Woolworths – CISO
Work Health Group – Manager, ICT
WPP AUNZ – Group Technology Portfolio Director & Transformation Lead YHA Ltd – CIO
Zurich Financial Services Australia – APAC Security Architect & Head of Network Security Services
Practical Advice from the CISO Community

Listen to thought leadership from Equifax's Jamil Farshchi, NAB's Philip Chronican, Sunsuper's Jenni Mack, Pluralsight's Troy Hunt, Department of Defence's Mohan Aiyaswami and more.
Be Part of It
---
Drop us a line if you're a like-minded alliance. We are proud to work with thought leaders, sponsors, and a senior delegation.