Deliver
05.03.2020
10 MIN
CIO Edge Post Event Report – The 12 Core Competencies for Success, February 2020
---
The state of our future depends on our actions today. 
We all know that technology must underpin a successful future.
For years, we've all agreed that cutting costs, risk aversion, legacy systems, and internal politics have held us back – and they still do. So, now more than ever, we must focus on our resolve, our ability and skill-set, our motivation, and our competencies to lead, and inspire others to join us on a journey to more positive outcomes – especially regarding IT & Tech strategy.
ADAPT's commitment is to inspire the ambitions and beliefs of all regional CIOs – to give them the tools to evolve their competencies, their confidence, inspiration and communication skills. Enabling all to raise the perception of IT in their organisation and to raise the profile of the CIOs and their hard-working teams. 
We need to give more technologists a seat at the table, with more room to experiment; and we need them to be involved in strategy from the beginning, and not just bring them in as an execution afterthought.
ADAPT's 12 Core Competencies to success are designed to make CIOs competent enough to knock on their CEO and Boardroom doors, to explain the state of things, to clearly communicate the proven value, business case and potential outcomes of new ways of doing things. As such, we hope to enable them to secure more resources, more budgets, and the risk appetite to create the dynamic future we need.
CIO Edge February was the execution point of much of this thinking.
Thank you for your involvement and see you at the Edge.
Jim Berry
CFO Edge was a fantastic day, very well run with informative speakers. Highly recommended!"
- Afterpay, CFO EDGE
---
CIO Edge - The 12 Core Competencies for Success
WATCH
03:45
1,281M
Combined Workforce
543
1-1 Meetings conducted
19
Presentations Delivered
115
Solutions capabilities covered
CIO Edge provides the information you need right when you need it, providing research and insight to support a level of confidence in decision making at the CIO level."
- University of New England, CIO EDGE
The 12 Core Competencies for Success
As CIO, you must have the right answers – but we live at hyper speed, with such little time to think, and even less room for error. Your challenge is how to catch up and keep up with so many emerging tech and external market forces, whilst managing internal politics, processes, projects and stakeholders – and all at the unrelenting speed of modern business.
After a deep analysis of local executive drivers and challenges gathered from 30,000 conversations over 3 years, ADAPT have identified a framework of 'The 12 core competencies'. When achieved, these areas of expertise will see the CIO move from reactive IT service delivery to strategic leader.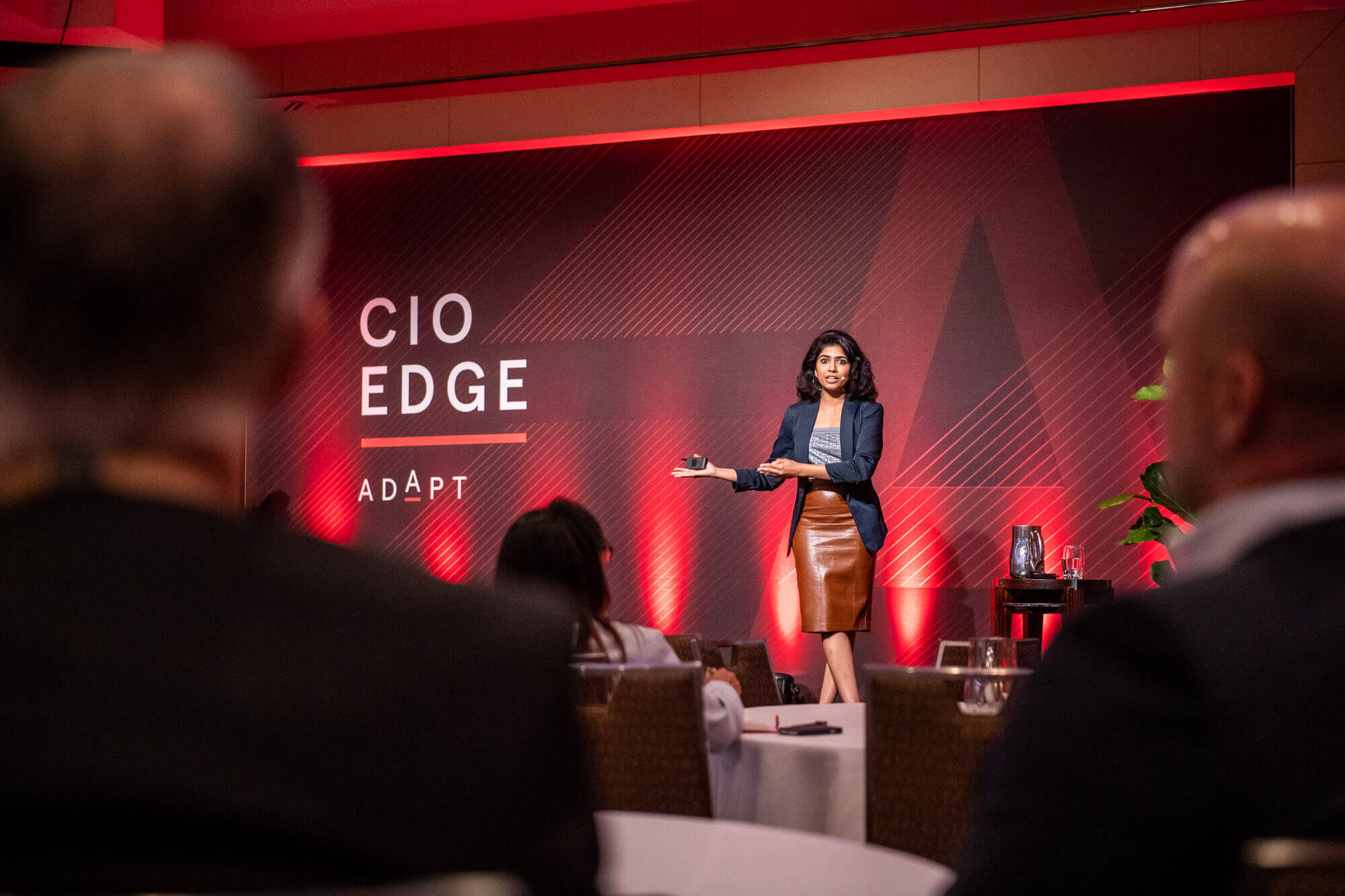 Improve Operational Efficiency
What does it mean?
Operational efficiency can have different meanings to different people and organisations in terms of cost, time, effort and performance. In its basic form, operational efficiency or operational effectiveness delivers the required business output whilst maximising resource utilisation. This includes finding efficient & error-proof processes that result in the optimum effort.
Enhance Customer Experience
What does it mean?
Customer experience relates to the delivery of a company's vision and values to both internal and external customers. Improvements in Employee and Customer Experience (CX and EX) are critical in a world of ever-increasing skills shortages and uber-competitive customer environment. They are important tools in attracting and retaining talent and customers.
Empower Workforce
What does it mean?
An empowered workforce is an engaged workforce. Organisations need to restructure their business and technology priorities to construct a work culture which focusses on a greater willingness to share, collaborate, learn and empower the workforce whilst creating a people-driven organisation.
Execute Data-driven Strategy
What does it mean?
A data-driven strategy involves making informed business decisions related to resources, market, financial stability, and business continuity backed by relevant, accurate, and validated data. This includes creating analysis reports, forecasts, and predictive models to ensure future preparedness of business and contingency planning.
Embed Trust And Security
What does it mean?
The new world will be built on the foundation of autonomous systems that will track and analyse the behaviour of humans and machines making decisions based on desired outcomes. These systems will have continuous access to personal data and hence be highly attractive for attacks. Security will be a core component of brand trust and differentiation.
Drive Technology Thought Leadership
What does it mean?
Technology thought leadership, for end-user organisations, is defined as a forward-looking approach to delivering technology-based solutions for business. IT infrastructure and development should be seamless, scalable, and agile to meet the growing demands of business and customers.
Enable Innovation And Transformation
What does it mean?
Conventional thinking is that transformation marks the start or the end of an approach to a business, product, process or product strategy. Innovation, on the other hand, is more evolutionary in approach and outcomes to an existing approach or technology. The two need to be considered together in a complementary manner rather than adversarial fashion.
Modernise Legacy
What does it mean?
In an IT context, legacy is seen as a bottleneck and refers to systems, software and services that were implemented for a specific purpose which has been inherited rather than acquired. These systems were typically implemented without much foresight into technology evolution and future shifts.
Transform As A Business Leader
What does it mean?
Business leaders are identified by their ability to take a holistic view of an organisation, to create an overarching vision for the business, and drive people to execute the vision. This arises from an understanding of all sections of the business, their inter-dependencies and collective impact on it. They are well informed about external factors affecting the business – customers, competitors, regulations, partner ecosystems and economic environment.
Align The CEO and Board
What does it mean?
Corporate strategy and planning are essential responsibilities of the CEO and the Board. The Board of directors bring distinct perspectives, experience, and insights from other organisations and their network of industry boards, regulatory bodies, and government entities. The board of directors' help create a long-term vison and roadmap for the organisation whilst the CEO helps execute on the vision supported by the executive leadership team.
Engage Stakeholders
What does it mean?
Australian business leaders across all levels of business repeatedly tell ADAPT they are hamstrung by siloed mindsets and departments. Stakeholder engagement is at the root of this challenge. It begins and ends with how and who we involve in the process of decision-making and strategy formulation. Together with how the company involves, the people and parts of the company impacted by those decisions can mean the difference between success and failure of said initiatives.
Optimise Budgets, Ensure Roi
What does it mean?
The conventional way of budgeting focusses on the assumption that all parts of the project and the outcome are well known and understood. Budgets are allocated up to 12 months in advance against pre-determined, often historically conceived, requirements without accounting for contingencies.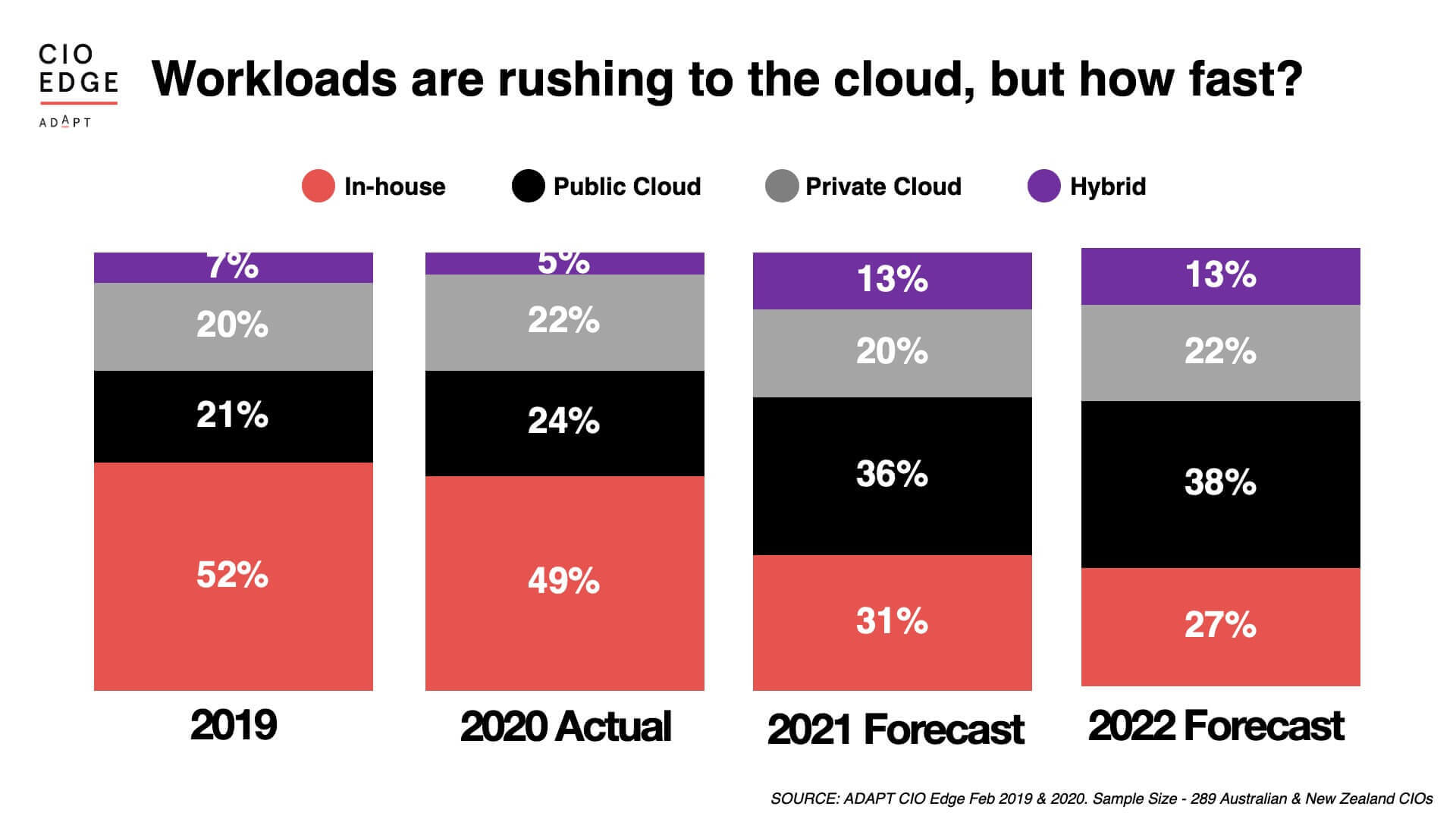 From our event survey of over 200 of ANZ's CIOs – between them responsible for 34% of our GDP. CIOs >50% expect to see modest increases in IT expenditures in 2020, with a further uptick in 2021 where >60% of CIOs expect to see increases in IT expenditure.
Interestingly the number of organizations expecting to increase IT expenditure >10% almost doubles in 2021 compared to 2020.
Australian and NZ CIOs told us they are accelerating their shift to the cloud. ADAPT is having many enquiries and discussions with ANZ Research and Advisory clients, event delegates and more on steps they can take to improve operational effectiveness and optimize IT expenditure to enhance operations.
Efforts to create the optimum environment to drive customer satisfaction and enhance employee productivity, stands out.
Cloud continues to be the area CIOs expect to invest more in, with the expectation it can help them improve operational effectiveness while at the same time driving down long-term costs."
The slide shows how the march to the cloud continues to accelerate according to CIOs surveyed this month by ADAPT.
Congratulations ADAPT team for another outstanding CIO Edge event! I have attended many CIO Edge events over the years, and once again the team has raised the bar. Well done!"
- IBM, CIO EDGE

What will ADAPT Research & Advisory give you?
Objective research, peer insights and local data points on essential IT and business issues to help you and your teams formulate tactics, strategic plans and benchmarks to execute on business outcomes.
Localised competitive intelligence on the Australian market
ADAPT Research and Advisory clients have access to the distilled intelligence from our Edge event agendas, powerful C-level knowledge and local research, along with privileged access to the community experience of 3,000 peers.

Refining actionable insights from large volumes of local data and client interactions, we help you formulate clear strategies and tactics, validate your plans, benchmark your progress, then measure your execution and overall performance.