Empower
08.03.2019
20 MIN
CIO Edge Post Event Report, February 2019
---
In February ADAPT hosted CIO Edge for 200 IT bosses responsible for 10% of Australia's workforce, and a staggering 44% of our GDP.
Our theme was "Competing on Experience." The new frontier of competitive advantage comes through the capability, flexibility, and the enhanced experiences that the CIO and IT can deliver.
In our complex and changing world, every company is now competing via technology and the business model and tech decisions CIOs are making now are more critical than ever. For Australia to keep up, our organisations need to operate like digital companies, or risk being replaced by them.
As CIO, you must have the right answers – but we live at hyper speed, with such little time to think, and even less room for error. Your challenge is how to catch up and keep up with so many emerging tech and external market forces, whilst managing internal politics, processes, projects and stakeholders – and all at the unrelenting speed of modern business.
In this complex world you need the right information to make the right decisions.
But in this ocean of noise, with an overwhelming amount of information sources, how do you filter reality from hype to ensure your current knowledge and abilities are enough?
ADAPT aim to give you the EDGE you need.
Thanks for your support.
Jim Berry
CEO & Founder, ADAPT

ADAPT CIO Edge 2019 in Melbourne was an exceptional event providing targeted and value-adding updates to C-Suite digital/technology professionals. It was a great investment of our time! Thank you and well done."
- PepsiCo Asia Pacific Region
1,328,136
Combined Workforce
594
1-1 Meetings conducted over 2 days
16
Presentations Delivered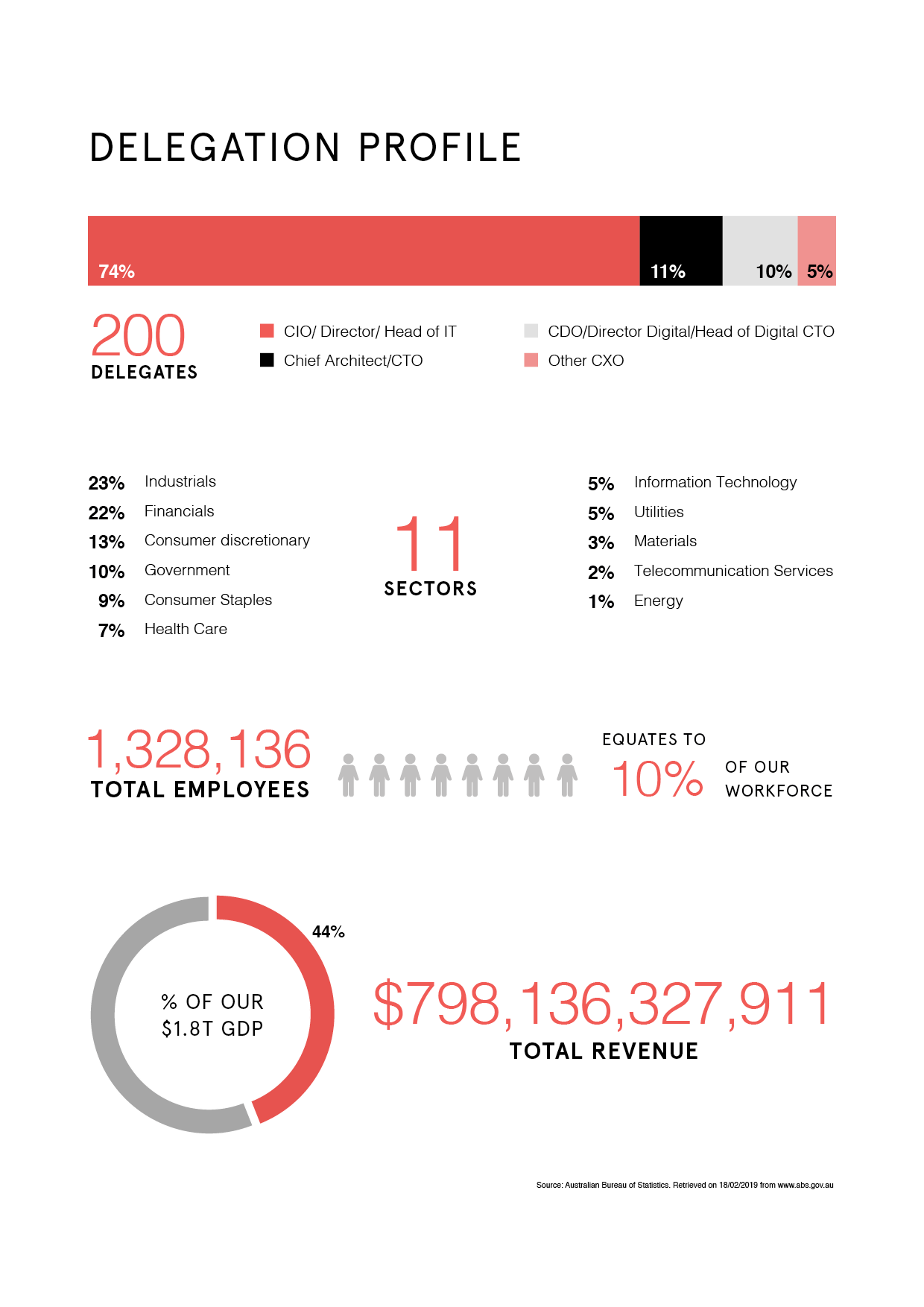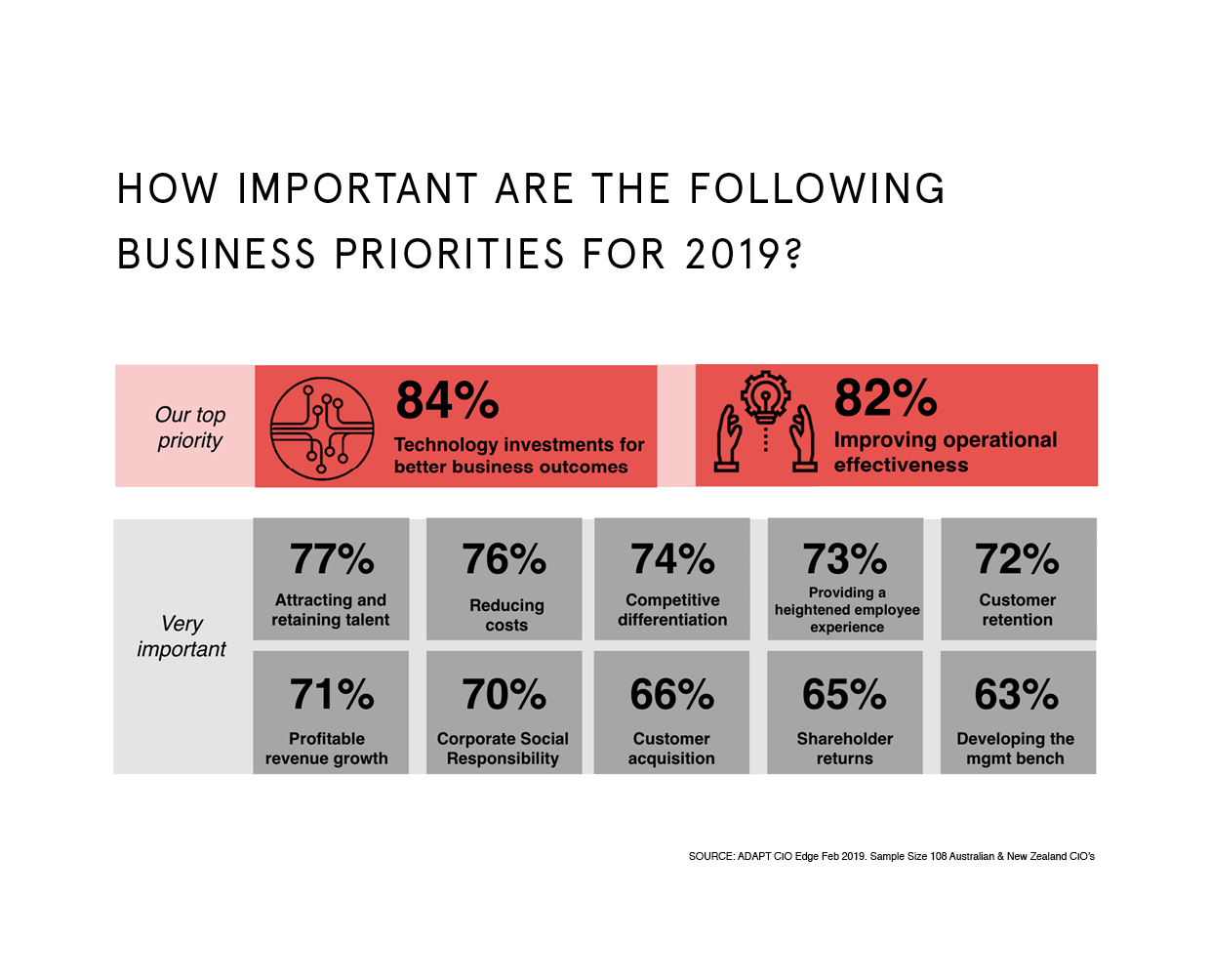 This year we asked more questions about business priorities.
Most of those that rated most highly are related to experience. Tech enabled investments with clear business outcomes is the top priority. Everyone is focused on CX and digital transformation, but while employee and customer experience are simple concepts, they're very difficult to realise. And tech investment is useless without user uptake.
Improving operational effectiveness is second. With all the hype of digital transformation and cyber risk, CEOs are bought in to tech more than ever before. CIOs should capitalise on that support. If you can prioritise investments with a step-based approach and demonstrate business impact at every stage, then the perception of IT improves.
In third place is talent retention. Facing skills shortage your systems must free your people – and good technology is now a recruitment tool, with bad tech proven as a reason to leave.
Competitive differentiation is also a major priority. Our partners at MIT have now proven that companies with highly engaged employees outperform others. And those that invest in employee experience are four times more profitable.
Note also customer retention and acquisition. Staff and customers expect to operate on their time frames, not yours. How can you leverage IT to create new products and deliver services when and how your customers need them? How can you improve digital engagements and response times?
IT is now where businesses compete, differentiate and succeed.
Most delegates Say that data and analytics is key to competitive advantage, but most also said they need to understand their data better. Most also say they are not on top of their data management, that they are having trouble finding data analysts and data scientists, that the rate of growth in data is making management difficult, and that their data analysis tools are ineffective.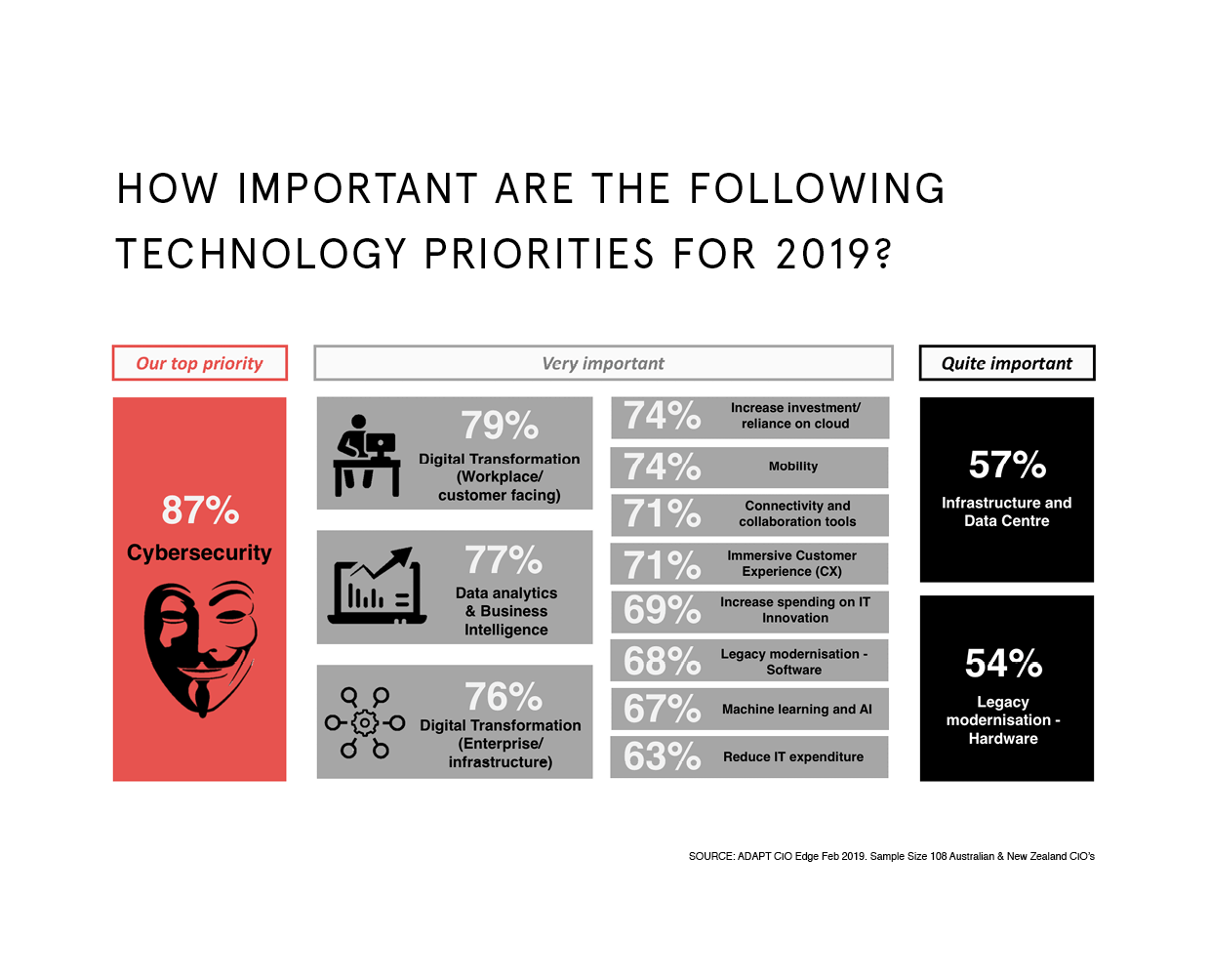 Cybersecurity is by far the most important technology priority. Not a single delegate said it was not important, with most saying it is their top priority or very important. Digital transformation is also a key technology driver.
At the same time legacy modernisation is down the list, despite legacy systems being listed as a key barrier to digital transformation. This indicates that many CIOs see removing legacy as a difficult and slow process.
For three years ADAPT has been tracking the different pathways to digital transformation. Delegates were asked about the extent of their organisation's IT enabled strategies – IT/business alignment, digital transformation at both the enterprise and workplace level, and agile business.
Delegates were asked about their top investment priorities for my 2019. The two most often mentioned were machine learning and chatbots or ritual PAs, both artificial intelligence technologies. Other widely mentioned priorities were upskilling and training, agile methodologies, and API management.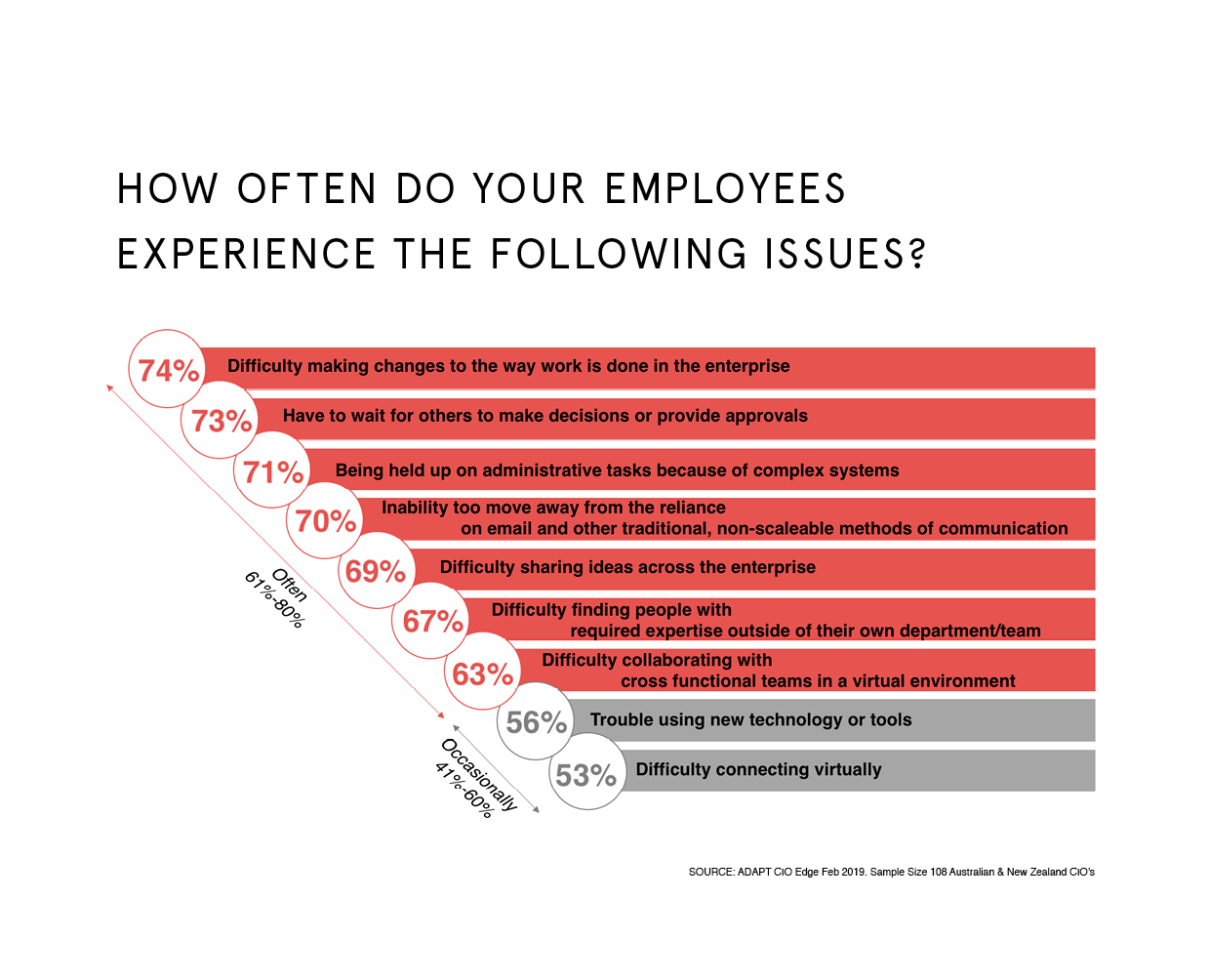 Australia's number one challenge is now people, not technology. Increasingly, the organisation is the constraint. Delegates to CIO Edge were asked about the employee experience, and how often staff are faced with a number of issue that might be preventing them from doing their jobs better. The most important factor is difficulty making changes to the way work is done in the enterprise.
A number of other factors were mentioned, most of which have to do with organisational structure rather than technology. The results show many organisations still have a way to go in providing an optimum employee experience.
CIOs regard themselves and their team as the most important group developing an innovative and digital ready culture. Other senior managers are also very important.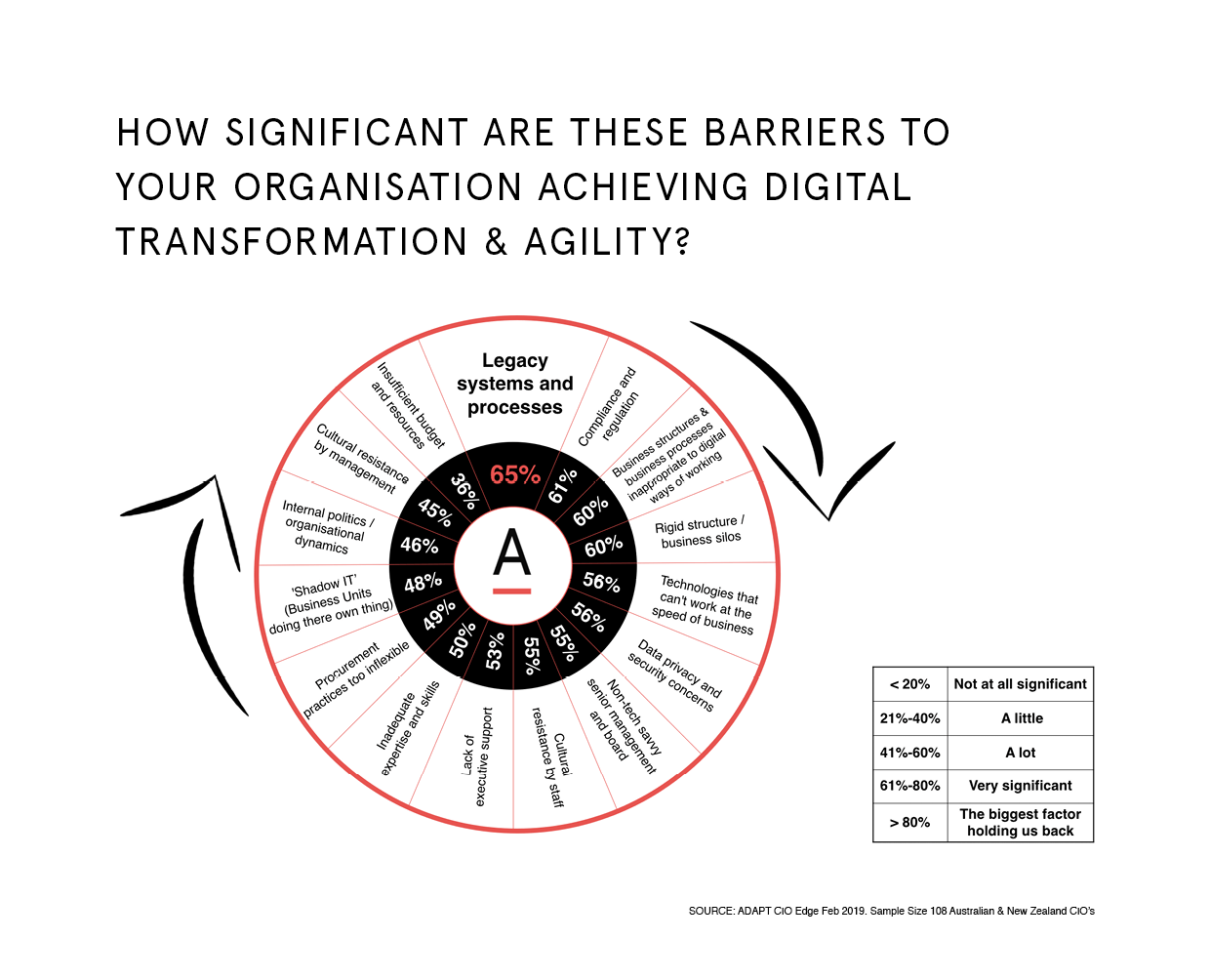 The biggest barrier to achieving digital transformation and agility is legacy systems and processes, mentioned by two thirds of delegates. The key inhibitors compliance and regulation, inappropriate business structures, and inappropriate or inflexible technology.
Lack of knowledge or interest by senior management is relatively unimportant, with non-tech savvy senior management board, lack of executive support, and cultural resistance by management in the bottom half of the list.
Once again the ADAPT team have delivered premier CIO event on the Australian calendar!
- IBM Australia
DELEGATION AT CIO EDGE
AustralianSuper – (Former)Head of Technology Services
ActewAGL – Head of Strategic Programmes
AGL Energy – Digital Director
AIA Australia – Head of IT Transformation & Agile Delivery.
Air New Zealand Limited – EX-CIO at Warehouse Group
Allegis Group – CIO
Allens – Acting CIO
Ansell – APAC Marketing Director
Asia Pacific Digital – Group Head of Digital Transformation
Atlassian – Head of R&D and Work Futurist
Australia and New Zealand Banking Group – GM, Consumer Digital Technology
Australia and New Zealand Banking Group – Group Executive, Technology
Australia Post – CIO
Australia Post – General Manager – Workplace, Testing and Service Management
Australia Post – Head of Technology, Retail Services
Australian Catholic University – IT Director
Australian Securities Exchange – CIO
Australian Taxation Office – CIO
Bank Australia – Head of IT (CIO)
Bendigo Kangan Institute – CIO
BlueScope – CIO, BANZ
BT Financial Group – Program Director, Advice, Investments & Private Wealth Systems
Bupa Australia – Program Director – Digital Transformation
Cabcharge – CTO
Catholic Education Office, Diocese of Parramatta – CIO
CBRE – IS Business Solutions Manager ? Marketing
City of Melbourne – CIO
Clayton Utz – Head of Infrastructure Services and Data Security
Cleanaway Waste Management – CIO
Cleanaway Waste Management – Head of IT Service Delivery, Infrastructure & Security
Coates Hire – GM – Technology
Coles Group Ltd – Head of Digital and CRM Technology
Consultancy – Expert in Residence
CSL – IT Director, APAC
Deloitte Touche Tohmatsu – Infrastructure & Security Director
Department of Defence – First Assistant Secretary of Defence ICT Delivery
Department of Health and Human Services, VIC – CIO
Department of Premier and Cabinet, NSW – CIO
Department of Premier and Cabinet, VIC – Executive Director Channels & Platforms
Downer EDI – Chief Architect
Equifax – CIO
ERM Power Ltd – Chief Executive Officer – Generation Operations
Fairfax Media – Director, Technology & Group IT Services Manager
Flinders University – CIO
Ford Australia – IT Group Manager
Forrester – VP, Principal Analyst, CIO Advisor
GE Holdings – CIO
George Weston Foods – Customer Solutions Manager
GHD – IS Infrastructure Shared Services Manager
GPT Group – Head of Technology
Healthscope Limited – CIO
HSBC – CIO
IAG – Head of Digital Technology & Martech Platforms
IBM Australia – A/NZ Business Transformation & Information Technology Leader (CIO in A/NZ
Inventium – Founder
ISS Facility Services Australia – CIO
JBS Australia – GM IT – Global Business Engagement at Fonterra
K&S Corporation – Senior IT Operations Manager
LafargeHolcim Australia – Director, IT Operations and Delivery (ANZ)
Linfox – GM, IT Operations
Lion Co – CIO
Lueur Pty Ltd – Director
Mater Health Services – CIO
Merck Sharp & Dohme – Director, IT ANZ
Mercury – Head of ICT Delivery
Metro South Hospital and Health Service – Senior Director Digital Hospital Program, Metro South Health/Acting CIO
MIRVAC – Group Manager, Business and Digital Solutions
MMA Offshore – GM ICT
Mondelez – Assoc. Director, IS ? Global Retail Execution
Munich RE – CIO
Namoi Cotton Co-op – Manager, IT
National Australia Bank – Divisional CIO & GM Core Banking Technology
National Australia Bank – Divisional CIO & GM, Support Services Technology
National Library of Australia – Assistant Director-General, Information Technology
New Zealand Racing Board – CIO
NKD co – Group Head of Digital Transformation
Norton Rose Fulbright – Acting Head of Technology
NSW Health – Acting Director, Information Services
NSW Health – Director, Corporate IT
O-I Asia Pacific – Manager, IT Operations APAC
Olam Investments Australia – Manager, Information Services
Origin Energy – CDO
PepsiCo Asia Pacific Region – CIO APAC
Perth Airport – GM, Information Systems
PWC – CDO
PWC – CEO
Qantas – Head of Strategy & Architecture
Queensland University of Technology – Associate Director, Enterprise Information Services
South East Water – CIO & Supply Chain Director
Super Retail Group – GM, Business Engagement & Architecture
Swinburne University of Technology – CTO
Tandem Corp – CIO
TBC – Chief Architect
Telstra – Head of Technology
Terumo – Head of ICT
Toll Holdings Limited – Head of Business Improvement & Transformation
Treasury Wine Estates – Global IT Director ? Technical Services
Treasury Wine Estates – Global IT Director, Consumer and Commerce
Uniting – CIO
University of Melbourne – Director, Digital and Data
University of Technology Sydney – CIO
V/Line – ICT Infrastructure Portfolio Manager
VicRoads – CIO
Virgin Australia – VP Technology & Innovation Core Airline
Vita Group – Group GM IT
Vodafone Hutchison Australia – CIO
Willow – Head of IT
Woolworths – CIO
WSP – Head of IT, Asia Pacific
Yancoal Australia – GM ICT
Yarra Valley Water – CIO
Zespri International – Manager, Enterprise Architecture
BE PART OF IT
---
Drop us a line if you're a like-minded alliance. We are proud to work with thought leaders, sponsors, and a senior delegation.