CIO Edge Post Event Report – Digital Execution: Tear down the Silos, September 2019
---
ADAPT's 16th CIO Edge delivered in spades with almost 40 global experts alongside ADAPT analysts including MIT, McKinsey, Data 61, and Innosight – all laser focused on the insights, examples and ideas a modern business leader needs to succeed.
200 IT leaders from Australia and NZ – responsible for revenues equivalent to 40% of Australia's GDP and 1.8 million staff – gathered, interacted and shared in a trusting environment.
Digitally transformed companies are flying ahead with CX and profits, but the realities in our local market are challenges around legacy processes and systems, shadow IT, cloud and application sprawl – all requiring governance, compliance, security – and the role of technology to be enabler not inhibitor.
Our CIOs are at the cutting edge of Australia and NZ's ability to compete. They are responsible for strategy and trust, user uptake, managing multiple stakeholders, and bringing everyone along on the journey.
Depending on the perception of the CIO or of IT in their organisation, it is a pivotal, tough and lonely role. It is also a vital time in our region's commercial history.
ADAPT are committed to equipping these busy executives with the local research and advisory, use cases and experience from our community of qualified peers and providers – and to give them the validation and insights to make the best decisions.
The world is now moving so quickly, we must move faster to ADAPT.
Thanks for your time.
Jim Berry
Once again the ADAPT team excelled in hosting an outstanding CIO Edge! Every year they find a way to lift the bar, delivering excellent sessions and content, great network opportunities and the ADAPT team's attention to detail in looking after delegates is second to none! Thanks once again, and well done!"
- IBM, CIO EDGE
---
CIO Edge - Digital Execution: Tear down the Silos
WATCH
3:36
480
1-1 Meetings conducted
16
Presentations Delivered
96
Solutions capabilities covered
Really enjoyed the experience provided by CIO Edge - the ability to take time out, connect and share experiences with other organisations and in turn which I can bring back into my own organisation for consideration."
- Jetstar, CISO EDGE
Australian CIOs need to tear down the Silos and execute
Australian CIOs attending CIO EDGE (2) 2019 told ADAPT that IT investments and initiatives that drive operational effectiveness, build a data-driven organisation, and acquire and retain customers are key priorities.
CIOs need to think much more deeply about the strategic opportunities that IT can generate to help future-proof the business through new approaches, mindsets, technologies, tools and processes.
Australia's leaders are struggling to attract, develop and retain the skills and capabilities they need to consistently execute on their business, organizational and digital strategies.
CIOs need to look for a balance of skills and mindsets in their organisations made up of a complimentary mix of capabilities from the traditional to the new ways of thinking.
Legacy challenges (technologies, mindsets, processes) across all functions, levels and businesses continue to stand out as the CIOs leading business barrier."
CIOs need to focus on mitigating the negative impact and perception of legacy by looking for the bright spots within existing systems, while actively replacing outdated and inefficient systems and processes through consolidation and cloud.
Stakeholder collaboration and management with the parts of the organisation that drive revenue, profit, awareness, and strategy are very low.
In the quest to attract and retain customers, the focus for the business is increasingly CX, there is little chance of success without IT, sales and marketing working closely together.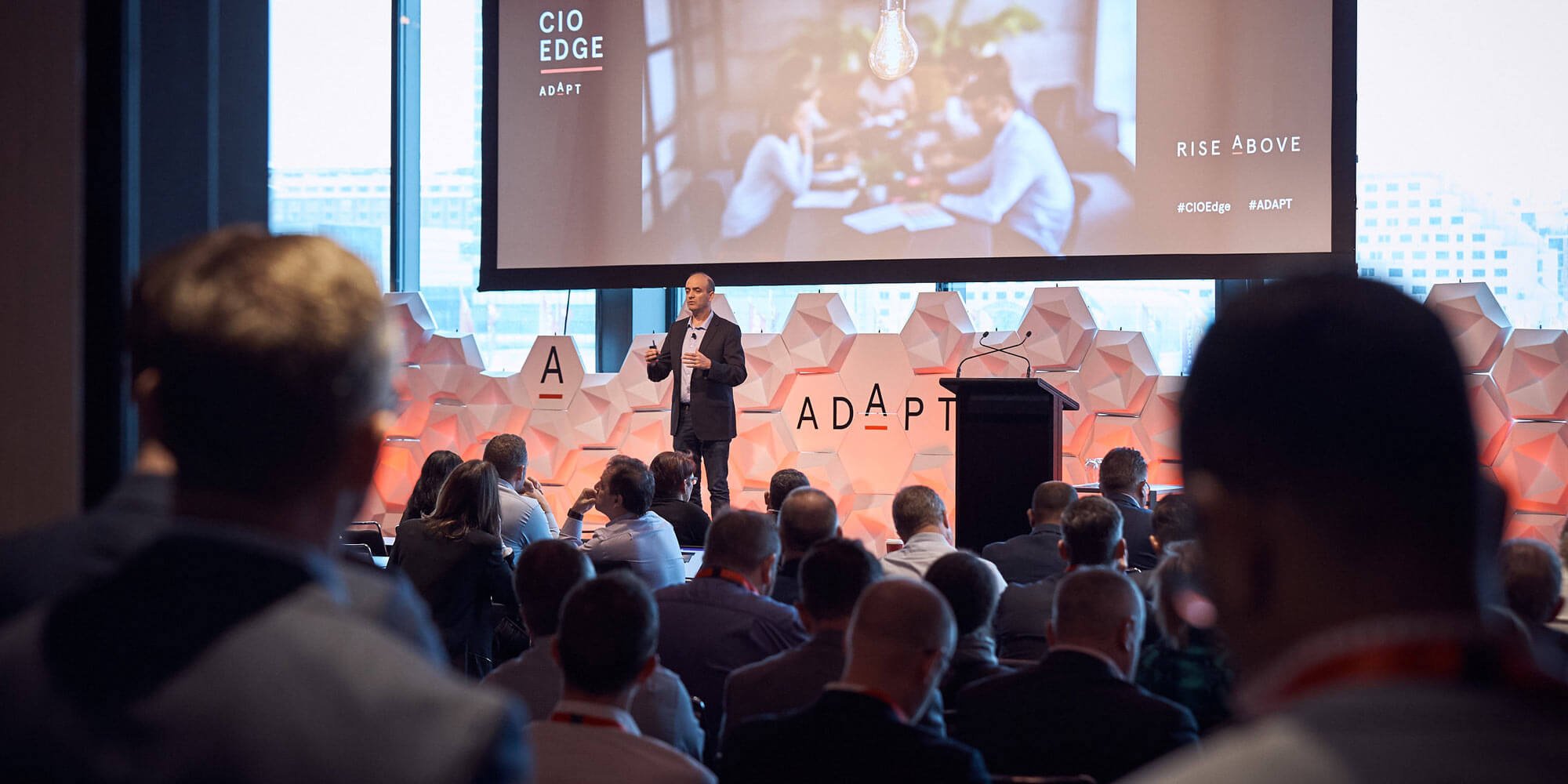 With 60% spent on keeping the lights on, if CIOs want to pull down the silos and execute, they must accelerate transformation. Born in the cloud or complacent in the data centre? In progressive, born in the cloud type organisations, the run percentages are often lower than grow and transform.
CIO Investment priorities for the year ahead are based on two major buckets, data and security.
Most of the technology priorities involve making better use of data resources. Australian CIOs need to invest in data initiatives that allow for differentiated customer experiences, internally and externally."
Trust and the financial ramifications of breaching trust are a regular spotlight. Data promises to unlock business potential, while having the power to bring down organisations, if it is not secured adequately.
Australian CIO's must recognise they and IT should be part of solution to overcome the growing trust deficit
Investments in technology will bring about expected returns only CIOs in Australia can act as change agents to initiate dialogue with other departments and stakeholders to take them on a transformative journey while building a cohesive modern enterprise if they actively if hey actively tear down the Silos.
IT has the potential to create a whole new generation of business models and approaches, but CIO's need to drive business alignment with clear and consistent strategies for digital execution.
Workloads are rushing to the cloud, but how fast?
Across six annual Australian C-Suite Edge events we have assessed and measured cloud adoption for the past 3 years.
One of the biggest drivers to cloud has been the continued push towards legacy modernization, move more of the IT budget spend and allocation to the transform (front office) from the Run (Back office side).
The expected level of workloads in the cloud is not just growing, with every event it is accelerating. At CIO Edge September 2019 close to 200 of Australia's leading CIOs told us that by 2021, 70% of all their workloads will be in some form of cloud (see below graphic).

Of that they expect 40% to be in the public cloud. Over the past few months, we have had hundreds of one on one's and group conversations at our events and with ADAPT members.
CIOs at CIO Edge told us that this shift brings benefits and challenges associated with areas such as; integration, cloud migration and the complexities of managing hybrid and multi-cloud environments together with the looming risk of cloud sprawl.
CIOs are recognising that not all cloud providers are created equal and are increasingly assessing cloud providers on their capabilities in areas such as data management, security and flexibility aka openness.
CIO Edge is one of the highest calibre IT events in the calendar. The event is tailored for today's issues and technologies with a huge focus on the future. This allows us to be more strategic in our mindsets, collaborate with leaders in our shoes and as an industry, we can help shape the future."
Multiplex, CIO EDGE
The most challenging times?
In a world of complexity and change, every company now competes via technology and experience. Advantage comes through the capability, efficiency and flexibility enabled by IT.
Australian business and technology leaders are therefore under increasing pressure to build, validate and prioritise aligned tech strategies which will underpin agility and sustained growth.
Once built, they need to mobilise their people, processes and resources to execute on the right strategy.
This often needs to be achieved while facing huge internal challenges around fragmentation, silos, legacy, politics culture and risk. They must also keep up with external threats, ideas, opportunities and emerging technologies.
To do so they need the right information to make the right decisions at the unrelenting speed of business today.
Assessing the best way to do things
To help equip these busy executives, ADAPT distil and analyse the common drivers, priorities, challenges and inhibitors from over 10,000 annual interactions with the senior leadership of Australia's top organisations.
ADAPT annually host and survey 3,000 senior and C-level regional executives attending our events.
Our team of industry leading analysts pool the wisdom and collective experience of our growing community to assess the patterns of success from those ahead on the same journey. The shared challenges and perspectives of these trusted connections highlight what you need to know and do, and what lies ahead.
Localised competitive intelligence on the Australian market
Subscribing to ADAPT Membership empowers you with the distilled intelligence from our EDGE event agendas, powerful C-level knowledge and local research, along with privileged access to the community experience of 3,000 peers.
Refining actionable insights from large volumes of local data and client interactions, we help you formulate clearer strategies and tactics, validate your plans, benchmark your progress, then measure your execution and overall performance.
ADAPT give you the Edge you need.
BE PART OF IT
Drop us a line if you're a like-minded alliance. We are proud to work with thought leaders, sponsors, and a senior delegation.

GET IN TOUCH