Empower
14.02.2019
20 MIN
CFO Post Event Report, November 2018
---
We gathered 26 experts to contribute their insights to ADAPT's 10th CFO Edge under the theme of "Resilience and Risk: Competing in the Digital Age".
Our aim was to provide practical advice for a modern CFO, to help you grow as a leader today, to better prepare for tomorrow and to leverage opportunities ahead. The role of the CFO has gone well beyond robust financial systems and reporting. Disruption makes it harder to forecast and model. The digital age is reducing margins and increasing risk as standard business models are challenged The CFO must ask how to best use resources to drive productivity, efficiency and performance? How to protect existing revenue and margins? All whilst maintaining quality and compliance across the financial function.
Meanwhile the emerging revenue strategist CFO needs to consider how to create new revenue streams, make better informed business decisions, leverage emerging technologies, and manage the complexities around them. If the CEO is the driver of digital transformation, then the modern CFO is the navigator. Your role has switched from being an enabler rather than a gatekeeper. Step up as the chief growth officer – and the revenue strategist. The resounding message of the day was, "will you be the butcher or the turkey?" Our journey gave CFOs new knowledge and skills, and introductions to people and solutions that we hope will help you to lead in these challenging times. See you at the Edge.
Jim Berry
CEO & Founder, ADAPT
"ELEVANT, THOUGHT PROVOKING, AND VALUABLE CONNECTIONS. IT'S HAD A BIG IMPACT ON MY THINKING FOR THE YEAR AHEAD.
- NAB
---
CFO EDGE: RESILIENCE & RISK: COMPETING IN THE DIGITAL AGE
WATCH
2:22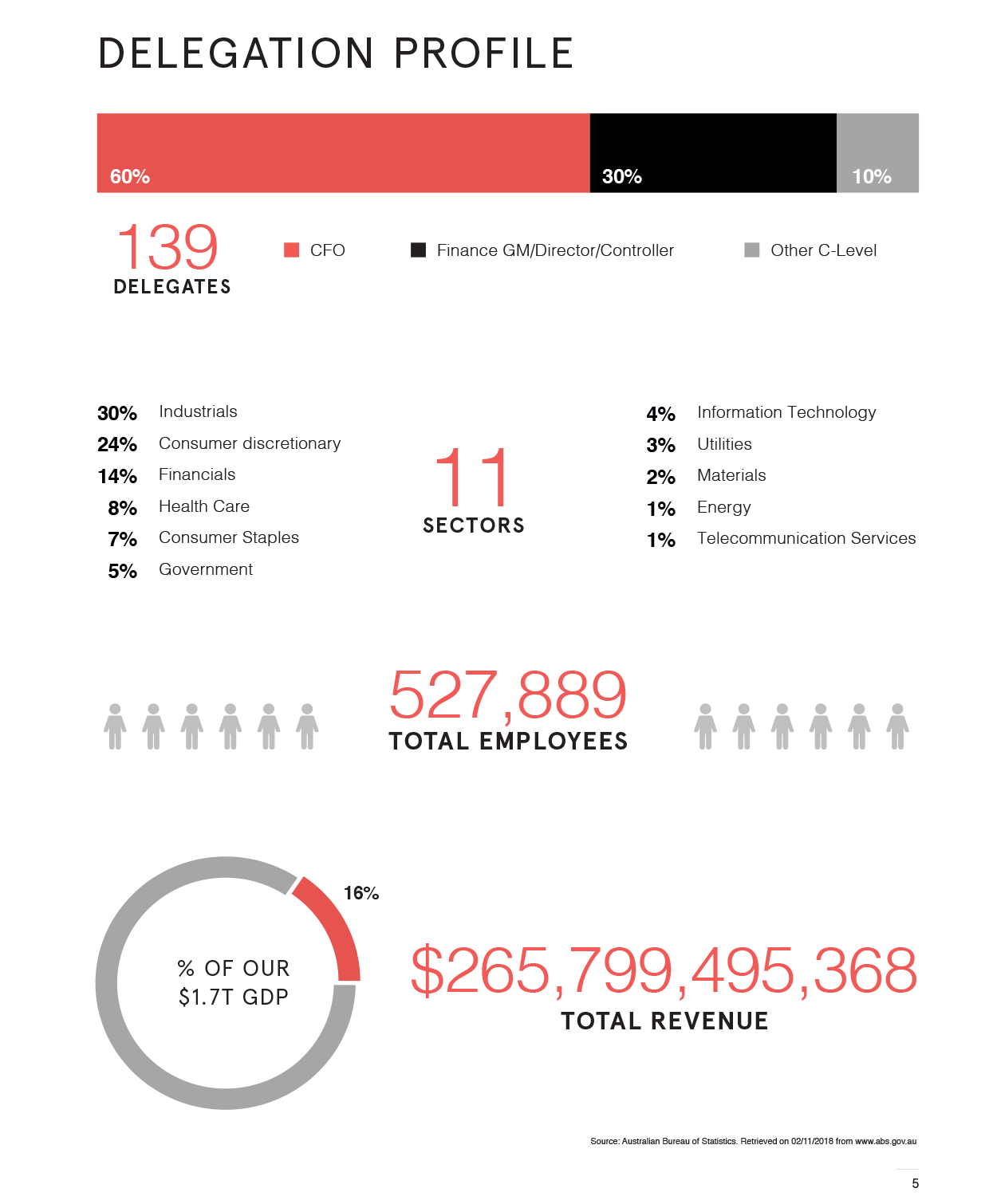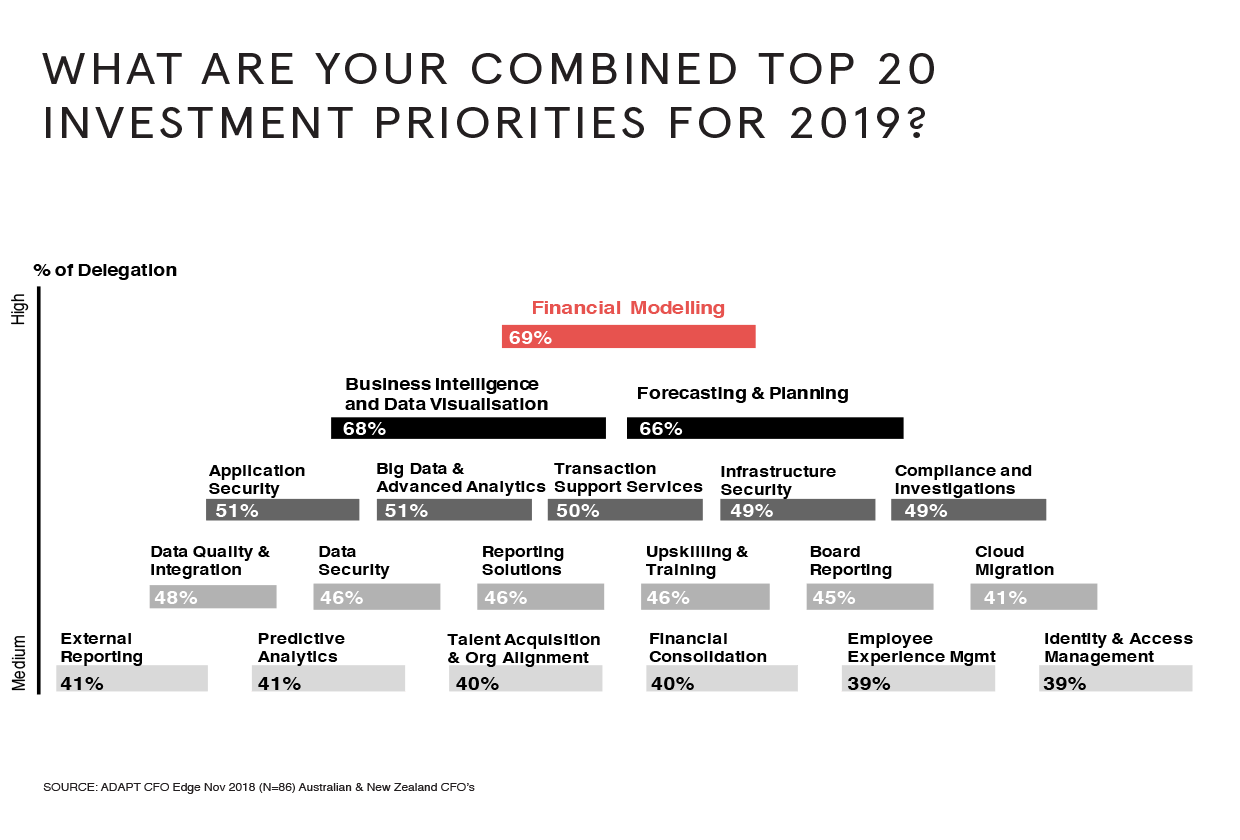 Our data shows the rapid rise in importance of business intelligence and data visualisation, and big data and advanced analytics. Clearly, the value of data-driven decision-making is recognised, and Australian CFOs are committed to delivering smarter business decisions.
Investment in "Business Intelligence and Data Visualisation" demonstrates a continued commitment to measure past performance, while a rise in "Financial Modelling" and "Forecasting and Planning" emphasises that CFOs are looking to predict the future to gain advantage and pivot proactively when required.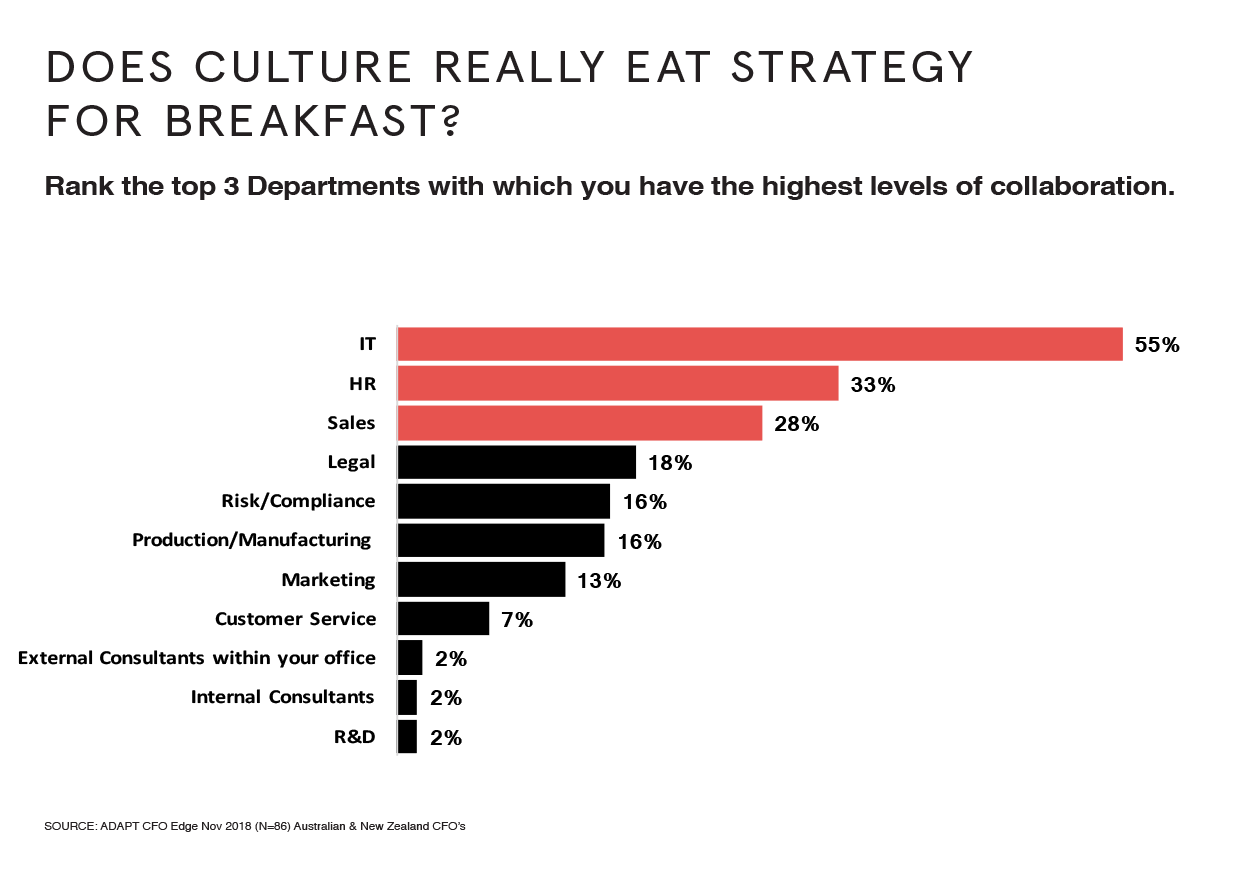 The fact that CFOs are engaging with information technology (IT) and human resources (HR) is highly encouraging as we look to make Australia more digitally enabled. These three business units must collaborate in order to provide the business evolution that digital transformation delivers.
One issue this feedback raises is that only half of respondents listed IT and only a third mentioned HR as key collaborators. True transformation requires much greater levels of engagement between departments, this should start with nance, technology and talent management.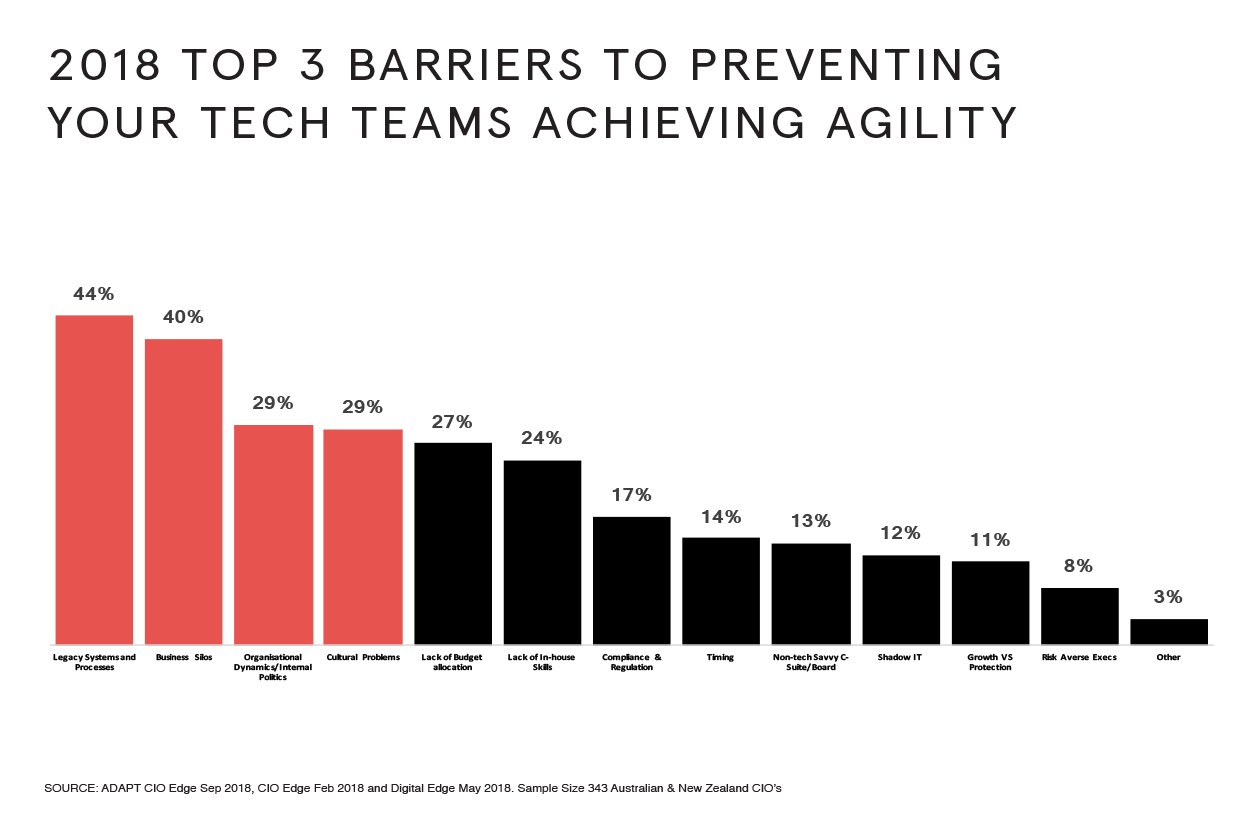 We asked all delegates from our 2018 event portfolio what was inhibiting agility; Australia's leading CIOs, CTOs, CISOs and digital leaders agreed that legacy systems, business silos, organisational dynamics and politics were preventing agile practices.
While legacy systems will be an on-going challenge, the other factors are driven by people and must be managed to enable the business to respond to an ever-changing business landscape.
Australian CFOs regard con icting goals and silos in the business as the largest hindrance to collaboration. Interestingly, this shows that CFOs are experiencing similar pain-points as their IT peers.
As the challenges that are experienced by different departments are converging, now is the time for transformational business leaders to unite their teams and create channels of communication across the organisation that foster collaboration.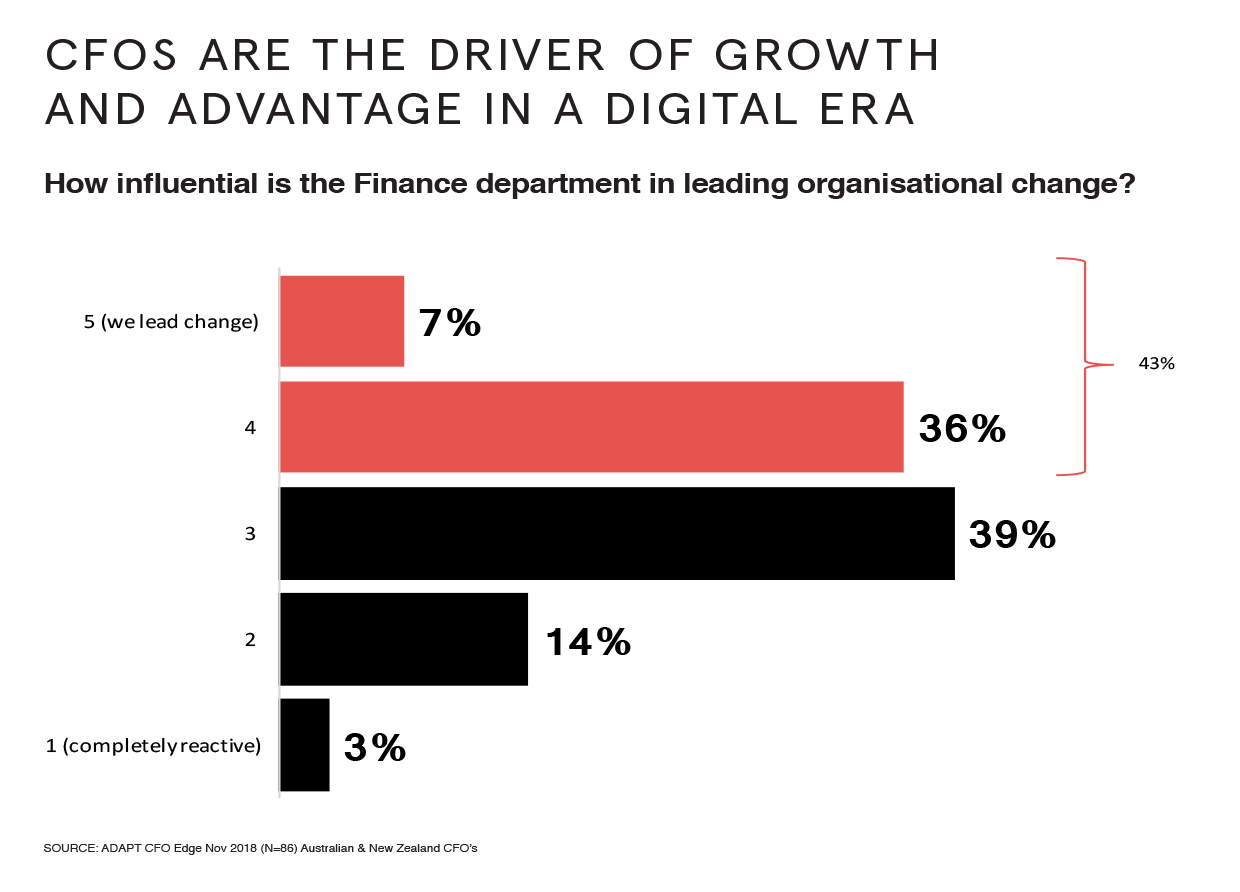 On-stage at ADAPT's CFO Edge, Paul Broadfoot highlighted "If the CEO and CIO are driving growth in the digital era, the CFO has to be navigating". This is re ected in our data where CFOs appear to feel that they have some control over business strategy but are not in the driver's seat.
Business and revenue models will continue to be disrupted as we move further into the digital age. In assessing the suitability of new models, the CFO will need to examine how the mechanics for revenue generation will work.
As such, CFOs will need to assert this understanding and leverage their commercial nous to navigate business evolution in the coming years.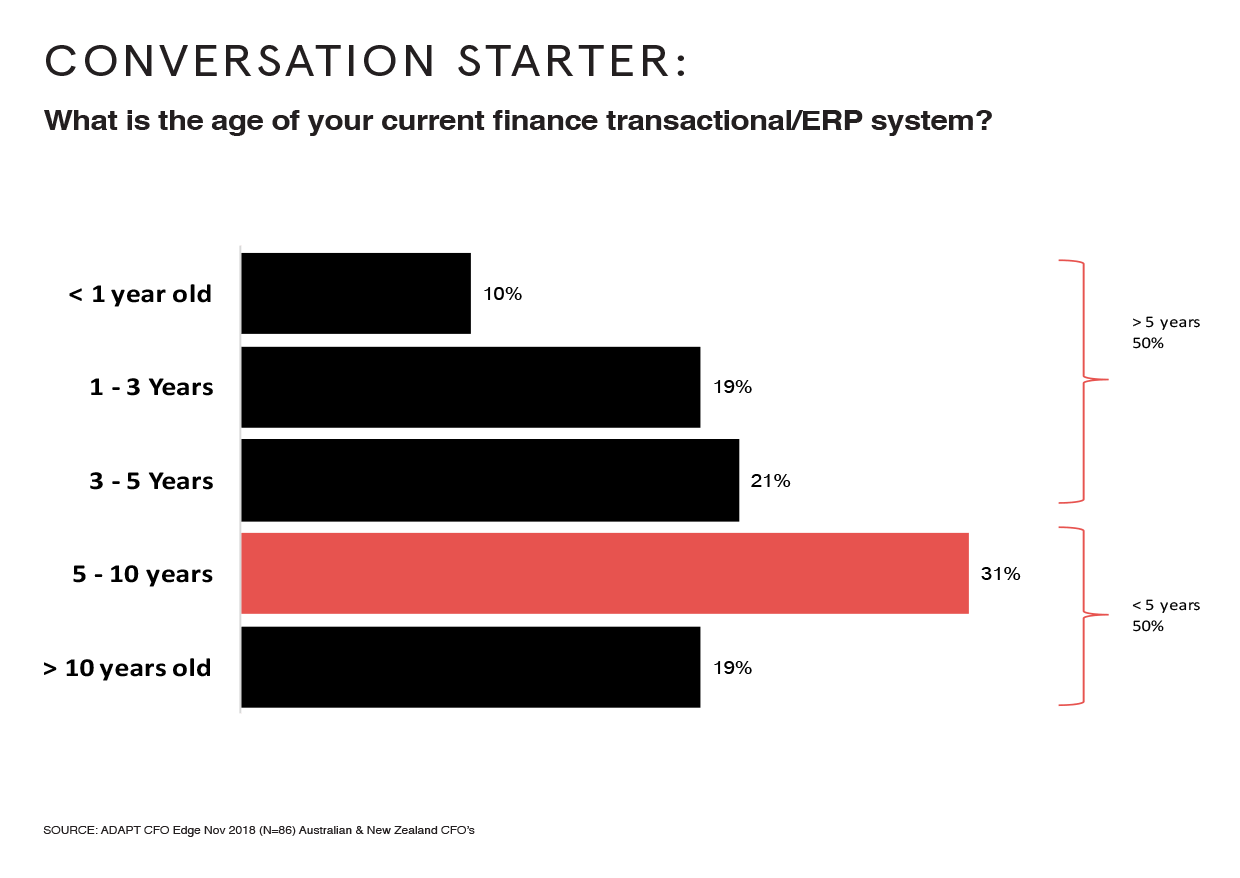 Half of our respondents reported that their ERP system is at least ve years old, with nearly 20 per cent indicating it is 10 or more. Conversely, one third of respondents have recently (within the last three years) introduced new technologies.
While technology is rapidly changing, some of Australia's CFOs are shackled by antiquated nance systems that are unable to cope with the demands of the modern world. This further emphasises why a strong relationship between the nance and technology departments is required.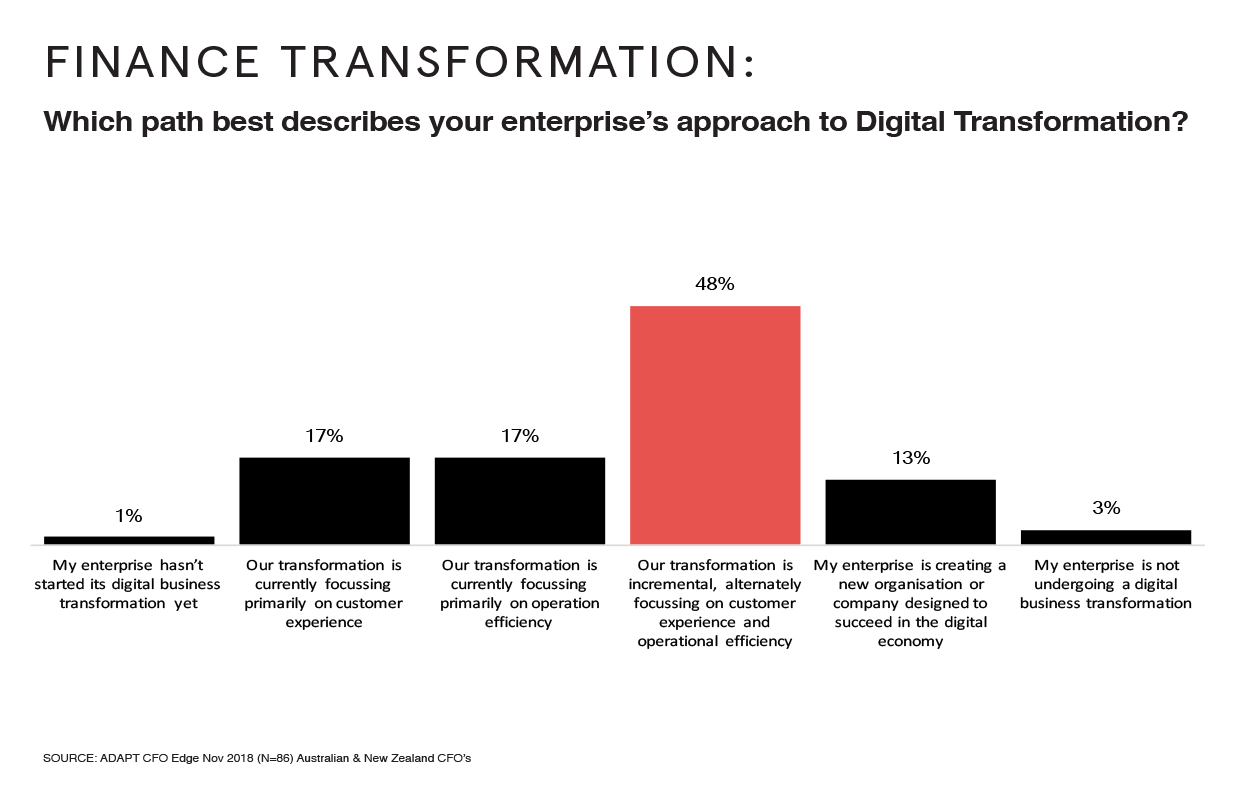 Almost half of our respondents highlighted that their transformation was incremental in nature. While four percent of respondents stated that their organisations either had not commenced transformation programs, or were not intending to. The other forty-eight per cent were split, with some focusing on customer experience, some on ef ciency and some were starting over.
In a world where the impact of disruption can appear out of the blue, organisations need to be able to turn on a sixpence to respond. Similarly, those who are neglecting either CX or organisational ef ciency risk upsetting their customers, their talent, or both.
HIGHLY RELEVANT CONTENT FROM WORLD-RENOWNED ORGANISATIONS DELIVERED TO A BROAD AND INFLUENTIAL CROSS-SECTION OF CFOS AND FINANCE PROFESSIONALS
- COMPASS GROUP
DELEGATION AT CFO EDGE
7-Eleven – Financial Controller
Ability Options – CFO
Adecco Australia – Head of Commercial Finance
Adidas – Director, Finance Paci c
Air Services Australia – Chief Financial Of cer
Allens – COO & CFO
AMP – CFO
Australian Bureau of Statistics – CFO
Australian Rail Track Corporation Ltd. – CFO
Australian Red Cross – CFO
Banjo's Corporation PTY – CFO
Bank of Queensland – CFO
Baptcare Ltd – CFO General Manager Corporate Services
BDO – Head of Finance & Operations
Boston Scienti c – Director, Finance & Compliance
Brightstar – Chief Financial Of cer – Asia Paci c
Brisbane Airport Corporation – Financial Controller
Camp Australia – CFO
Catholic Education Of ce of Western Australia – Financial Controller, Finance and Property
Catholic Education Of ce, Diocese of Parramatta – CFO
CBHS Health Fund – CFO
CFO Accelerator – MD
Charter Hall – Head of Group Finance & Business Improvement
City of Casey – CFO
City of Sydney – CFO
Coca-Cola Amatil – Head of Finance Transformation
Commonwealth Bank of Australia – GM, Enterprise Services Finance Compass Group Australia and New Zealand – GM Finance
Competitive Foods – CFO
Computershare – CFO Finance & Technology
Consultancy – Co-founder & Partner
Consultancy – Disruption Strategist
Costco Wholesale Australia – CFO, AVP – Finance & IT
Coty Australia – A/CFO
CS Energy – Acting CEO & EGM Revenue Strategy
Deloitte Touche Tohmatsu – CFO
Department of Premier and Cabinet, VIC – CFO
Destination NSW – Director, Finance and Administration
Deutsche Bank – CFO ANZ
Dexus Property Group – Head of Group Finance
Domain Group – CFO
DP World Australia – CFO
Endeavour Energy – CFO
Endemol Shine Australia – CFO
Equifax – CFO
Equifax – VP Global Security Operations
EY Australia – CFO, Oceania
Faethm – Chief Data Scientist
Fairfax Media – Group Financial Controller
Fairfax Media – Head of Metro Finance – Australian Metro Publishing Forestry Corporation of NSW – CFO
G8 Education Ltd – CFO
Gadens – CFO
GHD – Global Digital Leader
GHD – Group Treasurer & Deputy CFO
Gilbert + Tobin Lawyers – COO
GPT Group – Head of Group Finance
Harris Farm Markets – Manager, Commercial
Harvey Nash – MD
Haynes Group – Head of Finance, Strategy & Business Transformation Health Support Queensland – GM Finance and Business Services
Herbert Smith Freehills – Director, Finance – Asia and Australia
Hewlett Packard Enterprise – Executive Director & CFO
Ingram Micro Holdings Australia – CFO
IRT Group – Group CFO
KBR – CFO
Kiel Advisory Group – Managing Director
Komatsu Marketing Support Australia – General Manager – Finance LafargeHolcim Australia – Head of Corporate Finance
Laing O'Rourke – Corporate Treasurer, Head of Strategy & Investments
ME Bank – CFO
Mercy Health – ED, Finance & Support Services
Mission Australia – CFO
MNF Group – Group Finance Controller
Multiplex – CFO
National Australia Bank – GM Finance, Enterprise Services & Transformation National Rugby League – CFO
National Stock Exchange of Australia – CFO
New Zealand Post – CFO
Norton Rose Fulbright – CFO
NSW Ports – CFO
Philips Lighting – CFO
Port of Brisbane – CFO
Port of Melbourne – CFO & CIO
Puma Energy – Country Head Finance
Qantas – Head of Digital Finance
Queensland University of Technology – Executive Director, Corporate Engagement
Ridley – Head of Finance & Operations
Salmat – CFO
Salmat – Head of Commercial Operations
Sanitarium Health and Wellbeing – Head of Finance & Business Services Silver Chain – CFO
Sinosteel – CFO & Company Secretary
Smartgroup Corporation Limited – GM Finance
Smartgroup Corporation Limited – Group CFO
Sonic Healthcare – CFO
Special Broadcasting Service Corporation – Interim CFO
St John of God Health Care – Director, Finance
Stockland – GM Group Finance
Sumo Power – CFO
Sunny Queen Farms – CFO
Sydney Airport – Head of Commercial Finance
Sydney Opera House – CFO
TEG – CFO
Tennis Australia – CFO
TIQK Pty Limited – MD
Tourism Australia – CFO
Tourism New Zealand – Chief Financial Of cer
Toyota Financial Services – CFO
TrustPower – CFO
TW Power Services – CFO
UGL Limited – GM Finance
Unilever – IT Business Partner for Finance
University of Sydney – Ambassador for Mathematics and Science
Western Sydney Airport – CFO
Westpac Banking Corporation – CFO, Strategy & Enterprise Services
WSP – Finance & Operations Director
Practical Advice from CFOs
---
Jennifer Scott, Sue Parcell, and Craig Tindale discuss cost efficiency, actions to take now for the future, and piloting with situational awareness to succeed in 2019.
watch
3:01
Practical Advice from CFOs
---
2019 is almost here. And so the CFOs role evolves. Sue Parcell prioritises working relationships whilst James O'Brien discusses team building. Fostering ambition is key for Ben Sleep.
watch
3:58
Practical Advice from CFOs
---
We asked the top finance leaders how to foster collaboration. Richard Spalding, Jennifer Scott, and James O'Brien gave us their recommendations with one thing in common: a shared goal.
watch
2:50
Practical Advice from CFOs
---
Our surveys showed cultural problems as a leading barrier to achieving agility. Richard Spalding, Paul Broadfoot, and Kumar Parakala shed light on navigating past silos and risk.
watch
3:18
Practical Advice from CFOs
---
Who better to ask about the essence of digital transformation than Paul Shetler? And straight from the CFO Edge to you, Craig Tindale advises on how to manage risk in a time of uncertainty.
watch
4:20
BE PART OF IT
---
Drop us a line if you're a like-minded alliance. We are proud to work with thought leaders, sponsors, and a senior delegation.

No Fields Found.