Leader
Survive
02.12.2019
10 MIN
CFO Edge Post Event Report – Are we ready for 2020? Systemic Change, Strategic Value and the Modern CFO, November 2019
---
This November ADAPT proudly hosted 120 leading CFOs.
Over these last 8 years and 11 CFO events, ADAPT has seen the role evolve far beyond finance, to emerge as strategic transformation leader, and the navigator of these challenges, opportunities and risks of the modern digital business.
Most are trying to reinvent as a "Digital Business" and compete on experience with technology at centre stage, but ADAPT's research shows that many of the C-suite do not believe their organisation is prepared or resourced to manage or potentially even survive this digital age.
With massive changes and most of the S&P 500 expected to churn faster than ever, locally we've been far too risk-averse and complacent, and we now lag the world in many key areas.
Legacy processes and systems are crippling our largest organisations. While there are examples of nimble companies, others are not adopting new ways of doing things fast enough to catch up, let alone keep pace. As technology, trade wars, and competitive threats disrupt us all – many CFOs don't believe their current finance functions are equipped to meet these increasing demands.
We do though have the talent and resources to succeed – but the modern digital CFO needs to emerge and lead today.
Bold moves are required to make the most of the opportunities and threats – to challenge assumptions – to take calculated risks – to create and lead a resilient financial operation; to strike the right balance between technology and people – and to drive growth and advantage.
It's a time for far better capital allocation to transformation, for calculated experiments, to define the roadmap, to navigate the organisation's journey through this industrial revolution, and to elevate your soft skills to successfully motivate and bring everyone on that journey – and we can all be more like 'Alice' the perfect modern CFO.
Looking forward to hosting you again soon.
Jim Berry
CFO Edge was a fantastic day, very well run with informative speakers. Highly recommended!"
- Afterpay, CFO EDGE
---
CFO Edge - Are we ready for 2020? Systemic Change, Strategic Value and the Modern CFO
WATCH
01:50
719,234
Combined Workforce
239
1-1 Meetings conducted
9
Presentations Delivered
91
Solutions capabilities covered
This was my first attendance at an Edge event. The day itself was exceptionally well run, utilising leading edge technology. The speakers were of high quality and access to the presenters and other senior finance personnel was incredibly beneficial."
- EnergyAustralia, CFO EDGE
Traditionally, the role of the CFO is to keep a check on the financial health of a company.
This includes cost optimisation, improving operating margins and profitability; and assessing and hedging financial risks.
Findings from the Banking Royal Commission report highlighted that Australian businesses, beyond FSI, need to bolster their governance practices and create more transparency in reporting.
This requires the CFO to take a wider perspective of their critical role in the business through better collaboration with other functional business units, working together to achieve common business objectives and heightened customer experiences.
ADAPT advises that in 2020, CFOs need to rethink their vision for the financial growth and health of the company to include innovation, welfare, and collaboration.
CFOs told ADAPT some of their biggest challenges begin and end with people, particularly when it comes to identifying key stakeholders and influencers in the organisation."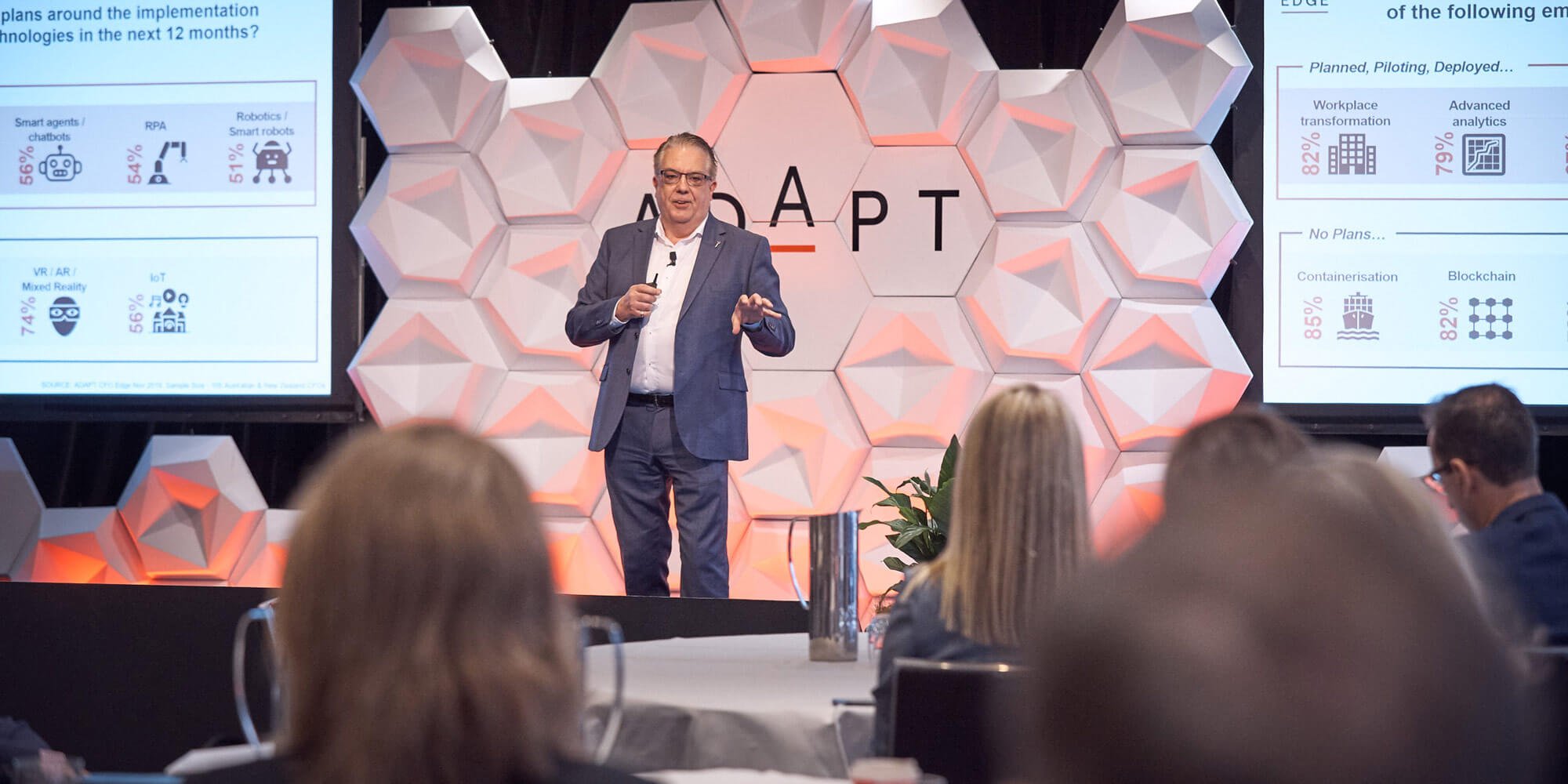 A key area of focus for CFO Edge 2019 was how finance and IT need to better understand their role in influencing and driving key business outcomes in a unified versus siloed manner.
By collaborating with other leaders in the business such as the CIO; CFOs can make a significant contribution to the digital transformation projects driven by CIOs.
With greater communication and exchange of ideas, CFOs can share some of their business acumens with the CIOs to ensure that financial aspects IT initiatives are laid out well.  Simultaneously, CIOs can educate the CFOs about how IT can help transform the finance function.
Australian CFOs can find a completely new way to contribute to the business if they flip their perspectives from the short-term, bottom-line focus, to long-term growth vision. This will increasingly require CFOs to fund short term, technology-focused projects and initiatives as part of that long-term vision. 
To succeed and truly demonstrate alignment and value to the business ADAPT identified and addressed 3 strategic focus areas for Australian CFOs in 2020:
Creating a data-driven business
CFOs need to recognise how data is becoming the connecting fabric that empowers all business units to gain more visibility and make the right, aligned decisions.
Be receptive to emerging technologies
Artificial Intelligence (AI), Automation and Analytics are key to enabling smoother, faster and secure transaction environments that enhance the brand value of a business.
Improve collaboration
Increased knowledge exchange between the CFO and other C-level executives will not just help the CFO create greater value within their role, it may well ultimately define their role.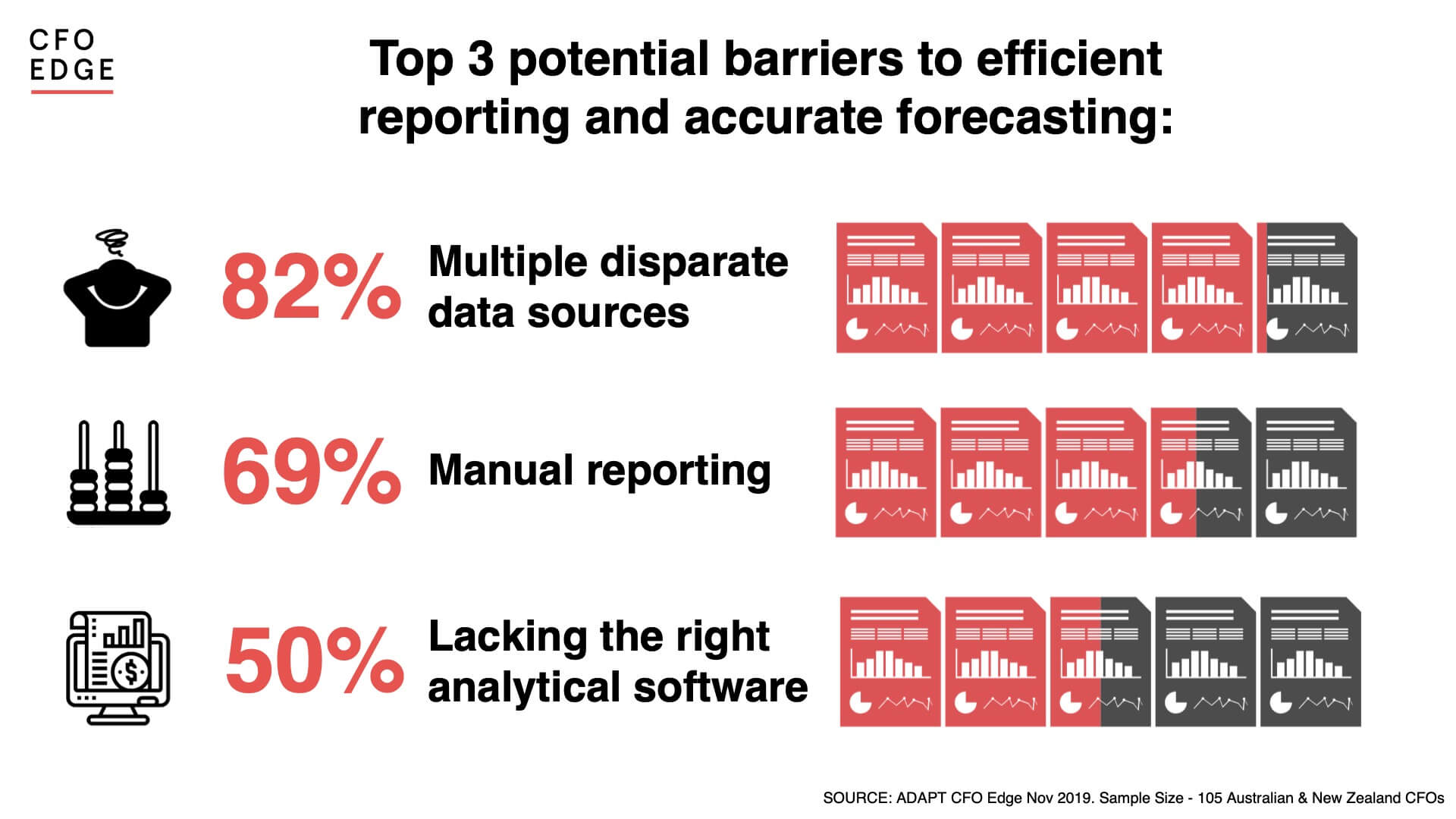 Data is the new gold and without exception leveraging data to create what is increasingly referred to as a data driven organisation is a leading business priority for the majority of organisations ADAPT engages with.
ADAPT contends that Data needs to be the connecting fabric that empowers all business units to gain more visibility and make the right, aligned decisions for the good of the entire business."
ADAPT's recent report on the top 10 strategic priorities for Australian businesses ranked "creating a data-driven business" as a number 2 priority. It is encouraging therefore to note this is one of the top five priorities for Australian CFOs.
The challenge in achieving this goal comes when we consider across the organisation, data is not trusted, for example 80% of Australian CIOs do not trust their data – they are struggling to manage it and generate insights from that data. One of the key reasons is the lack of vision from different departments and functions around the ultimate benefit and objective of the data.
CFOs revealed a similar challenge in the survey, with 82% rating "multiple disparate data sources" as the top barrier to efficient reporting.
An over-reliance on manual reporting to feed forecasting models exacerbates this fragmentation as it causes inconsistencies in how the data is reported and interpreted. Greater communication between the CFO and other departments, particularly IT and the CIO, around the importance of data accuracy is critical. This consistency in data and reporting will help CIOs invest in right data management and analytics technology and help the CFO improve forecasting and automating reporting.
The finance department needs a greater business-wide purpose. Being a critical part of the organisation, it needs to be the "poster child" for modern technology and practices particularly as that relates to information, data and best practices in leveraging that information for the common good of the organisation, the customer and the employee.
High calibre speakers, interesting topics and an opportunity to connect and network with businesses in a safe environment without the hard sell. Sometimes you just find that hidden gem that you never knew you were looking for."
Compass Group, CFO EDGE
What is ADAPT Research & Advisory?
For 8 years, ADAPT has delivered professional services built on knowledge, relationships and trust. Each year we interact with over 10,000 senior business and technology executives and advise over 3,000 delegates attending our 6 national Edge events and 100 private boardroom roundtables.
ADAPT's unique and privileged access to the Australian C-Suite has positioned us with unrivalled local insights. ADAPT Research & Advisory is built to provide you access to an objective and trusted platform connecting you to your peers, to local evidence-based reports, research pieces, use cases, and benchmarking.
The most challenging times?
Over the last 8 year of national CFO events, ADAPT has seen the CFO role evolve far beyond finance, to emerge as a strategic leader, transformation enabler and navigator of the challenges, opportunities, risks and pitfalls of modern digital business.
In a world of complexity and change, every company now competes via technology and experience. Advantage comes through the capability, efficiency and flexibility enabled by IT.
Australian business and technology leaders are therefore under increasing pressure to build, validate and prioritise aligned tech strategies which will underpin agility and sustained growth.
This often needs to be achieved while facing huge internal challenges around fragmentation, silos, legacy, politics culture, and risk. They must also keep up with external threats, ideas, opportunities and emerging technologies.
To do so, they need the right information and local data to make the right decisions.
Localised competitive intelligence on the Australian market
ADAPT Research and Advisory clients have access to the distilled intelligence from our Edge event agendas, powerful C-level knowledge and local research, along with privileged access to the community experience of 3,000 peers.
Refining actionable insights from large volumes of local data and client interactions, we help you formulate clear strategies and tactics, validate your plans, benchmark your progress, then measure your execution and overall performance.
ADAPT gives you the Edge you need.