ADAPT Cloud Migration Study 2019
---
ADAPT conducts in-depth surveys of hundreds of Australian C-level executives every year. The research team also captures drivers, challenges and key priorities from thousands more.
ADAPT specifically surveyed over 500 of these C-level executives attending its national Edge events in late 2018 and 2019. Combined, their organisations are responsible for over 44% of Australia's GDP. Our aim was to determine the most accurate and up to date picture of cloud migration expectations in Australia.
The results are in – and they are dramatic.
Public cloud alone will outpace in–house traditional IT by 2021. When private and hybrid cloud are added the pendulum has irreversibly swung to a cloud-first strategy for Australian businesses. The push to accelerate investment and focus from back office 'Run' to front office 'Transform' is the number one driver for this unstoppable drive to the cloud.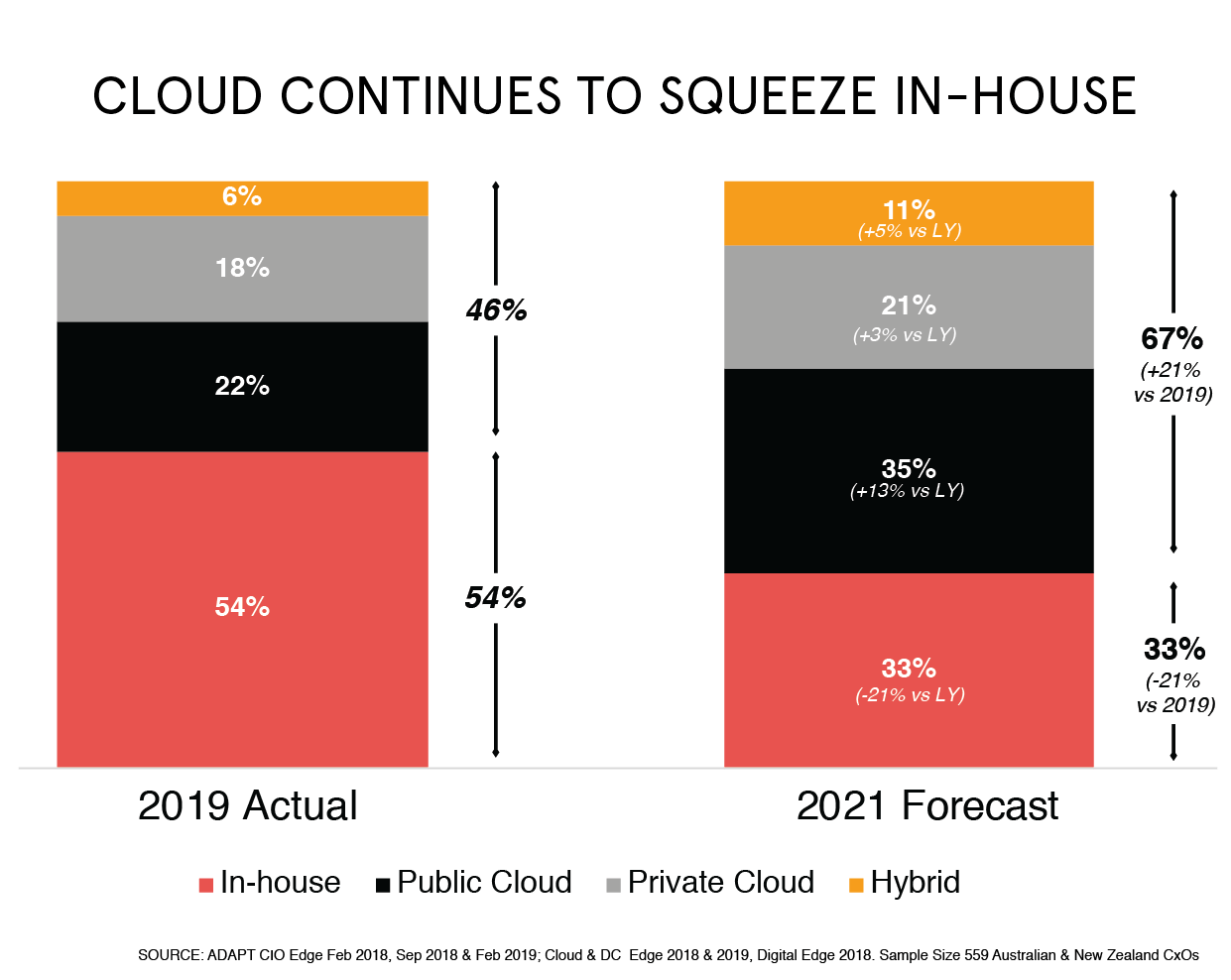 What You Need to Know
Organisations need to move a greater proportion of their IT budgets from 'run the business' to 'transform the business'. Cloud is one way of doing this, with its ability to drive efficiencies and cost savings to back office processing and freeing up budget for the front office.

Human Experience (HX) oriented applications and mindsets will help others in the organisation regard IT as an enabler, rather than a roadblock. AI-aligned applications and technologies are one way of achieving this.
Cloud is quickly replacing in-house processing. Legacy and newer cloud applications should be treated as one coherent environment. This simplifies management and reduces the chance of application sprawl becoming cloud sprawl.
IT Investment and Innovation
ADAPT's Cloud Migration study investigated the IT strategies and priorities of over 500 local technology leaders responsible for over 44% of Australia's GDP, and over 10% of the national workforce. On average, they are spending up to nearly two thirds (62%) of their IT budgets on back-office 'run the business' applications. Only 17% is being spent on front-office 'transforming the business'.
To succeed in the digital world, they need to grow this 17% substantially. How can they do this? Emerging technologies and cloud have important parts to play. Any efficiencies and cost reductions they can bring to the back office will free up budget for front office transformation.
CIOs also tell ADAPT they want to invest in technologies that improve business outcomes and operational effectiveness. Legacy modernisation at the hardware, software and process level is the key to achieving this.
Most organisations are grappling with application sprawl, which means continued reliance on internal infrastructure. Unfortunately, this also leads to disparate and unplanned cloud investment and deployment. Application sprawl becomes 'cloud sprawl', with too many cloud-based platforms.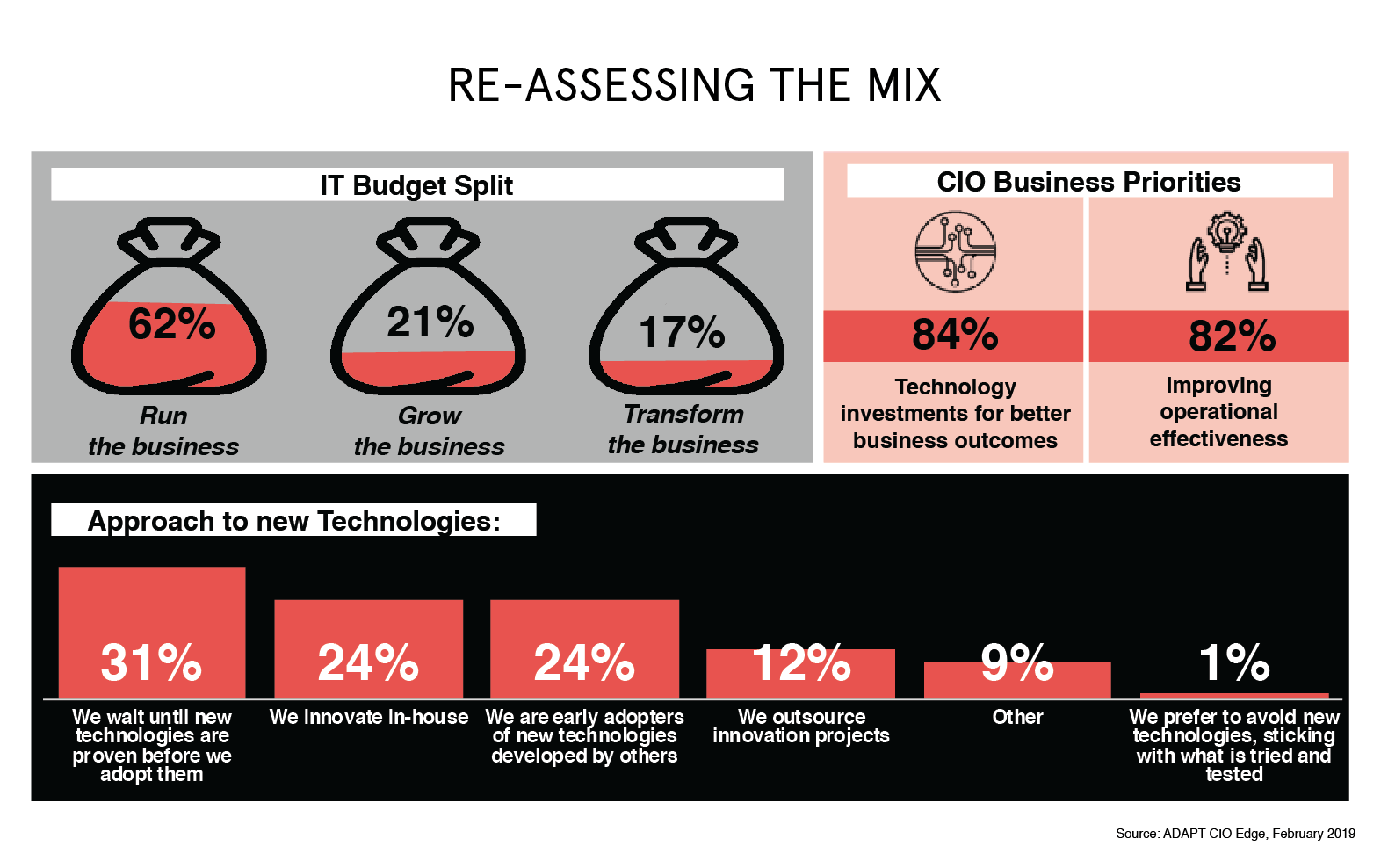 What You Should Do
Develop a coherent architectural strategy that oversees both on-premise and cloud-based applications. This can prevent cloud sprawl. Integrating both in-house and cloud applications – with the goal of providing more of a single pane of glass perspective – should be the goal. It will bring fast, substantial and very visible benefits.
While there is usually no revenue increase or other tangible return from application modernisation and integration in itself, these strategies can considerably reduce operational expense. The subsequent savings can be redeployed to front-office transformational IT initiatives.
Over half of Australian organisations are waiting for technologies to be proven before adopting or innovating in-house. Consider being more adventurous.
Modernisation and integration are usually iterative processes. Organisations need to shorten the timeframe to modernisation by complementing the best of what they have today with the best of the new cloud-based applications and technologies.
Australian organisational appetite for risk is decreasing. At the same time, the potential benefits of investing in emerging technologies are increasing. Organisations need to become better at analysing risk versus return.
Develop a holistic approach to calculating cloud ROI. Attempt to quantify less tangible factors such as agility and responsiveness, and what these might be worth to the organisation.
Take stock of your current cloud environment. Attendees at ADAPT's March 2019 Connected Cloud & Data Centre Edge event indicated they are managing on average five or six clouds in a multi-cloud world. Cloud sprawl is an increasing issue for many organisations.
Data is the new gold rush. CIOs and data centre managers should take steps to avoid the challenges of managing the same data across multiple cloud environments.
Work with your cloud providers and vendors to understand how you can avoid being tied to legacy style pricing models and concepts. This is particularly important as more applications are migrated to the cloud.
Human Experience and AI Technologies are Top Investment Priorities
By adopting a more Human Experience (HX) oriented approach, CIOs and IT can shift the perception from them being inhibitors to being enablers of expectations and experiences. AI aligned technologies and techniques are often a good way to do this.
This is more critical than ever. ADAPT research shows that CIOs know how important it is to engage with their internal and external users (employees and customers). This is a precondition to implementing approaches and deploying technologies to foster a codesign culture and mentality within the organisation.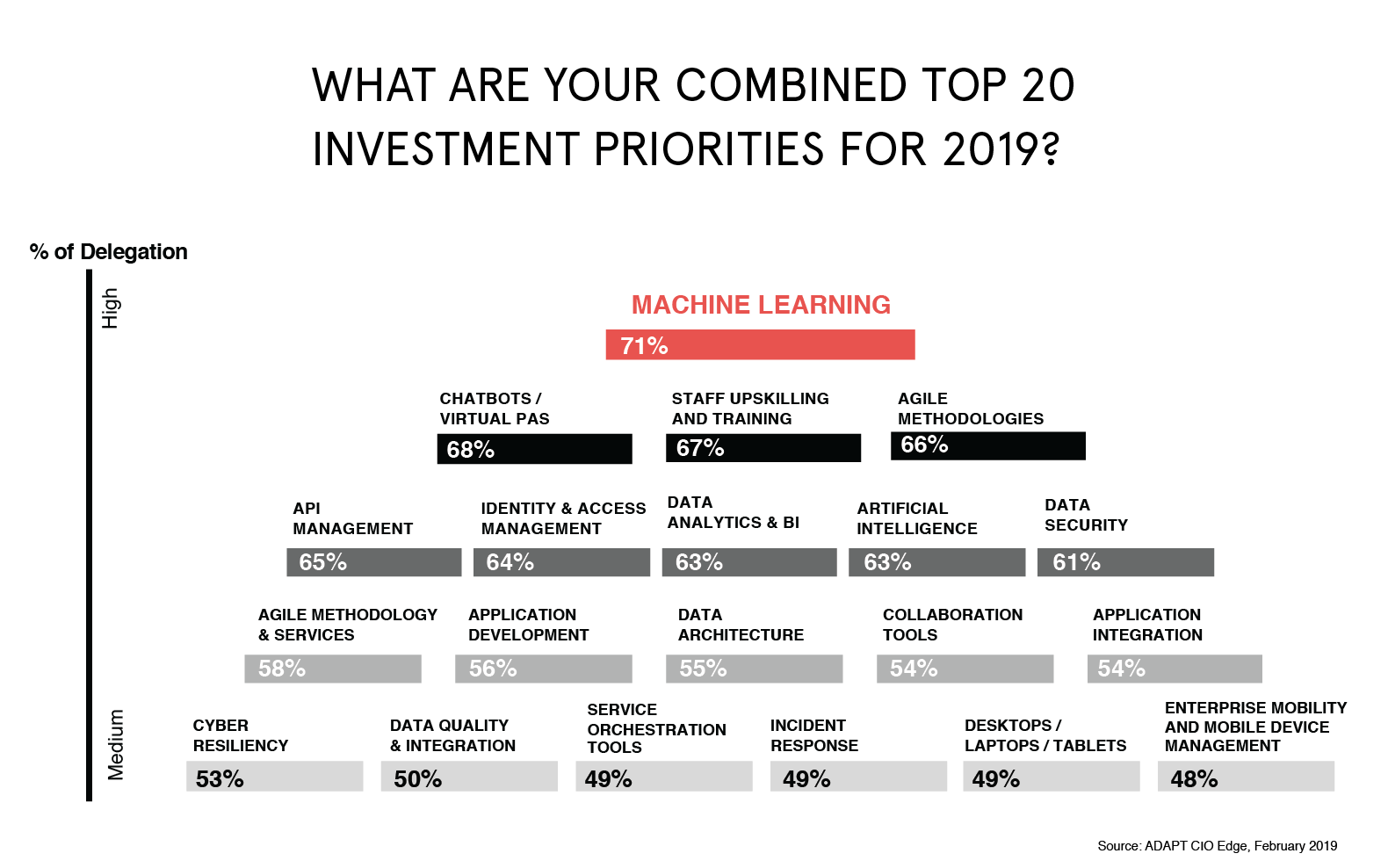 What You Should Do
It is not about the technology. It is about the experiences the technologies enable. It is time for an 'experience first, technology second' approach and mindset. ADAPT's research shows CIOs are lining up their IT investment priorities around today's emerging technologies, particularly those with an AI focus and mindset.
Key AI technologies include Machine Learning, Chatbots and Virtual Personal Assistants. Another important AI-based technology is predictive data analytics, which will enable you to meet the needs of your target markets more accurately and effectively.
Staff upskilling and training is very important. The skills shortage will get worse, and you will not always be able to rely on hiring the right people. Providing an enhanced Human Experience will enable you to better retain and attract talented staff.
Consider how AI technologies such as Machine Learning can help achieve an outcome your business is trying to achieve or a problem you are trying to solve. You need to consider these technologies as complementary to each other. AI is the glue and overall outcome that binds them together.
Security and trust are critical components of any emerging technology or investment strategy, particularly as it relates to information gathered and curated through AI aligned technologies.
Technology is only as good as your organisation's and your customers' willingness to accept it. Make it relevant and make it about the experience. AI is already enabling analysis and insights that will provide you with a far richer understanding of the behaviours, expectations and desires of your target markets and your employees.
Why is Cloud Important?
Many initiatives can only be implemented as legacy systems are evolved and replaced. Legacy and data centre modernisation and infrastructure stand out as two major ongoing technology investment priorities for Australian IT leaders. Cloud is increasingly at the core of both these important strategies.
Cloud is both the most important IT initiative and the most important IT challenge for cloud and data centre leaders. Nearly half (45%) of attendees at ADAPT's Connected Cloud & Data Centre Edge Event rated cloud their top IT initiative, but even more (48%) said it was their biggest challenge.
Cloud migration continues apace, with more than one third (37%) of Australasian CIOs ranking cloud migration as a very important investment priority in the next six months. One quarter (25%) more said it was very important in the following six months.
Cloud continues to deliver many benefits, but at the same time expectations of cloud are increasing. The number one barrier to successful cloud migration is cost (savings) and performance expectations.
ADAPT conducts in-depth surveys of over 600 C-level executives every year and captures drivers, challenges and key priorities from thousands more. ADAPT specifically surveyed over 500 of these C-level executives across six of its national Edge events over the past nine months to get the most accurate and up to date view on cloud migration expectations. ADAPT found that organisations are grappling with a mix of legacy-heavy in-house data centres, private clouds, public cloud and hybrid cloud environments. In-house data centres are declining quickly in importance.
The chart below illustrates just how significant the shift has become. The pace is not slowing down. Respondents across these multiple events were asked to estimate the proportion of their organisation's processing load performed in-house in their own data centre and on various cloud platforms, today and in 2021.
The in-house data centre proportion is predicted to drop from over half (54%) to around one third (33%), while the proportions on all cloud platforms are predicted to rise – public cloud 22% to 35%, private cloud 18% to 21% and hybrid cloud 6% to 11%.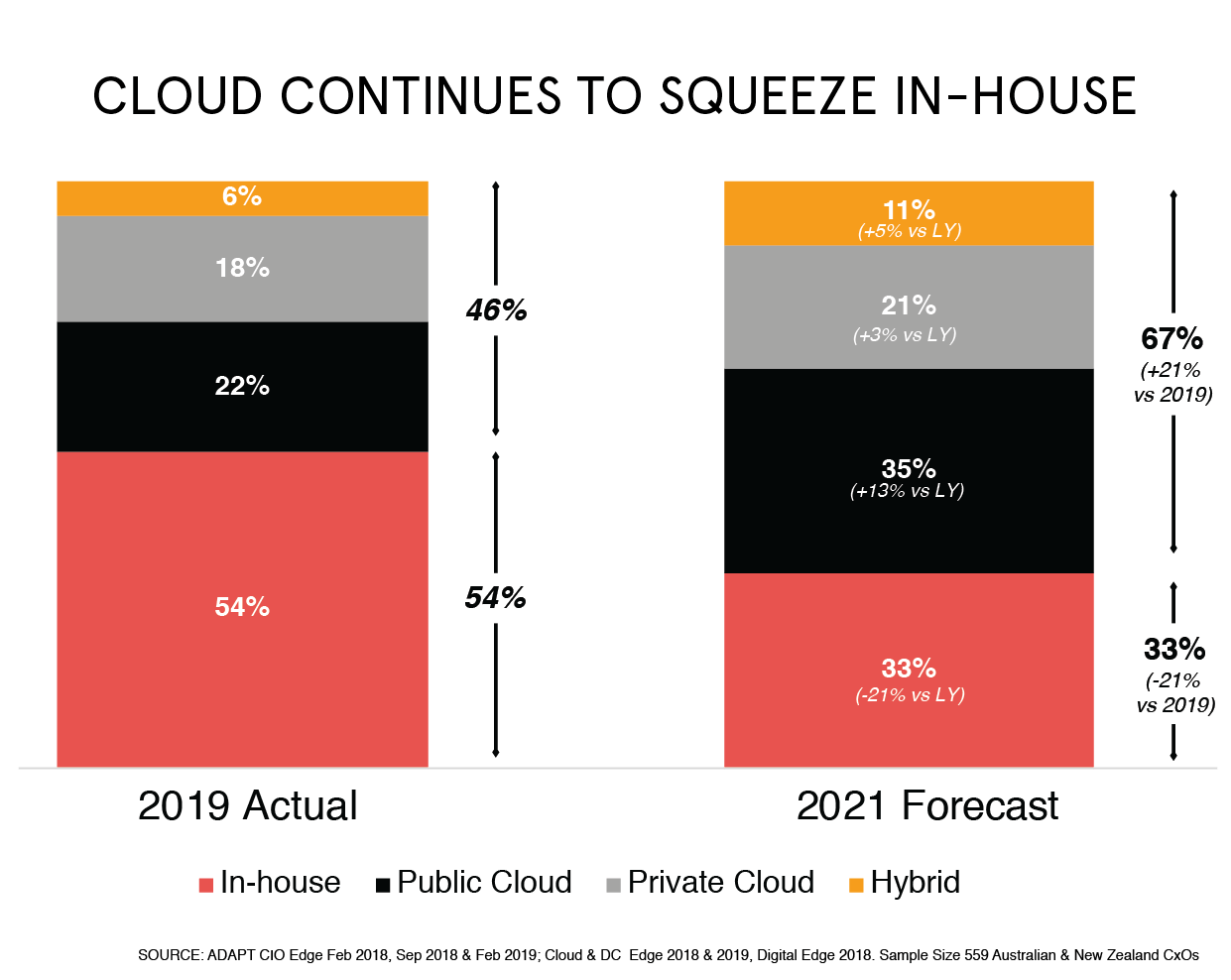 These are very large movements in a very short time. The movement of cloud is accelerating, not declining. Cloud is becoming mainstream. But too many organisations are not managing the transition smoothly. This has increased investment in all areas of cloud from private to public to hybrid. In turn, this is accelerating the volume of workloads expected to be in the cloud, whilst shifting the mix and expectations of these investments.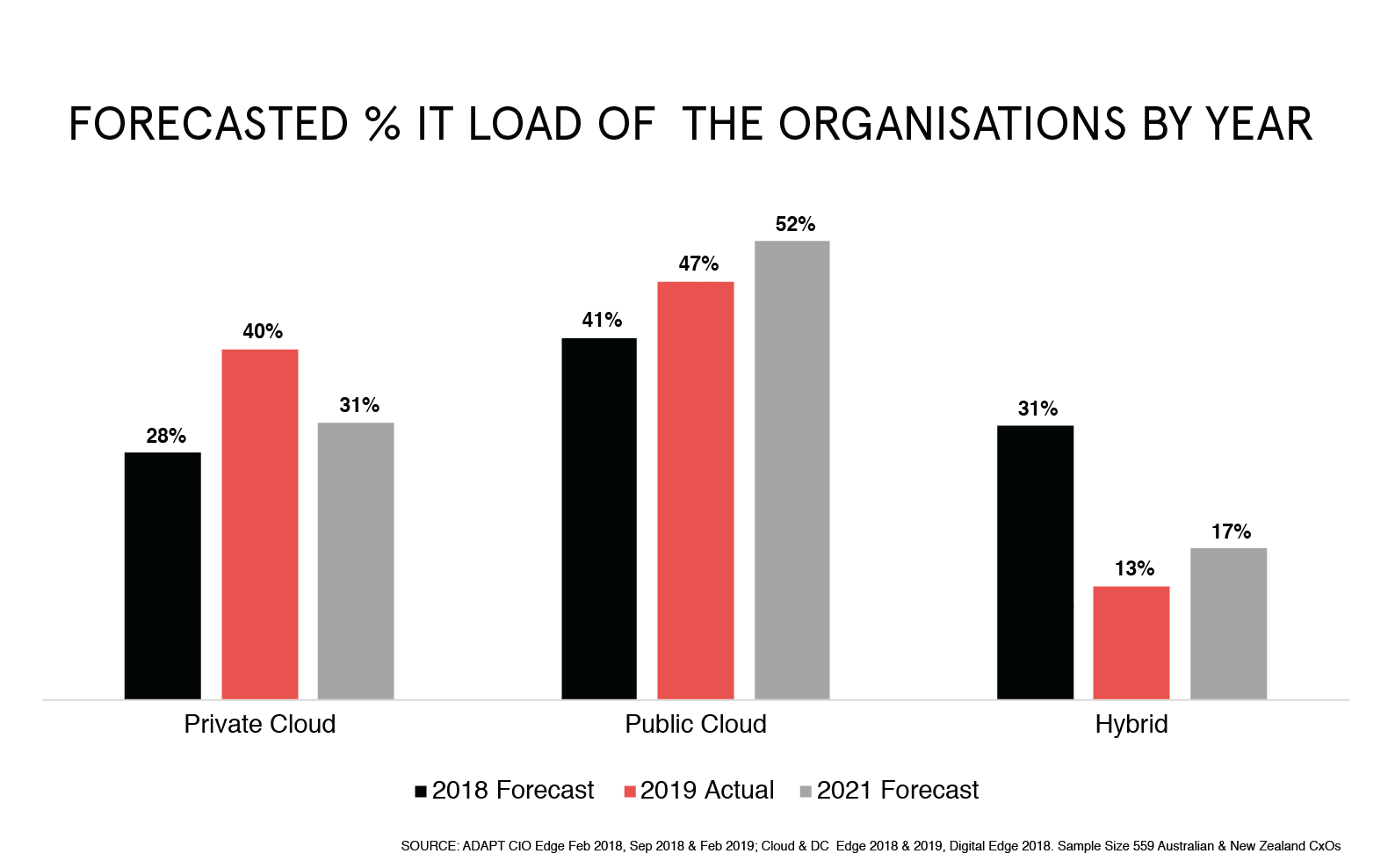 Note the disconnect between what was expected from a cloud mix to what actually happened. Delegates attending 2018 events were asked what they expected the mix to look like in 2019. Public cloud expectations to the 2019 reality were close with a forecast of 41% coming in at 47%.
The disconnect was largely when private and hybrid cloud are considered. Hybrid dropped sharply in terms of actual usage in 2019 from the forecast in 2018. This lower sentiment for hybrid cloud continues when delegates were asked to forecast their expectations in 2021.
Private cloud actually outpaced the 2018 forecast of 28% to reach 40% in 2019. It is forecast to reduce slightly as a proportion of all processing by 2021.
What You Should Do
Be pragmatic and make decisions based on what approach best helps you align and support the business outcomes and priorities of your organisation.
The disciplines of data centre and enterprise management now need to be applied across the whole ecosystem. How and where the information is being processed is less important than ensuring you have a holistic approach to managing it all. This simplifies management and makes strategic architectural decisions easier.
Stop thinking of cloud and on-premise as competing environments. Develop a single management philosophy and strategy. Integrating both in-house and cloud applications – with the goal of providing more of a single pane of glass perspective – should be the goal. It will bring substantial and very visible benefits.
Even if you are developing a cloud-first IT strategy, you need to continue investing in and managing your in-house data centre environment. Many industries are regulatory and compliance-bound to keep certain information and assets in-house. For others, it will continue to make business and financial sense to do so.
In this complex world you need the right information to make the right decisions.
---
Not just global information, but localised competitive intelligence on the Australian market. In 2018, we interviewed >10,000 C-level leaders, hosted >2,300 executives and >150 subject matter experts across 6 national Edge events and 100 private boardroom roundtables. Subscribing to ADAPT Membership empowers you with the distilled intelligence from our EDGE event agendas, powerful C-level knowledge and local research, and privileged access to the community experience of >2,000 of your peers.
Watch Video
1:00